It's September! While you're getting ready for layers and hoodies, our new Calendar Girl is taking off almost everything! Don't you love Autostraddle? YEAH YOU DO.
Firstly, a little refresh of the Calendar Girl concept for any newbies:
We just think Maxim, COED and Playboy shouldn't get to corner the market on "monthly devotions to very very good looking women." We know lots of hot lesbians who also look good casually lounging on bedsheets and hanging out at the pool/on the couch.
Each month our photographer Robin will shoot a Le Cadeau by Robin set (as featured on WeTV) with one beautiful, talented, smart, interesting and sexy lesbian lady. At the end of the year, we'll have a pretty kickass calendar that you can buy for 2011, which is our last year on earth before the apocalypse. Don't you want to keep track of that in style?
+
---
+
This month's Autostraddle Calendar Girl is:
Kayla
Miss September
From Photographer Robin Roemer:
"Miss Kayla road-tripped it all the way from Boston to NYC to shoot with us.  She has real southern charm and tremendous natural beauty.  We were so excited to finally get to play with menswear!  Thanks to Sara Medd, our stylist, for finding and fitting Kayla in fun and sexy threads, and Christina Natale for Kayla's natural make-up that enhanced her piercing blue eyes."
---
.
Kayla's early-budding musical interests can be attributed to growing up in a family full of singers and guitar players. She was singing by age three, playing piano at eight, and learning bluegrass and country guitar licks from her grandfather at eleven.
Kayla recently began recording and producing her own hip hop/pop music, and is the lead singer of a Boston-based pop/rock band, She Killer. She's currently enrolled at Berklee College of Music as a vocal principle.
Want more? Check out Kayla's Myspace!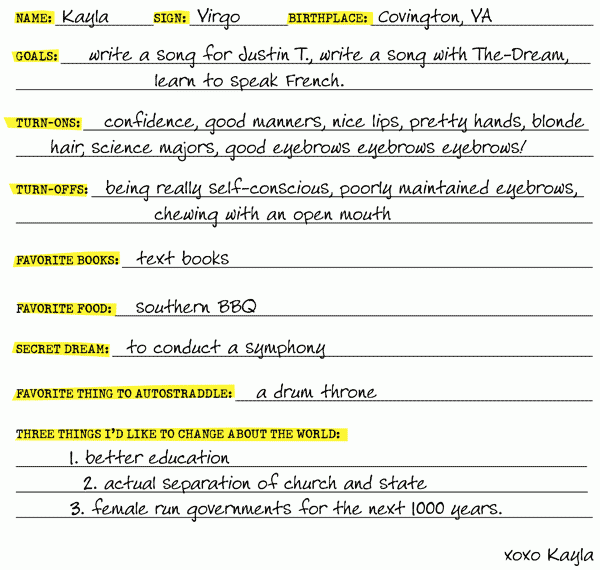 ---
+
---
+
As always; if you'd like to be gawked at by thousands of lesbians and get photographed by celebrity world-famous photog Robin Roemer, email Robin at robin[at]autostraddle[dot]com with two photos of yourself and tell her a little something about why you're so special. You must live in the NYC area or be able to get there and be 21+.
+
---
+
+
+