You guys, there's only one week until A-Camp and I am just on pins and needles. It's guaranteed to be better than Riese's camp experience and with Carmen's help, you can avoid getting sunburn while you're there. This week, we had Morgan on tips for raising a trans kid, Lizz on looking professionally alternative and everyone on cereal. Laneia taught you about making your space your own in the next installment of our o.b. series and Riese had more things she read and loved. Carolyn and I got baked and made soba noodle salad and lemony edamame pasta and Jessica took us to Tulsa, Oklahoma. This weekend, Record Store Day will happen and we had a guide to special releases, Rachel's I'm the Shit playlist (part 2), Emily's 6 favorite Feist videos, Carmen's review of Nicki Minaj's new album and the music fix. We had episode 6 of The Newtown Girls, Riese recapped Glee and Unicorn Plan-It needs your quarters!
---
On Also. Also. Also: Coming Out Associated With Better Health And Other Things We Missed:
The I'd Put A Ring On It Award to Sawyer: "I totally hope Michelle responds by posting a video of the Obama family doing the All The Single Ladies dance."
On A Custom Fit: Making Your Space Your Own Space:
The Menstrual Art Award to allie: "just decorate your apartment with tampons, or am i doing this article wrong?"
The It's Still Alliterative Award to Jenn: "I have to say my girlfriend ruined Captain Crunch for me. She's in the Navy and cannot look past the fact that he has the wrong ranking. I can no longer sit and enjoy my sugary bowl of mouth-gasm without hearing her insistent voice in the back of my head saying "But the stripes are wrong! He should really be called Commander Crunch!". Alas…"
On You Need Help: Looking Alternative To Help Your Career:
The Sharp! Award to Carrie: "You know what's edgy? Rulers. Very edgy. Also, very practical. It's the ultimate lesbian accessory."
On "Funny Or Die" Ladies Mock Anti-Choice Rick Santorum's Aborted Campaign:
The Double Entendre Award to Chandra: "I want to see someone make one of these that talks about Santorum pulling out after almost successfully coming from behind, and the resulting big mess that was left for Romney to clean up."
On Conservative Group Doesn't Want You Having A Gay Ol' Time At Disney World:
The Protect Your Children Award to Colleen and sarawellies: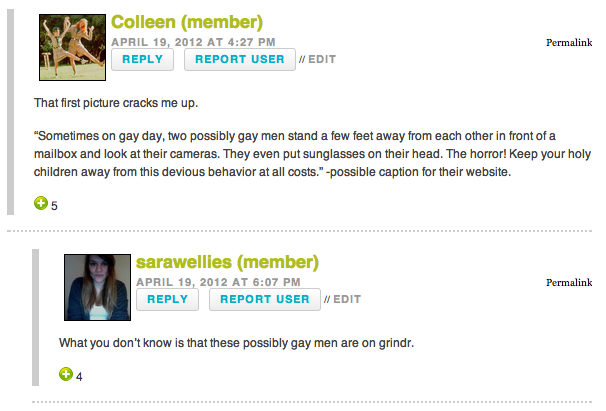 On Glee 316 Recap: Saturday Night Glee-itosis:
The Well Shoot Award to Mary: "I can't get over that Brittany and Santana actually talked to each other, like they're in a real relationship or something!"