This noodle salad is served cool or chilled, which is basically the only way I can stand to eat noodles when it's hot out.
The original recipe suggests serving it with a poached egg on top, which I did not do, because I had two people and one egg and poached eggs are not really splittable. I also used more carrots, because I like carrots, and fewer scallions, because the original recipe called for six, and I do not like things that onion-y.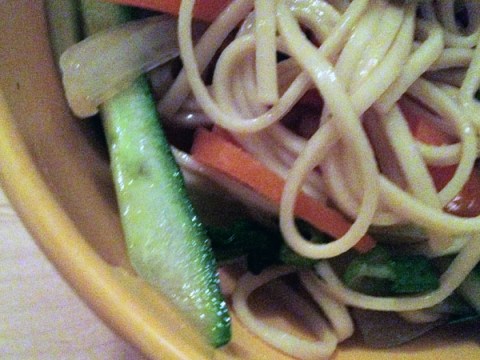 Soba Noodle Salad
Ingredients
1 bunch of the little skinny carrots, peeled and cut into thin matchsticks
2 bunches bok choy, sliced into ribbons
1/2 pound dried soba noodles, or any similar noodle
3 scallions, thinly sliced
1/2 cucumber, peeled and cut into matchsticks
1 Tbsp. sesame oil
2 Tbsp. rice vinegar or white wine vinegar
1 1/2 Tbsp. soy sauce
1/4 tsp. sriracha hot sauce (or more or less to taste)
pinch of salt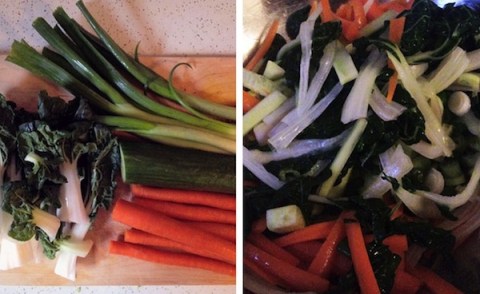 Directions
1. Fill a medium pot with water and a pinch of salt and bring it to a rolling boil. While you wait for that to happen, cut the bok choy into ribbons and the carrots and cucumber into matchsticks. The best way to make matchsticks is with a mandolin, but if you don't have or suck at using one, I like to pretend that each half of the vegetable in question is string cheese that I want to turn into a crazy octopus with my knife. Leave all the types of vegetables separate for now. Finely chop the scallions.
2. When the water is boiling, stick the carrots in it. Blanch for about 30 seconds, and scoop them out with a slotted spoon. Run them under cold water immediately so they don't overcook, shake off the excess water, and put them in a medium-sized bowl.
3. Repeat with the bok choy ribbons, and add them to the carrots. At this point you can also add the scallions and cucumber to the bowl (do not blanch them first).
4. In the same pot, cook the noodles according to the package directions, keeping them slightly al dente. Strain and run them under cool water immediately.
5. While you're waiting for the noodles, or right at the beginning of this recipe, or right after the noodles are done if you don't like multitasking, whisk the sesame oil, rice vinegar, soy sauce, and hot sauce together. Add the noodles to the vegetables, the dressing to everything, and toss gently.