Nicki Minaj is kind of my homegirl. (I refuse to talk about Pink Friday: Roman Reloaded without that disclaimer.)
We met, Nicki and I, in the summer of 2010, when I was sitting in the backseat of Amanda's car and she decided by some grace of God to play "Itty Bitty Piggy." I kind of liked it, and so I downloaded it. By the end of the week I was considering my own rap career, in which I dreamt up song titles like "Two Girls at Once" and worked on releasing an LP called "Fuckin' Nasty Bitch" as Lil Carmen. This phase lasted a little longer than it should have.
Pink Friday became my coming out album, seeing as how it came out 21 days after I did. When "Right Thru Me" appeared on YouTube I sat in Amanda's bed and felt emotions. And once the album was there for my listening pleasure, there it remained. I began to learn the words to each song. I rapped them all in full, shamelessly, once again in the backseat of cars. I was convinced that entire album was written for me. I guess it was kind of weird.
I'm telling you all of this because as I attempt to dig into Roman Reloaded, there's this little part of me constantly wanting to understand Nicki Minaj's direction and respect her work. I will not write a scathing review of Nicki attempting to cross genres with her work. I do not necessarily hate the idea, actually.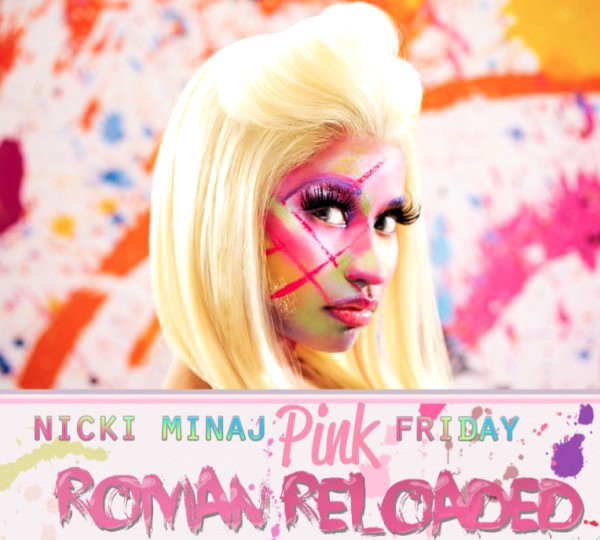 For example, even though "Pound the Alarm," a fast-paced pop-dance track, segues Roman Reloaded in to a period of more than a handful of "straight to being played at the gay club" tracks on the album, I gotta say that at the end of the night it was more fun than listening to Rihanna at the party. And the fact that songs like "Starships" leaked prior to the album didn't surprise me, because tracks like "Right Thru Me" were among my favorites on Pink Friday the first time around.
But in the middle of the pop and dance, there is one difference among the two albums: a lack of fusion. Where we used to get "Super Bass," tracks combining rap and pop with Nicki at the helm, now we have "Marilyn Monroe," a track in which she only sings, and then actually does some weird stuff that reminds me of my angsty high school phase music. Nicki's phasing out of fusion and into full-on pop stardom. So what's actually going on? Is the rap gone?
The answer is easy: no.
Roman Reloaded was intended to be a hardcore rap album, according to Safaree "SB" Samuels. SB is Nicki's "right-hand man," and helped to produce the album. According to MTV:
"In the beginning, we was gonna make it some rap spittin' sh– and it was going to have a couple of songs that were going to be the 'Super Bass'-es and joints like that," he revealed. "But it ended up working out a lot better than how we planned."
SB went on to gush about working with Hit Boy, whose production highlights include Jay-Z and Kanye West's "N—as in Paris." After hearing just one beat, both Nicki and SB thought "We need more!" Hit Boy sent around six great beats, and they decided on two for the songs "Come on a Cone" and "I Am Your Leader," which features Cam'ron and Rick Ross. (Incidentally, those are both SB's favorites on the album.)
But on the topic of crossover appeal and whether Nicki has deserted her rap roots, SB couldn't disagree more.
"She's still doing her rap sh–, she's still doing her crossover sh–," he said. "When you a star, you a star. You can't deny it."
Roman Reloaded boasts 22 tracks and there's actually kind of a flow between them, minus the four bonus tracks. And there's some stellar rapping by the Baddest Bitch, whether it's in the style of her mentor Lil Wayne a la HOV Lane or she's sharing time with Drake in "Champion." And I'm also willing to put myself out there as a fan of "Stupid Hoe," so.
The verdict may still be out on whether or not Nicki Minaj should be attempting to crossover, create fusion, or really touch pop music or dance music at all – but as long as she stays true to her roots, why not? She gave us what we wanted, after all: 11 songs on the album are based in rap and hip-hop, one is a purely spoken word interview track (which you really just have to listen to because oh my gosh), and the rest are tracks that delve into newish material for the baddest bitch in the game – including all-pop tracks like "Starships" and "Young Forever," her traditional feelings track "Fire Burns," and  the kind of wonderful thing that is "Gun Shot." If the pop is good, why leave it behind? Especially when she's providing as much rap, essentially, as other rappers – Drake's Take Care had only sixteen tracks and didn't feature him exclusively rapping. And even Lil Wayne gets to talk about "How to Love." If Young Money is her crew and they get to try on new sounds, why can't she?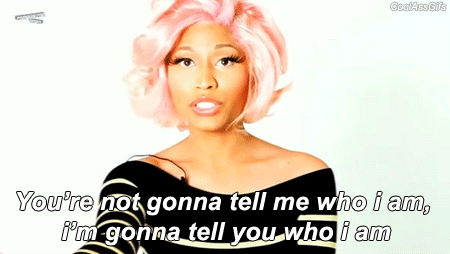 Rolling Stone described Minaj as "a purist's nightmare,"
but even they couldn't stop themselves from giving her her due credit for creating a 69-minute album featuring some really hard rap tracks. If you listen to "Beez in the Trap" and you don't hear Nicki Minaj being the baddest bitch in the rap game, you're not listening hard enough. And if you're dismayed by the fact that the album allows Nicki to crossover, well, you may have to just opt out of following her at all. The bottom line is that the pop influences aren't dragging down Nicki's rap performance and ability in the least – so there's really no reason to stop her from trying on new musical (pur)suits.
In "Press Conference," the twenty-three-minute interview that ends the album as the fourth bonus track and completes my life and existence on Earth, Nicki speaks frankly about her haters, her desire to bridge different genres, and  pretty much everything else you'd like to hear her talking about. It kind of reminds those of us who have been around that even when she's changing, she's still essentially working toward the same thing. And for anyone (like me – and please don't tell me I'm alone) who considers Nicki subversive as an artist and important as a female musician and rapper, it ends the album with a note of relief that her spirit hasn't changed:
I'm not going to rate Roman Reloaded out of five anything because I'm not an asshole, and I don't like to comment on stuff I'd never be able to accomplish. Nicki Minaj promised she would be a game-changing artist, and this album is merely  one step in her desired direction. We can kick our feet and throw a tantrum about her genre-switching if we want, but the thing is, she's not dismayed by the change and she's excited about what it means for her future. All I can say is that I trust in Nicki Minaj to maintain her own artistic vision, especially because she has taken her work to such new heights pursuing it in the past. This woman once got hated on publicly by Lil Kim – and she's still a force to be reckoned with. Don't forget it for one second.
Give the album a listen and figure it out for yourself – and if you already have, please argue with me in the comments. But I believe there's something for everyone on an album spanning three genres. So why are you so unhappy? Nothing has really changed – there's just more Nicki to love. Roman's still here, the Baddest Bitch is still here, and the woman who so beautifully captured you with "Still I Rise" is still here. But now she's dancing and (apparently) experiencing some breakup feelings set to incredibly catchy pop music (please listen to "Forever Young" at least once). And that's okay with me.