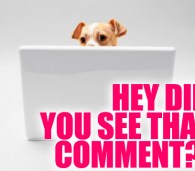 Let's talk about this week! This week you found out that AUTOSTRADDLE IS HAVING A MOTHERFUCKING PARTY Y'ALL. In other important news Stef Mitchell photographed Tegan and Sara in Sydney and everyone had feelings about Alejandro. People got drunk and watched the season finale of Glee, Becky and Lily gave you part 2 of how to accessorize and look hot, and Alex makes graphics/is awesome/ talked about Gaga some more. Audiostraddle brought you the fabulous as usual weekly music fix, Jess interviewed Guinevere Turner, and in preparation for Crystal's visit to america, the team told you how to survive long flights.
---
On HTC EVO 4G: From the iPhone Into Android's Warm Embrace:
The Misanthrope Award to gena: i hate phones because i don't like answering them. i don't even like that i have a phone number. i don't like people calling me. i don't like people. and so i have a $20 phone b/c i couldn't do my job/be a person w/out one right now. and i do pay as you go b/c i never use it/always lose it. so that's my story. and YET i want one of those so bad now it looks so cool. i like toys, a lot. and so my like for toys may overpower my disdain for phones. you've done this to me with your review.
The Hanna-Barbara Award to Sasha Farce: My area doesn't even support 3G service yet. It's like you guys are riding around in your flying cars on your way home to the robot maid and your boy Elroy and I'm powering my car with my feet on the way home to see my bone-adorned wife and child.
On Best Lesbian Erotica '09, Lady Lumps & Power Bottoms: NSFW Sunday:
The Dreams of Sugarplums Award to Sally: I completely forgot that last Saturday I had a dream about NSFW Sexy Sunday!
Putting aside how unhealthy it is that my attachment to a website appears to be taking over even my subconscious nocturnal machinations, the dream-NSFW-sexy-Sunday started off with a load of strange symbols that segued into musical notation. And then everyone was making comments about how sexy they found sheet music. Weird, huh?
Anyway, I just wanted to say how much better real NSFW sexy Sunday is. So, like, keep up the good work and everything.
On Miley Cyrus Kissed a Girl, No One Liked It:
The Hannah Montana Suzanna Bandana Award to Wepa: "I think Miley's only flaw is being too ahead of her time. When my grandchildren ask me who was the Genius that invented hover-mouthing (aka force-fielding) I'll think of this day and hang my head in shame remembering how we all took her for granted."
On MTV Movie Awards 2010 Celebrate Lesbian Innuendo, Swearing, Twilight:
The BluePie Award to E: Twilight moon pie actually sounds delicious. But I wouldn't eat it because mormons can try to control everything but they can't take my palette. Thanks for making me laugh riese
On Autostraddle's Rodeo Disco 2: Back in the Straddle:
The Unemployment Benefits Award to Lynne: thankfully my unemployment leaves my schedule wide open for this
On The iPhone 4: The Good, The Meh and The Lynch:
The Your Mom's Stupid Award to Mike W: Apple should have offered a bigger screen as well as the 3.5. Who cares if you have hi-res on a 3.5 screen? With all the new media like Netflix, iMovie etc, why would you want to enjoy that on a 3.5? It's just stupid. I like Apple stuff, but it's just stupid. (Did I mention it's stupid?)
On Anyone But Me: Season Two Finale Premiere!:
The Straight Boys, Not Diamonds, are a Girl's Best Friend Award to Sally, and southpaw: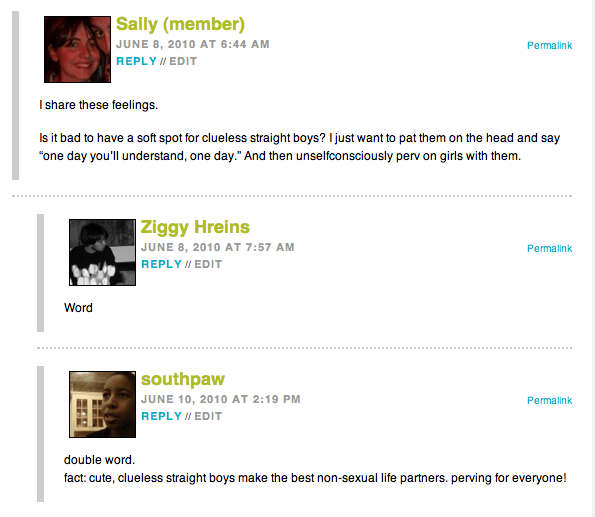 On Lady Gaga's Alejandro Video Premieres, You Have Feelings:
The Beelzebub Award to Mehr: she had a cross on her crotch. i love lady gaga's music but i want to refrain from listening to her cos im afraid she might be devil worshipper.
The Saved by the Bell Award to paperboy: well it was interesting until about half way through. then my mind started drifting & i thought about how i couldn't remember the last time people got this excited over every music video released by one artist, but decided it must have been Madonna or MJ. and then the last 3 seconds jolted me back to life & made me never want to close my eyes ever. that's all.
On Glee Finale: Glee Drinking Game & Season Recap:
The Arson! Arson! Award to Vikki: Actually, to get some lesbian characters on Glee, the women from The Real L Word are going to do a crossover episode in which they steal Beth and drive to a cafe in an undisclosed location and scream at patrons, demanding a sippy cup.
On Lady Gaga & Steven Klein's "Alejandro" Video: Recapped & Deconstructed:
The DiVinci Code Award to allisonb: I love when I read Autostraddle articles and am forced to make a list of things I need to learn. Learning is AWESOME!
The commentary on Catholicism was perf. I was born/raised/went to school in the Catholic church (not like IN the church but you know) from birth until 18 so I was literally screaming at my dogs, "OH MY GOD LOOK AT THIS SYMBOLISM." They did not care :(
On 77% of Americans Know That They Know A Gay Person:
The Award for Lesbians Who Makes Exceptions for Pro Footballers to Paper, and TSwizzle: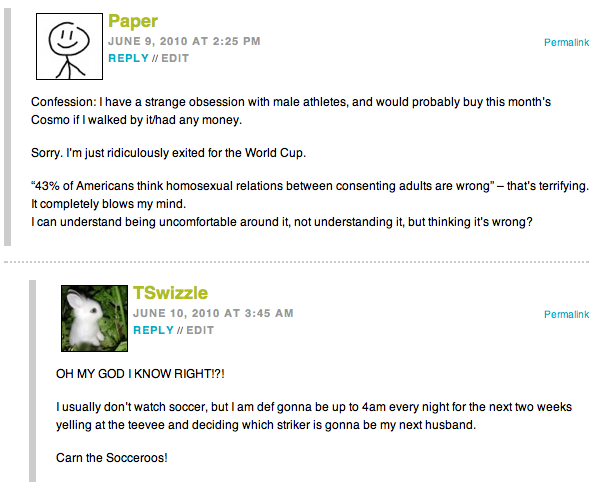 The bcw Award for bcw to bcw: I wonder what percentage of the people who were home during the day with a landline said Ellen.
The It's Okay, Everone has a Favorite Grandma Award to Dina: >>if CBS called your Mamaw right now, what would she say?>>
Well that would depend on the grandma – one would say, "Yeah, Dina's cool, I'm going to her wedding next year." The other would probably start gibbering about how I'm going against God's plan for humanity and how I ruined her relationship with my mother. (She is not invited to my wedding.)
On Long-Distance Flying 101: Music, Reading, Eating, Friend-Making, Drinking, Sleeping and Conquering Fears:
The Don't Be Pissed Award to Ziggy Hreins: This is great i´m always looking for an excuse to be pissed. I tried being sober once and i won´t be doing that again.