Anyone But Me's Second Season finale begins right now. Are you ready? Let's get ready!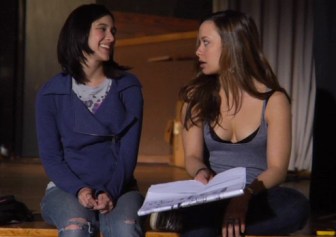 Here's what's happened since Season One: We did a photoshoot with Anyone But Me co-stars Nicole Pacent & Rachael Hip Flores. Nicole Pacent hosted a benefit for cancer called "Relief Through Rock"!,, Rachael Hip-Flores won a Streamy Award for Best Female Actor in a Drama Web Series (one of four Streamy Award nominations), ABM snagged the Audience Choice Award at the American Soap Awards and was nominated for four SoapWorld awards.
Anyhow, this year Anyone But Me hosted a launch party, we went to it and we drank quite a bit and loved every minute! To top off an excellent year of excellency, Nicole Pacent & Rachael Hip-Flores, the cutie couple at Anyone But Me's front & center, snagged Critters of the Year for the Autostraddle Icons of 2009.
[Also, hey, do you remember when we interviewed Susan Miller, the c0-writer of "Anyone But Me"? That was like one of our first interviews ever. Oh, when we were all so young and full of hope and had good credit scores. That was during Season One but whatever moving on.]
Then, the show happened: Episode 201 "The Real Thing", 202: Quickly to the Exits, 203: Identity Crisis, 204: Girl Talk, (in which Liza Weil aka Paris from Gilmore Girls starts her role on the show at Aster's new therapist), 205: One Step Forward, One Step Back, Episode 206: The Things We Know, 207: Date Night, 208, Naming Things (in which Vivian comes out to her aunt and Aster is weirded out that Sophie inspired her to do it) and Episode 209: Private Rooms & Public Spaces (in which Jodi flips about Vivian coming out, and Aster & Vivian get a sneak-preview of their big bright future when Aster takes Vivian to therapy and Aster's therapist turns out to be ready to pop out that baby.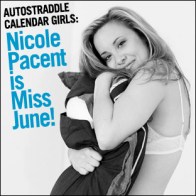 A LESBIAN BABY 'cause Aster's therapist is obvs a total lezathon. I had a lesbian therapist once but she always used gender neutral pronouns whenever speaking about her partners and I always used boyfriends when speaking about myself, so there you go.)
Then, in June, Nicole Pacent (Aster) became Miss June of the Autostraddle Calendar Girls, which was pretty exciting. Kinda intense honestly. Oh hey speaking of
HERE IT IS EPISODE 209 OF ANYONE BUT ME, SEASON TWO EPISODE NINE FINALE THIS IS THE END THIS IS THE END FOR NOW BUT SEASON THREE WILL ALSO HAPPEN, I DREAMED A DREAM
Feelings?