When I first saw the trailer for MTV's new teen dramedy "Faking It," I was confused, but mostly appalled. Really? A show about best friends deciding to masquerade as a lesbian couple in order to improve their popularity? At a time when LGBTQ kids are still bullied mercilessly in the majority of American high schools? Seriously, there haven't been two actual lesbians topping the marquee of an American TV show about high school students since the short-lived Nick series South of Nowhere got the ax six years ago, yet somehow a show about two fake lesbians got picked up?
Good news: The trailers are way more offensive and annoying than the show itself (especially this trailer, which I hate with the fury of a thousand suns). The story, which follows best friends Amy and Karma who take being mistaken for a lesbian couple at an ultra-liberal high school as a golden opportunity to improve their social standing, isn't about two fake lesbians; it's about one fake lesbian and one very confused best friend who is probably an actual lesbian. In fact, it's the fake relationship that enables Amy's gradual revelation of her own Sapphic leanings, and it happens in a way that a lot of queer women can relate to. You know, the whole "falling in love with your best friend" thing.
Show producer Carter Convington (10 Things I Hate About You, Greek), a Trevor Project volunteer who is married to Greek creator Parker Sean Smith, told The Backlot that when he pitched the show to MTV, he made it clear that "for this to have legs to me, for this not to be an offensive premise, I think one of them needs to realize she has feelings for her best friend because that's what I felt in high school. I had all these relationships where I wanted it to be more, but I couldn't say so. And [MTV] loved that." Also, the "plot" to get popular by being gay isn't so much a scheme both girls come up with as it is a thing they're pushed into, and that Amy continues going along with because Karma loves the attention and Amy will pretty much do anything Karma wants her to do. (Sound familiar?)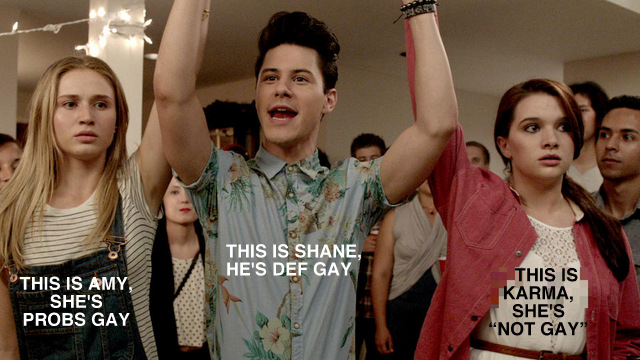 I've now seen two early episodes (101 and 103) and bits and pieces of scripts for other episodes, and so far… it's kinda cute, y'all! It's actually a big deal, too, because having a show about high schoolers consistently centered around a lesbian character is pretty rare. (I emphasize "consistently" because 3-4 episode story arcs exploring female queerness isn't unusual— The OC, Once and Again, 90210, Heroes, Greek, One Tree Hill, Secret Life etc.) Although cannon high school queer female characters have played leading roles in ensemble casts, like Santana and Brittany on Glee, Imogen, Fiona, Paige and Alex on the Canadian import Degrassi, Emily on Pretty Little Liars and Tea on the poorly-executed US edition of Skins, this is only the second time we've had a queer girl at the epicenter of a prime-time American show about high school. (I would've included Buffy, but Willow didn't come out 'til college.) And whereas Emily Fields' coming out story was a sideplot to Pretty Little Liars' murder mystery situation and Santana doesn't even show up, let alone lez out, in many Glee episodes, Amy's story is the story in "Faking It."
Amy (newcomer Rita Volk) and Karma (Katie Stevens from American Idol) are students at the ultra-liberal Hester High School in Austin, "a blue oasis in the red sea of Texas" where The Plastics are losers and The Freaks rule the school. Lauren (Bailey Buntain) is our Regina George. She curses the day her father and Amy's "Weather Girl" mother Farrah fell in love, thus dooming Lauren to a "socialist, Kumbaya freak show of a high school" which she's certain is the only school in Texas where she can't kick losers off her favorite bench and she isn't a shoo-in for homecoming queen.
Meanwhile, Liam (Greg Sulkin, who you might recognize from his turn as Wesley on Pretty Little Liars), the most popular and best-looking boy in school, makes installation art, leads naive political protests and is best friends with Shane (Michael J. Willet of United States of Tara and G.B.F.), who is openly gay.
As much as I'd like to dismiss this situation as a Hollywood fantasy that inadvertently plays into the dreams of right-wing conservatives who insist the gays already have it made and therefore don't need things like equal rights, I must admit that I briefly attended a public "alternative" high school just like this once, also in a liberal oasis (Ann Arbor) in an otherwise not-so-liberal state (Michigan), where being bisexual was, indeed, cooler than being straight, nobody played sports, the goths had their own floor, everybody smoked American Spirits, mock trial was a coveted extracurricular and school dances often doubled as Food Not Bombs fundraisers. And that was in the mid-90s. It's uncommon, but it happens.
The abundance of gay acceptance at Hester High School would, in isolation, feel cheap and insulting, but it works 'cause it's only one of many hyperbolic aspects of student culture. The third episode centers on an Occupy-inspired student protest against a Google-esque tech company's prospective $9 million dollar donation, which would potentially rescue the school from severe budget cuts and could fund an organic farm-to-table cafeteria. But the students are more concerned with lofty ideals and dissent-for-dissent's-sake than grim pragmatism, of course, and protest on. The students' ahistorical embrace of gay peers works because it's not the only thing these students rally around so idealistically. Their teenage enthusiasm betrays a sheltered ignorance about the context of any of their chosen crusades — they're just thrilled to be crusading at all.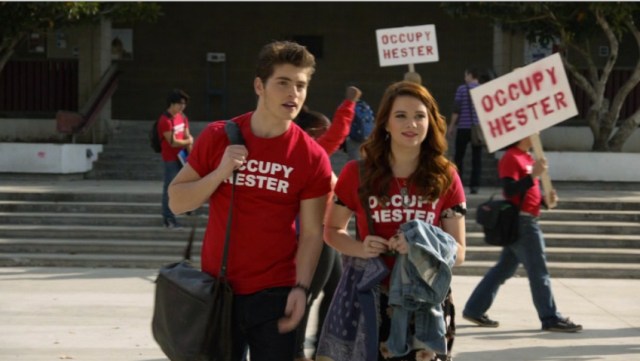 Also worth noting: Senta Moses, who plays the bleeding heart realist Principal Penelope, is delightful — and you might recognize her from her three-episode arc as Delia Fisher on My So-Called Life. In fact, Moses appeared with the rest of the cast on a panel about Faking It moderated by Wilson Cruz last week, who played the revolutionary gay character Ricky Vasquez on MSCL.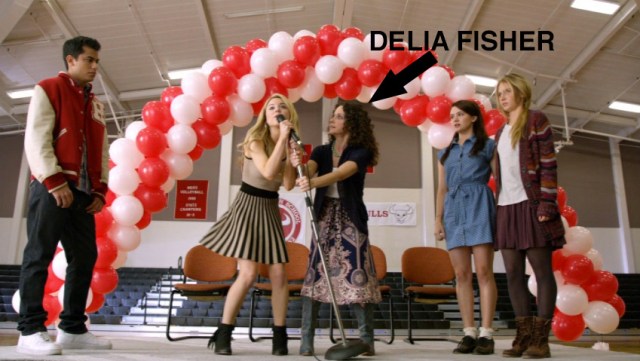 Sure, it's important to realistically depict how hard high school is for LGBTQ kids, too. But there's something to be said for what kids can pick up from seeing acceptance, rather than rejection, as the accepted model of behavior. I still think that the scene where Kurt is defended from bullies by the hyper-heterosexual men of the McKinley High football team is possibly the most powerful thing Glee ever did, and it floored me the first time I saw it. I'd never seen anything like it before! It's only within the last five years or so that we've even seen gay guys and straight guys be friends on television, as Liam and Shane are in this show. I often wonder if things could've changed for us sooner if straight people had seen more positive, if excessively optimistic, portrayals of "finding out your friend is gay" stories. Instead, show after show reminded us that it's perfectly normal for your friends to reject you after coming out — Buffy's casual reaction to Willow's coming out was significant and remarkable for its time, too. Plus not everybody in Austin is enthused for Amy and Karma — Amy's stereotypically Texan parents aren't going to take her "coming out" quite as well as Karma's hippie parents who peddle kale smoothies for a living.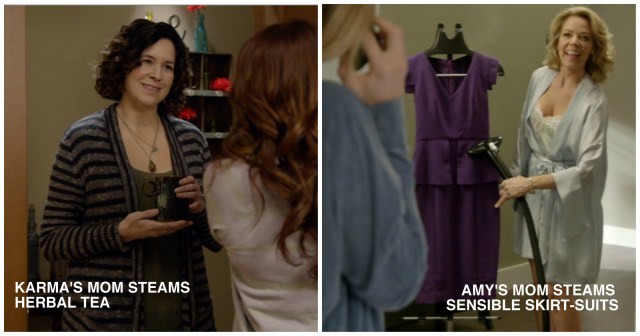 This isn't to say that the show doesn't also miss some really glaring opportunities to be even better — the main cast is almost entirely white, for starters, which is especially irritating because it's set in Austin, which is only 57% white and, like much of Texas, boasts a sizeable Hispanic population. A school environment like Hester would be a great place to challenge the television stereotype that progressive liberal politics and gay acceptance are the exclusive domain of the white and privileged. Currently, the two most visible characters of color are Lauren's boyfriend, Tommy (Erick Lopez) and sidekick Leila (Courtney Kato).
There's also a few awful comments made about bisexual folks at the tail end of 103. Hopefully it was attempted lampshading, because the conversation begins as bitching about Karma's affair with Liam, and Karma isn't actually bisexual, she's straight — but that doesn't really absolve the Shane of his offhand dig about the horrors of dating bisexual men. I hope the show's discourse around bisexuality will improve or, better yet, that those comments won't make it to air (press screeners don't always represent what shows up on the television set). Bisexual people constitute the largest segment of the LGB population and bisexual men are second only to transgender folks in terms of lacking mainstream acceptance. Plus, LGBTQ adolescents, who I imagine constitute a sizeable chunk of this show's target audience, are more likely to identify as bisexual or "label-free" than lesbian or gay. Considering the show's premise is already a shaky bet with respect to its appeal to LGBTQs, cleaning up shit like that could go a long way towards ensuring its success.
There's a lot going for it behind-the-scenes, too. The producer, as aforementioned, is a gay guy, and my fingers are crossed that his touch will be more like Peter Paige's and less like Ryan Murphy's. The show's main writers are the female comedy writing team of Dana Goodman and Julia Lea Wolov. Openly gay Jamie Travis directed five episodes and the other three were directed by the Emmy-Award winning editor/producer/director Claire Scanlon, who's also directed The Office. There's one thing missing, though: as far as I know, there aren't any actual gay ladies involved in making this gay lady show.
As I said in Mey's article about "Faking It," the "friends/co-workers pretend to be a couple to get [a thing]" is a popular trope, because it is a compelling scenario with a lot of built-in drama and sexual tension. If this show makes room for Amy and Karma to actually fall in love, then it could win over even its harshest critics and be a great gateway to exploring sexual fluidity. However, Karma is so far totally insufferable as a person and if she doesn't stop talking about Liam soon, I'm probably going to stick forks in her eyeballs and then NOBODY WILL GET A LOVE STORY.
Carter told The Backlot that the fake-lesbian storyline "will not be the life of the series. It's not sustainable. I think it's a good model that you can start with a premise. And if you build the show and the characters and everything, the premise can kind of fall away, and you still want to follow these people's lives."
I don't expect anyone who's only seen the trailers to feel anything but apocalyptic indignation towards this positive review of the show, but I think the show will pleasantly surprise you. The last time MTV attempted a queer female character, Sophia Swanson in Underemployed, she was super-rad but eventually drowned out by hackneyed hetero storylines before the series was swiftly cancelled. Then there was the lesbian-identified Tea in Skins, whose primary storyline centered around her sexual relationship with a dude. Considering that in the 1990s it was MTV's The Real World and Undressed that gave me the first queer female characters remotely my age, it's disappointing that gay boys have dominated the network and nothing quite so innovative has happened for ladies in a long time. Could this be The Great Lesbian Show we've Dreamed Of All Our Lives? Not quite yet — but it's still pretty damn good.
---
Faking It premieres April 22nd at 10:30 PM ET/PT on MTV.