I'm in love with Sophia Swanson. As in: I want to braid her hair in a meadow, I want to take her to her first gay bar and leave after an hour to go home and marathon L Word season one while drinking a hot possibly semi-alcoholic beverage. I want her to be real and our friend.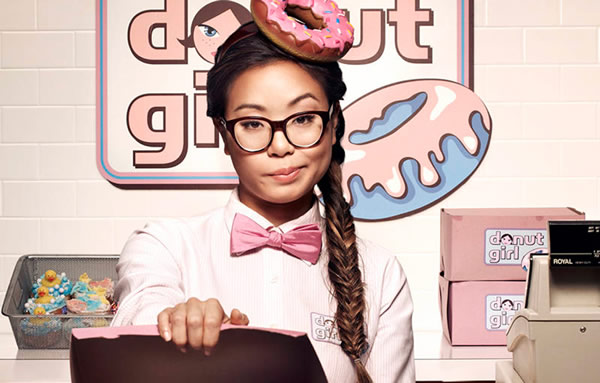 I want to see more of her, too, though, in general, even if it's just on television on this new MTV show Underemployed, which's about a group of unnaturally good-looking college friends in Chicago tackling their first year since graduation. I mean we see so much of the other relationships on the show, the heterosexual ones, and so little of her's after the first three episodes.
Underemployed relies on a familiar set-up — the first scene is immediately reminiscint of a much better scene from the opening of Reality Bites. Post-college ennui often feels like television & film's most well-trodden path — a result of the abundance of underemployed just-out-of-college screenwriters penning tones about their presently fascinating life. But Craig Wright, the show's creator, is a grown-up who based the characters on his son and his son's friends — Sophia is based on a real person, too, of course.  AfterEllen recently spoke to Wright (Dirty Sexy Money), who describes Sophia, an aspiring novelist and temporary donut shop employee, as "the eyes through which we look at all the other characters." He was eager to represent a lesbian character onscreen, telling AE:
"I've always been a big proponent of trying to use TV to advance society in small ways and to improve the perception of all kinds of people. And so I knew that when I created Underemployed I would want at least one character who was gay or lesbian — possibly more. As we go forward, there will be more. I think TV should make the world a better place if it can."
Confirmed: the world is indeed a better place with Sophia Swanson in it.
And then there's the rest of the show: although absolutely bearable, many of Underemployed's plotlines are woefully undercooked, especially the story around Raviva and Lou's baby. Lou and Raviva, college sweethearts, have been estranged for many months when the episode opens in its present-tense, which's when she shows up on his doorstep with a bun in her oven and, by the pilot's end, the marvelous baby Rosemary has been totally born. But things get bizarre from there forward — Lou takes a job working for his father to support Raviva and the baby, and Raviva is unreasonably hysterical that his job prevents him from being with the baby between 9 and 5 and that he can't answer her phone calls while working, an innocuous but absurd behavior that Lou somehow accepts as at least semi-reasonable. But most of all, this allegedly life-altering baby apparently doesn't require food, never cries, and sleeps through the night, every night. The friends-as-family "it takes a village" child-rearing concept seemed really compelling at first, but loses any potential impact when it's revealed that Rosemary seems to require no actual care whatsoever — I mean, she makes Angelica look like Regan Teresa MacNeil.
That situation is representative of perhaps the show's most significant error: for a show about kids "struggling" to find themselves, even genuine life challenges are pulled off with minimal struggle, or at least buried after their initial reveal. Daphne's career trajectory is another egregious example of this issue.
The show's unexpectedly myriad extensions of disbelief don't prevent it from being entertaining, though — I found myself eagerly marathoning the entire season thus far with genuine interest. I laughed quite a bit, I never got bored. But also, as I believe I've mentioned previously — Sophia Swanson, played by Michelle Ang, is a highlight.
Sophia, unable to start or finish the Great American Novel she thought she'd be writing by now, has been working at a donut shop for the past year and maintaining the virginity her friends frequently tease her about. When she finally does have sex, she struggles awkwardly with breaking the news, which comes hand-in-hand with her lesbian reveal.
What's new and awesome about Sophia is her positioning as the story's narrator — I can't think of another mainstream hour-long drama or dramedy with a lesbian near-incidentally at the center of the action, let alone a lesbian of color.  Plot devices bungled by other lesbian storylines are delightfully subverted in Underemployed and for the first few episodes, she's granted ample screen time to grapple with her newfound sexuality, coming out to her friends and parents, and dating a woman for the first time — Laura, played by Angel M. Wainwright.
I'm attempting to keep this post Sophia-spoiler-free, but I'll say that as the season has progressed, Sophia's storyline has moved gamely forward but often lapses into a familiar territory for lesbian plotlines wherein it seems most of Sophia's important scenes happen off-camera. (See also: Santana Lopez) But there's still plenty to chew on and I'm still consistently amazed and encouraged by how easy it is for friends to come out to friends on television these days, having grown up with scene after scene of coming-out-as-social-suicide. It's exciting to watch her coming into her own as a lady-loving lady, and honestly she's just so fucking cute you'll die. Smart, funny, nice glasses. All you could ever ask for in a lady.
Alas, Underemployed's fate remains unclear. Reviews have varied from bad ("relies heavily on soapy clichés and predictable formulas") to worse ("a botch, an attempt to do a dirty-sexy-funny show about struggling (but great-looking) millennials that's so creaky and clichéd hardly a moment rings true") to also pretty terrible ("overdone and overwritten simultaneously") and MTV's moving the series from Tuesday to Saturday nights, a place television shows about young people almost certainly go to die. The show's not without its fans though —  Flavorwire enjoyed it and this guy at BuddyTV encourages you to keep watching on Saturdays. I think you'll like it, too.
Catch up with Underemployed on MTV and on iTunes, or watch the series' preview here: