It's time for Movie Night, where we choose a movie based on any number of variables and feelings, create a themed menu to match, then spend Friday / Saturday night eating these foods and watching these movies! It's an uncomplicated but promising plan. This week, we are celebrating all things awkward and charming, like middle-aged morticians, make-up artists with drag sensibilities, adolescent tomboys and their wimpy male partners-in-crime, not to mention the overprevalence of denim button-downs in the 1970s.
---
The Movie
MY GIRL
[Buy Me]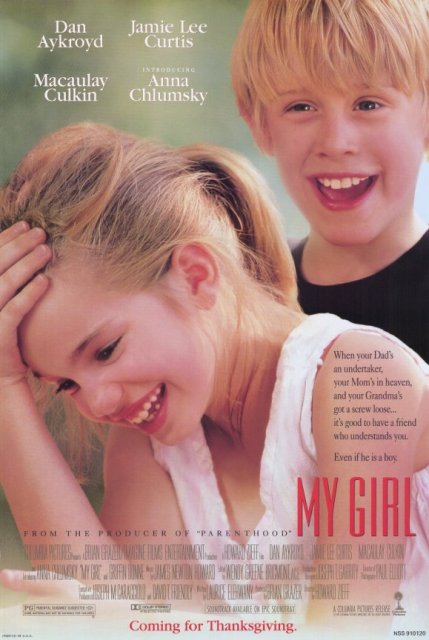 Synopsis via Fandango:
Anna Chlumsky plays eleven-year-old Vada, a quiet child living with her widowed father Harry Sultenfuss (Dan Aykroyd), a local mortician who prepares bodies in his basement. Vada feels responsible for the death of her mother, who died giving birth to her, and lives in an emotional cocoon, her only friend being a personable local boy, Thomas J Sennett (Macauly Culkin), who suffers from allergies. Like Vada, Harry keeps to himself, until a freelance make-up artist, Shelly DeVoto (Jamie Lee Curtis), comes to town and gets a job working with Harry. Shelly and Harry fall in love and Vada feels threatened by her presence. But then a personal tragedy forces Vada to come out of her emotional shell.
Vada: Pacifist!

Thomas J: Am Not!

Vada: Bedwetter!

Thomas J: I stopped that!
Vada Sultenfuss came to mind twice this week–once when I realized that my gender identity is essentially a composite sketch of every awkwardly feminine tomboy from 90s television & film, and again when a friend asked me if I'd ever been in love and I immediately thought of the teachers and best pals I'd fallen for as a kid. Much of Vada's time is consumed with smitten daydreams of her teacher, Mr. Vixler; the rest of it is spent gallivanting around with Thomas J, her friend-by-default turned bestie.
There's something about Chlumsky's too-big-for-her-teeth smile and Culkin's coke bottle glasses. Just like I can't see anyone but Mara Wilson being Matilda or Will Smith being The Fresh Prince, I really can't picture anyone else playing Vada and Thomas J.
Like Carmen mentioned in her Addams Family Values edition of Movie Night, revisiting the films that were fixtures of your childhood as a quasi-adult can be an odd way of reflecting on just how much you've grown. You'll now be able to pick up on the bits and pieces of innuendo that were lost on your five year-old self. When I watched My Girl as a kid, I spent 80% of the movie having Schwinn Bicycle and mood ring envy. Now, I'm also able to appreciate dialogue like this:
Phil: Harry sit down, let me fill you in on today's women, since the last time you dated, something happened. "The Sexual Revolution." Now before that, you used to have to hold a door open for a woman, pull her chair out, pick up the check, no more. No more. You wanna know what else is missing? Bras!

Harry: Oh, come on.

Phil: Harry, I'm serious, trust me Harry this woman's lib thing is in. You gotta treat her like every Tom, Dick, and Harry.
Not to mention the beauty in snot-nosed wisdom like this:

One thing that has not changed, however, is that this movie still makes me unceremoniously bawl. I'm not going to spoil the film for those who haven't seen it, but when it comes to building a menu for My Girl movie night: Kleenexes and/or napkins and/or hankies are of utmost importance as a final course.
THE MENU
BURGERS
SHELLY'S FAMOUS POTATO SALAD
COKE IN A GLASS BOTTLE
DOUGHNUTS
+
Burgers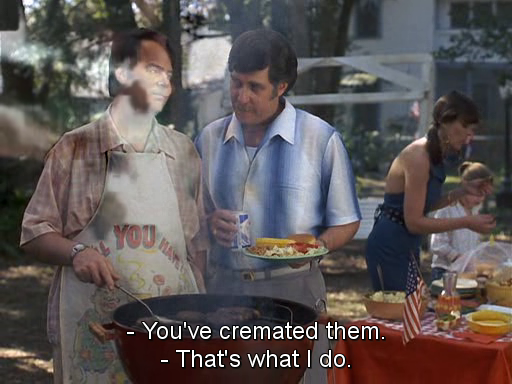 One of the bigger scenes in My Girl centers around an Independence Day barbecue, complete with Harry the mortician's cremated burgers and Shelly's Famous Potato Salad. Contrary to what the scene's dark humor may suggest, it's pretty impossible to ruin a burger, be it made of beef, soy, or black beans. (Just as an aside if you're feeling frugal and/or adventurous: The price of ground turkey meat is at an all-time-low post-Thanksgiving.)
The fixings are pretty self-explanatory and flexible: Grab some mustard, ketchup, lettuce, a tomato, a sliced onion, pickles, buns, and you're good to go.
Shelly's Famous Potato Salad
On a scale from "2nd grade addition" to "astrophysics," potato salad is long division. It's a bastard of a side dish which requires little effort and just a handful of inexpensive ingredients. Interestingly enough (or disgustingly enough, depending on your feelings about potato salad), most of the ingredients that the dish requires are condiments.
A standard potato salad for two recipe calls for:
+ 2 medium potatoes
+ 3 tablespoons mayo
+ 1/2 teaspoon of yellow mustard
+ 1 teaspoon dill pickle relish
+ 1 hard boiled egg
+ 1/4 cup diced celery (optional)
+ 1/4 cup diced onion
+ Salt to taste
+ Pepper to taste
+ Chives as garnish (optional)
These measurings are very flexible and can be tailored to your own preferences. No pickles? No problem! Essentially, all you do is microwave your potatoes for 5 minutes. While they're cooling in a dish of cold tap water, dice and prep your other ingredients; set them aside. After the potatoes have cooled, cut them into small rough cubes; combine all of the things. I personally use up to a 1/2 cup of diced onion along with a dash of chili powder in my own recipe, but I can totally see where this might not be practical if one's gearing up for a date night.
Coke in a Bottle
Two of life's most pressing questions stem from carbonated beverages:
Do you call it coke, soda, or pop?
Does coke really taste better from a glass bottle?
Because I'm from Georgia, home of Coca-Cola and The World of Coke, I tend to call everything coke–including the Pepsi the server brings me after informing me that the restaurant does not carry Coca-Cola products. Because My Girl is set in Pennsylvania, Vada, Thomas J, Harry, and Shelly all refer to the drink as soda.

But there is one thing we do agree on. Coke–I mean soda–I mean that carbonated sweet stuff–definitely tastes better from a glass bottle.
Doughnuts
There is a scene in My Girl where Vada and Thomas J creep on Harry and Shelly's first date at bingo. Along with being hilarious, the scene always makes me mind-numblingly hungry. As Vada peeks into the bingo hall, the camera pans across a massive plate of colorful doughnuts sitting right beside her on the window sill. Do yourself a favor: Prevent this awful craving ahead of time and pick up a dozen Krispy Kremes.
Just don't do chocolate. Thomas J's allergic.