Welcome to Movie Night! Where we choose a movie based on any number of variables and feelings, create a themed menu to match, then spend the night watching these movies! It's an uncomplicated but promising plan.
This movie night comes on the brink of Halloween, when normal people plan ahead to get trashed listening to "The Monster Mash." I've already crossed my fingers that secretly, Halloween will be cancelled this year and that soon it will go without question that I am too old to participate. And while I am busy avoiding it at all costs, we may as well laugh and play a drinking game, right? So without further ado – let the dark humor and absurdist spook theatrics begin!

THE MOVIE
ADDAMS FAMILY VALUES 
[buy me ]
Before we begin, be prepared: this shit is hilarious.
A synopsis of this movie is available nowhere, unless you want a lot of spoilers. So here's my best attempt to sum this gem up: a sequel to The Addams Family, this 1993 film begins when Morticia and Gomez Addams, the oversexed and bizarre parents to daughter Wednesday and son Pugsley, welcome their new baby to the family. When they seek out a new nanny, one bright and incomprehensibly upbeat woman joins their clan: Debbie Jelinsky. When she ships the kids to summer camp and chases after lonely Uncle Fester, however, the family must work together to keep him from her cheery clutches – especially when they catch wind that she's a gold-digging serial killer.
"You have placed Fester under some strange, sexual spell. I respect that." 
– Morticia Addams 
The thing, though? She's completely and totally met her match. Otherwise the movie wouldn't be half as funny, obviously.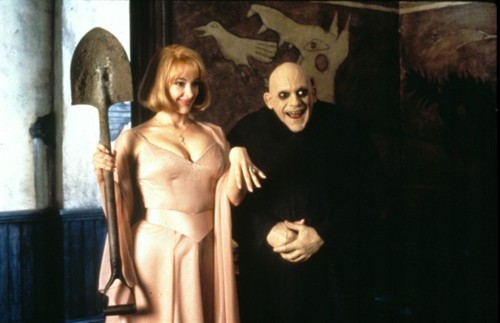 When I was a kid, I did not understand The Addams Family. I also hated The Munsters. Dark comedy didn't really make sense to me, and the fact that adults enjoyed it somehow made it even weirder. How was this something anyone wanted to consume, after all? It was so creepy and gross and weird.
I get it now, is what I'm saying.
Debbie: Isn't he a lady killer?
Gomez: Acquitted!
Watching this movie as an adult gave it an entirely new meaning. Suddenly I understood it as some sort of theater of the absurd, as some incredible mix between physical comedy and subtle innuendo. Suddenly I got the charm. My friend Amanda prefaced our viewing with shock that I didn't already love the film, and by the end I did. After all, I laughed and I cheered in favor of a group of complete and total weirdos. And I even related to them! Sometimes.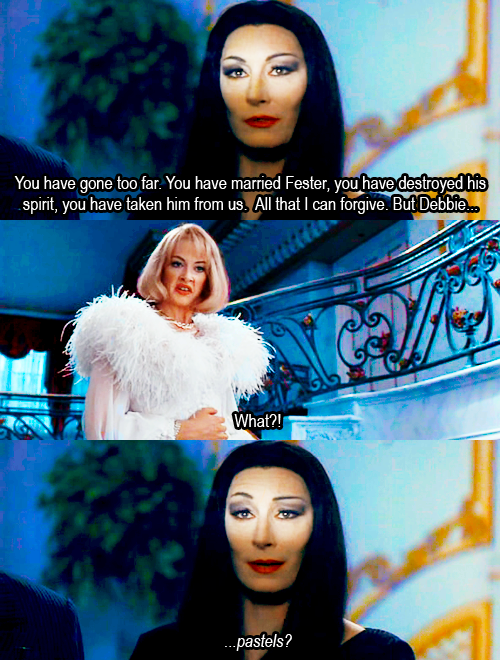 I was also incredibly drunk.
 The Drinking Game
If you're watching Addams Family Values with your friends or cat on Halloween and doing your best to appear like you have a social life, you're probably looking for a spare beer. And if you happen to have the extreme privilege of living with someone equally as antisocial as you at any given point in the week, you may have the opportunity to find a spare beer for them and engage in the Addams Family Values drinking game, which is by far the best part of the film! Please drink responsibly, because I love you and it's weird to get sick when you're just at home, y'know?
The Rules (modified from Lazy Dork):
+ Drink anytime a character is holding the baby
+ Drink anytime the camp directors jump up and down
+ Drink whenever camp is mentioned
+ Drink whenever characters are shown in the graveyard
+ Drink whenever someone says "Cara Mia"
+ Drink whenever Fester comes close to having sex
+ Drink whenever a weapon of death is shown
+ Drink whenever you're uncomfortable
I recommend playing with a beer or maybe a mixed drink, but definitely not the kind I made with Bacardi and water-based Country Time lemonade mix. Like, please don't ever drink that at all.
If you're looking for a good beverage for the game, try this drink I made once entirely from leftover liquids and then named after myself.
What You'll Need
+ Sprite or some sort of lemon-lime soda / seltzer water
+ Pink lemonade
+ Vodka
Fill a glass with equal parts vodka and pink lemonade. Top it off with your clear bubbly drink of your choice for some watering down and carbonation at the same time! Also, spend a while stunned at how good it is. Just stunned.
I hope it's the spookiest Halloween of all time, you guys. And I hope there's a lot of laughing, too.