Welcome to the third recap of the fourth season of Glee: The College Years, starring two gay guys, a few stupid females, a handful of manipulative/psychotic females, lots of flexible enthusiastically-dressed background dancers and extras with permanent stinkeye. It's a glorious show, is what I'm trying to tell you. Fucking beautiful, this thing.
Here's what this show is good at: one-liners, surprising details, subtext, music and quirky characters. Here's what this show is bad at: plot, character development, story, effectively filming and editing its consistently excellent and often quite inventive choreography in a manner that best exhibits said choreography.
This episode is chock-full of those signature clever/wacky details that make you laugh and those exuberantly arranged musical numbers that make you squeal with delight. It also employs a repeat of a tired, useless plot that already bludgeoned itself to death halfway through season three and requires, as per ushe, back-breaking extensions of disbelief. Furthermore, new characters Brody, Jake and Marley are, so far, mind-numbingly boring and an unwelcome departure from Glee's commitment to — if nothing else — lively characters.
Anyhow! Let's get this over with!


We open in the Hallowed Homosexual Hallways of McKinley High, where Blaine Anderson is performing the standard Glee opening voiceover: "Because of [xxx], I'm not [the star/captain/most-loved-human/accepted-applicant of xxx], but this [day/year/month/semester/episode/lunar cycle] that's all gonna change!"
Blaine: "Alright Blaine Anderson, time to change things up. Last year, it was all about letting the seniors shine, but this year, it's your turn."
Due to the infectious opening chords of Tears For Fears' "Everybody Wants to Rule the World," however, I find myself inexorably buoyed with spirit, pep, and possibly even shine, before our young bowtied homo even opened his piehole. I'm on board with this episode. Speaking of boards…
Blaine's Plan to Shine is like amateur ninja global warming — Blaine will shine by sharing his light with all of goddess's creatures, e.g., The Sewing Club! Also, The Superhero Sidekick Club!
He also joins the Advanced D+D Club (a.k.a., "Dungeons and Dragons" for all ye novices and non-former-Dungeonmasters out there), which appears to consist of an Annie-Lebowitz-photography-session-ready array of nerdy children dressed as mythical creatures of yesteryear and imagination!
Blaine admits that his drive to shine has been influenced by Kurt's drive to drive to New York City and Blaine's subsequent loneliness:
Blaine: "We talk and Skype and text as much as possible, but the only time we're really in sync is when we're hate-watching Treme together."
The "Everybody Wants to Rule the World" climaxes with Blaine onstage in the auditorium, singing while surrounded by dancing superheroes, fairy princesses, cheerleaders, knights and boys in tights with laser-guns. It's actually kinda rad.
Oh, and there's one last thing Blaine's gotta sign up for — class president!
Brittany's like, "what the fuck are you doing?" and Blaine's like, "I'm running for president!" and Brittany's like:

Starsweep in an Easterly direction towards glorious New York, New York, home of the world's cheapest manicures and most expensive haircuts, where Kurt Hummel is interviewing for an internship at Vogue.com.
Kurt will be interviewing with the new editor and "designer extraordinare," Isabelle Wright, who you and I all know as Peggy from Square Pegs and/or Janey from Girls Just Want to Have Fun. Just kidding you know her because her name is Carrie Bradshaw, and once upon a time she wore this gigantic flower on her boob: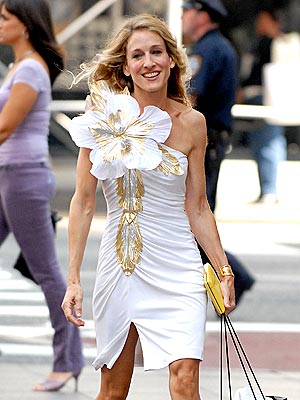 In a Regina George-ish montage, sodden faces declare that Isabelle Wright/Carrie Bradshaw is  "a style maverick" who "double-majored in fashion design and dead romance languages" and "gave Steve Jobs his first black turtleneck."
The stern vaguely foreign model-esque receptionist who ushers Kurt into Carrie Bradshaw's office is filing her nails, which is as lesbian as this show gets today, FYI.
Kurt: "Hello?"
Carrie Bradshaw: "Columbus!"
Kurt: "Excuse me?
Carrie Bradshaw: "You're from Lima, I'm from Columbus. And actually, I once got food poisoning in Lima —"
SPOILER ALERT: It wasn't Cracker Barrel.
Carrie Bradshaw: "— at some Italian place, It was Bread—"
Kurt: "Sticks?"
Carrie Bradshaw: "Breadsticks! Yes!"
Kurt: "I can't believe you ate at Breadsticks."
Carrie Bradshaw: "Well, I wish I hadn't."
Carrie Bradshaw adores Kurt's online resume! Carrie Bradshaw adores his portfolio of outfits!
Carrie Bradshaw adores the Half-Sweater Situation of 2011, from which my retinas have never recovered!
Carrie Bradshaw adores Kurt's fashion inspiration! Kurt's fashion inspiration includes Carrie Bradshaw! Wait what if Kurt's fashion inspiration wasn't Isabelle Wright, the character I'm presently referring to as 'Carrie Bradshaw' because why anything, but was Actual Carrie Bradshaw?
Kurt quotes Carrie Bradshaw and Carrie Bradshaw says terrible corny things like, "This is New York; it's for dreamers," and gets away with it, which is when a lightbulb exploded in my brain and I realized The Rule of Sarah Jessica Parker: girlfriend can make corny sound genuine. Whatever she sells, I buy. She pulls it off. Excellent casting, Glee. BRAVO.
Kurt is hired on the spot!
Carrie Bradshaw: "Listen, my friend, anyone who can pull of a Hippo broach deserves to be here. So welcome to VOGUE.com."
Kurt: "Thank you thank you so much!"
[GOES IN FOR THE HUG]
Carrie Bradshaw: "Oh, you're very welcome!"
[Carrie Bradshaw is poked by the hippo broach during the hug]
Kurt: "Sorry."
Carrie Bradshaw: "It's okay, it's okay. That should come with a warning."
Kurt: "Oh, it did."
Har.

Smear over the meadow, through the woods, across endless miles of Pennsylvania cornfields and fertilizer-drenched Ohio country air to McKinley High School, where Brit-Brit's trying to wrangle Artie into being her own Joe Biden. Real talk: everybody needs a Joe Biden. But Artie's not convinced he needs to pad his resume, really.
Artie: "I have a 4.0 GPA and I scored a 210 on my practice SAT, and I was the only handi-capable member of a national championship Glee Club. I'm not really worried about getting into college."
Brittany: "I know people like you are afraid of the spotlight sometimes, but did you know that Franklin Roosevelt was part robot, too, and he's on Mount Rushmore?"
Artie: "No he isn't and I'm just gonna say it again, I'm not part Robot."
In the world I graduated from in 1999, a 210 on your SAT was more or less what you get for spelling your own name right. What has happened to this world? Somebody fill me in. Also, does he mean PSATs, because "practice SATs" are things you can buy heaps of in workbooks and nbd. ANYHOW! Brittany assures Artie that were he to join up, she'd definitely do absolutely nothing and he could do absolutely everything.
Artie: "So I could be Cheney to your Bush."
Brittany: "I'd rather be landing strip."
!
Eventually, it's the brain in Artie's underpants that makes the final call:
Artie: "I mean, it's no secret that a woman loves a man in power and don't take this personally, but before I graduate, I would like to have a relationship that lasts longer than a couple weeks."
Brittany: "Why would I take that personally?"
Artie: "You and I dated."
Brittany: "We did?"
Artie: "Look, you've got yourself a deal."
Much to our collective lesbian despair, Artie and Brittany's relationship lasted way longer than a few weeks! Yet the dead horse of Glee's continuity problem already has three black eyes, so what else is there to say.


Smear to another big bright beautiful inspirational morning in The Glee Club Room, where Mr. Schuester informs the students that their championship nabbed him a spot on the Rules Committee for next year:
Tina: "Please tell me you're gonna ask what 1/2 vintage meant last year?"
Sam: "Or like, why some teams got to sing six songs and others only do one?"
Yes, please!
When Jake asks why they're not preparing for sectionals, Will explains that they never prepare for sectionals, they only talk about preparing for sectionals constantly and then perform every song for the first time the day of the competition, duh! I mean, he says that he's working very hard on ideas for this. But, via voiceover, Will confesses that he's completely tapped out of ideas. All he's come up with is "a scat version of Carmina Burana." Anyhow who cares, Brittany's got an announcement!
Announcement:
1. Brittany's curious if anybody's got proof Blaine was born in the country.
2. Brittany has selected Artie as her running mate to breach "the human-slash-robot divide" and "ensure both humans and vending machines will be voting for us."

The next scene is an adult scene and I don't recap adult scenes, especially adult scenes peppered with lazy fat jokes, but I must tell you that in the next scene, Will tells Sue all he's come up with for sectionals themes are "classic TV theme songs" or "a salute to Autumn" and if there's anything that breaks the heart of a CEO of Ideas, it's somebody with health insurance unable to come up with ideas for their job. Meanwhile here I am, overFLOWING with ideas and sans health insurance!
As much as I'd like to see Artie rap the Fresh Prince of Bel-Air theme song, I must offer my services to Will Schuester. How can he be out of ideas? I have so many ideas! Here are just five ideas I came up with in the last 20 minutes using the present cast with occasional guest stars from the old cast there are so many more where this came from:
+
1. Tegan & Sara, Obvs
"Take Me Anywhere" – Santana Lopez & Brittany S. Pierce
"City Girl" – Rachel Berry & Quinn Fabray
"Alligator" – Rachel Berry, re: Finn
"Nineteen" – Blaine Anderson
"On Directing" – Tina Cohen-Chang
"My Number" – Rachel Berry
2. Magic!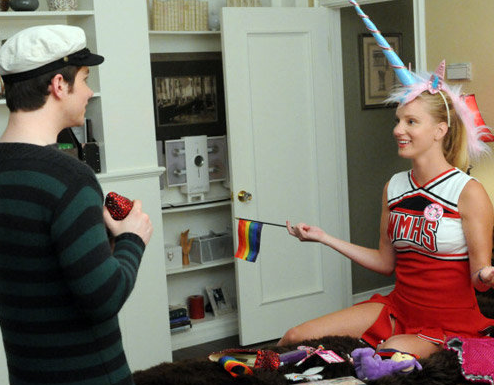 "Do You Believe in Magic" (Lovin' Spoonful) – Brittany S. Pierce, Tina Cohen-Chang, Sugar Motta and Unique Adams
"Under Your Spell" (from Buffy the Vampire Slayer) – Santana Lopez & Brittany S. Pierce
"Magical Mystery Tour" (The Beatles) – Rachel Berry with Santana, Mercedes & Quinn (visiting New York City, obvs)
"Every Little Thing She Does is Magic" (The Police) – Santana Lopez & Rachel Berry
"Magic Stick" (Lil' Kim) – Santana Lopez & Unique Adams
3. Lilith Fair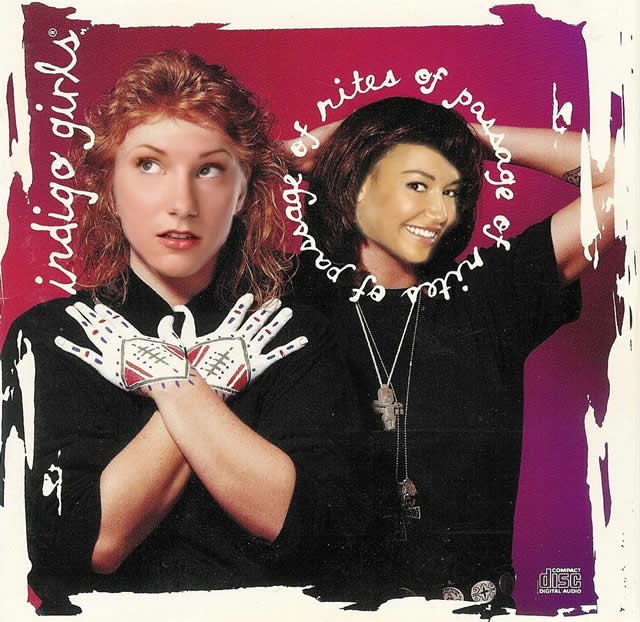 "Fast Car" (Tracy Chapman) – Mercedes Jones & Sam Evans
"Get Gone" (Fiona Apple) – Marley Boringface
"Bitch" (Meredith Brooks) – Santana Lopez & Unique Adams & Rachel Berry
"Ice Cream" (Sarah McLachlan)  – Santana Lopez & Brittany S. Pierce
"Foolish Games" (Jewel) – Quinn Fabray & Rachel Berry
"Closer to Fine" (The Indigo Girls) – Santana Lopez, Rachel Berry, Mercedes Jones, Tina Cohen-Chang Brittany S. Pierce, Quinn Fabray, Marley Boringface & Unique Adams
"Angel" (Sarah McLachlan) – Mercedes Jones
+
4. Long-Distance Love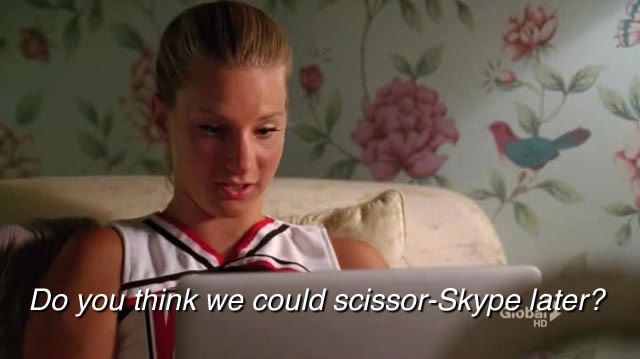 With so many Gleeks in long-distance relationships, this theme is a no-brainer. Unfortunately nobody at Glee has a brain.
"From a Distance (Bette Midler) – Rachel singing about Finn as he dodges land mines in Iraq
"Somewhere Out There" (Linda Ronstadt) – Rachel Berry & Quinn Fabray
"Hop A Plane" (Tegan & Sara) – Blaine Anderson & Kurt Hummel
"Carolina in my Mind" (James Taylor) – Sam Evans
"World at Large" (Modest Mouse) – Marley Boringface, Sananta Lopez & Rachel Berry
"Paper Planes" (M.I.A.) – Santana Lopez, Tina Cohen-Chang, Sugar Motta & Unique Adams
"Gone 'Til November" (Wyclef Jean) – Blaine Anderson & Brittany S. Pierce
+
5. Rock Musical
"Take Me Or Leave Me" (RENT) – Brittany S. Pierce & Santana Lopez (YEAH I KNOW THEY ALREADY DID IT BUT THEY NEED TO DO IT AGAIN, LEZ-STYLE)
"Touch Me" (Spring Awakening) – Rachel Berry & Jesse St. James
"21 Guns" (American Idiot) – Everybody except Tree Frog Jesus
"The Origin of Love" (Hedwig and the Angry Inch) – Marley Boringface, Tina Cohen-Chang and Unique Adams
"One Night Only" (Dreamgirls) – Mercedes Jones & Unique Adams
 Anyhow…


Back in the Harrowing Hallways of McKinley High, Sam's asking his new bestie (as of last episode) why she didn't secure Sam as her running mate, and she explains that she feared they'd end up like Sarah Palin and "her grandfather," who ran together, lost, and don't even speak anymore!
So Brittany introduces Blaine to Sam ("we've already met several times" – Blaine) and declares Sam Blaine's running mate. Blaine protests 'cause he wants to pick his own running mate. Perhaps his campaign could use a little Boring Marley or Unique Unique or Tree Frog Jesus or Dan Quayle?
Sam points out that his food stamps will earn the sympathy vote (while completely massacring their shot at the vending machine vote, sidenote) and his not-gayness will get the not-gay vote and his impressions are hilarious.
Blaine: "Okay, sure."
Brittany challenges them to a debate. "What's a debate?" asks Sam. So that's where we're at with that.


Starsweep to New York, New York, home of world's biggest apple, where the Style Team at Vogue.com have convened to bounce ideas around, re: leather. Carrie Bradshaw shoots down Chase's "leather as punishment"/"pair with chunky boots" concept but then redacts her rejection slightly out of what seems to be compassion and an inability to turn people down — a curious antidote to Anna Wintour's notoriously brutal honesty.
Daphne has an idea! What say you, Daphne?
Daphne: "Leather socks. Suede underpants. Cowhide brassieres."
Carrie Bradshaw: "Daphne, did you go off your meds again?
Daphne: "Yes."
Carrie Bradshaw: "Then I want you to stay off because that… is sick. I mean good sick, that's the kind of sick I want you to be. You see that's exactly what I'm talking about everybody, is forget the rules, let's just toss them. You know, let's think out of the box."
Then Carrie Bradshaw has a confidence crisis and yanks Kurt into her office for a debrief.
Carrie Bradshaw: "What did you think of the ideas in there?"
Kurt: "Fascinating."
[look of disbelief from CB]
Kurt: "I hated them. Look, I know I'm just an intern but I feel like "unexpected leather" should be in the backpages of The Village Voice."
Carrie Bradshaw confesses that she's just too nice for this job — she's promised everybody and their Mom she'll do this or that piece they suggested and now she's up to her eyeballs in Spankles ("spanks for cankles"). Kurt suggests "a music video that plays tribute to the most cutting-edge fashion," which pretty much describes every single video on every single style website in the universe, including, I assume, Vogue.com.
Carrie Bradshaw then proceeds to execute a stunning breakdown regarding her crisis of faith in herself, not knowing if crazy ideas are brilliant or just crazy! What is she going to do about equestrian leather bazooka polka-dotted plaid platform wedges, kittens, plastic forks, striped socks, goblins and tree frogs?
To be honest this exchange isn't completely different than many of my interactions with Intern Grace. That's the hidden benefit of an intern. You guys I got really sick at camp and Grace brought me Cheerios and pitchers of water while I writhed in my underpants and sat and talked to me until I felt better, I just need you to know that. Interns sometimes make screencaps but sometimes listen to you cry and freak out, too.


Pages: 1 2See entire article on one page