Smear back to the heartiest heartland in all of the world, Lima, Ohio, not to be confused with Lima, Peru, which doesn't have a Cracker Barrel. Artie tells Brit-Brit that JBI's recent poll suggests students will attend the debate… to see if Brit-Brit says something stupid.
Artie: "You're not stupid, you're really creative. Your brain exists in this magical other dimension where anything is possible. It's really amazing."
Artie's not alone in his pre-debate panic, Blaine's concerned about Sam's oral skills as well and thus we segue into a rousing rendition of "Celebrity Skin" — it's full of energy, humor, crazy fashions and appropriate 'plot development.' Much like the opening musical number, it's really rad and fun and Brittany gets to be all bossy in a powersuit, so everybody wins.

Smear back to New York City, home of the most haphazardly mapped grocery stores in the Western Hemisphere, where Rachel and Kurt are galavanting about, initially outdoors in Manhattan and subsequently on The Set of RENT: Bushwick!
Rachel's having a crisis! See, Rachel came to New York City to reinvent herself but still looks like Polly Pocket and the other dance glass girls are bitches and she destroyed her exposed brick with tribute graffiti for Finn Hudson, a.k.a. World's Worst Claymation Experiment.
Kurt: "I hate to say this but life is like high school. Styles and clothes determine the pecking order."
Suddenly, a giant anvil falls from the deconstructed ceiling, knocking Kurt unconscious and turning him into a total fucking idiot. Well, I think that's what happened because I've got no other explanation for why Kurt thinks it's a great idea to solve Rachel's confidence crisis by whipping over to midtown (a trip that'd take 1.5/2 hours by rail or $40 by cab at this time of night)…
… and breaking into the ultra-secure CONDE NAST BUILDING, where he's been interning for approximately 24 hours, to rob their couture closet and make Rachel feel less sad about Ohio and The Cracker Barrel and applesauce and Santana never being on the show and the fact that she's constantly paired with monumentally boring romantic partners.
Much to my surprise/relief, Carrie Bradshaw is ecstatic when she arrives at the office with her security detail to find Kurt and that girl from Spring Awakening!  Why?
Because Kurt uses Carrie Bradshaw's favorite word, "makeover"!
Thus we segue into "You're Never Fully Dressed Without a Smile/The Way You Look Tonight" makeover sequence, which involves heaps of giant puffalump dresses and lots of running around while touching clothing. It's like a cotton commercial! Also this is important because Carrie Bradshaw played Annie and "You're Never Fully Dressed Without a Smile" is from Annie.
Unfortunately, Kurt is dressed like the '80s throwing up on the '50s.
Cut to the next night, maybe, at The Set of RENT: Bushwick! where Kurt's video-chatting his laddy love back in Lima and you can just feel that Kurt's gonna sink chin-deep into a swamp of self-absorption at some point during this convo.
Blaine: "You're hanging out with fashion goddess Isabelle Wright and I'm running for student body president with a stripper."
Kurt: "Oh yeah I forgot about that, how's it going?"
Blaine: "It's going okay. But um, I did want to ask you what bowtie you think I should wear for tomorrow's date. I have narrowed it down to five, but mainly I have…"
Kurt: [dismissive] "Bow ties are your signature, whatever you choose you're gonna look great in."
There's chaos on Kurt's end and he's distracted by Rachel for a moment as Blaine waits, alone and wearing a plaid bathrobe in his bedroom in Nowhere, Ohio, wishing his boyfriend would treat Blaine more like his boyfriend and less like his press secretary. As Kurt rattles on about turtlenecks and Chloe Sevingy and whatever whatever his video bla bla bla, Blaine's Face of Despondence sinks to the lowest league of the sea, where it hangs out waiting for the scene to end and become a different scene.


Thus we travel back to The Glorious Midwest, where Will is talking about himself, and then we all die of boredom! Then we all come back to life and shuffle into the sparsely occupied McKinley High School Gymnasium for The Debate. Sam advises Blaine to ditch the bowtie 'cause it makes him look like Orville Reddenbacher but tiny and gay and Blaine does and he looks good!
You know what else looks good? DONUTS!
Sue introduces the "pimp and the gimp" for the Vice-Presidential Cook-Off and opens by asking them, "who in God's name gives a hot wet steamy dump about student government?" to which I say NOT ME!!! Then Artie rambles forever about active student bodies, after-school programs, the cafeteria, bla bla bla, and Sue takes a question from twitter (hahaha!) for Sam, and that question is, "are you ashamed of being a stripper?" And the answer to that question is no, he's not.
The crowd goes wild! Then it's time for the Presidential candidates to duke it out. Blaine opens be reiterating that Brittany didn't do anything during her term and laying down the law re: hair gel.
Blaine: "Telling anyone what they can or cannot put into their hair is disgusting. It's the first step towards tyranny my friends. Next thing you know, they'll start burning books. And then they'll probably start burning people, too."
Then Brittany tells everyone she loves high school so much that if she was president, she would make school year-round!
Brittany: "If you make me your president, Saturday and Sunday will be illegal so that Monday will come right after Friday which is the funnest day anyways!"
As we've established, "school" for Brittany involves zero homework, all your friends being there all the time, free lunch and complementary storage. Unfortunately the electorate's experience of "school" is dismal and involves doing work, dodging rock-salt assault and scavenging for tater tots, so basically Brittany is gonna lose and everything on this show is arbitrary all the time.
I feel like my lack of enthusiasm for this program is influencing the quality of this recap. I don't care about any of these things or characters and I can't pretend like I do! I don't hate it, either, or have any deep personal investment in it or a deep personal investment in hating it (like The Real L Word), it's just like, whatever, let's watch BLUES CLUES.

Starsweep to New York City, home of Tasti-D-Lite and the Statue of Liberty, where Kurt's summoned to Carrie Bradshaw's office for feedback on the Music Video Paying Tribute to Cutting-Edge Fashions he threw together last week during the Break-In Makeover!
Well — are you sitting down for this? Anna loves it! You know Anna. Anna Wintour!
Carrie Bradshaw says, "I had an instinct about you Kurt Hummel, and so far it's proven to be correct. I feel like we're real kindred spirits, don't you?" and Kurt is like "TOTES" and he calls her a fairy godmother. Based on their two days of love/cheer, Carrie Bradshaw decides Kurt should really reconsider NYADA and focus on FASHION.

Elsewhere in the fabulous town of New York, New York, Rachel is meeting up with The Dude at the dance studio so he can see her hot haircut and leotard situation.
Intoxicated by one another's mutual attractiveness, the duo embark upon a very enthusiastic cover of a terrible, terrible, terrible song. It's called "A Change Would Do You Good" and I swear on my hamster Picky-Picky's grave that it was in a commercial and that's why I hate it. But I can't find anything on the entire internet about it being in a commercial! Maybe it was on the soundtrack at GapKids when I worked there or something. Sheryl Crow's got way better songs. Jesus I hate this song.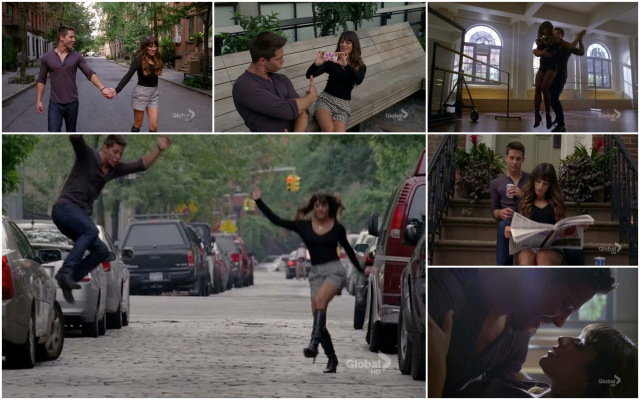 At the scene's breathy, close-mouthed conclusion, Rachel asks:
Rachel: "What are you doing tomorrow night? I wanna cook you dinner."
I hope it's Grilled Soy Cheese!


Thus we teleport back to the rolling valleys of Ohio, the state I will be in next Thursday when the next episode of Glee is on! It's time to announce who won Student Council President! Unfortunately Becky's unable to even summon enough enthusiasm to bang the xylophone.
SPOILER ALERT: Blaine won!
Sugar: "Make some noise. We know him!"
Cut to the giant election-winning party!
Artie's not too bummed about losing 'cause he already got what he wanted — Sugar asked him on a date to go horseback riding, which'll be interesting. Artie asks Blaine if Kurt is SO EXCITED about the win and Blaine lies and says Kurt's way excited and is totally planning a big inaugural ball.
After Artie exits the screen, Blaine tries calling Kurt but Kurt's at a work thing with SJP and other fancy-dressed people so he denies the call, which's supposed to be super-meaningful, as if boys who are truly in love answer their cellphones at work. Blaine should text!
Back at the Election Celebration Party, Sam checks in with his running mate.
Sam: "There's the man of the hour. You all right?"
Blaine: "You know it didn't hit me until right now: I came to McKinley for Kurt — that's it. And now he's gone, and even with Glee Club I just… I feel really, really… alone."
Sam: "You're kinda killing my party buzz, Bro."
Blaine: "I'm sorry, it's just that I did all fo this for him, I did all of this for him. And now he's not here. And so it just kind of feels like none of it matters."
Sam: "Of course it matters, you're McKinley's first gay guy president."
Blaine: "Nobody cares about that."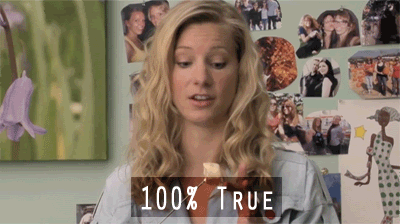 Sam: "Look, before you, Kurt was the first gay kid I met. don't get me wrong, he's great, but I just don't really get his Bravo jokes ir the fashion thing or Broadway. You and me, it's different, you know? Never had a gaybro before. We'd be like Wolverine and Cyclops, you know, show people how we're cool with each other. And if you ask me, that's what matters."
Oh my God Sam is such a friendslut this season! Then Brittany comes over and Sam cozies up to her like somebody who might steal her from Santana in which case I would die.
Sam tells Brittany that he voted for her, which is stupid, and says other words Brittany enjoys:
Brittany: "I don't know how you did it. You just always know exactly the right thing to say."

Cut to New York, New York, home of the bike messenger who ran over my foot on 46th street right after I'd bought a piping hot cup of Tuscan White Bean soup and a Peppermint Mocha, where Rachel Berry, World's Most Inconsistent Vegan, is attempting to prepare a romantic dead animal feast for That Dude.
Before Rachel can go out back, slaughter another helpless plumped-up bird and drop it into a saucepan, Brody shows up! With flowers!
I'd like to link to the TV Trope page on "Independent Women Can't Cook," but apparently they're still working that one out.  Thus, over piping hot slices of non-vegan pizza, the happy not-couple exchange banter regarding "things nobody knows about me" and it's supposed to be hilarious but is definitely not hilarious or interesting. That Dude was obsessed with Ace of Base and Rachel grammatically corrected a love note she received in elementary school. HAHAHAHAH!
Rachel: "I've never told anybody that before, not even Finn."
Then they start kissing…
…but then there's a knock at the Brian Kinney Door. WHO'S AT THE DOOR??!!
Is it Jesse St. James?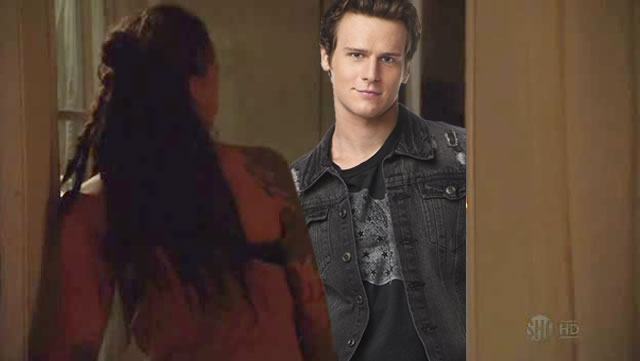 No, it's not that guy. Perhaps Quinn is using that monumentally expensive Rail pass to ride all the way to New York from New Haven for a little cunnilingus?
Oh whoops, I forgot that this show never wants to give me any lesbo-action. Dammit. Well, maybe Rachel's right and it's just Kurt, who maybe lost his key or whatever?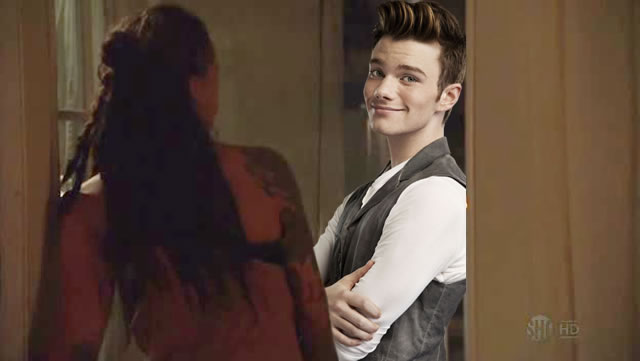 No, it's not St. Gay of Lima. Hm. Oh, I know! It's that girl from that show everybody's always talking about!
Oh, never mind, I guess it's not Honey Boo Boo. Perhaps Murphy heard my wails of pain and despair and has brought in Santana for a little last-scene hanky-panky?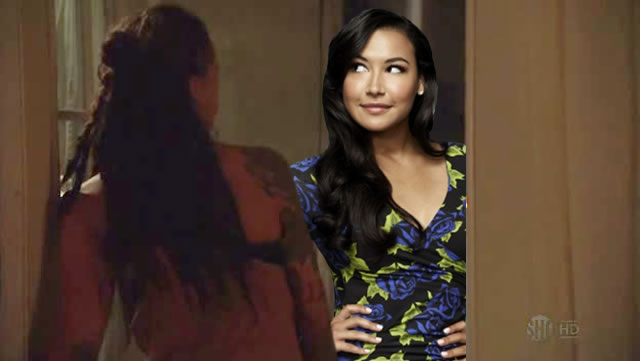 Okay if it's not Santana, maybe it's a desperate man hunting for last-minute support from absentee voters in swing states?
Okay, I give up, it must be a potato sack delivery from overstock.com!
Womp WOMP.
Who will Rachel choose? The boring guy behind her or the boring guy in front of her?!! Tune in next week to find out in an episode entitled "The Break-Up," which sounds really promising! Santana will be singing "Mine," by Taylor Swift.

Pages: 1 2 See entire article on one page