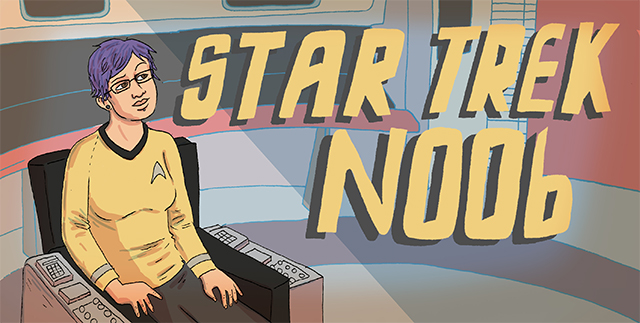 As I mentioned last week, this will be my last Star Trek N00b recap!
That's right, pour out a bottle of yer fave cheap booze. I am no longer a Star Trek N00b. In an attempt to jump rank, I am currently at Ensign tryouts.
Don't worry, I'll still be around writing for the Geekery section and working on all sorts of nerd culture and gaming posts!
With that said, let's get onto the TIME TRAVEL. Watch along with me!
---
1960's Space Race
Hmmm, just to get some context, here's some of the big Real Life space happenings in 1969:
The Soviet Union sends the Venera 5 probe to Venus, followed by Venera 6.
The Soviet Union transferred crew members between two docked spacecraft, the first time this has ever been done.
NASA sends the Mariner 6 probe to Mars.
After extensive test runs, NASA's Apollo program successfully lands men on the Moon twice in this year.
This is the intense Space Race between the U.S. people watching Star Trek during the late 1960's have in mind.
So you know things will get pretty interesting when the Enterprise is spit out by a time warp and the Air Force takes notice. The Enterprise engines are kaput, and they can't get out of the Earth's atmosphere yet. Uhura tunes into their radio frequency, and hears an announcement about the first moon walk happening on a Wednesday.
However, there's something really mind-blowing about this episode — it was aired in 1967. This episode's writer, an awesome lady named Dorothy Fontana, basically predicted that the first moon landing would happen in 1969 AND on a Wednesday. How freaky! (Just so you understand how much of a badass Fontana is — she went on to write for Next Gen, Deep Space Nine, The Animated Series and Star Trek Video games for Bethesda.)
Captain John Christopher zooms up in a jet up to investigate the spacecraft. He's amazed by what he sees.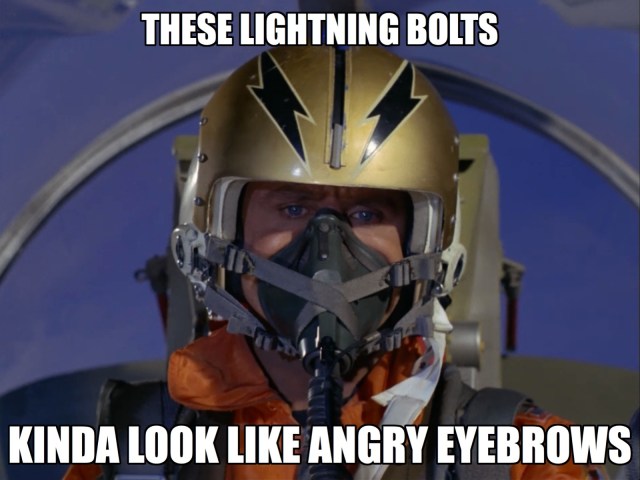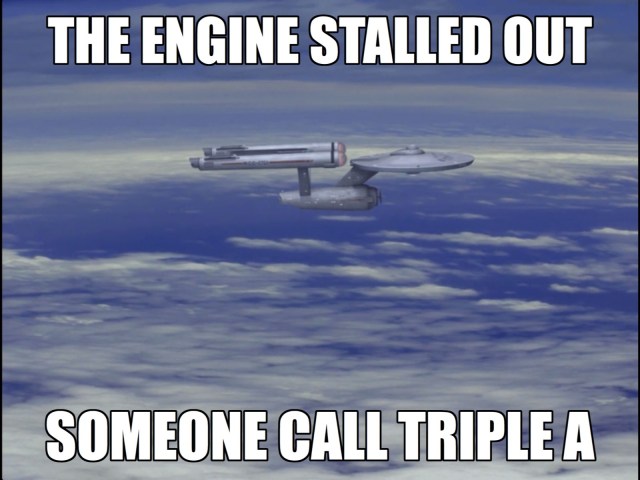 ---
"Little Green Men"
The Air Force instructs Captain Christopher to do whatever it takes to force the Enterprise to land. To prevent this, Kirk uses their tractor beam to grab the jet. Unfortunately, this ancient jet technology isn't up to snuff, and the tractor beam starts crushing it like an empty soda can. Kirk orders the transporter room crew to beam Captain Christopher on board, so that he doesn't get squished.
Too bad this has the potential to throw the future out of whack.
Captain Christopher has got a lot to learn about life in the 23rd century. Like women working alongside men! And how to trust peeps with pointy ears! It's so progressive!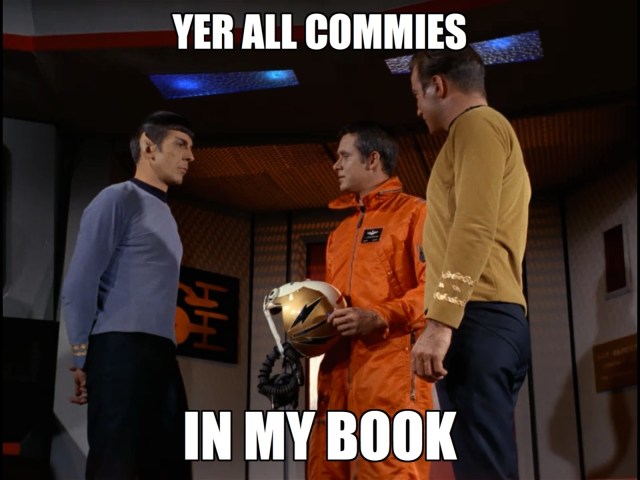 ---
Time Prisoners
Spock reveals a whammy: since Christopher's seen too much of the future, he can't be allowed to go back to his life with the Air Force and his family. He could ruin everything, spoilers everywhere!
Christopher complains, "My disappearance would change something too!"
Spock bursts his bubble with: "I have run a computer check…they show no record of any relevant contribution by John Christopher."
OUCHES. I think that I'd just crawl away if Spock told me that my entire life was meaningless.
Unfortunately, everyone on the Enterprise is also stuck…in the 1960s.
---
How To Suck At Stealth
Turns out that Spock was wrong: Christopher's future son will contribute majorly to upcoming space travel. So it looks like they'll need to drop him off after all! But Kirk wants to steal back any Air Force evidence that might lead to SPOILERS. Y'know, like the pictures Christopher managed to take before his jet crashed. Good thing Instagram and cloud services don't exist yet, otherwise the Enterprise would be fucked.
Kirk comes up with this half-assed plan: Sneak around a secure Air Force Base in your Star Trek duds, because that's not suspicious AT ALL.
Too bad Kirk and Sulu get busted by a guy who HAS EYES. Seriously. The sergeant caught them by looking through a giant window on the door they were hiding behind.
The sergeant takes their phasers and cheese graters, er, I mean communicators. He accidentally sets off an emergency beacon, and gets beamed up to the Enterprise.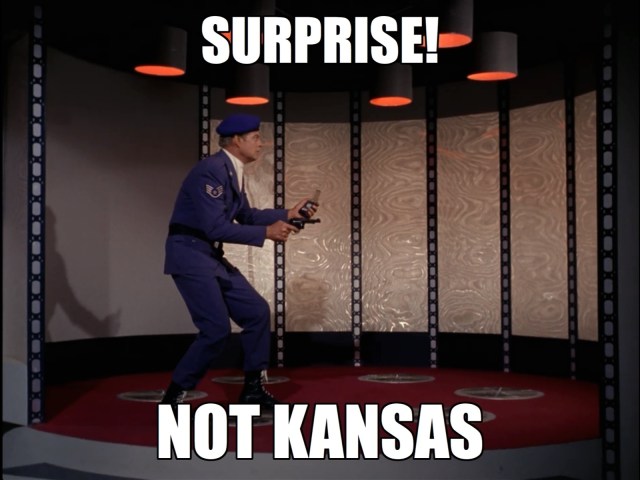 Dammit future people, careful with the spoilers!
Now that the gun-waving guy is gone, Kirk and Spock are free to sneak sneak sneak to the photo lab.
---
Bad Boy Kirk
The next couple of scenes are some classic Kirk-beats-em-up-with-his-fists while Sulu escapes back to the Enterprise with the photographs and other incriminating evidence.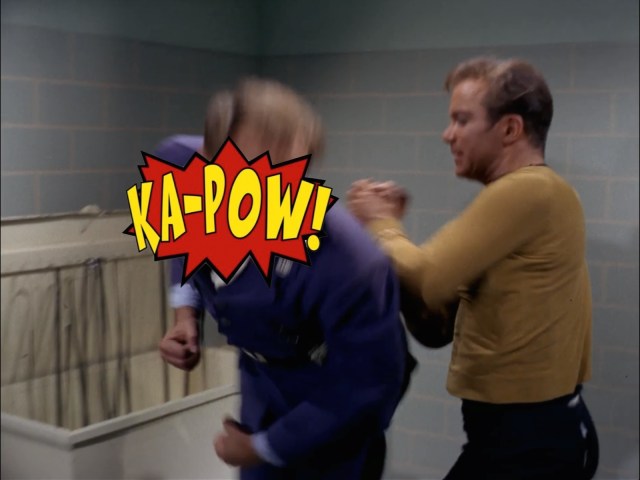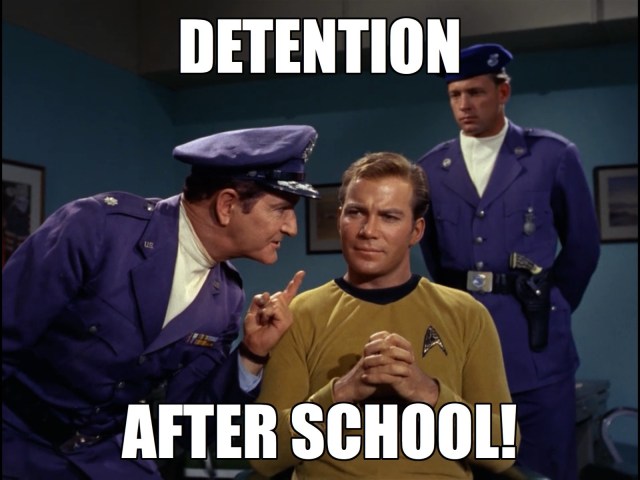 Good thing Spock comes to his rescue!
After some chit chat, Christopher suddenly draws a gun on Kirk, demanding his freedom. Watching Spock sneak up on him was so terrifying, yet satisfying, like something out of shark week.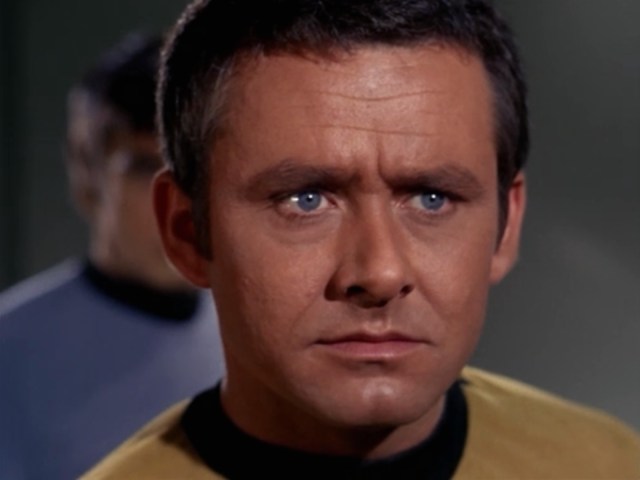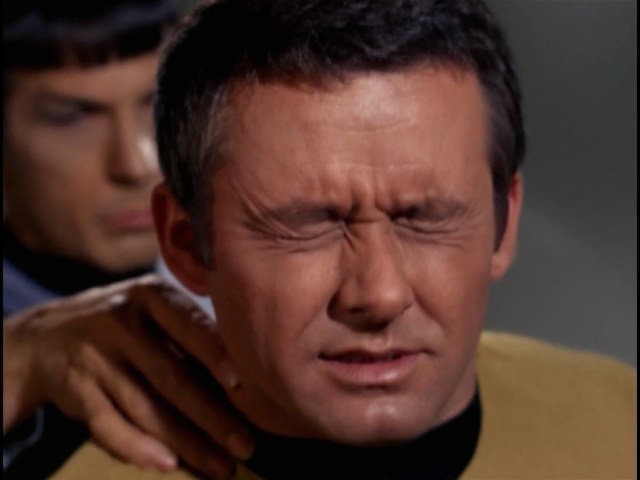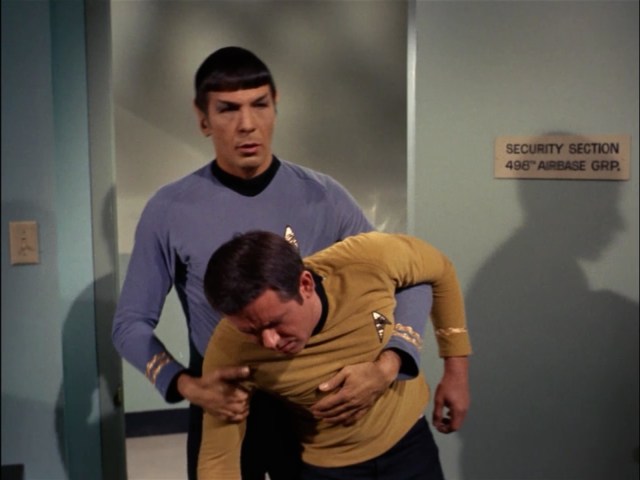 Nobody points a gun at Spock's honey.
---
Get in the DeLorean! We've got to go back!
Everyone beams back upstairs, and Scotty's fixed the engines. Spock postulates that they can slingshot themselves back in time by using the Sun's gravitational force to pick up enough speed. As they fly though space, they can just drop off Captain Christopher and the Sergeant in their respective times!
They manage to slingshot everyone back to the time right before they disappeared. This effectively erases of the last day from everyone's memories since it never happened.
The crew decides to film some last minute workout videos while the insane speeds toss them around the Enterprise: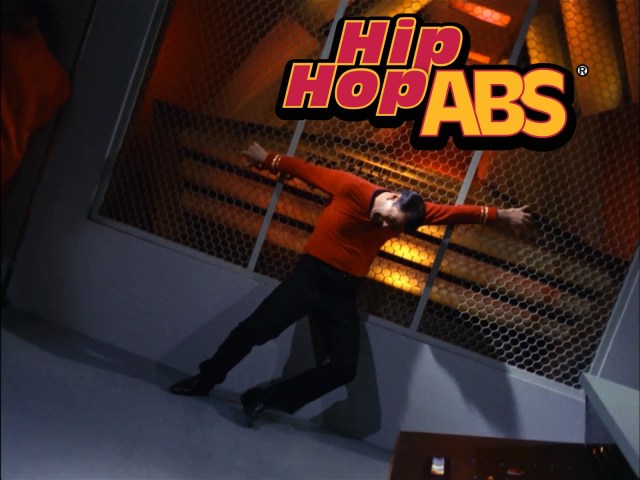 And they're back home.
I really wish this had been a longer episode, because damn, there was so much potential to play with dated technology, politics, and social issues in that time frame!
However, I suspect this isn't the last we'll be time traveling with Star Trek.
---
Dear readers, thank you so much for embarking into this journey with me! I feel like a brand new geek. Don't forget, you can still keep track of my Star Trek viewing progress by following me on Twitter or Pinterest. Love ya all!
---
Growing up, I had never watched a Star Trek episode all the way through. My family members weren't huge sci-fi fans, and they'd flip the channel whenever Star Trek came on. Now I am embarking on an epic nerd rite of passage, chronicling my reactions to every episode of Star Trek: The Original Series (TOS).
Header by Rory Midhani