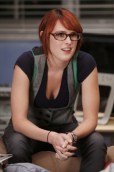 90210: These are the same people that brought you Brandon telling Andrea Zuckerman that she couldn't really speak about the importance of condoms in schools because she didn't know what sex felt like, obviously 90210 is going to bring you an actual lesbian relationship between Gia (Rumer Willis) and Adrianna (Jessica Lowndes) –
"This isn't a fling. We're coming at this [relationship] from a genuine place and not going, 'Let's do a titillating story that will grab some promotion.' This is a real aspect of teenager life that's interesting… And there's been a real void in the 90210 universe in terms of gay and bisexual characters."
You realize this means we have to watch it now.
ROSIE: Ask Ro – Already with the nonense over there. (@ohnotheydidnt)
MICHAEL F*CKING JACKSON: This is it, and that's that: Now, instead of rolling our eyes at that weirdness, we gaze up at it and sigh. It took a lot for us to come around, but I'm glad we did. (@fourfour)
UGGZ: Our friends at Wingspan Pictures (also responsible for shooting the footage I've been producing for the Behind the Scenes videos) did a hot video called Uggz (oh and guess who made their behind the scenes video which you're gonna go watch right now? Me, Riese. Yup! I edit stuff!) Anyhow HERE'S THE VIDEO and also check out their website Bah-Jiggity.com:
LINDSAY LOHAN: A day after Michael Lohan claimed that he was worried that his daughter's alleged pill popping would lead to her untimely death, the self-promoting father said his ex-wife Dina is covering for their drug-addicted daughter and believes too that her days are numbered: he says Lindsay is a drug addict and will die, I think she needs to tweet again STAT. No really we hope she's ok.
ANDERSON COOPER: Gawker argues that Anderson Cooper is out enough for us and Pam agrees: yet the question still is, does AC have any obligation to be more out than he already is? He isn't in the business of denying it. He just makes it a private part of his life that he's not going to broadcast on TV. I'm sure if he were asked point blank on the air by a reporter he wouldn't lie (one would hope).
LADY GAGA: Lady Gaga: Fame Monster reviewed at Unzipped: "Album finished, Steve and I return home (BTW, in good traffic the album can take you from Hollywood to Santa Monica and back). We thank DJ, then spend the rest of the weekend talking about what we heard. The whole album is bigger—with more confidence in Gaga's singing and definitely more production backing from the studio. " Also Lady Gaga will be on MTV on It's On with Alexa Chung on November 3rd.
Laneia was gonna do the daily fix today and this is as far as she got before I had ten things to add:
Big Gay Halloween Show:
What are you gonna be for Halloween?