By Carolyn & Ali
In last year's sexy NSFW Sunday Gift Guide, we recommended a plethora of sex toys and other sexy gifts and in 2010, gave you a strap-on buyers guide as well as tips on where to buy cute underpants or a replica of Eileen Myles's fist. This year, we're sharing our favorites — vibrators, harnesses, dildos, restraints, lube and more.
The Form 6 is the ultimate vibrator: sleek and sexy and smooth and good inside and out. It's made of medical-grade, phthalate-free silicone, is waterproof, charges through a stainless steel band and comes with several power adapters. It has two fairly quiet motors, so either or both ends can vibrate, and has six vibration modes at five power levels. It also won both an International Design Excellence Award (in leisure and recreation) and an International Design Magazine award. If the Form 6 is the Lexus of vibrators, the Hitachi Magic Wand ($55) is the Cadillac. It's two feet long, plugs into the wall, and is the favourite "back massager" of probably millions. For something tiny, battery powered and inexpensive, try the Water Dancer ($32).
Couples Vibrator: We-Vibe 3 ($139) (only $83 today!)
The We-Vibe was the best thing to happen to hands-free vibrators when it first came out. It actually is hands free and meant to be worn during penetrative sex with its slim profile and ability to hug clit and g-spot at the same time. Then, with the update, they gave us a wireless remote control with a ten-foot range, thanks be to lesbian Jesus. Partner play just got ten times more exciting. So did doing homework within a ten foot range of your partner, doing dishes within a ten foot range of your partner, online shopping this gift guide within a ten foot range of your partner and existing within a ten foot range of your partner. Does the idea of giving control to your bedmate this holiday sound appealing? Try the Lelo Lyla ($139) because it has one of the most innovative remote controls — change the speed of the vibrator with just a turn of your hand.
The appeal of this toy: the smoothness and the heft. Good for solo or partnered penetration, this toy's temperature can be changed by placing it in warm or cool water. And despite how it looks, your hands won't slip off while using it. Also it's fucking gorgeous. Read our review of it here. Not into granite? Try the Lelo Ella ($44) for a smooth silicone feel, or the Njoy Pure Wand ($108) to see what metal feels like.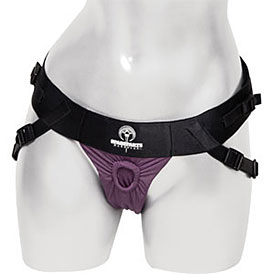 Ever wanted to wear your harness in the shower? Fall asleep in it? Have it be made of things that are not animals? The Spareparts Joque Harness provides you with all these things. And you can put it in the washing machine! If that weren't good enough, this harness gives you impeccable cock control and has a fairly sizable o-ring to handle some pretty big toys (2 inches in diameter.) Some people prefer the Spareparts Theo Harness ($110), which is a g-string style similar to thong underwear and a bit less bulky but just as versatile. If you or your sexy person is brand new to harnesses and strap on sex, you may want to go with Babeland's Beginner Strap-On Kit ($80), which comes with all the accouterments.
Strap-Free Harness: RodeOH ($45)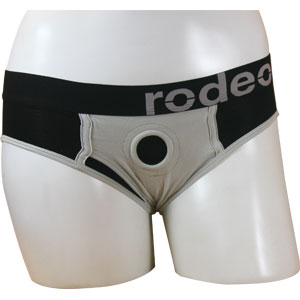 It will be no surprise whatsoever that our pick for strapless strap-on harnesses is the RodeOH. The RodeOH is comfortable, doesn't involve messing around with straps or buckles and can be worn like underwear under your clothes. It's made of cotton and spandex and is best with toys that are five to six inches long and one to 1.5 inches wide. For an alternative, try the Spareparts Tomboi harness ($75), which has pockets for bullet vibes, or the Velvet Nest harness ($68), which comes in lace or polkadots.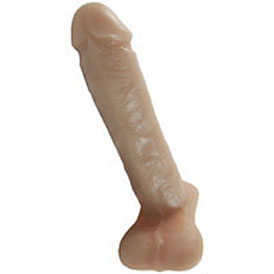 For realism with a touch of size, the Outlaw measures 2 inches in diameter and is 8 1/2 inches long. Size queen queer? No problem! It's a silicone toy that feels like skin and feels great to wear. If you want the experience of VixSkin's realism without the large size, try the Mustang ($116) at 1 1/2 inches in diameter, or the Bandit ($116) clocking in at 1 3/4 inches.
These restraints are particularly handy if you are fond of tying up people who don't have a headboard with bars or even a bed frame. The cuffs are wide with velco closures, which means that they are entirely adjustable and that they're fun to fight against but won't leave bruises or permanent damage. You can also skip the under-the-bed part and clip them together as handcuffs. (Read our review of the restraints.) Or try the Red Light Wrist Restraints ($62) or the Bound to Please Bondage Tape ($8).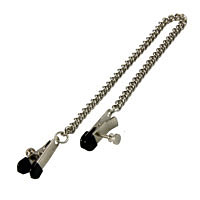 These alligator-style clamps are perfect for almost anyone because they're completely adjustable — they can be loose and just for show, or much tighter. They have wide, rubber-tipped grips that give them a less sharp pinch, side screws to adjust, and a thick silver chain between them. Try Tweezer Clamps ($16) for a different adjustable pinch, or Clover Clamps ($24), which are not adjustable, create a stronger sensation and tighten when you pull against them.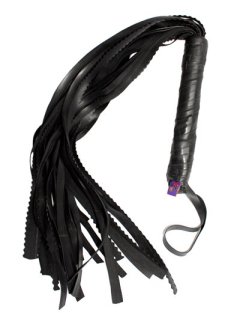 This full-sized flogger has a 7.5 inch handle with 20 inch tassels. Made from repurposed bicycle tubes, it's both intimidating and environmentally conscious! Try the Sweet Persuasion Mini Flogger ($25) for something lighter, or the Pink Medium Rubber Whip ($24), which is made of latex rubber and can be either gentle or very stingy.
Lube For Toys: Babelube ($0.50–$22)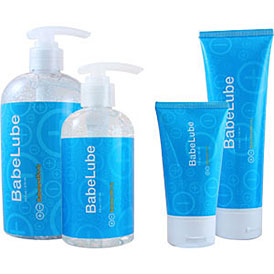 You can't taste it. You can't smell it. It stays slick for a really long time. It's super cost effective. It's water based and toy safe. It's glycerin free (never put glycerin in your hoo-ha, please). And it's made by our favorite lesbian-owned toy shop, Babeland! Great as a stocking stuffer. You can also try Maximus lube ($1–$16), which stays slicker for longer but does taste a bit bitter, which is something to consider if you plan to blow that dildo after it's done fucking you. More into anal? You may want to try Liquid Silk ($1–$16) for anal play. Taste? Terrible. Texture? Worth it.
Lube For Fisting: Pink ($1.50–$26.50)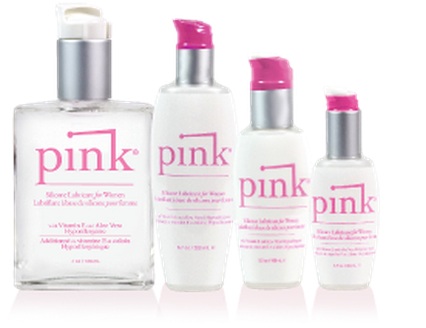 This silicone-based lube is made for people with sensitive skin, as it contains aloe vera and vitamin E, and is perfect for fisting because it does not dry out as quickly as other, water-based solutions. As this is a silicone-based lube, please do not use this with silicone toys. It will ruin the toy. Continue your exploration of silicone-based lube with Sliquid Silver ($1.50-$24), which is endlessly slick and, bizarrely, recommended by Oprah. Also try Sliquid Organics Silk ($15) for the same silky texture, aloe vera and vitamin E as Pink has, but in a water-based lubricant.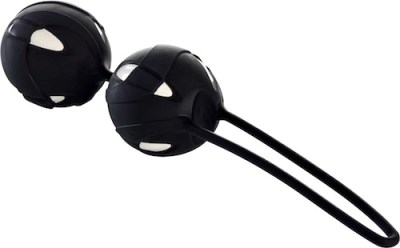 Kegel exercisers strengthen your pelvic muscles and feel really neat while they do it. The Teneo Silicone Kegel Balls come in strings of one or two balls, have a handy band for removal and come in lots of colours. You can also try the Ami Silicone Kegel Exercisers ($49), which come in a set of three.
For more help with sexy holiday shopping:
Have you ever given or received a sexy gift? If you wanted one toy this year, what would it be? Let us know in the comments!