In honour of Earth Day, let's take a look at a couple of eco-friendly dildo options from Babeland: the Octopussy and the Laid Stone.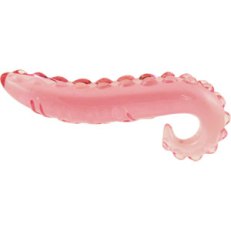 Description: Whether you've got a thing for sea creatures or you just love the wonderful sensations of textured glass, the Octopussy Dildo is waiting for you. Two rows of smoothly textured nubs run along the shaft for extra sensation during penetration; the looped handle makes the Octopussy easy to hold and maneuver (perfect for G-spot stimulation). And of course, boilable Pyrex holds temperature beautifully — pop it in the fridge or a bowl of warm water, then add some lube and enjoy unparalleled slickness. Put this compact, weighty wonder to good use, and your deep-sea adventures are sure to yield some very pleasurable results.
Review: The Octopussy looks almost exactly like an octopus tentacle, which has irrevocably changed the way I feel about sea life in general. It's not overly large or heavy, and that, coupled with its pink tint, makes the Octopussy pretty friendly looking.
The tip of this toy is upturned, so getting to your G-spot is not a problem. Not at all. And the absolute best part of this dildo is the loopy finger grip at the end. Every dildo should have a loopy finger grip at the end! Whether you're using the Octopussy alone or with a partner, that nifty little handle makes it almost effortless. Also clean-up is as easy as soap and water!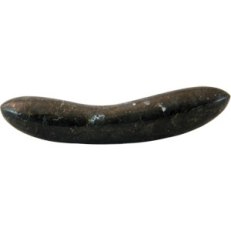 Description: Imagine the smooth, heavy sensation of glimmering, polished black Norwegian Moonstone against your G-spot: that's the Laid Stone Dildo. This hand-held, perfectly weighted and stunning dildo is contoured on one end to hit the G-spot with just the right angle, crafted with your anatomy in mind. The other end, meanwhile, is narrower for a different penetrative feel. Place it in a bowl of warm or cool water to change its temperature. Makes a one-of-a-kind gift, and it's great for couples; you'll never again complain that your hand's too tired to keep going. Brought to you by Laid, a new sex toy design company from Norway whose toys are at the cutting edge of form and pleasure.
Review: I don't know what Norwegian Moonstone is, but I can say that this toy is not for the faint of heart. You know the brooding, mysterious, drop-dead sexy beast who's been giving you fuck-me eyes all night but hasn't said a word? That's the Laid Stone dildo. It's dark, heavy and slick, and there's something mildly-to-extremely intimidating about it, but in a good way.
I don't know, it's just fucking sexy.
The Laid Stone starts out cool, temperature-wise, but warms up after a bit. I found it a little more fun to use with a partner and, as the giver, both ends fit comfortably in your hand. Because of its weight, there's really no fear of the toy slipping out of either your partner or your grip.
I would still recommend the Laid Stone for solo use. Bonus: any future partners will instantly know what's up when they see this baby in your nightstand.
Babeland is donating 10% of eco-friendly toy sales in April to Grist, an online magazine that's been called "The Daily Show of the environment," and I know how much you like the Daily Show.