HOMOPHOBIA IN HIP-HOP
Bay area rapper Lil B decided that homophobia needs to end in hip-hop so he wrote an album and called it I'm Gay. Like many of you are probably thinking, GLAAD also hopes it isn't a gimmick. But Lil B appears genuine:
I'm an ally to the people, and yes, I am an ally. I am a man that loves women, but I am an ally. I am not interested in men, but I do support men and women and any choices that they make that are positive. I don't support violence and I don't support negative energy. I don't support people putting other people down. I'm a supporter of GLAAD and the gay community. It's major love. I have love for the community and I have love for people in general.
MTV claims Lil B isn't the first rapper to stand up for gay rights, but they also cite Eminem's friendship with Elton John as an example of that, which, um, idk. Is that a thing now?
It's interesting that Lil B would call his album I'm Gay despite repeatedly claiming he's not gay, maybe he should've named it I Support Gays instead. Although it's not very catchy. What do you think; is he genuine or is it a gimmick?
Read NY Magazine's interview with Lil B here.
PINK BOYS
If you recall, a few weeks ago J.Crew ran an ad showing president and creative director Jenna Lyons and her son painting his toenails pink, which caused some people to get their panties twisted in a knot over gender stereotypes, because, you know, boys can't paint their toenails pink without it turning them into raging homosexuals. Last week Adam Lambert said something very important to this effect, as we reported.
Anyways, the good news is that on Friday 7,718 people painted their toenails pink to commend J.Crew for their awesome ad. Sarah Hoffman even saw a guy wearing a pink cast for the occasion! He probably broke his arm in solidarity!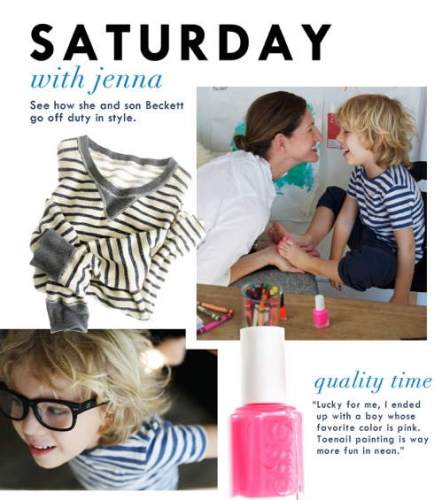 GAY WALK OF FAME
Hollywood apparently has a Gay Walk of Fame, and Christina Aguilera is the first one to have her hand and foot prints into the sidewalk, which, by the way, is in front of The Abbey. You may have heard of it? The Real L Word girls liked it there.
BIG GAY WEDDING
Here's a heartwarming story about a woman who thought she was straight but sometimes-had-sexual-fantasies-about-women who fell in love with another woman, they got gay civil unionized, and lived happily ever after. Also she believes in sexual fluidity: I still felt attracted to men, still turned my head if a gorgeous man walked into the room. This applies now as much as it did then. There wasn't ever a lightbulb moment when everything suddenly became clear and I decided I was gay. There are so many layers to sexuality that it takes time to find one's was. Had I always been bisexual but it had just been so suppressed that even I was blind to it?
THE OFFICE
The Office's 7th season finale is coming up. This is a "landmark" because Steve Carrell will no longer be on the show after this. Who will replace Michael Scott as the boss at Dunder Mifflin!? Speculation abounds as more and more guest stars are added to the 50-minute season finale, now including Jim Carrey, Will Arnett, Ricky Gervais, and more.
HARRY POTTER
Maybe you love Harry Potter as much as we do and think he changed your life. If so, you will be excited to learn about Dear Mr. Potter, a soon-to-be book compiled of letters from fans about how Harry Potter changed their lives. The book is already close to 200 pages long.
Along with fans from around the world, "Dear Mr. Potter" also features letters from Harry Potter actress Evanna Lynch (Luna Lovegood), New York Times-bestselling author John Green, Leaky Cauldron webmistress and author of New York Times-bestseller "Harry, A History" Melissa Anelli, Andrew Slack of the Harry Potter Alliance, Paul DeGeorge of Harry and the Potters, Andrew Sims and Eric Scull of MuggleNet, and Esther Earl's mom, Lori.
Dear Mr. Potter: Letters of Love, Loss, and Magic is set to be released July 1, 2011 and is now available for pre-order.
OTTERS AND PANDAS
As per Rachel K's instructions, I found a video of an otter (meeting another otter!), and threw in a picture of a panda for good measure.
Sidenote, have you guys ever been to dailyotters.tumblr.com? Because that URL is severely misleading.