Hey there starship troopers! It's the holiday season and we're here to help you get your shit together in a variety of ways: recipes, kits, gift guides, holiday how-tos and so very much more. Come along with us, won't you, to Autostraddle Holigays 2011!  FYI, if you follow the amazon/babeland/good-vibes/shopstyle links from our website when making holiday purchases, Autostraddle gets a little percentage of that money via our Amazon/Babeland/GoodVibes/Shopstyle affiliates account, so we encourage you to do that All Season Long!! Thank you!


Hey-o! It's December 11th which means you're seriously running out of time to give your girlfriend, activity partner, next-door-neighbor or sexually-repressed-straight-best-friend-who-secretly-wants to-ride-your-pony the gift of a MOREGASM.
In last year's gift list we gave you some pretty amazing suggestions including a very serious guide to purchasing a strap-on. So this year we knew we had to do something similar, but also different.
There are so many ways to give something sexy to someone for the holidays. The classic sexy gift is smothering your entire body in whipped cream and chocolate body paint, lying down on some satin sheets, and then hollering at your activity partner to come lick all that stuff off your body and then launder the sheets that you probably ruined and then have sex in the shower!
But this year why not get a little creative? RIGHT?!!
Here's our suggestions, in order of cost.
+
Sex Toys Etc
1. Pin-Up Vibe & Bombshell Balm – $30 – This thing is totally fit for a femme. It's got a cute sassy pin-up tin and inside is a teeny-tiny three speed bullet vibrator and "Bombshell Balm" which the description promises will "come together to create a party for her clit." Sounds like a good party, dude!
2. Lesbian Honeymoon Kit – $32 – This fantastic lesbian-targeted situation includes a finger vibe (very fun item, that thing), all kinds of oils, balms, lubes and also a "dirty dice" game.
3. RodeOH Harness – $45 – We reviewed this harness a few months ago and we told you to get it. Did you get it? If not, you should probably get it now.
4. Sqweel – $59 – When you're vacationing in Barbados or having important meetings in hotel conference rooms or just sitting on the internet far away from your girlfriend or activity partner, I bet you often think to yourself "I wish her tongue was a sex toy!" WELL NOW IT IS. Not just one tongue though, it's TEN TONGUES. You can also use it when she's right there, too, but just saying.
5. Under-the-Bed Restraint System – $62 – If you're sleeping on a matress in an alley and don't have a headbord but really wish you could restrain your girlfriend and fuck the living daylights out of her, this is for you! The straps fit under any mattress and include arm and legs restraints.
6. Incoqnito Black Leather Handcuffs – $62 – These are really sexy and good for Occupy Wall Street role-playing.
7. WeVibe – $99 – This is super high-tech but also really simple. When you watch the video you're gonna be like "OHHHH that's a really good idea for a toy!" It's good for  couples.
8. Lelo Lyla – $139 -You're already "taking an active hand in your partner's pleasure," right? Well good news: this shit has wireless remote control to fit in your hand or her hand and there's "SenseMotion technology" happening and all these things.
9. SpareParts Harness Combo – $196 – The SpareParts Joque Harness is hands-down totes the best harness ever, so already you've scored. Then you add a Vixskin silicone Mustang Dildo and also a Babeland Buzz Vibrator AND ALSO some Babe Lube and you've saved yourself a bit of money and will have good strap-on sex forever and ever.
10. Amazon has some great deals on Lelo Products like 58% off a $115.70 Lelo Nea Personal Massager ($48.32), 62% off a $155.71 Lelo Liv Personal Massager ($58.61) and 57% off a $217.29 Lelo Ina Dual Vibrator.
+
Other Sexy Gifts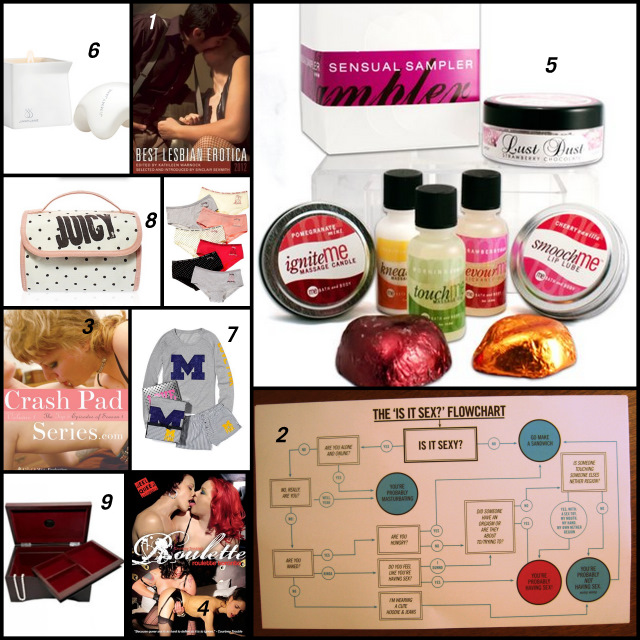 1. Best Lesbian Erotica 2012 – $10.36 – Legendary butch sex blogger Sinclair Sexsmith wrote the introduction to this year's edition, edited by Kathleen Warnock. And if you'd like to get a little more specific about your wishes and desires in erotic literature, how about…
* Take Me There: Trans and Genderqueer Erotica ($10.17) edited by Tristan Taormino
* Say Please: Lesbian BDSM Erotica ($9.85) edited by Sinclair Sexsmith
* Girl Crazy: Coming Out Erotica ($11.95), edited by Sacchi Green
* Where the Girls Are: Urban Lesbian Erotica ($13.52), edited by D.L. King
2. Autostraddle Merch: The "Is It Sex?" Flowchart ($11) is an 8.5×14″ poster that answers world's most confounding question, and the 2012 Photography Book/Calendar ($18) is chock-full of Robin Roemer's gorgeous photography of half-naked lesbians.
3. Crash Pad Series Volume 1 DVD – $24.95 – Advertised as "the story of the sexiest apartment in the world," this DVD of the legendary porn series won the 2008 Feminist Porn Award for Hottest Dyke Film, and you know how those Feminist Porn Awarders are.
4. Roulette: Toronto DVD – $24.95 – Speaking of the Feminist Porn Awards, that's what brought Courtney Trouble to Toronto to make this lovely movie featuring Jiz Lee, Dylan Ryan, April Flores and includes ejaculation in every scene! Hardcore vignettes! Holler!
5. Sensual Sampler Kit – $32 – Knead Me Massage Lotion, Devour Me Lickable Oil, Touch Me Massage Oil, Lust Dust Edible Body Powder, Mini Rub Me Massage Bars, Ignite Me Massage Candle, Smooch Me Lip Lube. THAT'S SO MUCH STUFF!
6. Jimmy Jane Knead Me Sensual Massage Set – $48 – The "Afterglow Candle" not only smells super -amazing, but when you blow it out, the melted wax becomes a skin-friendly massage oil. Also comes with a "Contour M" massage stone and is wrapped in a pink bow. The whole thing is just so very romantic.
7. Victoria's Secret Boxer & Crew Set – $59.50 – What's super cute about these is that you can get one to represent your University, favorite baseball team or favorite basketball team! It comes in a cute gift box, too.
8. Juicy Couture Day of the Week Panty Set – $99 – Have you forgotten what day it is? Avoid this tragic misstep with the Juicy Couture Day of the Week Panty Set. Seven boyshort panties with lovebirds in seven different colors and patterns!
9. Luxury Sex Toy Storage Box – $99.99 – This sucker stores up to 20 DVDs, 3-4 vibrators and everything else in the whole world. It opens by magnet (so you don't have to mess with keys) and is discreet for when parents/children are around.
For more help on sexy holiday shopping:
+ Good Vibrations' Sexy Queer Gift Guide
+ Babeland's Sexy Gift Guide by Price
+ Autostraddle's 12 Books About Sex
+ Autostraddle's Last Minute NSFW Valentines Day Gift Guide
+ Autostraddle's 2010 NSFW Sunday Gift Guide
+ Autostraddle's Boyshorts Guide, Bra Guide and Cologne/Perfume 101
Buying sex toys for friends or lovers isn't always easy — have you ever given a sex toy gift to a friend or lover? Received one? If you were to get a sexy gift this year, what would you want that gift to be? Let us know in the comments!