We are all very excited for the upcoming debut of The L Word Generation Q Season 3, which will debut on Showtime on November 18th. Here's everything we know about the show so far!
---
L Word Generation Q Season 3 Is About Finding "The One"
A new Entertainment Weekly exclusive revealed some new tidbits of information about Season Three, as well as some stuff we already knew, like Kehlani's appearance on the show as Ivy, who is "re-entering the world of dating after having a baby" and falling for "an unavailable woman." (Earlier releases indicate that woman is Alice)
Furthermore, The L Word: Generation Q is "all about finding the one in season 3" and will include "some returning characters from the original series." We already knew that Tina was coming back, but they did say characterS, plural, so! As for Bette and Tina, Marja Lewis-Ryan told Entertainment Weekly: "With so much history between them, they're forced to answer: Would it be different this time around or is it too little too late?" 
---
Fletcher Joins Guest Stars List for Season 3
Fletcher announced on twitter today that she has gotten herself a new trailer… ON THE SET OF THE L WORD GENERATION Q! A stunning next move after creating so much lesbian drama this summer!
it's official. #TheLWord needed more drama for Season 3…so they invited me to be on it. we did it fam pic.twitter.com/33NNSqAGQD

— FLETCHER (@findingfletcher) September 21, 2022
First Clip of Gen Q Season 3 Shows What Happened After Bette Opened the Door For Tina
Showtime has released its very first look at Season 3, in perhaps a desperate bid to extract the lesbian population from  TikTok drama and place us back where we belong: Bette and Tina drama.
---
Carrie (Rosie O'Donnell) is Upped to Series Regular and May Have a Sex Scene
On The Howard Stern Show on September 12th, Rosie O'Donnell told Howard she's a series regular on The L Word: Generation Q's Third Season and that she will, probably, have a sex scene, directed by none other than L Word Sex Scene God Shane McCutcheon.
"They said it's a sex scene," Rosie told Howard, "and I told them when I took the job I'm not doing a sex scene but the women who are there, they're so smart and they're young and they're in their 30s and 40s and they're writing this incredible stuff."
While still uncertain about shooting the scene, Rosie related that Kate Moenning is directing the episode and has assured Rosie there'll be an intimacy coordinator. According to IMDB it appears that Katherine O'Keefe, a queer intimacy coordinator who has worked on Vida, For All Mankind and Grey's Anatomy, will be doing the intimate honors for Generation Q's third season.
On August 30th, Rosie O'Donnell posted a TikTok from set on August 30th, saying she was "in her Carrie hair" and had just shot a scene at a bowling alley. "I love it here," Rosie said. "People are so nice. Everyone! The crew, the cast, the drivers. Yesterday we did a scene in the bowling alley and today all of my thigh muscles hurt. Or, I should say, both of my thigh muscles hurt."
---
Margaret Cho and Joey Lauren Adams Will Guest Star in Season 3, Jamie Clayton Upgraded to Regular
In addition to announcing its premiere date this morning, Deadline has announced that Jamie Clayton has been upped to a series regular for Season 3, which comes as a surprise to all of us who thought she was already a series regular in Season Two. Furthermore, a number of guest stars are joining the program, including Joey Lauren Adams (Chasing Amy), the legendary Margaret Cho (you know Margaret Cho!!) and Joanna Cassidy (Brenda's Mom on Six Feet Under). They also have new details about Kehlani's previously announced guest role:
…comedian Margaret Cho… will play herself as a guest host on the Alice talk show; Joey Lauren Adams (Chasing Amy) as Taylor, a salt-of-the-earth barista with a secret passion; Joanna Cassidy (Six Feet Under) as Patty, Tess' mom and a former Las Vegas showgirl now suffering from multiple sclerosis and dementia; and singer Kehlani as Ivy, a makeup artist and young parent who heads up Alice's glam team and falls for the wrong person.
---
L Word Generation 3 Season Three Premiere Will Stream November 18, 2022
Today it was announced on Instagram that the third season of L Word Generation 3 will be streaming on Showtime starting November 18, 2022 and will premiere on the network grid on November 20th.
The post also contained a lot of cryptic notes, such as a list of names that includes Carrie (Tina's ex), Pippa (Bette's… ex?), Ivy (?) and Skye (?), the indication that perhaps "someone gets married" (which could involve pictionary or patriarchy?) and a nod to the existence of time itself: LAST YEAR? LATER? QUEERER?. Other notes reference the concept of "fucking your ex" and "i wanna f u on my livestream" and also a drawing of a person with curly hair, TBD.
---
Kehlani Will Be Guest-Starring in L Word Generation Q: Season 3
We don't know much, but we know that legendary queer musician Kehlani has now gone from binging The L Word Generation Q to guest-starring in an episode!
On the evening of July 26th, Kehlani teased a "big announcement" on their instagram story, sharing a picture of themselves in front of a trailer, covering the name of the show on the door. That show is, we now know, The L Word Generation Q Season 3.
Honestly guys I feel like Season Three is gonna be really great!!!!
---
L Word Generation Q Season 3 Production Has Begun!
Season 3 of The L Word Generation Q began production the week of June 9th, and everybody's having a great time taking fun pics from set!
Look at Kate Moennig and Jordan Hull in suits and shiny shoes!!??!
Look at these ladies heading out on a road trip?!?!
On June 10th, we got new set pics from Jamie Clayton, Kate Moennig and Leo Sheng:
On June 6th, Leo Sheng uploaded an "obligatory boomerang on day one of s3 for @ShoTheLWord." On June 8th, Leisha Hailey posted a photo from set starring herself, hair/makeup artist Christy Tagatac, actor/screenwriter Chris Renfro and makeup artist Angel Radefeld-Wright:
Laurel Holloman also posted photos from set.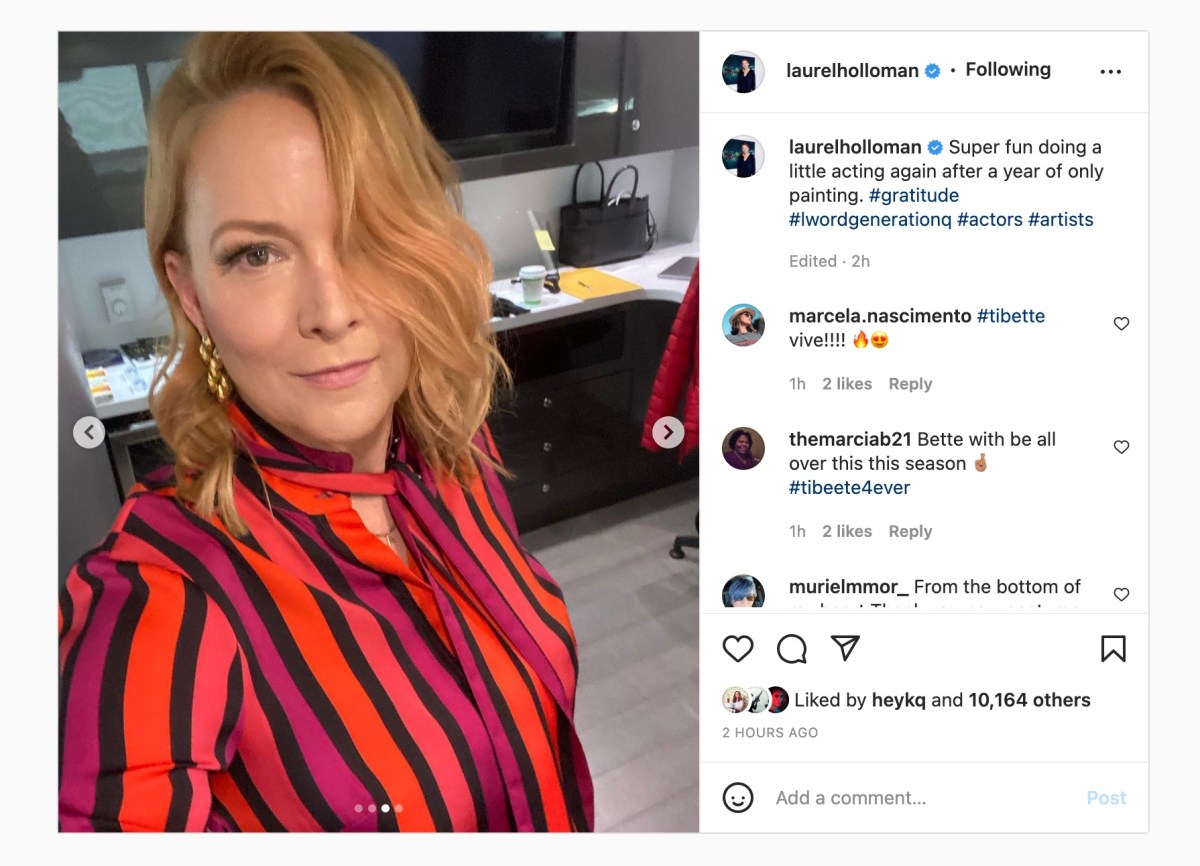 ---
L Word Generation Q Season 3 Assembles Its Writers Room
Marja Lewis-Ryan has posted an instagram photo of the writer's room for The L Word Generation Q Season 3 and once again it appears that I am somehow not in it. However, many others are!
L Word Generation Q's Season Three Writing Team Is:
Nova Cypress Black: Non-binary writer, arts educator and poet, 2021 Outfest Screenwritng Lab Fellow, 2021 Hillman Grad Mentee, Damn Write Originals Screenwriter. Nova posted some pics of their move to LA on Instagram, including a shot next to their nameplate as Staff at The L Word Generation Q, and Lena Waithe commented "proud." SO!
Melody Derloshon: Producer of The L Word Generation Q since Season One, has previously been credited with writing one episode each season, previous projects include Cougar Town and Telenovela.
Allie Romano: Writer and story editor on The L Word Generation Q since Season One. Previously worked as a Staff Writer on The Upshaws and a writer's assistant on The Dark Crystal: Age of Resistence. Associate Producer on Marja Lewis-Ryan's film 6 Balloons (2018).
Marie Tomisato: Screenwriter/Director. Formerly a Production Assistant on the horror film Scare Us. Is producing a short called Internal.
Nina Kim: Comedy writer. Formerly a Writer's Production Assistant on Nancy Drew and Shondaland's Sunshine Scouts and a showrunner's assistant on Netflix's Dead to Me. Formerly selected for Viacom's Writers Mentoring Program. Semifinalist at the 2020 Austin Film Festival. (Also went to the University of Michigan, just like me and also Leo Sheng and also Jacqueline Toboni!)
Alison Levering Wong: Comedy Writer and Actor. Formerly a Staff Writer for One Day at a Time and Paramount's Rise of the Pink Ladies. Also worked as a producer at Buzzfeed Motion Pictures and as a staff writer for Disney Television Animation and has performed her comedy all over the place!
María Renée Prudencio: Bolivian writer and actress known for The Last Call (2013), The Eternal Feminine (2017) and Club Sandwich (2013).
The last two are Courtney Nicole and Leah Couvelier, and I can't find much information on either of them, besides that Leah was in a movie called Realm of Shadows in 2022.
The Cast Attends 33rd Annual GLAAD Awards
Everybody looked amazing!!!
L Word Generation Q Season 3 Is Coming
In February, Showtime announced that they had renewed the series for a third season that would debut later this year. There will be ten episodes, and Leisha Hailey, Kate Moennig, Arienne Mandi, Leo Sheng, Rosanny Zayas, Jacqueline Toboni, Sepideh Moafi, Jamie Clayton, Jennifer Beals and Jordan Hull are all presumably returning to the show.