The L Word Generation Q Season 3 debuted on Showtime on November 18th. Here's everything we know about the season!
---
Episode 310: Looking Ahead
Episode Description: Shane and Sophie challenge old patterns, while Alice discovers "The One" may be closer than she thinks. Dani distracts herself from Dre, until a surprising reveal force her to choose what she really wants. Micah and Maribel make moves toward becoming parents, while Finley takes a big step into adulthood as all of the season's love, lust, loss, laughs and longing come to a head. Season finale.
---
Episode 309: Quiet Before the Storm
Episode Description: Alice's past mistakes blow up in her face, forcing Sophie and Dani to pick up the pieces. Shane drops a bombshell at Angie's class reading. Meanwhile, Finley helps Carrie seduce Misty, but can Carrie check her baggage and get the girl?
---
Episode 308: Quality Family Time
Episode Description: Chosen families come together at Thanksgiving when an unwelcome visitor brings Finley to her breaking point. Sophie realizes the price of her indecisiveness, while Maribel plans a grand gesture for Micah, and Carrie lets her true feelings slip. Across town, Dani kicks back for a solo holiday until unexpected circumstances push her and Dre closer, and Shane and Angie volunteer together when a surprise sighting forces them to confront Angie's feelings.
---
Episode 307: Little Boxes
Episode Description: Alice searches for "The One" while Dani fights her true feelings. Sophie jeopardizes Micah and Maribel's chance at parenthood. Finley acts as Carrie's wingman while Angie must confront a hard truth before furthering things with Hendrix.
---
Episode 306: Questions for The Universe
Episode Description: In a very special episode, Alice, Shane and Sophie grapple with their biggest questions on the path to finding "The One."
---
Episode 305: Locked Out
Episode Description: Tensions run high as Alice and Tess uncover the lies in their relationships and awkward circumstances leave Shane with nowhere to run. Dani lives her romcom fantasy with a sexy stranger until she discovers some serious baggage that threatens Sophie and Finley's newfound trust. Meanwhile, Micah and Maribel struggle to take the first step into parenthood as Angie helps her roommate through a sticky situation.
---
Episode 304: Last To Know
Episode Description: Micah finds a queer role model with a familiar face, while a new face comes to town and helps Dani and Sophie break out of their funk. Meanwhile, Alice tests the waters of her new relationship, until scary movie night becomes a little too scary. Shocking truths come to light when the masks come off.
---
Episode 303: Quiz Show
Episode Description: "Alice leverages her 100th episode as an opportunity to find "the one" with help from a special appearance by guest Margaret Cho. Dani cares for Gigi until old wounds drive them apart. Meanwhile, Shane competes for Tess's attention. Finley and Carrie make big moves, while Angie discovers a troubling revelation about her new flame."
---
Episode 302: Los Angeles Traffic
Episode Description: Bette and Shane break new ground with Tina and Tess, respectively, but old habits come back to bite them. Sparks fly with Alice's latest prospect until an unexpected revelation, while Angie heals her heartbreak with a new flame. Meanwhile, Finley competes for Maribel's favor until Maribel drops a bomb about Sophie that threatens to tear them apart, and Dani puts hurt feelings aside for Gigi, but is it too late?
---
New Generation Q Key Art Teases Photo Booth Hookups
Snaps from this photobooth have been popping up in L Word advertisements and billboards and also all over the Instagram accounts of the actors involved (see: Jacqueline Toboni, Shane, Leisha Hailey (with Margaret Cho!), Jennifer Beals) and everybody has questions about FINLEY AND DANI. Well, according to Ash Silver, "these pics are from a photo booth on set the cast could have fun in, except Bette & Tina are photoshopped in obviously." So they don't necessarily mean that Finley and Dani actually are gonna hook up this season, but I personally would love that because I LOVE CHAOS.
---
Episode 301: Last Year Info
Episode Description: Bette and Tina struggle to reconcile their past and future selves as Angie is dealt a shocking blow on her first day of college. Meanwhile, Shane adjusts to domestic life with Tess, and Alice questions what she wants in a partner. At the bungalow, Finley returns from rehab and works to pick up the pieces of the life she left behind with Sophie, while Dani and Micah take big swings with Gigi and Maribel. Season premiere.
---
Donald Faison Returning as Guest Star in Season 3 of The L Word Generation Q, Paula Placido To Play "Roxy"
As per Showtime:
Picking up right where the dramatic season two cliffhanger left off, the series continues to follow the cast of characters as they struggle with secrets, old scars and new flames on their search for "the one." Bette Porter (Jennifer Beals) is on the brink of a devastating letdown or startling confession after Tina (guest star Laurel Holloman) appears at her door; while they determine their future together, their daughter Angie (Jordan Hull) embraces her new freedom at college, finding love in all the wrong places.  At the bungalow, Finley (Jacqueline Toboni) returns from rehab and discovers news about Sophie (Rosanny Zayas) that threatens both her sobriety and their relationship. Meanwhile, Dani (Arienne Mandi) and Micah (Leo Sheng) both attempt to take major steps forward in their relationships, but Gigi's (Sepideh Moafi) baggage and Maribel's (guest star Jillian Mercado) temper put their plans to the test. The drama heightens as Shane (Kate Moennig) and Tess (Jamie Clayton) grapple with secrets that could tear them apart for good, while Alice (Leisha Hailey) questions whether she'll ever find her soulmate, or if she's doomed to be alone forever. Rosie O'Donnell and Donald Faison also return to guest star in their roles of Carrie and Tom, respectively.
In addition to the new news that Donald Faison is returning in a guest capacity, the trailer and new information on IMDB reveal that artist Paula Andrea Placido will be joining The L Word: Generation Q for at least two episodes, playing "Roxy."
You may recognize Paula from Hacks, where she played Hannah's hot subletter who Hannah ended up hooking up with or from Shameless, where she played a lesbian bartender Debbie did not end up hooking up with but they did kiss, so.
---
Trailer and Teaser for The L Word: Generation Q: Season 3
The trailer for The L Word Generation Q:Season 3 has been annotated chaotically by the entire TV team. You can also watch it here:
Previously, a teaser for The L Word Generation Q Season 3 on Amazon Prime Video which I have thus far been unable to locate on my own interface for The L Word Generation Q but mark my words I sure will eventually! Luckily, fans have stepped in and recorded the teaser for us all to witness:
GINI!!!! Smiling into kissing!!!!! But Dani saying "Are you dating me or her?" and the camera points to Gigi looking at Nat and turning around to Dani????? WTF!!!???? #Gini #TheLWordGenerationQ pic.twitter.com/IwuHLhvSxk

— ✨ maría ✨ | Kacy reunion soon! 🌈♥️ (@gini__us) October 12, 2022
The new teaser plays with the chart motif once more, showing us clips of Dani and Gigi, Sophie and Finley, Micah and Mirabel, Shane and Tess and Bette and Tina. There's Dani asking "are you dating me or her" while we see some camera-play between Gigi and Nat? There's Alice saying, probably to Shane let's be honest, "things get too real, you get restless" while the tape cuts from Kehlani to Alice! There's Mirabel saying "you two are so toxic together" about Sophie and Finley, because she underestimates the worth of this important ship! ALSO WHY IS THERE A LINE ON THE CHART FROM SOPHIE TO REBECCA THAT DOESN'T EVEN MAKE SENSE??
Previously, we were served a sneak peek clip of Season 3 from Showtime, showing Bette opening the door for Tina as per the final scene of Season 2.
---
Who Are The New Cast Members and Guest Stars?
In September, Fletcher announced on twitter that she has gotten herself a new trailer… ON THE SET OF THE L WORD GENERATION Q! A stunning next move after creating so much lesbian drama this summer!
it's official. #TheLWord needed more drama for Season 3…so they invited me to be on it. we did it fam pic.twitter.com/33NNSqAGQD

— FLETCHER (@findingfletcher) September 21, 2022
Musician Kehlani will be playing Ivy, a single Mom who is "re-entering the world of dating after having a baby" and "falling for an unavailable woman."
Also on our list of guest stars? Chrishell of "Selling Sunset" posted a TikTok from her trailer on October 12th indicating that she, too, will be appearing on the program: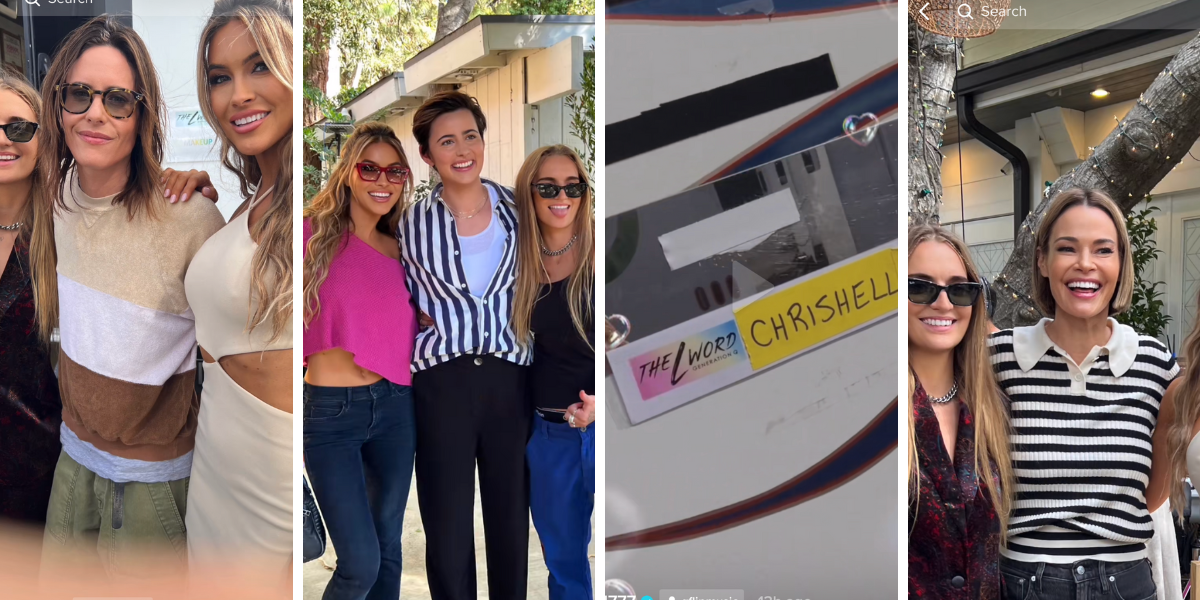 Other guest stars announced for Season Three include:
---
Everything We Know About the Plot of L Word Generation Q Season Three
TV Line recently dropped a little bit of buzz regarding Season Three of The L Word; Generation Q: Jordan Hall revealed that Angie will be 18 when the series picks up and "will tackle young adulthood, and her relationship with her Moms will thicken."
Jillian Mercado told TV Line that "drama, drama, drama!" and "life-altering decisions" are coming up for Maribel, continuing: "All of the questions [from last season] will be answered [and] a lot of beautiful romances and relationships and real-life experiences will be told."
Previously, we learned from Entertainment Weekly that The L Word: Generation Q is "all about finding the one in season 3" and will include "some returning characters from the original series." We already knew that Tina was coming back, and I know personally of one other original series cast member who is returning but I was sworn to secrecy. So that's at least two, but here's hoping for even more!
As for Bette and Tina, Marja Lewis-Ryan told Entertainment Weekly: "With so much history between them, they're forced to answer: Would it be different this time around or is it too little too late?" 
Furthermore, L Word YouTuber Ash Silver recently did a set visit in Los Angeles, and Jamie Clayton told Ash that everybody was gonna "lose their mind" about the finale. Other cast members Ash spoke to seemed particularly fond of Episode Six. She also observed that it appears the network is investing more money in the show this season, noting specifically that filming has been moved from the Paramount Lot onto their own lot.
---
Carrie (Rosie O'Donnell) is Returning for Season Three and May Have a Sex Scene
Rosie O'Donnell has been posting videos from set and on The Howard Stern Show on September 12th, and that she will, probably, have a sex scene, directed by none other than L Word Sex Scene God Shane McCutcheon.
"They said it's a sex scene," Rosie told Howard, "and I told them when I took the job I'm not doing a sex scene but the women who are there, they're so smart and they're young and they're in their 30s and 40s and they're writing this incredible stuff."
While still uncertain about shooting the scene, Rosie related that Kate Moenning is directing the episode and has assured Rosie there'll be an intimacy coordinator. According to IMDB it appears that Katherine O'Keefe, a queer intimacy coordinator who has worked on Vida, For All Mankind and Grey's Anatomy, will be doing the intimate honors for Generation Q's third season.
On August 30th, Rosie O'Donnell posted a TikTok from set on August 30th, saying she was "in her Carrie hair" and had just shot a scene at a bowling alley. "I love it here," Rosie said. "People are so nice. Everyone! The crew, the cast, the drivers. Yesterday we did a scene in the bowling alley and today all of my thigh muscles hurt. Or, I should say, both of my thigh muscles hurt."
---
Will Pippa (Vanessa Estelle Williams) Be in Season 3?
During a set visit, L Word reporter Ash Silver asked about how many episodes Vanessa Estelle Williams and Rosie O'Donnell were going to be in, and was told Rosie would just be in a few episodes. She was unable to receive confirmation re: Williams' episode count.
Vanessa Estelle Williams hasn't been listed as part of the cast on imdb, but Ash's question and Pippa's name scrawled on the first page of the aforementioned Episode 301 script do suggest she could be returning, even if just for one moment! On October 4th, Vanessa Estelle Williams posted a video from set — Casamigos Ranch in Malibu — and it seems that commenters have assumed the set-in-question is The L Word Generation Q.
---
L Word Generation 3 Season Three Premiere Will Stream November 18, 2022
Today it was announced on Instagram that the third season of L Word Generation 3 will be streaming on Showtime starting November 18, 2022 and will premiere on the network grid on November 20th.
The post also contained a lot of cryptic notes, such as a list of names that includes Carrie (Tina's ex), Pippa (Bette's… ex?), Ivy (?) and Skye (?), the indication that perhaps "someone gets married" (which could involve pictionary or patriarchy?) and a nod to the existence of time itself: LAST YEAR? LATER? QUEERER?. Other notes reference the concept of "fucking your ex" and "i wanna f u on my livestream" and also a drawing of a person with curly hair, TBD.
---
L Word Generation Q Season 3 Cast Share Photos From Set:
Season 3 of The L Word Generation Q began production the week of June 9th, and the whole cast has been sharing fun pics from set ever since. Here's a collection from Leisha Hailey:
Ilene Chaiken came to set:
Look at Kate Moennig and Jordan Hull in suits and shiny shoes!!??!
Look at these ladies heading out on a road trip?!?!
Look at these set pics from Jamie Clayton, Kate Moennig and Leo Sheng:
On June 8th, Leisha Hailey posted a photo from set starring herself, hair/makeup artist Christy Tagatac, actor/screenwriter Chris Renfro and makeup artist Angel Radefeld-Wright:
Laurel Holloman also posted photos from set.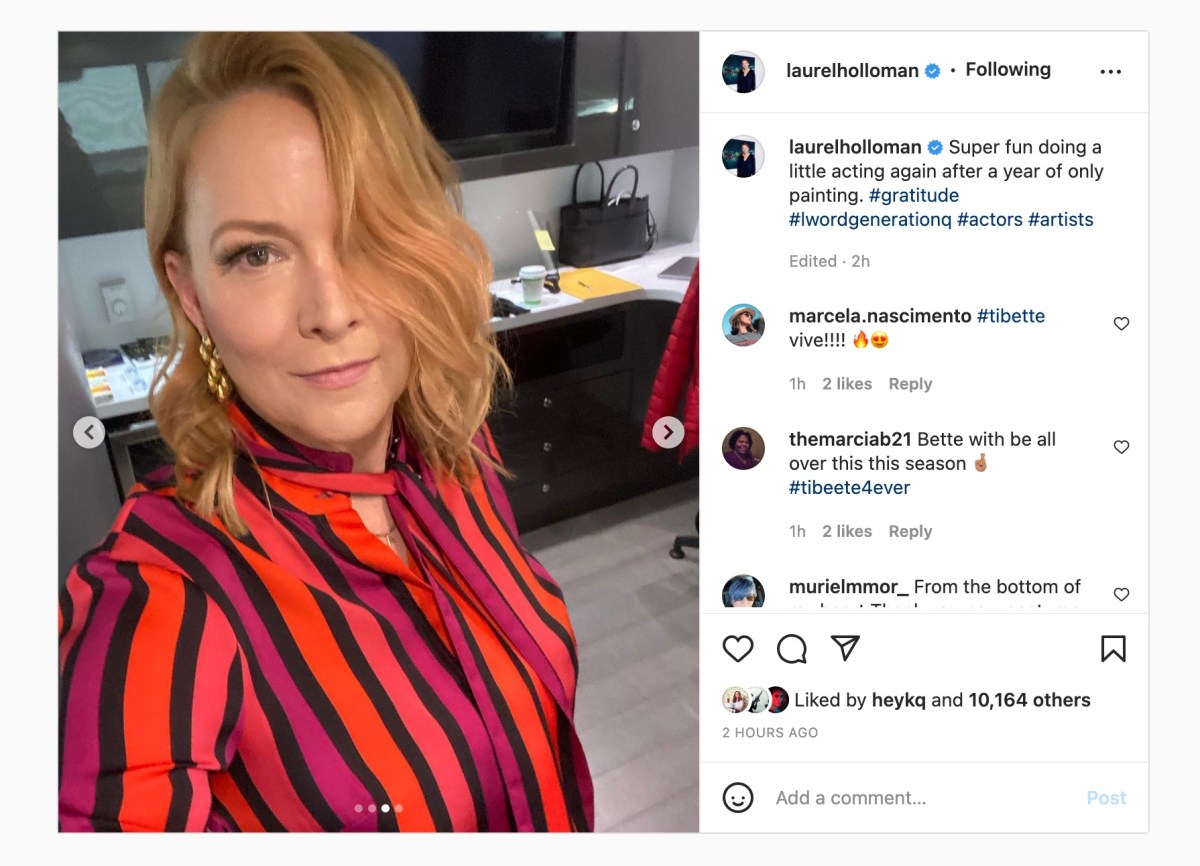 ---
Meet The Writer's Room
Marja Lewis-Ryan has posted an instagram photo of the writer's room for The L Word Generation Q Season 3 and once again it appears that I am somehow not in it. However, many others are!
L Word Generation Q's Season Three Writing Team Is:
Nova Cypress Black: Non-binary writer, arts educator and poet, 2021 Outfest Screenwritng Lab Fellow, 2021 Hillman Grad Mentee, Damn Write Originals Screenwriter. Nova posted some pics of their move to LA on Instagram, including a shot next to their nameplate as Staff at The L Word Generation Q, and Lena Waithe commented "proud." SO!
Melody Derloshon: Producer of The L Word Generation Q since Season One, has previously been credited with writing one episode each season, previous projects include Cougar Town and Telenovela.
Allie Romano: Writer and story editor on The L Word Generation Q since Season One. Previously worked as a Staff Writer on The Upshaws and a writer's assistant on The Dark Crystal: Age of Resistence. Associate Producer on Marja Lewis-Ryan's film 6 Balloons (2018).
Marie Tomisato: Screenwriter/Director. Formerly a Production Assistant on the horror film Scare Us. Is producing a short called Internal.
Nina Kim: Comedy writer. Formerly a Writer's Production Assistant on Nancy Drew and Shondaland's Sunshine Scouts and a showrunner's assistant on Netflix's Dead to Me. Formerly selected for Viacom's Writers Mentoring Program. Semifinalist at the 2020 Austin Film Festival. (Also went to the University of Michigan, just like me and also Leo Sheng and also Jacqueline Toboni!)
Alison Levering Wong: Comedy Writer and Actor. Formerly a Staff Writer for One Day at a Time and Paramount's Rise of the Pink Ladies. Also worked as a producer at Buzzfeed Motion Pictures and as a staff writer for Disney Television Animation and has performed her comedy all over the place!
María Renée Prudencio: Bolivian writer and actress known for The Last Call (2013), The Eternal Feminine (2017) and Club Sandwich (2013).
The last two are Courtney Nicole and Leah Couvelier, and I can't find much information on either of them, besides that Leah was in a movie called Realm of Shadows in 2022.
---
L Word Generation Q Season 3 Is Coming
In February, Showtime announced that they had renewed the series for a third season that would debut later this year. There will be ten episodes, and Leisha Hailey, Kate Moennig, Arienne Mandi, Leo Sheng, Rosanny Zayas, Jacqueline Toboni, Sepideh Moafi, Jamie Clayton, Jennifer Beals and Jordan Hull are all presumably returning to the show.