Hello and welcome to the ninth episode of the third season of The L Word: Generation Q, brought to you by the same network that brought you the original L Word, a show about how it is not a woman's job to be consumed and invaded and spat out so that some f*cking man can evolve!!!!!
Today's recap of Generation Q Episode 309 "Quiet Before the Storm" is dedicated to whomstever is in charge of making the trail mix at Whole Foods, I salute your work, it's really gotten me through so much. Also, "Quiet Before the Storm" marked Kate Moennig's directorial debut, Bette and Tina's return to the playing field and, in my opinion, the season's strongest episode! It felt coherent and well-constructed and there were so many funny dialogue exchanges I couldn't even transcribe them all.
---
I would like to start out by saying although I liked this episode overall, I have sent the first 30 seconds of it to the FCC, Lambda Legal, the FDA, the HRC, the ADA, the AMA, the Hollywood Foreign Press Association, my own mother, Amnesty International, the YMCA and every Democratic official elected to the House of Representatives in the past 75 years in an attempt to notify the world that a crime against humanity has been committed and must be dealt with. I cannot say for sure what the consequences will be but I'm confident they will be swift and dire.
My friends, the show opens in the corridors of a well-lit but sparsely occupied hospital. There is doctor chatter. There is an affirmation of a dropping heart rate, there is a shot of a screen containing blood pressure readings. There are words like "stabilizing" and "CC" that we all recognize from precisely what this scene turns out to be… an episode of GREY'S ANATOMY.
(It's not an actual clip from Grey's Anatomy, obvs that's not in the budget, but it's a clip meant to stand in for an episode of Grey's Anatomy)
"See, she's not dead," says Carrie in voiceover as the camera pulls back to reveal her and Misty alive and well on the couch, enjoying a little Shondaland.
Finley arrives, looking cute and sporty in her backwards hat with bags of luxurious take-out, and immediately expresses concern that Carrie and Misty have not begun the day with a balanced breakfast and a little "movement," as per the doctor's order. At first I thought she meant "bowel movement" so that was a little journey for me.
"I find Grey's Anatomy really healing, you know," Carrie says. "It's gotten me through some really rough patches in my life." This is incredibly accurate lesbian representation.
---
Elsewhere in "film/tv as therapy" we find Angie huddled under a blanket hiding from the world and also her Intro to Creative Writing class, watching The Four-Faced Liar. When Bella tells her she's gotta get up out of that thing and go to class, Angie says she doesn't care if she fails. Furthermore she's dreading this evening's reading and doesn't want Bella to come watch her. This is literally exactly why you shouldn't date your teacher.
Bella: "You're way too hot to be hung up on some Hemingway wannabe."
Angie: "I hope to one day share that perspective."
But then… SURPRISE! Bette and Tina have traveled over the stormy middle of this spoiled country and landed in Los Angeles, just in time for Angie's reading!
Bette and Tina are bubbling and doting and truly adorable.
Tina: "You don't have to be nervous, honey, because you are an amazing writer!"
Bette: "You have such a command of the stage, you were terrific in your high school productions."
Angie: "I was a stagehand."
Bette: "And it was memorable!"
As Bette collects balls of Kleenex from Angie's bed to sustainably dispose of them in a cardboard take-out container, Tina gently suggests Angie look into showering. We all know that Sisterhood is Powerful t-shirt has been through some rough times.
"Um, lowkey iconic," Bella mutters accurately as Bette and Tina depart.
---
We then fly across the clear blue sky and into the window of the bedroom of Shane McCutcheon, who's naked and sprawled out in bed. She rolls over to see Tess attempting an early morning Irish Goodbye. Shane says it was so nice to have Tess there and the dog missed her and maybe they could go talk to a couple's therapist if Tess is ready for that?
Despite the universally held belief by not only Tess but the entirety of the lesbian population (2004 – 2023) that Shane desperately requires therapy, Tess declines this offer to enroll in Couples Therapy.
"I just think it would be a good idea," Shane says.
"Well, you also thought it'd be a good idea to fuck another woman—" Tess says.
Point of order: I don't think Shane ever said she thought it was a good idea to fuck another woman.
Tess then announces her intention to visit "the expansion" to see "the tile guy." Okay
---
Cut to the set of The Aloce Show, where Alice is showing Sophie photographs of Piddles Junior for what seems to be absolutely not the first time, and they're both thrilled about today's season finale and its very special guest Rachel Maddow!
But then Sophie gets a series of notifications on her phone — Alice's little squabble with Taylor in the movie theater has gone viral, thanks to noted "tiny cretin of a man" James Corden (who, you may recall, Alice has previously expressed hatred towards) and the hashtag he invented for her antics: #AliceSoEntitled. Of course this has inspired the internet to do its thing, digging up Alice's sins from the year of our lord 2008.
Sophie looks up from her phone: "Alice, do you know a guy named Darryl Brewer?"
😬
---
Anybody aching for a breath of fresh air will be delighted to learn our next stop is the wild canyons of Los Angeles, where Finley's taking Carrie and Misty on a hike.
Misty suggests sex as a reward for finishing this little incline but Carrie hesitates – she wasn't expecting to feel all these feelings with Misty! Misty wasn't expecting to feel all these feelings with Carrie!
"I mean I'm not somebody who just jumps right in to the sex stuff," Carrie adds. Misty says she gets it totally one hundred percent, they don't have to do anything she's not ready for, but also she'd like Carrie to know that she's very good at sex.
---
Back at The Aloce Show, Alice is on the phone with Barry and it's not going great.
Squabble #14: I Am Sorry That You Feel This Way
In the Ring: Alice vs. Barry
Content:  Alice recalls meeting Darryl and outing him but doesn't regret her decision to put him on blast. (I will explain this situation at length shortly to anybody who doesn't remember it or didn't watch the original series!) Sophie, providing reason amid Alice's chaos, assures Barry that Alice is very sorry, absolutely will say so, and there's no need to cancel the show tonight!
Who Wins? Sophie for being very good at her job amid challenging circumstances
---
Cut to Dani's Castle in the Sky, where Dre's writing a song because they're songwriter and Dani's staring at her phone, probably googling "what happened to Devon Sawa" or "Sepideh Moafi Generation Q Season 3"
Dani leans in for the makeout and for one hot second I thought we were all as a community about to witness lesbian sex on television. But alas! Dre slips up with a, "God I love you," and Dani immediately recoils.
Before Dani's gotta deal with the love unfurled before her, Sophie calls and she picks up like an eager beaver.
---
We then return to the sullied halls of California University for a surprisingly well-attended student reading in an enormous venue. Angie tells Bella she's nervous her parents can "sniff out" her affair with Hendrix Fitz but Bella assures her it's okay.
"You're the best person I know," Bella tells her, futzing with the sleeves of Angie's blazer. "You're smart and kind and full of life and wisdom. He's an idiot, and you're a catch. It's so obvious."
"Says who?" asks Angie.
And it that moment it becomes clear: Bella. It's Bella who says who. Through all the zombie makeup and sex advice and the homoerotic experience of having a condom retrieved from her vaginal canal by Angelica Porter-Kennard, a spark has emerged within Bella's gut: she clearly has a thing for Angie.
In case Bella had any hesitance at all about the prosperity enabled by a lesbian lifestyle, Bette and Tina wave for Bella to come join them in the auditorium.
---
We return to the offices of The Aloce Show, where Sophie's called in professional fixer Dani Nunez because if you can spin the opioid crisis to someone who just lost his son to an overdose, you can spin Alice outing a basketball player on now-defunct website Our Chart Dot Com in 2008.
A refresher: in 2008, Alice was invited to a secret gay party and attended it with her girlfriend, Tasha Williams, who was at that time under investigation by the military for homosexual conduct. The party was intended as a safe space for wealthy, closeted people, and all attendees were required to sign an NDA and forfeit their devices at the door. Barry, the party host (this show only knows like five male names), also personally requested Alice's discretion after implausibly declaring himself a fan of her pod. Alice was giddy with excitement over the possible "famous closet cases" she might encounter at this event.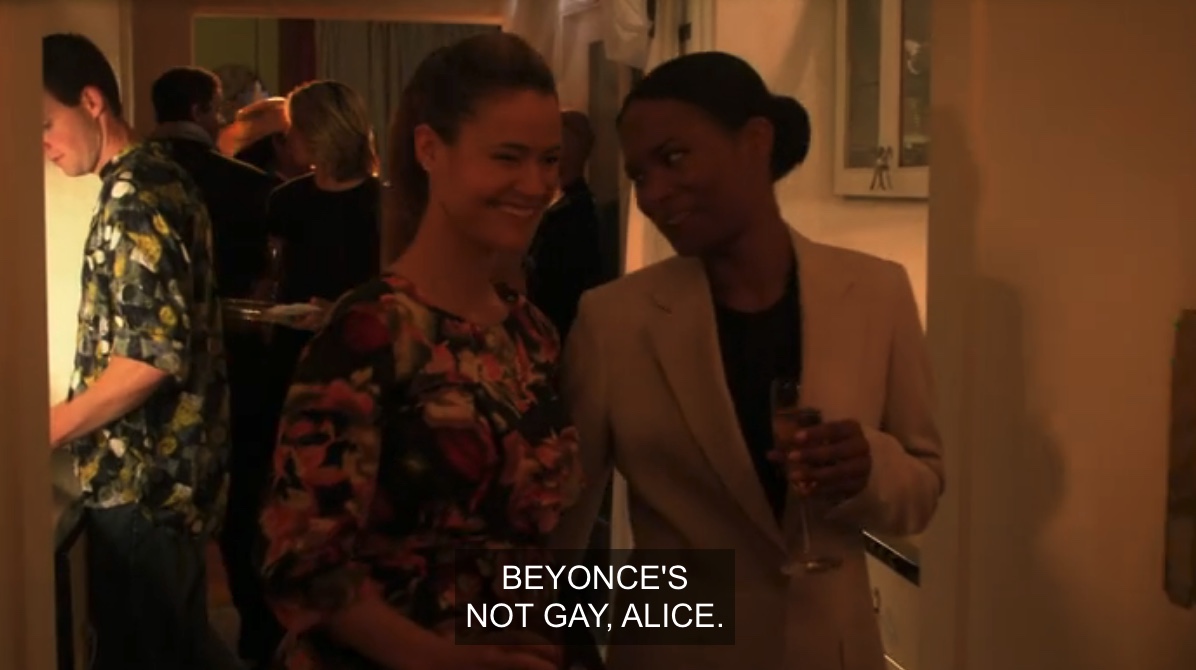 Tasha almost immediately clocked the presence of Top Ranking Point Guard in the NBA Darryl Brewer, and Alice, in a flagrant disregard for rules intended to protect homosexuals from discrimination in a hostile world, used her Samsung Flip-Phone to secretly capture Darryl Brewer dancing with his boyfriend and somehow did so undetected. Then, Alice saw Darryl Brewer on her favorite channel, New News Live, talking shit about John Amaechi, the first NBA basketball player to come out.
So she decided to post a video outing him (and everybody standing behind him at the party) on Our Chart dot com.
The video went viral, Alice was interviewed on her favorite channel New News Live, and her fame from this event eventually landed her a guest-hosting gig on The Look, replacing their former gay co-host who they considered to be "too angry" (who at the time we assumed was meant to be a nod at Rosie O'Donnell leaving The View).
But first, it landed her in hot water with Tasha, who was understandably shocked that Alice would out this man, particularly while Tasha was being investigated for Army. This man had a family and children and him being in the closet is not their fault and they were also going to suffer for this! It was also not a great look for Tasha to have her Very Close Female Friend on television during Tasha's trial.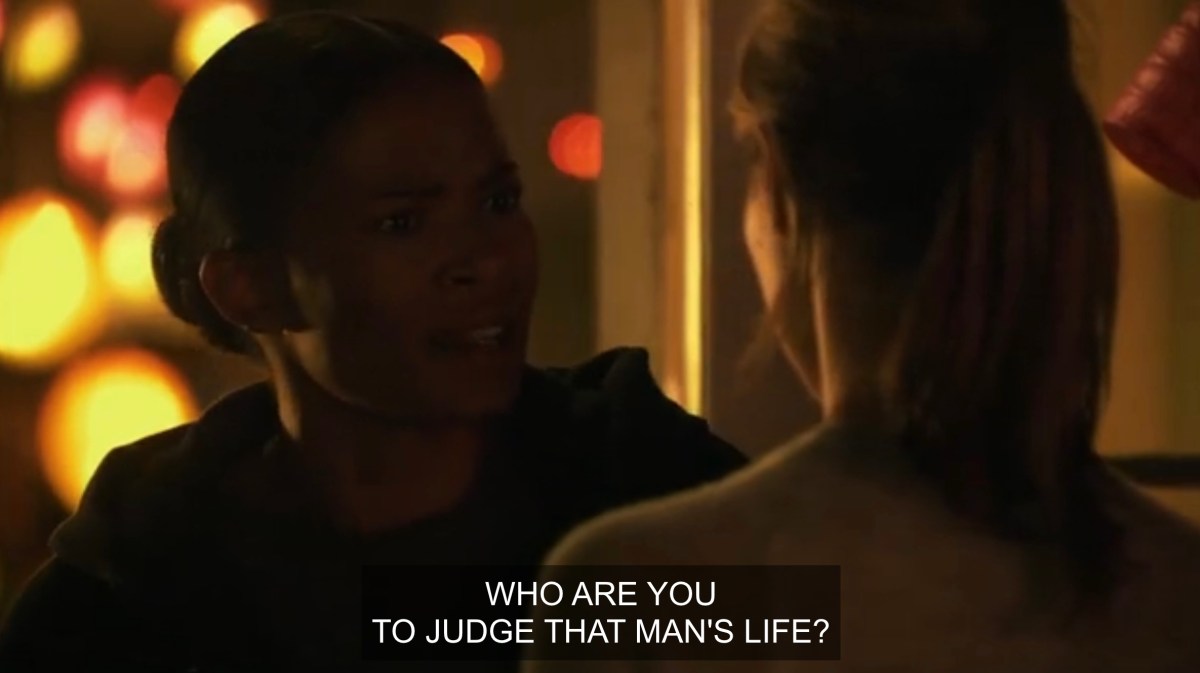 Alice and Tasha consequently broke up, although they did get back together a few episodes later as Tasha bid farewell to Army.
The fact that Alice had signed an NDA and would undoubtedly be in trouble with her alleged pal Barry and the entirety of closeted Hollywood (which was "most of it" at the time) was never addressed.
Unfortunately, then as in now — Alice would prefer to lean in.
Alice: "If people really think that I'm an out of touch, entitled asshole, then I say we make the bit out of it."
Dani: "I fear that would make things worse."
Alice: "Kimmel would do it. Sophie you know he would!"
Sophie: "Yes, but! Kimmel isn't a queer woman."
Alice doesn't mean to disrespect these two women, but they don't know what it was like to be gay back then, when men could go on television and call people f*ggots! As someone who was gay back then and watching and recapping this program, I can testify that Alice's decision seemed incredibly bad to me at the time, too!
Alice insists she doesn't regret what she said and therefore feels no need to apologize. For a moment I thought the show was actually going to address and acknowledge race as a concept — how that impacts her perception of herself as the more oppressed party in that outing as well as in this conversation — but instead they simply do not!
Sophie gets that this is what Alice wants to do, but they're still the only queers on television so they've gotta do an apology. Fine, Alice says. FINE SHE'LL SAY SHE'S SORRY!!!!!!
---
Pages: 1 2 3See entire article on one page