Can you believe it's already the penultimate episode of The L Word: Generation Q's third season? Don't worry, Riese already dropped her recap! And don't miss this week's To L and Back, either! Kayla did an absolutely brilliant and thrilling deep dive into fictional queer cheerleaders. QUEERLEADERS. The new Yellowjackets trailer has landed. Valerie reviewed Ginny and Georgia's second season. And Heather warmed you up for Nic's Willow recap (below!). And A. Tony wrote a can't-miss review of M3gan. Here's what else happened on queer TV this week!
---
Fantasy Island Episode 202: "Hurricane Helene/The Bachelor Party"
This week, Ruby is blue because Gina broke up with her, and is opting out of Elena's offer to have a girls night, instead wanting to try the "distract myself with work" method of coping.
The guests of the week are a young goth girl looking for her bio dad and a trio of bros having a bachelor party. One of the men, Shawn, says his fantasy is to be fearless, and while he's explaining it, he and Ruby have an adorable exchange:
Shawn: I'm a scaredy cat.
Ruby: Me, too.
Shawn: And I'm queer.
Ruby: Me, too!
Shawn eventually realizes one thing that's been holding him back is that he has feelings for one of the other bros, and they have a very sweet exchange about it; his friend doesn't feel the same way but the way Shawn talked about the things he loved about him healed a bit of himself that was broken, too. And he's willing to do whatever it takes to work through these things and make sure they come out the other side with their friendship intact.
After seeing all the guests find closure, Ruby decides to find some too, and burns some of her things that remind her of Gina in a little beach bonfire. She decides to go skinny dipping while she's there, and out in the water she finds Isla. Somehow she hasn't quite figured out that Isla is almost definitely a manifestation of the island itself (Isla does mean "island: in Spanish, after all) but is enamored when Isla calls her special and says she hopes to see her for a night swim again soon. And I, for one, would not be mad at that.
---
Criminal Minds Episode 1606: "True Conviction"
I knew we were in for a doozy when the "previously on" montage showed Tara talking about her girlfriend Rebecca, saying she's the happiest she's ever been. That's truly never a good sign, and sure enough, it was an omen of doom.
In their hunt for Sicarius, they run face-first into Rebecca's first case; the case that launched her career, the case that got her to where she is today. And apparently a case that is somehow the toothpick that will tumble the tower because when Tara realizes they might have to prove that the convicted man was innocent and confessed as part of his pact with Sicarius, she looks capital s Stressed.
As they start to dig into the case, Rebecca catches wind of it and storms into Tara's office, demanding answers. She gave the BAU the courtesy of a heads up in the pass, why didn't they return the favor? Tara says she was going to call her but wanted to wait until they had more than a theory, but Rebecca is too angry to talk rationally about it. Rebeca tells Tara that if she and the BAU break this case down, their relationship is over. Which maybe is why a lot of places have policies against dating your coworkers.
And not only does Tara NOT stop the BAU from digging into this case to find the well-buried and lye-covered truth, but she ends up being the one to crack it, bonding with the prisoner about them both being queer.
Once the truth comes out, she goes to Rebecca to ask her for a stay of execution so they can get more information and hopefully get closer to finding Sicarius, and Rebecca agrees, because Tara insists, but she's not happy about it. This act makes her go "under review" which seems bad, and somehow this is Tara's fault. She says that Tara wasn't honest with her, which…isn't true? But fine, she's mad at herself for bungling the case and she's taking it out on Tara. Unfortunately this means she's moving out even though I doubt she's even fully unpacked yet.
Well, it was nice while it lasted. In the end, they can take Nicole Pacent from us, but they can't take Tara's bisexuality. We've got that forever.
---
Willow Episode 8: "Children of the Wyrm"
Written by Nic!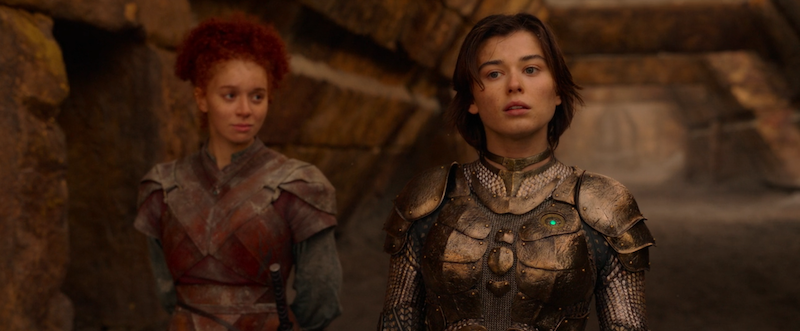 It's finale week on Willow, and my biggest question is SEASON 2 WHEN?! The crew has finally made their way to the Immemorial City for the big showdown against the Crone (and the Wyrm?). Jade and Kit spend most of the first half of the episode apart, but while they weren't physically together, each girl had the other on their mind. For Jade, that meant pleading her case for taking the literal leap of faith off the waterfall to follow Kit to the Immemorial City. For Kit, it was imagining what a life of adventuring with Jade might actually feel like.
While Jade, Boorman, and Graydon stealth their way around the undead city, Kit and Elora encounter New Haircut Airk and the Crone, who explain that they all have a choice to make; different choices for each of them. They walk into a lighted pathway and into a dream world where Kit's mother tells her everything she's ever wanted to hear; that Sorsha should never have pushed Kit into duty, that Kit deserves to live her life of adventure with whomever she chooses. It's almost too good to be true, and that's exactly how Kit realizes the illusion in front of her. Her father's voice cuts through the facade, reminding her that she is Elora's protector.
Once they come to, the big finale fight breaks out! Our princess and our knight fight seamlessly together, it's beautiful to watch. Before he goes to fight off some of the Crone's other cronies (lol), Boorman gives Kit the Lux because he knows this is actually her story and she's meant to wear it. So while Willow and Elora handle the Crone, Kit and Jade fight Airk, who's been heavily influenced by the Crone. Jade encouraged Kit to try out the Lux and the scream I scrumpt when the armor started appearing on Kit?!?! Whew! Jade feels it too, because the looks on Erin Kellyman's face every time she looks Kit up and down were a thing of magic.
Eventually, the Crone is defeated and the spell on Airk is broken. Our adventurers know that the Wyrm knows they're still out there and will come for them but for now, they walk off into the sunset (including the INTACT GIRLFRIENDS), hoping to find their way home.
I've had so much fun with this show, from watching Jade and Kit's character development to yelling about how cute they are, to just having a grand ole fun fantasy time. Will Disney let us keep the lesbian princess we deserve?