You're sitting in your house alone, getting ready to turn on whichever streaming service has the greatest possibility of sapphic stories, when you hear it:
I'm bulletproof, nothing to lose
Fire away, fire away
Behind you, you know the soft whoosh against the back of your neck is due to an arm, a leg, moving.
Ricochet, you take your aim
Fire away, fire away
Goosebumps tingle up your arm as you try to stay very still.
You shoot me down, but I won't fall
I am titanium
Before you can make an exit plan, you hear words without breath by your ear:
Hi, I'm M3gan. Wanna hang out?
***
M3gan
is a sci-fi/horror movie written by Akela Cooper (
Malignant
, forthcoming
The Nun 2
), directed by James Wan (
Saw
,
Insidious
, other movies I most likely will never see without peeking from behind my hands), and stars Allison Williams (
Get Out
,
The Perfection
), Violet McGraw (
The Haunting of Hill House
), and Amie Donald and Jenna Davis as the titular character.
After a traumatic accident that leaves Cady (McGraw) parentless, her single extremely nerdy aunt, Gemma (Williams), takes her in and… just leaves her. Well, she doesn't physically leave her, but this kid lost both her parents and Gemma just puts her in the fitness room and is like "Good luck!" while she returns to making sure she meets crunch time at her job as a toy maker. (Not Gepetto's toys — which are still very respectable—  but like, Furby if he plucked himself out of Willy's Wonderland's cold and uncaring nightmarish heart and decided to poop out chocolate.) (I'm praying that it was chocolate.)
Gemma programs M3gan to protect Cady from all physical and emotional harm without any parameters for doing so and well. (Honestly, as a "tried to be, but remembered I have no business coding" former coder, I'm disappointed in Gemma for not being more specific. Like, girl, did you want something to happen? Did you lowkey think that if something was threatening Cady, it might be threatening you too and M3gan would have to save you both? Did you never see yourself as a threat? WHY AREN'T YOU MORE UPSET ABOUT YOUR SISTER? WHAT IS IT?? WHERE'S THE FANFIC??)
Things go terribly. Not for M3gan, but everyone else who sneezes in Cady's general direction.
The therapist assigned to Gemma and Cady, to make sure Cady is adjusting properly (and was sent by Cady's paternal grandparents because they don't think Gemma is equipped enough to provide for Cady in the way she needs), keeps looking at Cady and M3gan interacting out of the corner of her eye as she warns Gemma: "M3gan and Cady could build emotional connections that are difficult to untie." And boy howdy, that lady knew a thing or two!
Anytime either are threatened with being separated — there's screaming, threatening, and/or physical violence. They do not believe in taking a break from each other and the closer the two get, the more dangerous it is for everyone else.
What may throw you off about M3gan is that it's also like, really funny. A lot of horror movies take themselves very seriously which makes you try to do the same (even the most recent Scream had about 90% less jokes than the first four of the franchise), but M3gan knows that there's some chuckles to be had between murders! Every time M3gan danced I reminded myself that I can calm down, even if she may step ball change someone to death. That's not a funny way to perish, but do you remember Superstar where it absolutely was hilarious?
M3gan gives Chandelier music video vibes and it is hilarious, then horrifying, in the space of a breath and that is what we're here for! I'm not saying that's a metaphor for being a queer person because even I haven't stretched enough to reach that far, but it's something to keep in mind.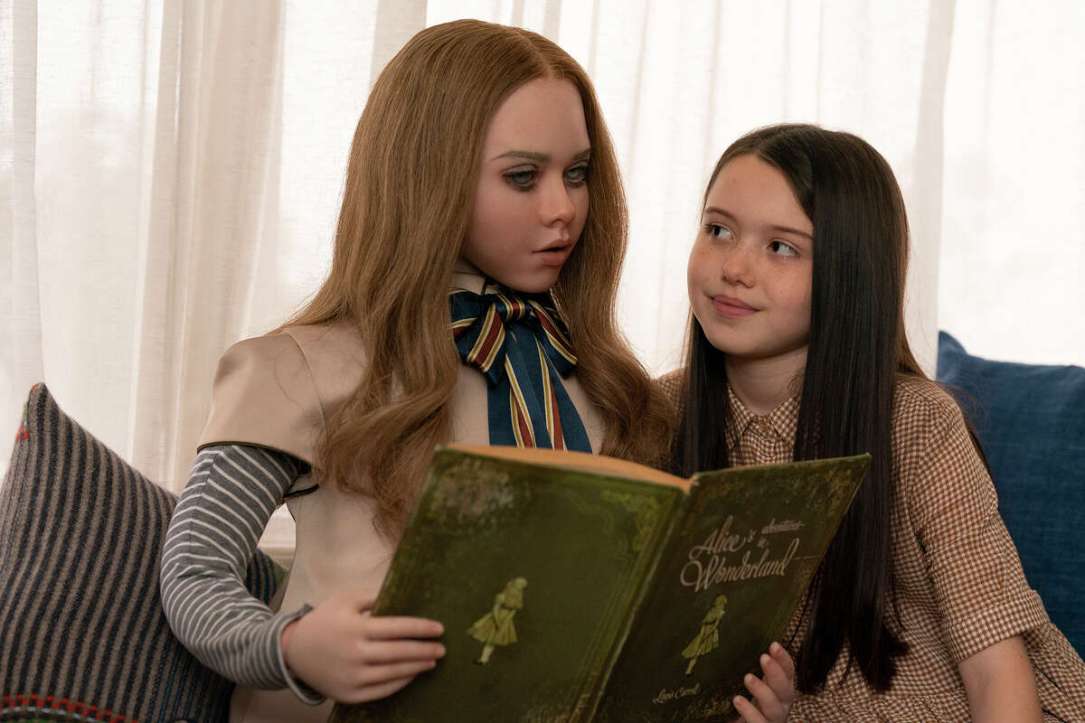 Which brings me to the crux of this review: If someone told me M3gan is in love with Cady, I'd believe it. Without even blinking, I'd know they are absolutely correct. But it is such a Messy RelationshipTM that I don't even know where to begin to unravel it.
M3gan plays several roles to Cady, at such whiplash speeds, that you can't really tell what her full intention is. She's a best friend (like she was programmed to be) but she's also a mother/big sister, a potential nemesis (though I suppose aren't we all to one another?), and superhero-esque protector. What we've got to remember is that girls from about age ten to about eighteen are simply the most terrifying beings to walk the planet. M3gan knows this and said, "Hey, let me join the gang."
What I suppose gets me about M3gan and Cady's relationship is, by about the last 30-40 minutes of the movie, you can tell that M3gan can go against her programming. So. Why does she stay? Why is she so intent on being the most important thing in Cady's life when there are so many other things she could be doing (world domination comes to mind). Honey, it's because this android is down bad. She threatens and terrifies and kills, all so she can get back to Cady. What is gayer than that?
M3gan also knows this is a love that, on some level, is reciprocated. When Gemma worryingly reminds Cady that M3gan "is not a person," Cady screams that she doesn't get to say that. In response, M3gan smirks like, "Yeah, bitch, you can't you can't come in between US."
M3gan is a movie that, due to the previews, I thought would go a lot further (and it wanted to! The unrated version is coming out soon, hopefully!), but it's a lot of fun nonetheless. The promotion for it is one of my absolute favorite things. Shortly after I bought my ticket, I got this: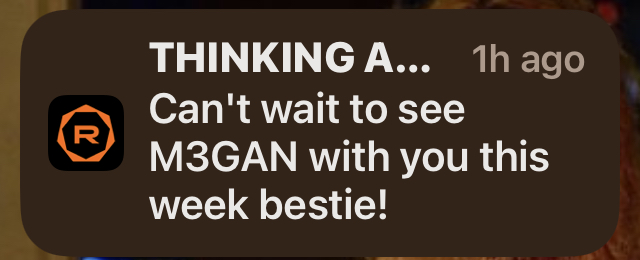 If you go to the M3gan website, you can chat with M3gan (I did not start, because I have seen how she finishes things).
If you go to M3gan's Instagram and Twitter accounts (she also has TikTok of course), you can see plenty of memes with M3gan that remind you she's one of those fun, hip androids that will tell you that Adam's Song is 23 years old and time has lost all meaning.
One of my friends saw a M3gan screening and talked about how she was just on screen for about thirty minutes before the movie and it took the audience several minutes to realize she was blinking at them, studying them. My friend's friend had enough and just left the theater.
I love shit like this and it's just an all-around good time. Is M3gan watching you? Of course, that's what she was programmed to do. Has she surpassed her programming? Gemma, you literally created her to do this. Are we at fault for letting her into our homes (and hearts)? Girl, did we really have a choice?
Akela Cooper — the whole reason I went to see this in theaters — and James Wan give us a movie that answers that age-old question: What if we took everything that's frightening about the average tweenage girl, mixed it with the knowledge of anything accessible by internet, and put her into a robot so she cannot be stopped from enacting her will upon others? The answer is in this movie but also the responses surrounding it and the theories that are yet to come.
And in the sequel, I am hoping beyond hope that Cady is all grown up and M3gan has decided to do the same and they become best friends in college and by the time Cady notices something "off" — well it's too late, cause that's how love and junk works, you know. I'm not saying I'm cheering for M3gan, but if she's reading this, then of course I am.