Pleasure is a basic human need, but people with disabilities and chronic illnesses are often left out of the conversation. I live with chronic pain and a myriad of other issues. I'm also a pleasure educator. I'm a confident person, but even I can admit that chronic pain has impacted my sexual confidence and sexual autonomy. The good news is that living with chronic pain has taught me how to help myself and others achieve pleasure in the most comfortable way(s) possible using accessible sex toys.
For people with disabilities and chronic illnesses, sex toys aren't always "just" for fun — sometimes they're necessary tools for getting off (or at least getting off comfortably). Of course, all bodies are different and every person has different needs, but if chronic pain is part of your life, there are some general tips you can keep in mind when you're shopping for a new sex toy.
Before You Shop: Expand Your Definition of Sex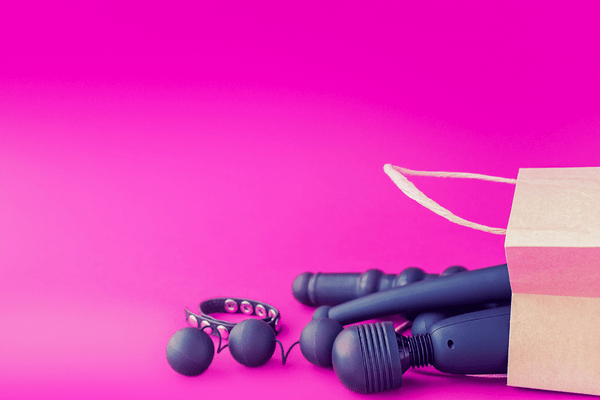 Sex and pleasure are supposed to look different for everyone, but so many of us get caught up in a heteronormative definition of sex, which focuses heavily on penetration. Exploring kink, sensation play, and erogenous zones; deprioritizing penetrative sex; and incorporating toys can be rewarding, especially for disabled and chronically ill folks.
Figuring out what works for your body and your sexuality is all trial-and-error, but the process can also be fun and hot as hell. It's easy to become frustrated with our bodies and try to ignore the limitations our chronic pain puts on us. Instead, approach your body, your sexual re-learning, and your sex toy shopping with patience and gentleness. You deserve that.
Look for Easy-to-Press Buttons
Now that you've expanded your definition of sex, let's get into the in's and out's of accessible sex toys. If you're looking for something that vibrates or thrusts, it probably has buttons that control the settings — and sometimes those buttons can be hard to find and press, especially if you experience pain or limited mobility in your hands. Look for a vibrator with large, easy-to-press buttons or opt for one with a dial instead (this is a pretty common feature in battery-operated bullet vibrators like this one).
I'm a fan of BMS Factory, which makes sex toys with buttons that are very easy to press, and you simply hold the button down to turn up the intensity. I also love the Swan Wand, which has a great handle and easy-to-press buttons. When you're shopping, don't forget to consider the strength and intensity of the toy, too. The effects of chronic pain can also impact levels of sensitivity in the genitals, so it's a good idea to choose a toy with a range of speeds — that way, you can experiment with different intensity levels and find what works best for you.
Look for Toys With Long Handles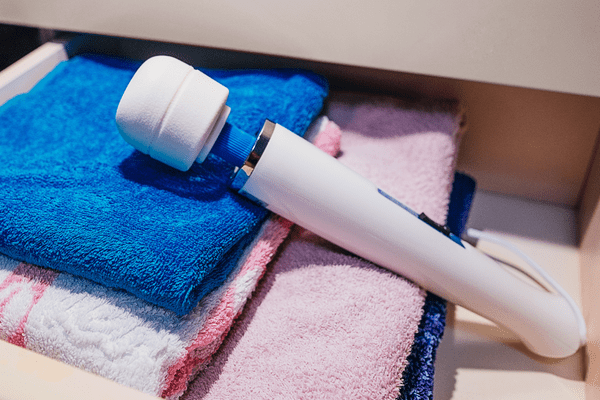 If you can't comfortably reach your own erogenous zones or your partner's erogenous zones, look for toys with long handles. Wands like the Magic Wand are a popular choice, especially since there are a lot of attachments available that allow you to use a wand for penetration or as a stroker (but heads up — the Magic Wand is heavy!). If you're looking for a toy that offers clit stimulation, you can get external stimulation from a G-spot vibrator like the VeDo Quiver or ROMP Hype, using the shaft in addition to the handle for extra reach. Tantus also makes a few dildos with handles like the Anaconda and the G-Force, which give you a little extra reach for easier penetration. If you want to use a vibrating butt plug and can't reach around to adjust the settings, opt for a remote-control option like the b-Vibe Rimming Plug.
Look for Toys That Are Lightweight and Easy to Grip
If you have chronic pain or limited mobility in your hands or wrists, it can be tough to hold onto a vibrator when you're using it on yourself or on a partner. Look for a vibrator with a loop handle, like Fun Factory toys, or try a finger fin like the Blush Wellness Palm Sense or VeDo Yumi — those two are designed to rest comfortably between two fingers with no gripping or heavy lifting necessary. You can also opt for a toy that straps to your fingers, like the Evolved Frisky Finger (there's no holding or gripping necessary for this one, either!). If you're shopping in-store, make sure to check the weight of any toy before you buy it to make sure it's sustainable for you to be hold, as some sex toys are surprisingly heavy! Some online shops and sex toy manufacturers list the weights of toys of their websites, too. If you can't get the information you need, check out online reviews or contact the company's customer service.
Opt for a Hands-Free Toy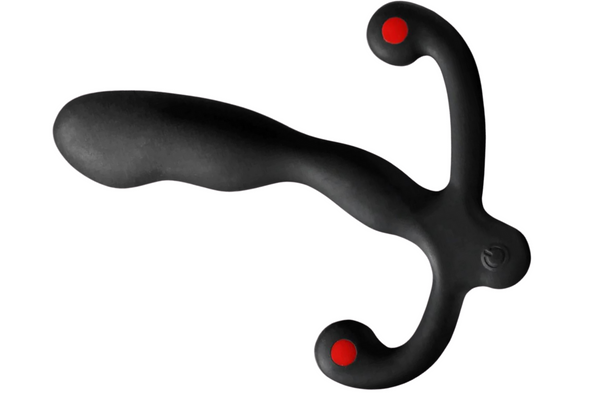 If using hands is not an option or if it's just really uncomfortable, then look for a hands-free toy or toy mount that you can use for masturbation. If masturbating in the bath sounds nice, the WaterSlyde might be the right choice for you. This plastic "slide" ties onto the faucet of the bathtub to focus water pressure right where you need it. Do you want to mount a dildo or vibrator that's too heavy for you to hold? Try the Liberator Tula, a soft but sturdy positioning pillow with pockets for mounting vibrators and dildos.
If you know you like grinding against a pillow or a partner's thigh, try a vibrating grinding pad, which can offer a little more stimulation. Toys like the Lust, the Ruby Glow, and the VibePad only need to be placed on a surface that the user can access — then you can hump away!
The Hot Octopuss Pulse is a unique penis vibrator that can be used even while flaccid. It holds the penis while thumping against the most sensitive part, the frenulum. This one isn't totally hands-free, as might need to be held in place, but this toy makes it possible to orgasm without any stroking or thrusting.
There are many hands-free butt plugs and prostate stimulators, but Aneros makes some of the most popular and well-reviewed options. You can move these massagers against your prostate by simply flexing and relaxing your sphincter muscles while the toy is inside you — no hands, thrusting, or angling needed.
Use a Positioning Aid
If you have back, hip, or pelvic pain, the standard missionary position is likely going to be uncomfortable. Placing positioning pillows, like the firm-but-still-comfy Liberator pillows, under your hips or back can help alleviate pressure and better align your pelvis to receive penetration, if that's your goal. Positioning pillows can also help you feel more comfortable or more easily access your genitals during solo play, too. Sex straps can also help make thrusting easier and safer, especially if you or your partner have back or hip injuries (just make sure the person holding the straps is comfortable using a little upper body strength). The Doggie Style Strap can give you or your partner extra leverage (there's also a longer, plus-size version). A sex positioning chair like this one can also be helpful. With its sturdy metal frame, handles, and elastic straps that help you bounce, a positioning chair allows you use less energy and focus more on pleasure and less on strain
Strap It Anywhere
Did you know you can strap a dildo to pretty much any body part? Non-pelvic harnesses, such as thigh harnesses, boot harnesses, and chin harnesses, can help expand options for penetrative sex without having to worry about thrusting hips. Just put a dildo in it, strap it on, and let your partner ride it.
Prevent Painful Penetration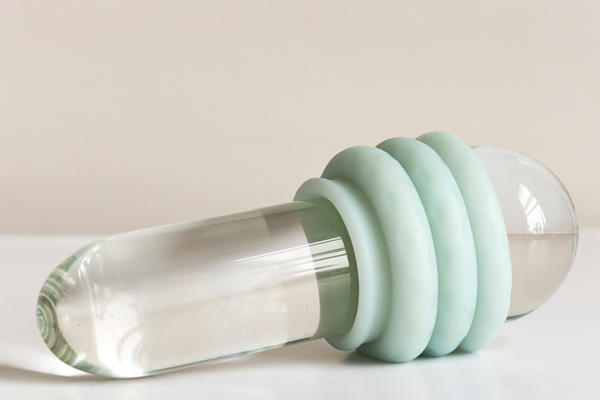 People who suffer from endometriosis often experience pain with deeper penetration. If that's you, you might benefit from a depth-limiting toy, like the OhNut, which can go around the base of your partner's penis or around the base of your favorite vibrator or dildo. Glass and stainless steel toys can also be helpful because they're easily cooled, and a for some bodies, a chilled toy can bring relief to an inflamed pelvis. On the flip side, if you deal with tense muscles, warming the toy by running it under warm water may help relax your pelvic floor. And if you want to experience penetration but can't comfortably handle much girth due to pelvic pain or tight pelvic floor muscles, seek out an extra slim dildo or a dilator set like this one. You can use one of the smaller dilators the same way you would use any other dildo. And don't forget to use lots of lube!
Further Reading
Check out The Ultimate Guide to Sex and Disability: For All of Us Who Live with Disabilities, Chronic Pain, and Illness by Cory Silverberg, Fran Odette, and Miriam Kaufman. This book provides encouragement, support, and expert information on sex positions, sexual pleasure, and sex toys. It also features illustrations, a resource guide with hundreds of books, websites, and organizations. You can also check out A Quick & Easy Guide to Sex & Disability, which was written and illustrated by Autostraddle writer A. Andrews.
Go Forth and Experiment!
Remember: Everyone person with chronic pain has their own individual needs. Listen to your body, listen to your desires, and figure out how to connect the two. Sex and masturbation are inherently different for everybody! It's all about figuring out how to make it the most pleasurable experience for you.