I was once a horny and confused disabled teenager, and somehow managed to come into my own as a horny and downright pervy disabled adult. Growing up, no one ever talked to me about sex or sexuality. Outside of my peer groups (and often times even within them), sex was a touchy issue. Doctors, educators, family — they all functioned from a place that sex wasn't for someone like me. And woof, how do you feel good initiating conversations about your bod and all the things you find yourself wanting to do with it when even your doctor seems squeamish about it?
Fast forward to 2018, and doctors are still garbage. But I like to think that we queers of the world are ever-evolving, and as result, getting pretty hip to the concept that all different kinds of bodies want to connect with other bodies. With that in mind, I'm not going to waste any time defending the desirability of disabled folks. Disabled folks are desirable. Period. Disabled bods and access needs are still left out of the conversation when it comes to S-E-X and well… f*ck that. So settle in and hang out for a minute. We've got a lot to talk about.

Disability Sexuality
Disabled folks make up the largest minority population in the world; upwards of 20% of people in the US are living with a disability. This means whether you, yourself, are disabled or not, disability touches everyone in some way or another. Our genders and sexualities vary as much as anyone's, but our access to communities that affirm (or allow us to explore) our genders and sexualities is frequently lacking. Navigating sex and disability as a queer person has its challenges, but outside of societal misconceptions and misinformation, it's not necessarily any more (or less) complicated than navigating any other body or sexuality. Bodies are weird. Sex is weird. Weird is good.
While the information here can be useful for anyone, this guide primarily focuses on physical access needs in sex. Disability is an incredibly broad umbrella term. There are a lot of different ways that disability exists in the world, and needs and considerations vary greatly. This is in no way meant to be definitive or all-encompassing. All bods are different and need different things. That's kind of the point. As always, take what applies and feels good for you.

Communication
Inarguably, communication is the key to good sex, period. But, for disabled folks (and the babes that love them), those conversations may feel a little more vulnerable than conversations some able-bodied folks are used to having, and it helps to learn better ways of navigating them.
It should go without saying, but assumptions never do anyone any good in the bedroom (or anywhere, really). It's important to find ways to communicate your wants and needs without ambiguity. Knowing what you want can be half the battle whether you have accessibility needs or not, so don't be afraid to do a little work in finding that out for yourself. Handy worksheets like this old gem from our own Austen, Ara, and Geneva can help you not only brainstorm your own wants and needs, but find common ground with your partner. Talking about you want to do with your partner, also opens up the line of communication to advocate for the things you may need in order to do it. If you're feeling anxious, try to remember that these conversations feel vulnerable for all bods involved, so be kind to both yourself and your partner! Initiating potentially vulnerable conversations about sex and bodies can work best outside of the bedroom. Talking about sex can feel daunting enough; changing up the space and talking it out before you're in the bedroom can help ease some of the pressure and help you connect.
If you're able-bodied and your partner isn't, remember that when your partner is opening up to you about their body, it's a conversation, not an inquisition. Make sure you're meeting them in the middle, not putting them through an interview. Talk about your own boundaries, needs, hopes and expectations. Rather than "How do you…?" or "Can you…?" lines of questioning, focus on pleasure (i.e. "What are you into?" "What feels good for you?"). Your interest is in finding out what makes them feel good, not unraveling the mystery of their body. Good conversation topics to consider: preferred words/terms for parts, parts of the body you do or don't like to have touched/seen/etc., body sensitivity or pain.
A common don't that comes up all too often is the dreaded "I don't even notice," "You're pretty/handsome for a disabled person," or "You're not disabled to me!" Able-bodied folks tend to think these are compliments, but I can assure you as a person who's heard it all, they aren't. The last thing anyone getting down and dirty with you wants to hear is that you don't see them, or that you have to avoid parts of them to feel attraction for them.
If you're disabled and wanting to open up communication, remember that communicating with your partner is a back and forth. You're not responsible for sitting under a spotlight and disclosing your medical history, and you should never feel pressured to say or do anything that doesn't feel right for you. Everybody's got needs and expectations in physical and intimate relationships! Try not to feel weighed down sharing yours.
Communication while getting down is important, too. Tell your partner when they're making you feel good, and be open to vocalizing (and switching things up) when something's not working for you. Likewise, be open to hearing from your partner when something isn't working for them.
The effort it takes to hone your communication skills really pays off; it feels good to know what you partner needs and expects from you, and it feels really good to know that your partner cares about what you need. Besides, talking about sex is great foreplay, pal!

Getting Down
Setting the scene
One thing disabled folks with physical access needs are beyond familiar with is the need for preparedness. Sometimes we can get bogged down by all the little details needed to make a space accessible; sex is really no different in that regard. Setting the scene for the sex you want helps ease anxiety surrounding unwanted interruptions or time-outs. It helps keep things flowing, and builds up the anticipation — which can be exciting!
Making sure that your harnesses, toys, positioning furniture, lube, and clean up supplies are within reach is a great start, but there's more you can do to set the mood. Don't underestimate the power of intention!
For folks who experience incontinence, waterproof pads and blankets can help with anxiety surrounding unwanted (or wanted!) messes.  While any mattress pad could do the trick, items made for play such as the Liberator Fascinator Throw, or the Funsheet can make the playspace feel less sterile and more sexy. Think about what kind of material makes you feel best in these situations. Throws like the Fascinator absorb fluid without leaking through, whereas items like the Funsheet do not absorb fluids (which can potentially feel overwhelming for some folks). Regardless of your preference, when sexy time is over, just toss your sheets/throws into the washer and you're good to go. Anxiety surrounding incontinence can feel like a lot, but try to remember that honestly all sex is messy and that's often half the fun.
Lube & Barriers
Lube is f*cking important! This is true for everyone, but especially when stimulating a part of the body that has limited or no sensation. Apart from wanting to avoid general injury, many conditions can make it difficult for a body to produce its own lubricant. Find a lube that works well for you and your partner and use that lube generously.
I won't go too ham in talking about barrier methods, but I will note that there are a lot of options to consider, from a proper fitted condom on penises and dildos/vibrators, to dental dams, and the very poorly named "FC2 female condom." Be sure to be conscious of sensitivities to frequently used materials such as latex (and less commonly allergenic) nitrile/neoprene. It's best to stay clear of barriers with added flavoring or spermicides. Always remember to check your lube is safe for use with the barrier method you're using!
Positioning
There are an infinite number of ways to get two bodies to connect in just the right way. Shaking things up and exploring the way things feel best not only ensures you and your partner's comfort, it's also just hot and fun. There are gender- and sexuality-inclusive online quick guides like this one from The Mighty that may help get your creative juices flowing. There's also positioning harnesses and slings like Sportsheets' Super Sex Sling and Doggie Style Strap that can help take some of the pressure off of strenuous positioning. Sportsheets is a disability-inclusive brand also offering items like shower suction handles and foot rests, and other positioning tools that can aid in accessible play.
If your partner needs help transferring out of a chair or another assistive device, let them guide you in helping them properly. Don't ever lift or move a partner without being asked to, and don't ever move assistive devices to unreachable places unless your partner asks you to.
Harnesses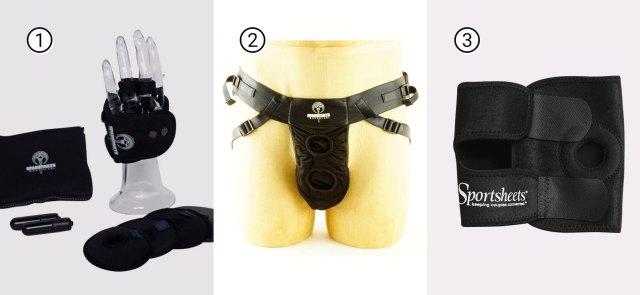 1 / SpareParts LaPalma
2 / SpareParts Deuce
3 / Sportsheets Thigh Harness
For some with limited mobility, spasticity or pain in the pelvic/hip region, standard harnesses may not be an option for strap-on sex. Fortunately, there are multiple harness options for those looking for accessible ways to engage in penetrative play, and getting creative in the harness department can be just as hot as it is practical! Sportsheets offers a thigh harness and the La Palma from SpareParts offers a gloved hand option. For folks with penises using strap-ons, SpareParts Deuce is a great option. Designed to be wearable regardless of ability to achieve erection, the harness has an upper ring for use with a dildo, and a lower ring for penis access.
Toys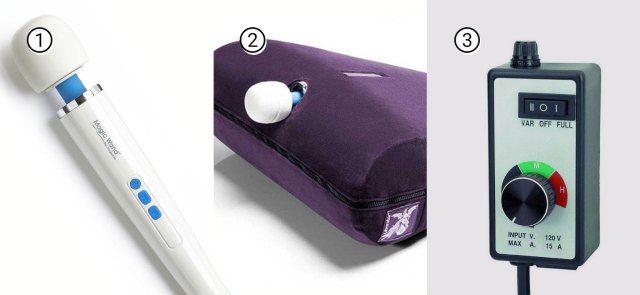 1 / Hitachi Magic Wands
2 / Axis Toy Mount
3 / Speed Controller
This is the part where I might as well start by throwing my hands in the air praising the Hitachi Magic Wand. As a stubborn contrarian I'd love to find a reason to tell you why it doesn't live up to its hype, but I'd be lying. Apart from being probably the greatest sex toy on earth, with its strong vibrations, large head, and versatile modification options, it's also probably one of the most accessible. There are hitachi toy mounts like this one from Liberator, various head attachments, speed controllers (which do need to be plugged into the toy/wall, but also extend the range quite a bit), and good ol' DIY mic stand setups. The rechargeable wand does away with the need to stay plugged in and is worth every penny for the upgrade.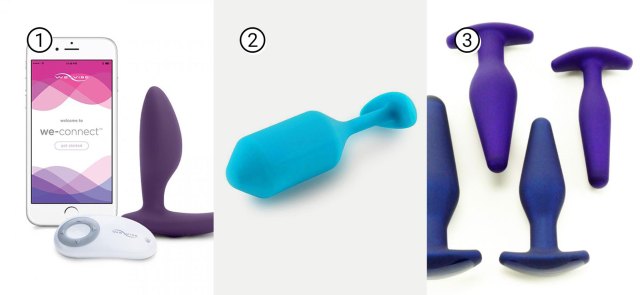 1 / Remote Vibrating Toys
2 / Snug Plug
3 / Pleasure Plug
For anal stimulation, b-vibe offers a wide selection of remote vibrating anal toys in a variety of sizes and shapes, eliminating the need to reach down to adjust or change settings on the toy during use. For comfortable wear in seated positions, try options with a thin base like the snug plug or the pleasure plug from Fuze.
For folks with penises who may be experiencing what sex expert Joan Price refers to as erectile dissatisfaction or unreliable erection due to paralysis, but want to engage in penetrative sex, ppa/extenders like Vixen's Ride On paired with a comfortable harness can be helpful in achieving penetrative sex with a partner. The Pulse 3 Duo is also a great partner toy option for folks with penises of varying functionality.
If you can, skip the ableist toy manuals that come with most sex toys and instead, talk to a sex educator at your local progressive sex shop about your prospective products and how to use them safely and care for them. It's well-documented that there's historically been (and continues to be) a problem with unfavorable language in a LOT of sex toy user manuals and packaging. If you don't have access to local progressive sex toy shops, shops like The Smitten Kitten, She Bop, Early To Bed, and Babeland all have online stores and customer service options that can be really helpful.

After Care
Lastly, be sure to check in. After care isn't an option; it's a major part of play. Talk to your partner about what feels good for both of you when play is over. Maybe you or they need to be held, or like a glass of water when things are winding down. If incontinence is a concern, it may help to have a course of action pre-planned for cleaning up in a way that helps to relieve stress or discomfort.
Ultimately, there are plenty of tools and tips to achieve the sex you want, but the bulk of the work relies on successful communication. Remember to think beyond speaking, and consider how you're listening. Are you doing what you can to create a connection that supports your partner in voicing their wants and needs? Supporting your partner through the vulnerable parts paves way for the creativity that comes with engaging and fun sex.

A few quick references:
The Ultimate Guide to Sex and Disability
Exile and Pride: Disability, Queerness, & Liberation
And these rad disability posts you hopefully didn't miss here at Autostraddle dot com:
Sexts From My Sickbed: How I Learned to Love My Queer Sick Body by Getting Naked