Hello, beautiful humans who are now officially invited to sign the f*ck up for our eleventh A-Camp event in beautiful Ojai, California!
After four years and seven A-Camps at Alpine Meadows in the San Bernardino Mountains and two A-Camps in Wisconsin, we went back to the Southern California coast last year and boi are we glad we did. From the four varieties of berries served at breakfast to the sprawling swimming pool and the orange grove providing us all with serious Photo Backdrop Game, A-Camp X was undoubtedly our best camp yet.
So we're keeping the dream alive this year.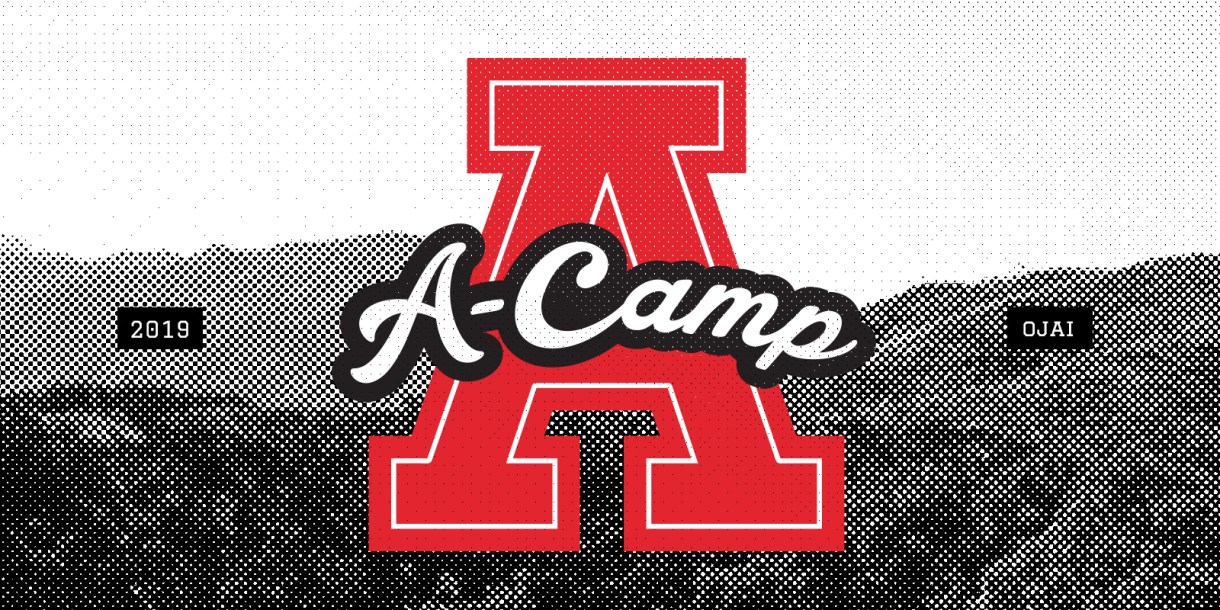 What Is A-Camp?
A-Camp, an idea I had in the middle of the night about eight years ago, is a manifestation of this website in three entire dimensions, mixed with a dash of old-fashioned summer camp goodness and an infusion of conference-style programming. A-Camp is workshops, panels, classes, meet-ups, discussion groups, crafts, activities and performances designed to inspire, educate, entertain, build community, and make you laugh. It's a chance to support Autostraddle, be kids again, and make new friends forever — and it's been wildly successful, with the waitlists to prove it. We've held spectacular A-Camps in April 2012, September 2012, May 2013, October 2013, May 2014, June 2015, June 2016, October 2016, May 2017 and May 2018.
A-Camp has created much-needed community and safe space for LGBTQ women, non-binary and other trans folks from all over the world. It is a queermonormative refuge from the burning hellfire of our current political climate. It's a space to let go and have fun, while also strengthening our commitment to resistance and community care.

When
7:00 PM June 5th – 11:00 AM June 10th
On June 5th, we'll be running shuttles from LAX to the campsite from 1:00 PM to 2:30 PM. Registration will open at 4pm on the 5th, dinner will run from 7-8 and opening ceremonies commence at 9pm. On June 10th, shuttles will leave camp for LAX at 10:30 AM, and we ask all campers to hit the road by 11 AM.

Where
Just 90 minutes from Los Angeles and right outside of Ventura, Ojai is a "charmingly hip wine mom of a town" and a popular weekend escape located at the foot of the Topatopa Mountains. Our campsite is a secluded retreat nestled into the Ojai hills, offering fresh mountain air, a peaceful wooded setting, and so much more: we've got two swimming pools with waterslides, basketball and tennis courts, softball fields, a gorgeous chapel, two libraries, two teaching kitchens, three arts & crafts rooms, a secluded treehouse and meditation platform, an adventure course, climbing wall, outdoor amphitheaters, an orange grove, a rec lounge with pool and ping-pong, and multiple lodging options to ensure everybody is comfortable, happy, and ready to have SO MUCH FUN.

Who?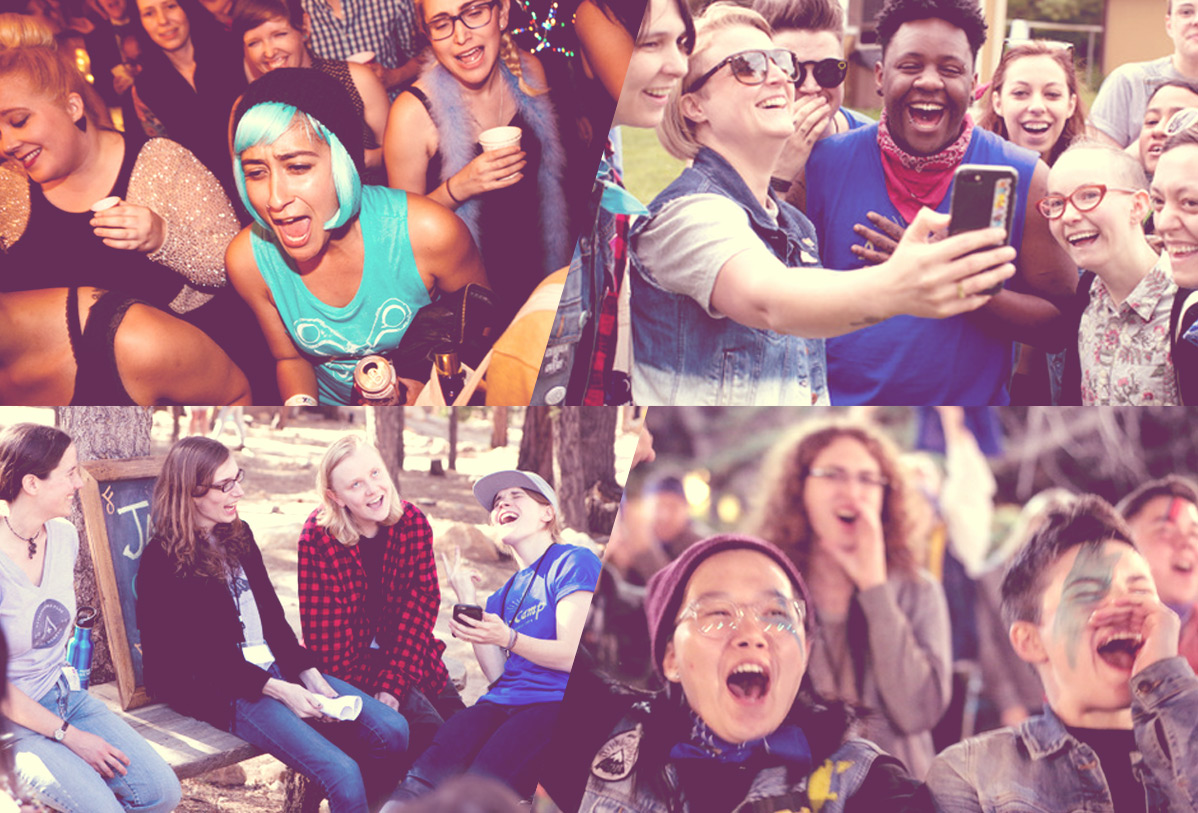 You weirdos! At past A-Camps, half our campers have been over 25 and half under 25, and they've come from all over the world. Usually 50% of our campers are new and 50% are returning. Although initially created as a space specifically for lesbian, bisexual and queer women (cis and trans, of course!), A-Camp now also welcomes non-binary people and trans men.
Also: Us! We are headed up by A-Camp Directors Marni Kellison & Kristin Russo, and in order to give you the broadest range of programming possible, we've got a staff-to-camper ratio of about 1:6, with volunteer staff members mostly drawn from Autostraddle the website.
Diversity & Inclusion
In order to best serve the needs of our diverse community, we also have five leadership positions addressing specific camper populations. Abeni Jones is our C.U.T.I.E. (Consultant/Coordinator Undertaking Trans Inclusion & Experiences), and Lex and Alyssa are our Accessibility Co-Coordiantors.
The QTPOC Speakeasy, headed up by Mackenzie McDade and Carmen Phillips and built up by all our QTPOC staff, celebrates the diversity of our group with frequent activities and community spaces specifically for QTPOC campers. We also prioritize people of color (as well as trans women) for Camperships. In 2016, we launched the Arts & Resistance Fund through Fractured Atlas (a non-profit technology company that allows non-commercial art-related projects like ours to be supported through grants and tax-deductible donations without having to maintain a 501(c)(3) status), a project exclusively dedicated to providing camperships to queer artists of color.
We'll also have designated go-to staffers for Sober campers and Newbies.

How Much?
Only $795 Total or $159/night!
3 healthy meals/day and snacks (with options for vegans, vegetarians, gluten-frees, and so forth)
5 nights accommodation in cabins sleeping 12-19 people
100+ programming options: crafts, panels, workshops & adventures
A dedicated staff with a staff to camper ratio of 1:6
5 Nights of Stellar Entertainment
Kickass swag bag with your A-Camp tee and other cool goodies from indie and queer businesses.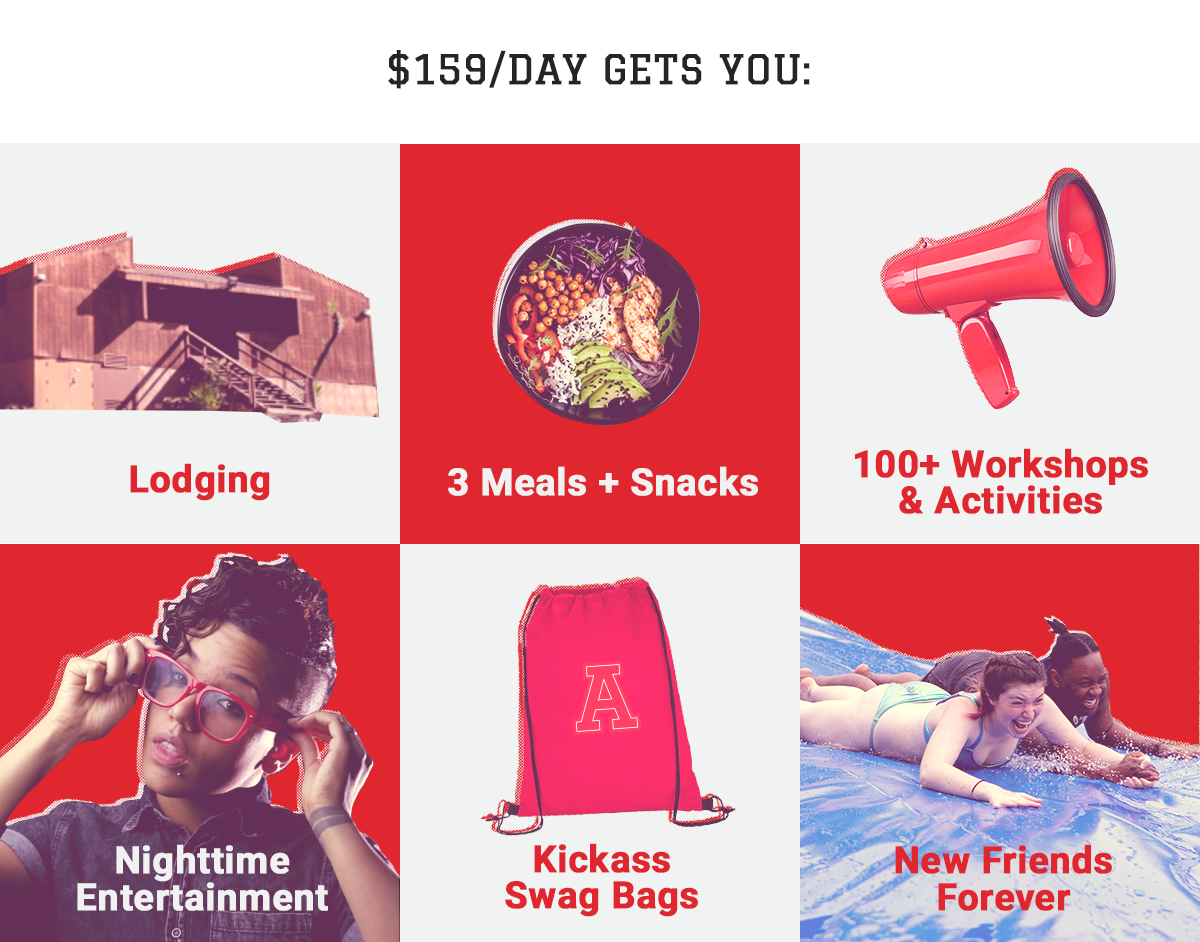 This site is significantly more expensive than our previous sites, and the cost has gone up since last year as well —if we adjusted the cost proportionately, this camp would cost $1,604 per person. We are doing our best to keep costs low so that camp is as accessible as possible to a diverse array of campers, but the truth is that last year we profited literally $5 per early-bird-tuition camper — yes, that's right, I said FIVE DOLLARS PROFIT PER CAMPER — and the entire website was in tumult for the rest of the year as a result.
If you're able to pay a little more, then please donate to our campership fund.

Accommodations
We have two options for accommodations at our new site:
The standard camp experience! Cabins sleep 15-20 people each, with 2-4 private bathrooms and showers inside each cabin, and are all within walking distance of a freshly renovated bathhouse with extra showers should you require them. There's lots of storage and all cabins are located near each other and the main camp area.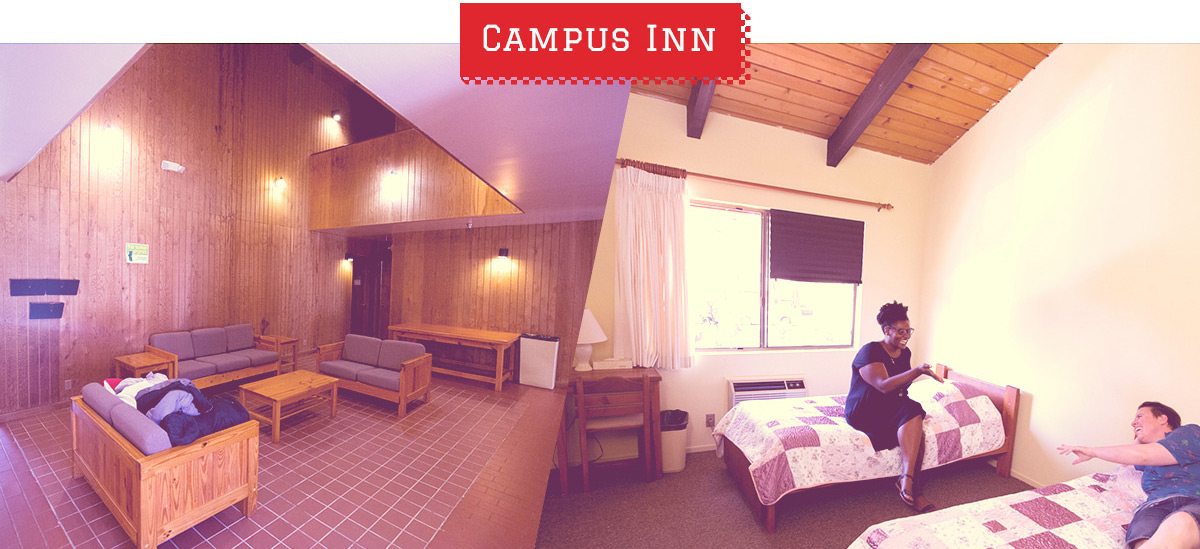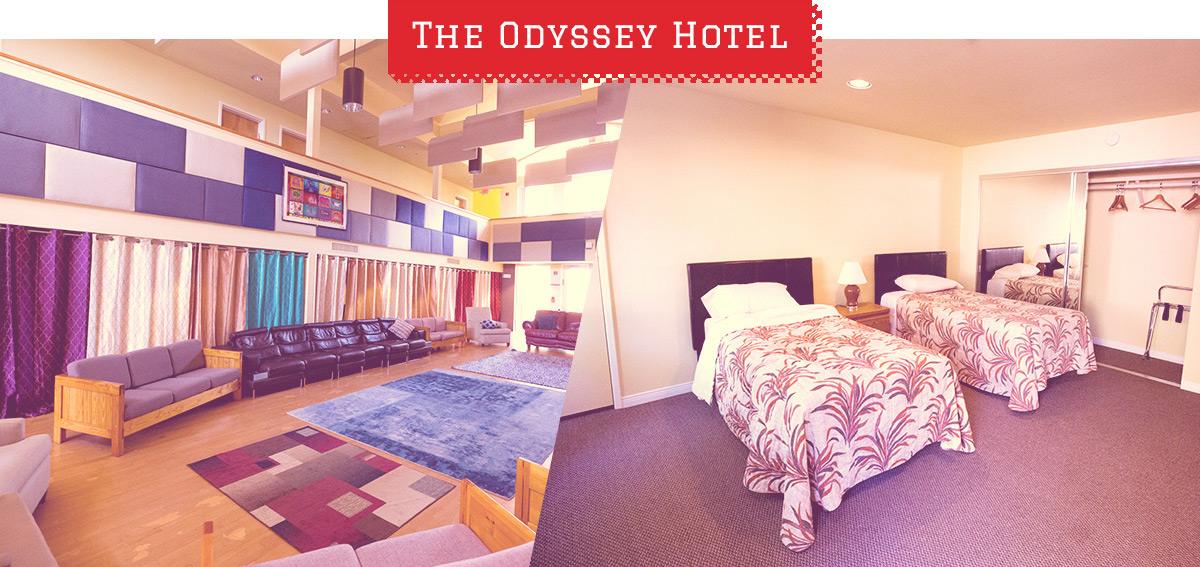 The Campus Inn or The Odyssey Hotel: The Campus Inn has 14 hotel-style rooms on two floors, and The Odyssey Hotel has 16 hotel-style rooms on two floors. Each furnished room sleeps one or two people each and has a large private bathroom with tub/shower. Hotel/Inn guests can also enjoy a shared common area with couches and tables, as well as refrigerators for the exclusive use of guests. We're still sorting out if it's possible to also provide microwaves and toasters. Also, some special amenities/goodies TBD.
Your "homeroom" will be the residents of your inn/hotel, and you'll have assigned "advisors" just like they've got in the bunks!
A shared room (with one roommate) is $975 per person, and a private room is $1595 (for a twin bed) or $1695 (for a queen bed). (There are only two queen bed rooms and we are reserving them for solo campers.)

Daytime Programming

You'll have full access to a variety of activities, workshops, panels, sports, discussion groups, classes and arts & crafts, offering a variety of tones to set for your week.
Activities offered at previous A-Camps include…
Arts & Crafts: Itty-Bitty Avocado Jewelry * Let's Draw Wakanda: DIY QTPOC Comics * Leatherworking 101 * Dapper Collar Pins * Kinky Cross-Stitch * Coptic Bookbinding * DIY Oracle Decks * Chingona Chats and Crafts: Sacred Queer Heart Shrines * Look After Yourself: Self-Portraits * Nerdcraft * Personalized Frosted Glassware * Draw Me Like One Of Your French Girls *  Make A Thing: Merit Badges * Finger Knittin' Good * Pit Stop: DIY Deodorant * Sexing the Collaging Cherry
Workshops: Bloody Hell V: Once More With Bleeding * Shibari Rope Bondage * How to Take Care of Each Other: Community Care in Times of Crisis * YO! A-Camp Raps! * Expanding Your Erotic Imagination * Financial Planning 101 * From Story to Screen with Jen Richards * Queer Astrology 101 * Lez Talk About Sex(ual Health) * Swagger 101 * Casual Sext * Feminist Improv Troupe * Gay Your Makeup * Bodi Posi Party
Food & Drink Classes: String Cheese & Boxed Wine Tasting * Great Grilled Cheese Bake-Off * Bitches Brew * Femme Brûlée * Taco Tuesday * Homemade Oreos 
Sports, Games, Etc: Dana Fairbanks Memorial Tennis Tournament * Masculine-of-Center Stage * A-Campella * Dark Trivia * So You Think You Can't Dance * Spice Girls Aerobics * Basketball Wives * Chair-Dancing * Self Defense 101 * Queerleading * Rock Yoga * Beyonce's Dance Grooves * Canoeing * Pop Science Trivia * Mindfulness & Meditation * Haus of Vogue * Hogwarts Trivia
Discussion Groups, Panels & Presentations: Ally Ally Oxen Free: Making Queer Spaces Better for Trans Women * Queering Masculinity * Three Cheers for Sober Queers! * Hoes Before Bros: Sex Worker Kiki * Gaming, Identity and Community * Queer People of Color Politicking & Zine-Making * Mixed-Race/Biracial/Multi-Racial Discussion Group * Profesh Pantsuit Power Hour * Maybe Gayby: Baby Making and Family Creation Discussion* Tardy for the Party: A Coming Out Later In Life Discussion Group * Mountaintop Bisexual Discussion Group and Hummus Appreciation Society * Real Talk: Your Relationship Doesn't Have To Suck

Nighttime Entertainment
Autostraddle After Dark is where our Special Guests shine most brightly, and where you get a chance to dance your ass of in a ridiculous costume. Past A-Camp After Dark activities have included stand-up comedy from Cameron Esposito, Deanne Smith, Brittani Nichols, Gaby Dunn, El Sanchez and Rhea Butcher; sexy game shows hosted by Julie Goldman and Brandy Howard; the legendary Staff Reading; Talent Shows; Variety Nights hosted by Hannah Hart and Jasika Nicole and concerts featuring musicians including Mary Lambert, Julia Nunes, Jenny Owen Youngs, Be Steadwell, Mal Blum, Bell's Roar, Haviland Stillwell and Somer Bingham.
The last night always brings a kickass themed dance party and a performance from the legendary A-Camp Family Band, with lots of special guests (last camp, we had Mara Wilson doing "Dancing On My Own" and it was EPIC.)

Special Guests 
This is who we've got on board so far!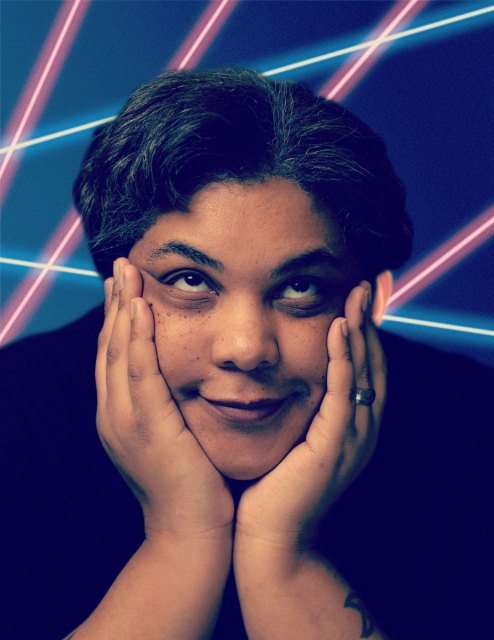 Roxane Gay
Roxane Gay's writing appears in Best American Nonrequired Reading 2018, Best American Mystery Stories 2014, Best American Short Stories 2012, Best Sex Writing 2012, Harper's Bazaar, A Public Space, McSweeney's, Tin House, Oxford American, American Short Fiction, Virginia Quarterly Review, and many others. She is a contributing opinion writer for The New York Times. She is the author of the books Ayiti, An Untamed State, the New York Times bestselling Bad Feminist, the nationally bestselling Difficult Women and New York Times bestselling Hunger: A Memoir of My Body. She is also the author of World of Wakanda for Marvel and the editor of Best American Short Stories 2018. She is currently at work on film and television projects, a book of writing advice, an essay collection about television and culture, and a YA novel entitled The Year I Learned Everything. In 2018, she won a Guggenheim fellowship.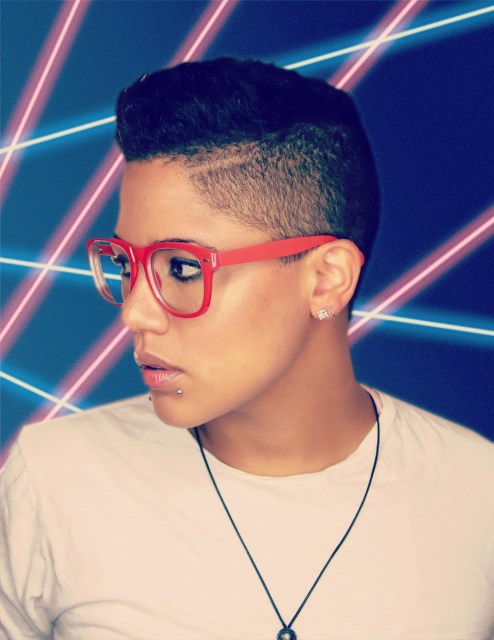 Be Steadwell
Be Steadwell is a singer songwriter from Washington DC.  Be believes that all people deserve cheesy pop songs-so she writes supergay music and calls it queerpop.  In her live performances, she utilizes looping, vocal layering and beat boxing to compose her songs on stage.
In 2017, Be sang in The Women's March behind Maxwell and Janelle Monae.  The Astraea Global Arts Fund awarded Be a grant to produce her new album, Queer Love Songs.  In September, Be had the opportunity to open for Big Freedia at DC's Honeygroove Festival.    The DC Commission in the Arts awarded Be with the 2018 Artist Fellowship.  Be is currently touring her music and screening her film Vow of Silence internationally.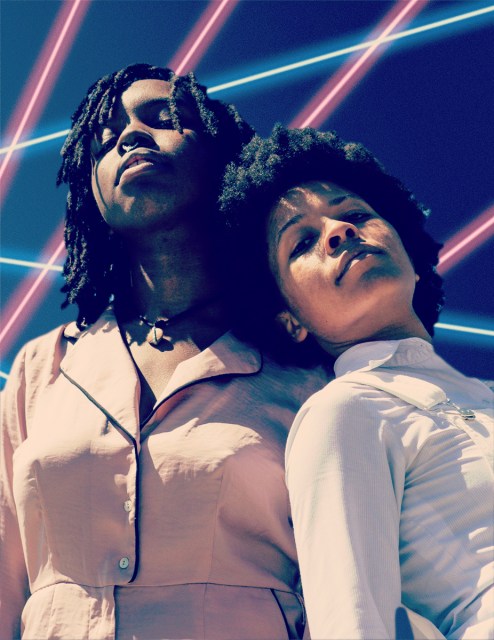 Nia & Ness
Nia & Ness are a black, lesbian, dancer-poet performance art duo based in Brooklyn, NY. The duo met and became a couple in 2013, and founded their company in 2016. They have performed at multiple venues nationwide, sharing their work that aims at a deeper understanding of their co-reality through intense investigation of their individual identities. They premiered their first evening length work, run., in August 2017, and have been touring run. nationwide ever since. They have been keynote speakers at the 2018 FLAME Conference at Brown University, and have performed their work at schools such as the University of California Riverside, NYU, Sarah Lawrence College, Temple University, Bard College, Harvard College and more. The duo has worked with the Sadie Nash Leadership Project Summer Institute; and been featured in a 2017 BRIC TV segment, a documentary for The Advocate, and have been featured in Windy City Times, Dance Writer Australia, BRN GRL WIN, the Daily Voice, Autostraddle and on Radio Free Brooklyn. They've also performed at Brooklyn Pride 2017 and Harlem Pride 2018; the 2018 Ohio Lesbian Festival, The Michigan Framily Reunion, SisterSpace Festival; were recipients of the BAX Summer 2017 Space Grant; inaugural recipients of the 2018 Virginia Giordano Memorial Fund and were the winners of the 2017 National Women's Music Festival Emerging Artist Contest and performers in 2018. This year Nia & Ness premiered their second evening length show titled home. and are currently on tour with this work! To follow them on their journey, check them out on social media @niaandness.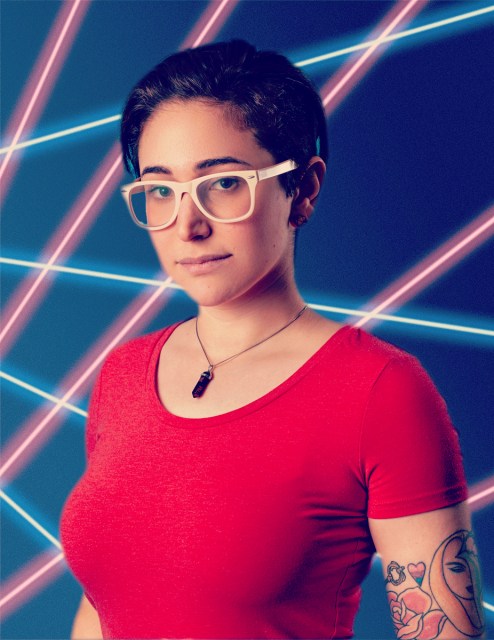 Gaby Dunn
Gaby Dunn is a New York Times Best Selling author, podcaster, writer, actress, and LGBTQ activist living in Los Angeles. Her book Bad With Money came out Jan 1. Please get it.
Brittani Nichols
Brittani Nichols is a writer, comedian, and actor living in Los Angeles. Prior to her career in television and film, Brittani's writing could be found in various places on the internet including Autostraddle, Jezebel, Huffington Post, and Buzzfeed. Words With Girls, a comedy pilot (based on the webseries of the same name) which she created and starred, was produced as part of Issa Rae's Color Creative TV and premiered at HBO/BET's Urbanworld Film Festival in 2014. Brittani was a recurring character on Season 2 of Transparent and guest starred on the IFC series, Boxed In. She currently co-hosts Brand New Podcast with her neighbor and friend, Ariana Lenarsky.
Suicide Kale, the feature she produced, wrote, and starred is currently available SVOD after winning the Audience Award at both Outfest and Newfest amongst other festival awards. Some of Brittani's most recent television writing credits include Take My Wife and Drop the Mic. She just finished writing for the second season of Strangers which will be available on Facebook later this year.

Camperships & Tuition Discounts
Your generosity has sent over 70 deserving humans to A-Camp over the past six years and you'll have the chance to make dreams come true again this year by donating to the campership fund! We take donations of all sizes, and to keep things simple, we're pricing full camperships at $900 each. This covers tuition, shuttles, and linens.
You can apply for camperships here. All campership applications must be in by February 20th, but we'll be assessing applications on a rolling basis up until the 20th, so get yours in as soon as possible and you may hear back from us about an opportunity sooner!
We also recognize that as A-Camp becomes more expensive it becomes harder to maintain the diversity we require for a truly successful A-Camp. We encourage campership applicants who are POC and/or trans women, and will have some offers for those groups specifically.
+ If you cannot attend camp without a full Campership, do not register for camp! We reserve spaces for Campershippers so you don't need to snag one in case you become a Campershipper — that's been taken care of. If you sign up and then end up getting a full campership, you will not be refunded the $75 registration fee.
+ If you have a business who'd like to sponsor a campership, get in touch with sarah [at] autostraddle.com. Previous sponsors have included Planned Parenthood, Glad Rags, TomboyX, Catalyst Wedding Co, Tomboy Toes, OUT Play, Sharpe Suiting, Kipper Clothiers, Scout's Honor, Kreuzbach10, OK Cupid and Hannah Hart.
+ If you're a person who'd like to sponsor a campership for a specific demographic, get in touch with cool [at] autostraddle [dot] com. In the past, we've had individuals donate camperships specifically for groups including trans women, queer people of color who need help with travel costs, Mexican/Mexican-Americans, people from small towns, and campers from overseas who need help with travel costs.
+ One time Hannah Hart donated a full campership with travel and it was so rad! If you're a very financially comfortable famous person — please do consider it!

Okay, I'm in. What now?
If you wanna get on the saddle and trot on over to A-Camp with us this fall, just head over to the registration form where, for the low low price of a $75 non-refundable non-transferable deposit, you can snag your spot. Please read the instructions carefully. You are not going to lose your spot while reading the instructions. Please read the instructions even if nothing seems confusing. Just read them for fun!
You'll also have to add tuition to your cart during the registration process, but you're not required to pay in full until April 15th. You can make partial payments up until that point. Please be aware that your entire remaining balance will be charged to your chosen payment method on April 15th.
For more information about airport shuttles, refund policies and other money-or-travel related questions, please read our FAQ here.
If you need to cancel, you can just log back in to the registration interface and cancel! QUESTIONS ABOUT REGISTRATION OR TRAVEL GO TO cool@autostraddle.com. ("COOL" stands for "Coordinator of Logistics") Please keep in mind that our COOL has a full-time job on top of her work for camp, and allow 24 hours to hear back.

For More Information
On our A-Camp website, you'll find our FAQ, the staff and talent we've got on board so far and a link to register the hell out of your unit. For more information about what goes on at A-Camp, you can check out our recaps from past camps and testimonies from campers about the joy of the experience. (We had to stop doing Recamps in 2016 because of the time it took, but previous camps should still give you a good idea!) Ultimately, A-Camp is whatever you make of it: every camper writes their own story. Come with your heart wide open and do whatever you want.
What are you waiting for?
Please note that this is our first time using the Regfox interface and there are bound to be a bevy of unexpected issues today!