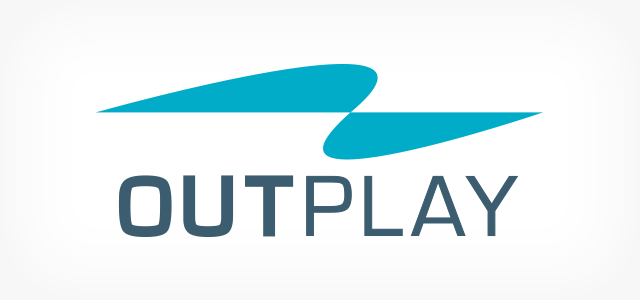 Y'all, I can't go to Camp this year and it is KILLING ME. And you know what's killing me the most? I'm not gonna get to meet the rad human who wins this Outplay Campership (last year it was Fiona and she totally attended our whiskey tasting and it was really rad).
Outplay makes swimsuits for all sorts of genders and bodies, and specifically they're best known for their compression swimsuit tops. It's a binder and a swimsuit all in one! My mom got me one for Christmas a while back. Red bottoms, grey Flatsea top! They've got ones that show your midriff if you're one o' them butch-crop-top-wearing folks, and they've got swimsuits for me, whose beach style veers more toward Butch Nun. They've even got tops with sleeves, bless them! And they're all stylish, with fun bright colors and the ability to mix and match to get your desired look. Ugh, I love Outplay. I love that I don't have to worry about my giant boobs in the water. I love that there's a place I can go where I don't have to try on a million things to find one thing that sort of works — instead, I can get anything I want and it makes me look and feel awesome. And if I flub it on the size? Ship that sucker back and exchange, it's super easy.
Turns out, Outplay loves A-Camp as much as I love them. They're sending one Camper to Wisconsin, suit in hand. Or suit in suitcase. Anyone can win! Here's whatcha gotta do to enter:
Find the Instagram photo all about this A-Camp Campership
Like the photo, AND
Comment on the photo telling them what your fave Outplay product is
When you comment on the photo, use the hashtag #daretooutplay
That is it! That is all. Maybe you come to Camp for zero dollars and take hella hot Instagram photos in your Outplay swimsuit while you're there.
Deadline is Friday, April 21st.
This contest begins today on Monday, April 17th and runs through Friday, April 21st. All entries must be received by 11:59pm PST on Friday, April 21st to be considered eligible. The winner will be notified on Monday, April 24th!
Please be advised that you've gotta be able to get there yourself, by plane, train or automobile; transport to and from camp is on you. And also, when you get there, SEND ME A PHOTO OF EVERYONE'S POOL FASHIONS PLEASE UGH I CAN'T BELIEVE I'M MISSING CAMP. But my wife is graduating law school, so. I guess that's fine. I guess.
Oh, and about that swimsuit. In case you need some inspiration for what your favorite Outplay sitch is, they're specifically giving away the Campership winner's choice of Flatsea or Swimmee top (low or high compression!) and then to cover your bum, a choice of Tombois, Bois or Todasana shorts. You can mix and match colors!
So get in there and get this Campership! When you're chilling round the pool being the babeliest of babes at the gayest of places, you'll be glad you did.