Let me overshare for a hot second: I have a lot of feelings about underpants. The friends who know this about me relentlessly make fun of me, for I have named many of my underpants as though they were items in a D&D campaign. We've got Underpants of Greater Power, Underpants of Lesser Power, Underpants of Comfort, Underpants of Period… the list goes on. If I'm doing something that scares me or annoys me, bam — gotta have one of the Underpants of Power on. The degree to which I am scared or annoyed directly corresponds with the degree of power my bloomers must provide. Well thanks to Riese's previous coverage and this here FULL CAMPERSHIP they're donating, I've just found out there's company that will allow me to add Underpants of Sustainable Business Practices to my list.
TomboyX makes a bunch of different kinds of clothing, but their focus is on — you guessed it — underpants.
And! Their focus is also on combating this "fast fashion" thing that's got landfills overflowing with shirts and people all over the globe exploited.
From their About Page:
The drive to move styles quickly from the runway at Fashion Week to mass production for consumers, means that factories and their workers are pushed to do more, and do it faster and cheaper. This destructive cycle is known as "fast fashion," and if left unattended, can result in bad working conditions and low pay. At TomboyX, we buy into our own model. We are pro-women, and we choose to work with facilities that participate in a more supportive system that includes fair working wages and a safe environment for workers. It all comes down to relationships – know the people you choose to work with. For this reason, our factories are selected from around the world for their quality of work and working conditions, supporting a living wage for men and women globally. We work with factories in the US, Canada, and China, and all have been vetted to meet our high standards.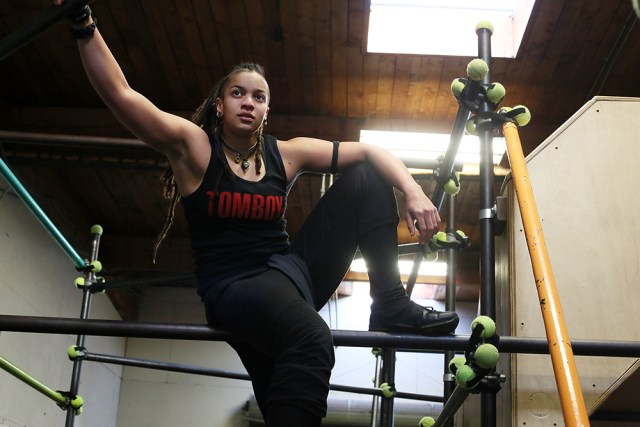 What You'll Win
Full paid tuition to A-Camp, including meals and lodging
Your choice of TomboyX Undies, a Charlie tee, and hat!
A wonderful, unforgettable experience at A-Camp
How to Win This Campership
We really encourage you to apply only if you don't have a spot and/or aren't able to afford camp without a campership.
Be able to get yourself to Camp or to LAX (to catch the shuttle to Camp)
Be available from May 29th – June 3rd
Sign up for the TomboyX mailing list below:
You have until the end of THIS FRIDAY, APRIL 22ND, to enter by signing up for the TomboyX email list!
In conclusion, do you know how long and hard I looked for a gif of Cory Matthews saying "undapants?" If you couldn't afford to go to Camp otherwise, apply for this Campership. If you can afford to and/or you're already going, share far and wide because you never know if there's someone on your social media timeline who needs Undapants of Power and a stay on the queerest mountain in the country, even if it scares them a little and they need a boost from their boxers.
Follow TomboyX on Instagram
Visit the TomboyX Website