Did you hear the people vote, voting the votes of TV shows? This is the voting of the people who will watch Netflix again! And now it's time to declare winners of this year's coolest awards, the Gay Emmys!
We created the Gay Emmys two years ago because putting together the Gay Emmys is like when I used to take out all of my baseball cards or paper dolls and lay them all out on the carpet so I could look at them and think "wow, what a bounty!" Because my friends, the past few years have been a bounty for LGBTQ+ women and/or trans people on television, but the actual Emmys remain a bit lukewarm on us. This year, we had nearly 140 shows in the 2019-2020 Voting Period from which to select our favorites.
In fact, this year, there were enough LGBTQ+ inclusive shows that we were able to add even more categories from the actual Emmys — like separating Supporting and Guest roles, adding a Limited Series category and making space to applaud excellent Costume Design. We also ditched Best Coming Out Story for Outstanding Queer Teen Character, an award dedicated to the legacy of Santana Lopez, in memory of Naya Rivera.
As usual, a few shows swept the awards like a gust of wind barreling through your door and knocking over a half-full can of Spindrift. Pose had another healthy year following a triumphant 2019, and Vida took its final bow with a lot of trophies. (There are no trophies, just a website post.) (Our presentation is more similar to the actual Emmys this year than ever!!!)
I would like to thank, first and foremost, everybody reading this introduction, because truly so few people do these days! Sometimes I write totally nonsense introductions and nobody says a word!! Maybe they're just worried about me and don't know what to say. Next week we'll be giving A+ members a little peek behind the curtain of the Gay Emmys process, plus some more data for your delight, so look out for that! Pray for it, hope for it, dream of it. I will be!
---
Outstanding Drama Series: Pose
2019 Winner: Pose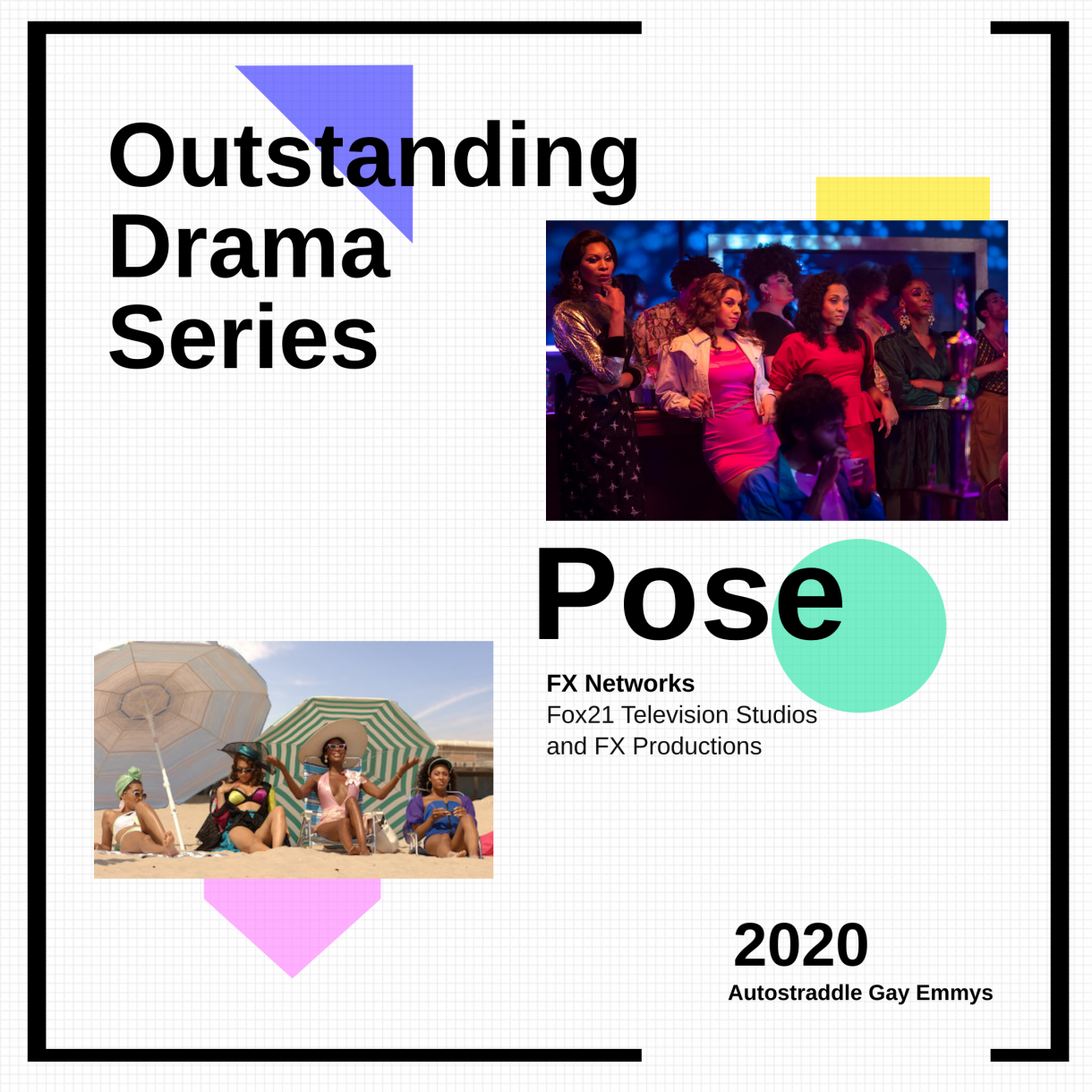 Runner-Up: How To Get Away With Murder
Other Nominees: The L Word: Generation Q (Showtime) // Killing Eve (BBC) // Riverdale (The CW) // Euphoria (HBO) //  Dare Me (USA) // The Handmaid's Tale (Hulu)
Going into its sophomore season, Pose found itself in a difficult and unenviable predicament. It easily had one of the strongest first seasons of television I've ever seen. A true masterclass of the art form. In fact, it won in this same category this time last year. It was a beautifully written and acted, intimate portrayal of a Black and Brown trans and queer chosen family the likes of which we have literally never seen on on television before. Just an absolute stunner by any definition. How do you top coming out of the gates so strongly?
It turns out that you do so by turning inward. If Pose's first season was exquisite in its world building, then in its second season we saw character work that was absolutely previously unrivaled. We watched as Pray Tell grappled with the realities of living with his disease and finding love in the most unexpected places; as Elecktra continued not only to be the master of The Read, but a cornerstone and matriarch of her community; as Angel reached for stardom and Blanca faced the reality of her own mortality. Of all these characters, however, it was Miss Candy (Angelica Ross) that simply will not be forgotten. Though I firmly and adamantly disagree with the violent way that Pose chose to end her life, there is no denying that in her after-life, Angelica Ross brought such warmth, wisdom, wit and care to Candy. Many critics point to the episode that handled Candy's death and subsequent memorial (2.04 "Never Knew Love Like This Before") to highlight the best of the show's second season. However, I would disagree. For me, the pinnacle of both performance and writing can be found in 2.09's "Life's a Beach," when Elecktra takes her daughters on a road trip. So rare do we get to see Black and Latina trans women in the splendor and joy of their own company, let alone in a romp like this one. When it's all over, in car mirror, there is Candy — with her sisters, taking in the sun.
An absolutely a perfect moment from a still nearly perfect show. — Carmen
---
Outstanding Comedy Series: Vida
2019 Winner: Jane the Virgin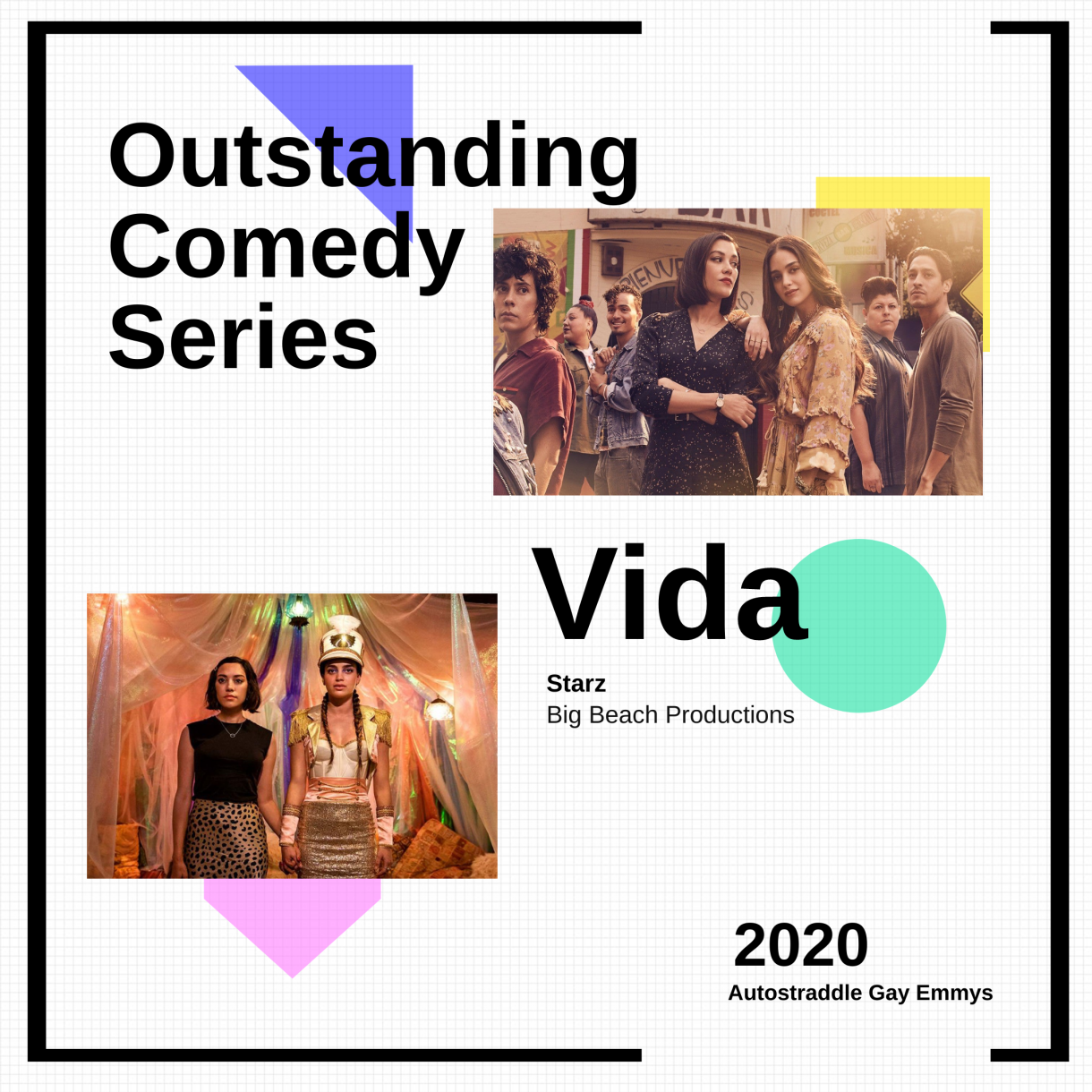 Runner-Up: One Day at a Time (Pop TV)
Other Nominees: A Black Lady Sketch Show (HBO) // Sex Education (Netflix) // Betty (HBO) // Twenties (BET) // Work in Progress (Showtime) // Dickinson (Apple+ TV)
I've been lucky to write more words about Tanya Saracho's brilliant Vida than anyone else on this website, and I am honored to be able to write the first summary of what is a near sweep in all Gay Emmys categories for the show takes its final bow.
In the course of three seasons, and especially this last year in its third act, Vida has been nothing short of magnificent. Each character transversing journeys that were at once hard, sexy, and incredibly beautiful — the likes of which, from a queer Chicanx and Latinx lens, have literally never been on TV in this way before. The writing, directing, cinematography, hell the acting — all of it's immaculate. Characters and images that rip a hole in your spirit and stitch themselves in there instead, becoming a part of you long after you've turned off the television.
Of course it probably seems strange to award "Outstanding Comedy" to a show that began at the funeral service of a family matriarch and ends as one daughter tearfully takes ownership of the internalized homophobia she inhereited from her mother and instead sets it aflame with such power it cannot be forgotten. But ultimately, Saracho's symphony is about finding the pockets of joy that exist within our grief, the family we create and hold on to throughout our sorrow. Life and art become one on Vida, which is perhaps yet another reason it earns its own name.  — Carmen
---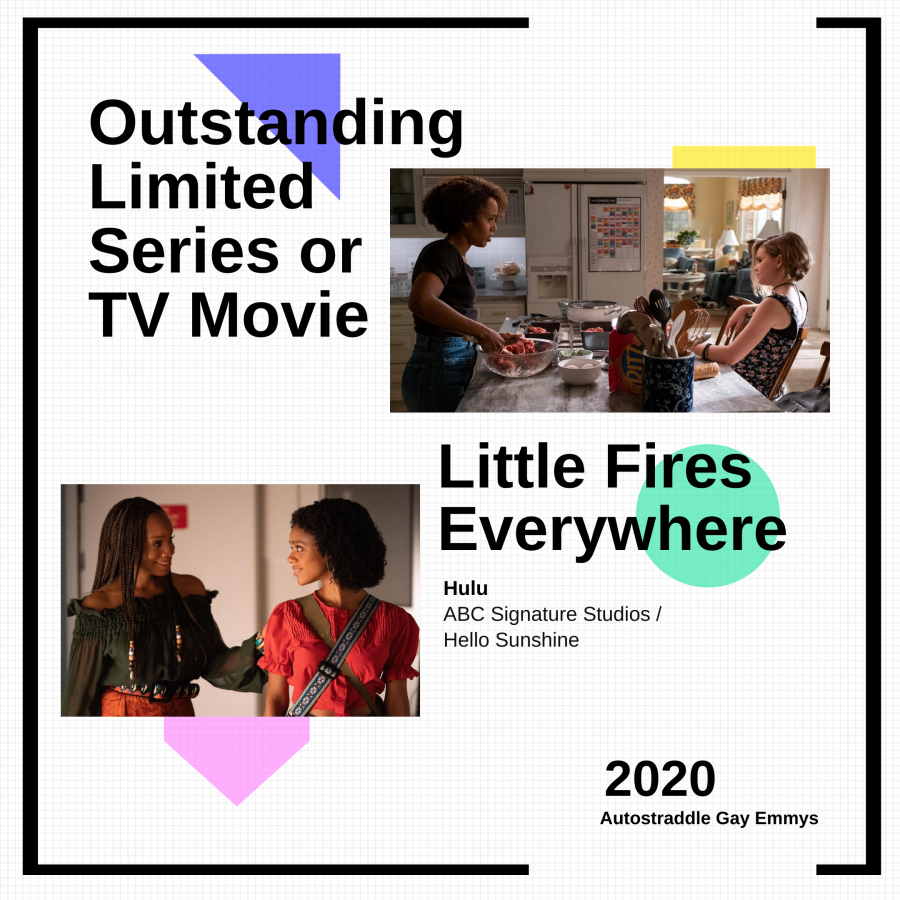 Runner-Up: Mrs. America (Hulu)
Other Nominees: Dolly Parton's Heartstrings (Netflix) //  Mrs Fletcher (HBO) // Ryan Murphy's Hollywood (Netflix) // Transparent Musicale Finale (Amazon Prime)
The Hulu adaptation of Celeste Ng's Little Fires Everywhere, a project initiated by actors Reese Witherspoon and Kerry Washington and adapted with Ng's support, elevates the source material, complicating its investigations of race and class and also giving two of its leads the greatest gift you can give a character: making them gay.
Little Fires is unsparing and exacting in its portrayal of a specific time and place — the late 90s, the midwest —  when brutish racism (and sexism, for that matter) had been somewhat hidden from view, replaced by a facade of We Are The World multiculturalism, whitewashed fantasies of "not seeing color" and what Ta-Nehisi Coates describes as "elegant racism" — "invisible, supple and enduring," underpinning every aspect of American life. Where a culture like this — socially liberal-to-moderate, not particularly religious — stood on gay people can be a little fuzzier. I experienced this dissonance constantly growing up, but I've never seen it examined on television like it was in Little Fires Everywhere through teenage-girl Izzy's chaotic coming out story. Mia's story of her first queer relationship in the edgy, widely-appealing fringe of the '80s art world was both sweet and thrilling on so many levels.
Contemporary shows set in the '90s tend towards the comic and campy, but Little Fires was quietly realistic, showing how much more capable we are of telling an accurate 1997 story now than we were in 1997. It's not just about social conventions — it's that late '90s media was an active part of denialism that characterized conversations around racism in the '90s. Watching it was a reckoning. — Riese
---
2019 Winner: Wynonna Earp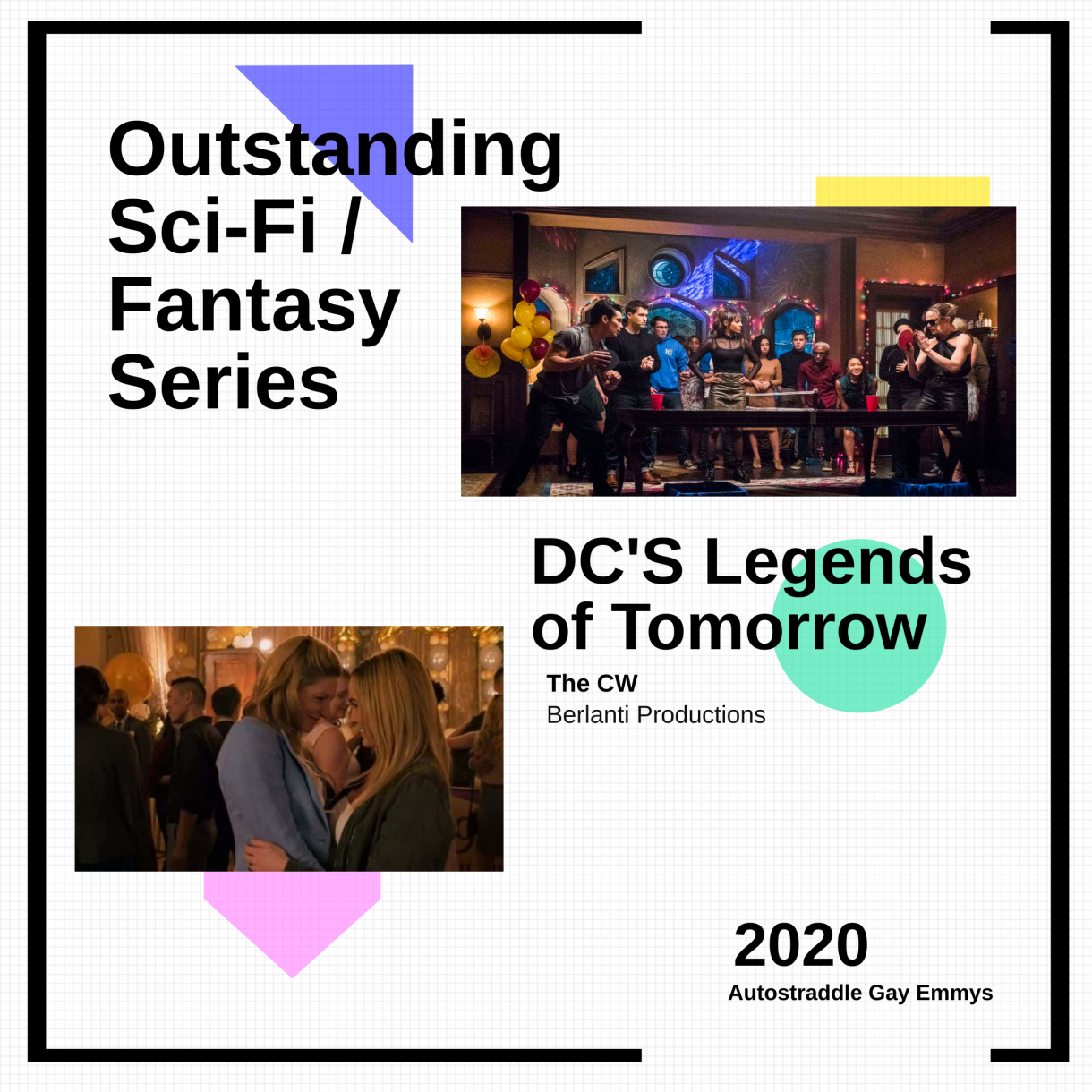 Runner-Up: Batwoman (The CW)
Other Nominees: Marvel's Runaways (Hulu) // Black Lightning (The CW) // Supergirl (The CW) // Homecoming (Amazon Prime)
If the CW DC TV Universe was a family (and it sort of is, albeit a dysfunctional one), Legends of Tomorrow is the weird gay cousin. While technically from the same bloodline, definitely the most unique of the bunch, and definitely the queerest. With bisexual badass Captain Sara Lance at the helm, and her girlfriend Ava Sharpe by her side, the Legends go on wacky adventure after wacky adventure. Sci-fi is famous for giving us queer women just to take them away, since the worlds are higher stakes and the deaths are more frequent, but Legends defies those tropes at every turn, often killing Sara Lance just to bring her back again. Giving her a Totem of Death and having her survive a run-in with an actual god. She is the anti-trope and I (and Ava) love her for it.
Having been together for a while now, Sara and Ava are just two gals in love leading a team of misfits through time and space. The creators have talked about how they're not interested in any Sara/Ava conflict being about their relationship – they've been there, done that – and are finding other ways to add excitement, angst, and adventure into their lives, which is a wonder to behold. — Valerie
---
Outstanding Lead Actor Portraying an LGBTQ+ Character in a Drama: Viola Davis as Annalise Keating, How to Get Away With Murder
2019 Winner: Mj Roriguez as Blanca, Pose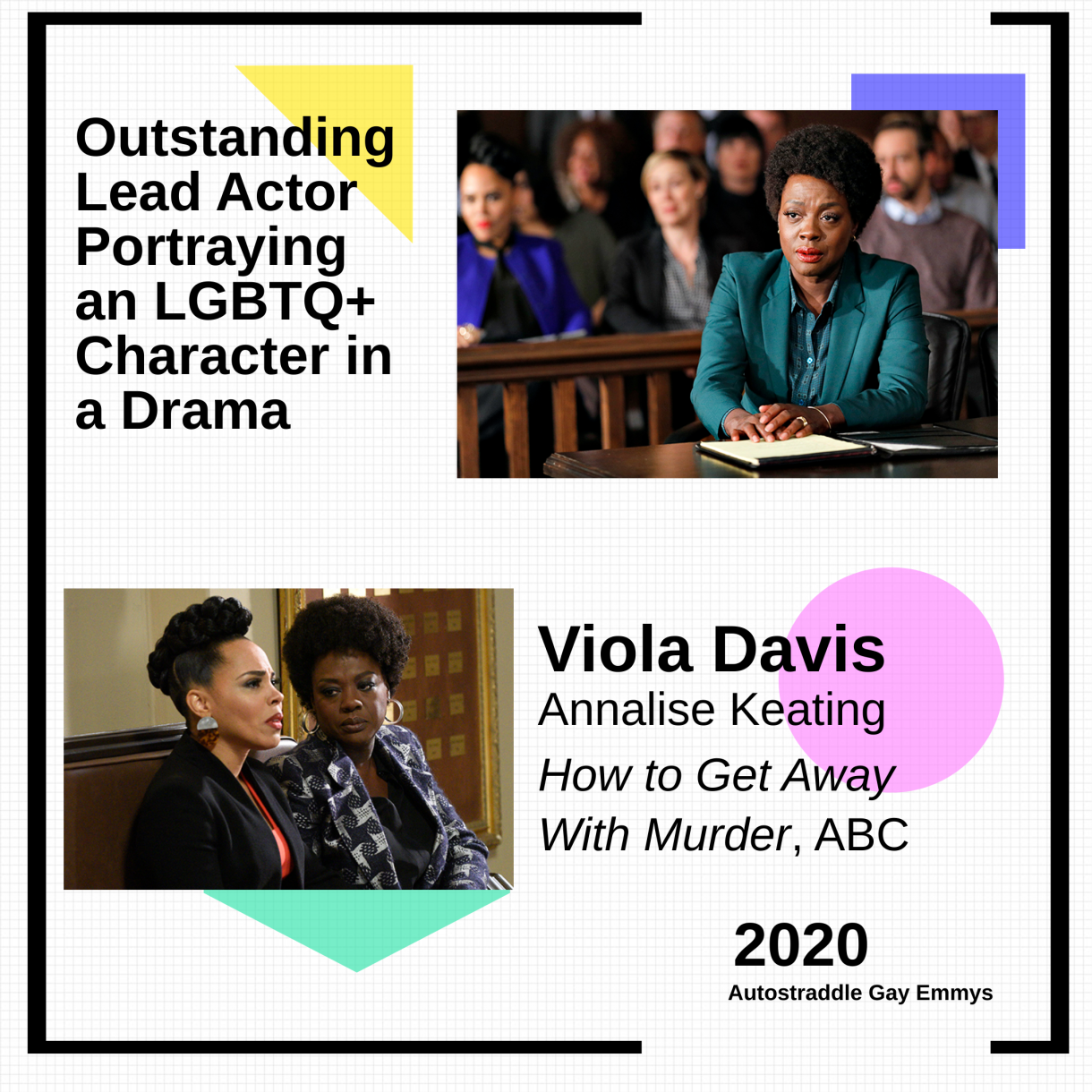 Runner-Up: MJ Rodriguez as Blanca, Pose (FX)
Other Nominees: Hunter Schafer as Jules, Euphoria (HBO), Zendaya as Rue, Euphoria (HBO), Roseanny Zayas as Sophie Suarez, The L Word: Generation Q (Showtime), Sandra Oh as Eve Polastri, Killing Eve (BBC), Indya Moore as Angel, Pose (FX), Jodi Comer as Villanelle, Killing Eve (BBC)
I feel like I've said too much and also not nearly enough about Viola Davis' turn as Annalise Keating. I remain in awe that an actor of Viola Davis' caliber — with an Emmy, Oscar and Tony to her name — would tackle this character… and that she'd take whatever chaos the show's writers spun and turn it into something worth watching. To have seen Davis do this, over six seasons, feels like a profound gift.
Because Annalise Keating's character felt like the truest reflection of me that I'd ever seen on television, I found it hard not to wish her bisexuality was pushed more to the fore. I wanted her with Eve, I wanted her with Tegan, I wanted her away from the men who only ever took from her. I wanted the low-hanging fruit but, instead, the show exposed the roots of the character they'd built over six seasons. In its final standout season, HTGAWM more about reconcilitation than romance and, as is her wont, Viola Davis carried it all effortlessly. — Natalie
---
Outstanding Supporting Actor Portraying an LGBTQ+ Character in a Drama: Angelica Ross as Candy, Pose
2019 Winner: Angelica Ross as Candy, Pose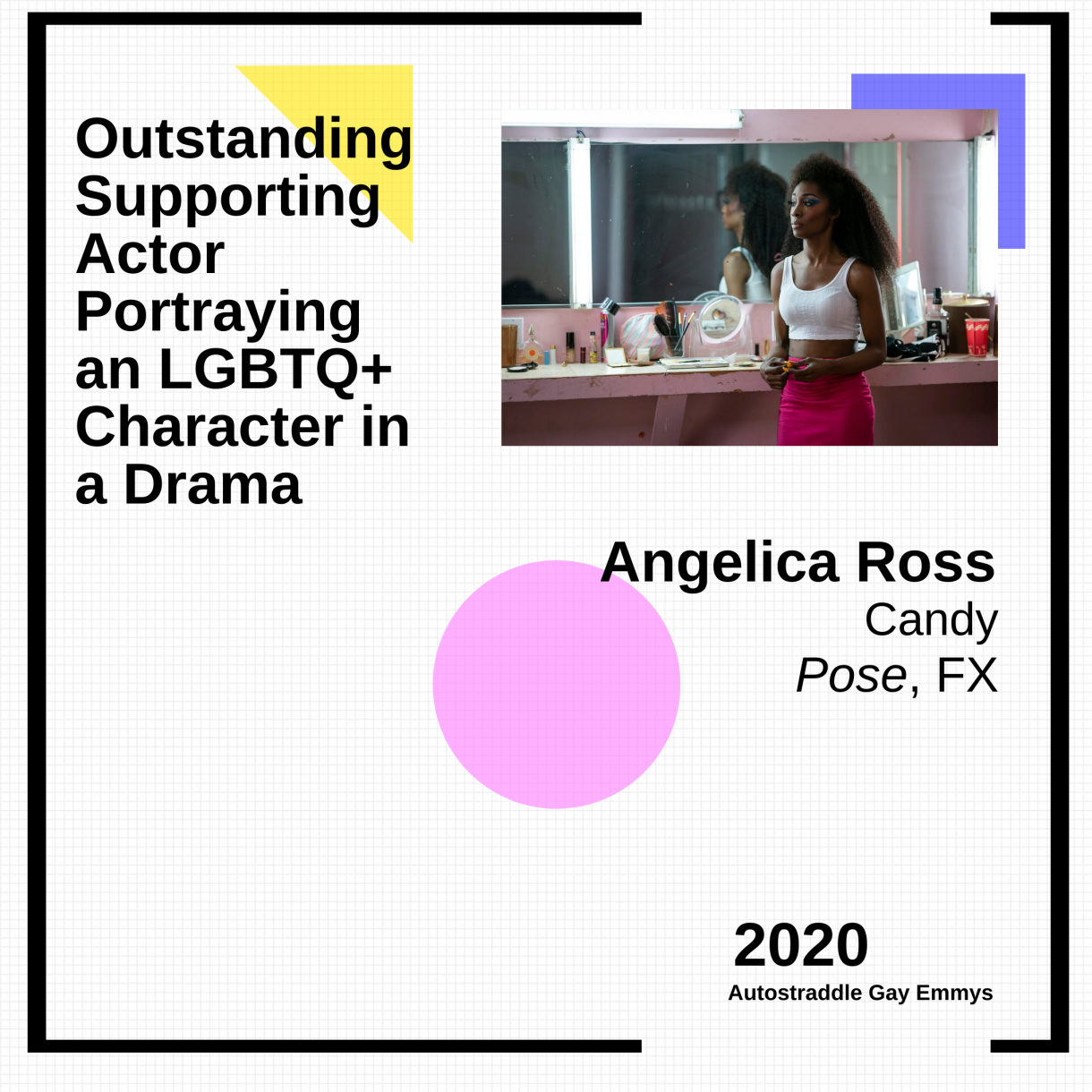 During the first season of Pose, every time Angel stepped to a car as she worked the Piers, I held my breathe. I knew the stats — of the disproportionate amount of violence that black and brown trans women face, particularly those who engage in sex work, and how that violence sometimes turns deadly — and behind my closed eyes I braced myself for the worst to befall one of our beloved characters. That moment never came. I opened my eyes and Angel, Blanca and Elektra were still standing, loving themselves and their chosen families. I thought, "well, at least, they're safe here."
As it turns out, they weren't.
I'm not sure I'll ever find peace with how Candy's story ended but in her performance, Angelica Ross embodies the very thing that made Candy such a great character: She takes whatever scraps she's been given and weaves them into something beautiful. She balances the seriousness and the sass as Candy helps Elektra mummify a dead client in "Butterfly/Cocoon." She is defiant and divine in "Never Knew Love Like This Before." Ross gives us the opportunity to see Candy as clear as we ever have, even in death. And, thanks in large part to the depth of Ross' performance, we get to see the people who loved/hated her — Pray Tell, Angel, Lulu, Blanca, her parents — as clearly as we've ever seen them too… and it carries us through the rest of the season. — Natalie
---
Outstanding Guest Actor Portraying an LGBTQ+ Character in a Drama: Jen Richards as Young Anna Madrigal, Tales of the City
Runner-Up: Lauren Glazier as Kay, Mindhunter (Netflix)
Other Nominees: Daniela Vega as Ysela, Tales of the City (Netflix) // Laurel Holloman as Tina, The L Word: Generation Q (Showtime) // Laverne Cox as Sophia, Orange is the New Black (Netflix) // Jen Richards as Young Anna Madrigal, Tales of the City (Netflix) // Alexis Bledel as Emily, The Handmaid's Tale (Hulu)
Last year's Tales of the City reboot was a marker of queer television past and future. The third sequel to the landmark original series took the generational conflicts inherent in its creations and made them its subject. So, of course, Jen Richards stole the show. Anna Madrigal, for better or worse, is an iconic trans character, and while she's played once again by Olympia Dukakis, Richards takes over for the standout flashback episode. Richards isn't just a phenomenal performer — she's also one of the smartest cultural critics of trans media. It's fitting then that her skills as an actor become their very own argument for the trans television we deserve.
This hour long short movie is carried by Richards as it recreates the Compton's Cafeteria Riot and asks questions about what we owe our community and who in our community is even granted that quandary. A romance between a trans woman and a cop is something only a cis person would write, but Jen deepens what otherwise feels so wrong. In Richards' hands, Anna becomes a woman so desperate to be who she really is that she forgets who that person should be. It's a complicated performance for a character granted her complexity 25 years too late. It's proof that as we move into this new chapter of trans media performers like Jen Richards should take the lead. — Drew
---
Outstanding Lead Actor Portraying an LGBTQ+ Character in a Comedy: Mishel Prada as Emma, Vida
2019 Winner: Mishel Prada as Emma, Vida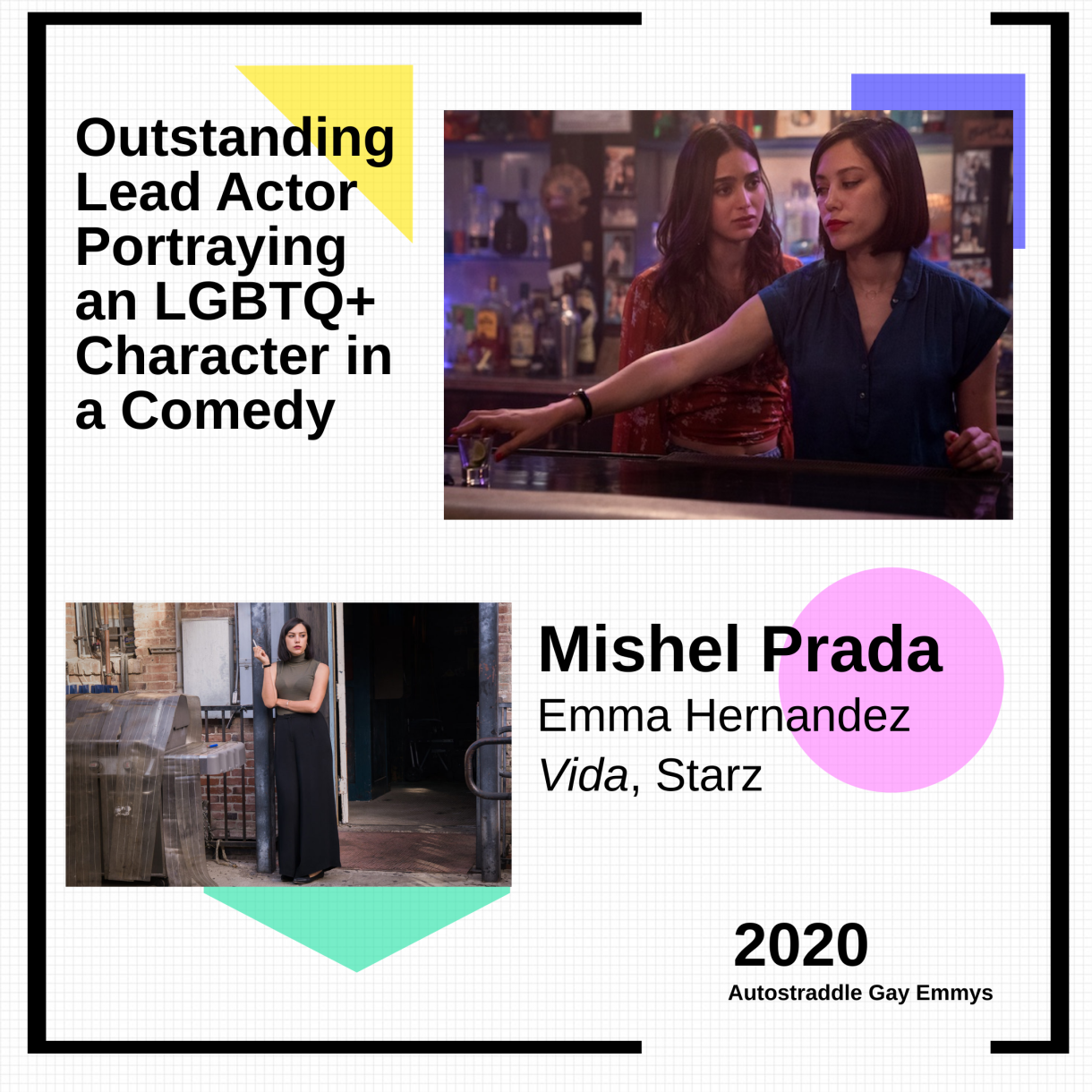 Runner-Up: Hailee Steinfeld as Emily Dickinson, Dickinson (Apple+ TV)
Other Nominees: Zoe Kravitz as Rob, High Fidelity (Hulu) // Kabrina Adams as Honeybear, Betty (HBO) // Mishel Prada as Emma, Vida (Starz) // Jonica T. Gibbs as Hattie, Twenties (BET) // Mae Martin as Mae, Feel Good (Netflix) // Isabella Gomez as Elena, One Day at a Time (Pop TV) // Abby McEnany as Abby, Work in Progress (Showtime)
There is no one like Mishel Prada. As Emma Hernandez, she's created a queer character who is full of pain and resiliency, someone who's small frame is built of steel and is unafraid to rise to the challenges around her. And yes, Emma is messy. But if we're being real with ourselves, queerness is messy. Behind Emma's ice cold mask is a femme looking desperately to unpack the baggage of shame left for her by her mother like it was some kind of expensive designer luggage. She's tried to find it behind work at a corporate job, then in reinstating her family's bar to its former glory, and in multiple choices of sex partners (some better advised than others). This year, Emma finally gets to the bottom of that suitcase — in her father, a figure who looms large both in her mother's history and now in her own. From there what she discovers is that beneath her icy exterior is actually fire. A passion, pride, and confidence in herself that looks to even shake her to her own core.
There's a fine dance that can be struck between performer and writer, and Mishel Prada and Tanya Saracho found it in each other. They created pure magic. — Carmen
---
Outstanding Supporting Actor Portraying an LGBTQ+ Character in a Comedy: D'Arcy Carden as Janet, The Good Place
2019 Winner: Rosario Dawson as JR, Jane the Virgin
Runner Up: Roberta Colindrez as Nico, Vida (Starz)
Other Nominees: Theo Germaine as Chris, Work in Progress (Showtime) // Kirby Howell-Baptise as Taylor Harding, Why Women Kill (CBS All Access) // Lolly Adefpoe as Fran, Shrill (Hulu) // Judy Reyes as Quiet Ann, Claws (TNT) // Patricia Allison as Ola, Sex Education (Netflix) // Ser Anzoategui as Eddy, Vida (Starz)
If you haven't read A.E. Osworth's Non-Binary Ode to Janet, you should start there: "Janet is also continuously and profoundly misunderstood. She's called a 'front desk lady,' a 'magical slave robot.' And she is often called a girl. Calmly and with a smile, Janet often corrects those around her. 'Not a girl,' 'not a robot,' 'not a person.' In season two, episode ten, she does offer two thumbs up and the phrase 'I'm luggage!' to explain that she counts as a carry-on when it comes to traveling through a portal to the neutral zone. Thus the character of Janet lent me a minuscule-but-fun way to defuse, respond, chuckle my way through the constant annoyance [of being misgendered]."
Janet started out as a bit character, really, but over the course of four seasons, D'Arcy Carden brought her to life. Underneath her cheerful, accommodating persona was desire, longing, fear, desperation, hope, happiness, and even, at times, barely concealed rage at the injustices humanity — especially her four humans — faced en route to a fair afterlife. Whether it was approximating human crying, baby-talking a puppy about how the void could blow up existence, barfing up quarters, begging for her life and then reassuring Chidi that it was just a failsafe to keep from getting rebooted, to broadcasting his decision — "ATTENTION. I HAVE BEEN MURDERED. ATTENTION. I HAVE BEEN MURDERED." — Carden gave every scene everything. She was consistently the most hilarious part of a historically funny comedy, and when pathos was necessary, she stuck the landing every time.
Who else could we have trusted to find the perfect balance of humor and heart when shepherding Chidi, Eleanor, Jason, and Tahani beyond the great beyond? — Heather
---
Outstanding Guest Actor Portraying an LGBTQ+ Character in a Comedy: Natalie Morales as Michelle, Dead to Me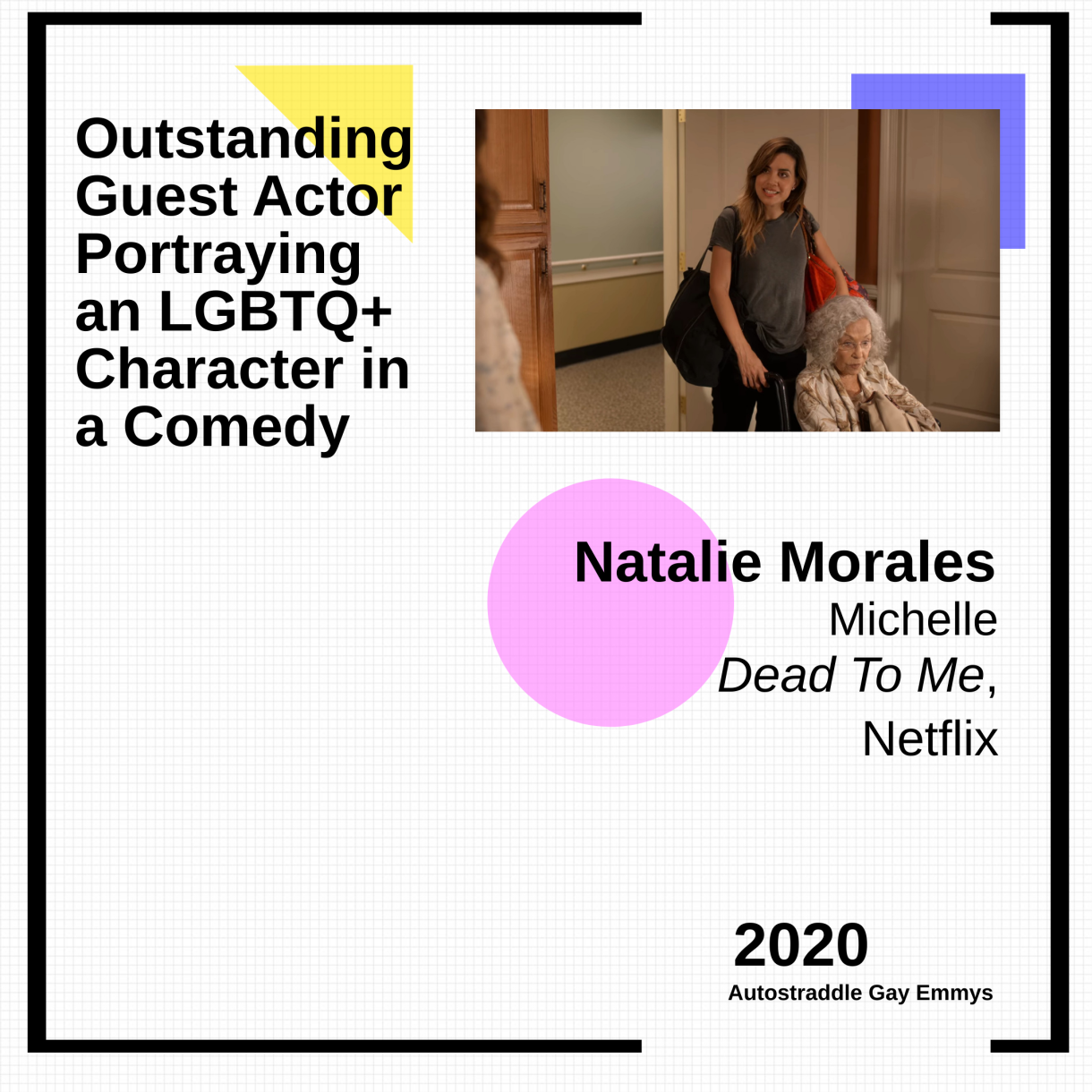 Runner Up: Brittani Nichols as Barbecue Daddy #1, A Black Lady Sketch Show (HBO)
Other Nominees: Constance Zimmer as Claudia Nico, Shameless (Showtime) // Wanda Sykes as Moms Mabley, The Marvelous Mrs Maisel (Amazon Prime) // Michelle Badillo as Sam, Vida (Starz) // Patti Harrison as Ruthie, Shrill (Hulu)
You may know Natalie Morales from her time as Lucy on Parks and Recreation or her short-lived titular bisexual character on Abby's or maybe even as Anne Garcia on Santa Clarita Diet. Somehow, you know Natalie Morales. But you've never seen her like Michelle on Dead to Me. In the words of Valerie Anne: "She floats in like cool silk on a hot day and even though she's looking at Linda Cardellini the whole time you somehow feel like also she's looking at you? I've never seen anyone flirt like this. It's absolutely electric. There's one part where she's leaning on a doorframe and I have never wanted to be a doorframe but here I was, wishing I could be a doorframe."
It's weird that in 2020 it's still so hard to believe so many actresses when they're playing gay characters; I guess it's a good thing Morales is herself queer! What's great about Morales as Michelle is that she spends a lot of time doing that dance we all do, that we hardly ever see on screen, where she knows she's got a connection with this woman — in her case, Cardellini's Judy — but she doesn't know if Judy likes her or just likes the attention; she doesn't know if Judy is willing or able to act on the chemistry they obviously have with each other; she doesn't know if making a move is going to startle her away like a baby rabbit or if not making a move is going to startle her away like a baby rabbit. When they finally do act on their feelings, it's just as sizzling as the build-up!
I'm not sure how else to say it, so: Michelle embodies 80% of the advice questions we get from queer readers. What in the world is this woman I'm into thinking? What is she doing? What does she want? And should I do something about it? We never get to see that on TV, and in Morales' hands it is an absolute delight. — Heather
---
Outstanding Lead Actor Portraying an LGBTQ+ Character in a Limited Series or TV Movie: Kerry Washington as Mia Warren, Little Fires Everywhere
Runner-Up: Kathryn Hahn as Mrs Fletcher, Mrs Fletcher (HBO)
Other Nominees: Judith Light as Shelli Pfefferman, Transparent Musicale Finale (Amazon Prime) // Addison Holley as Alex Cooper Trapped: The Alex Cooper Story (Lifetime) // Amy Landecker as Sarah Pfefferman, Transparent Musicale Finale (Amazon Prime) // Gaby Hoffman as Ari Pfefferman, Transparent Musicale Finale (Amazon Prime)
The version of Mia Warren that showed up on our Hulu screens earlier this year wasn't a fixture of Celeste Ng's original work. Though she considered it, Ng ultimately relented, saying, "I didn't feel like I was the right person to try to bring a black woman's experience to the page."
When it came time to translate Mia Warren to the small screen, Little Fires Everywhere's showrunner, Liz Tigelaar, got together a writing team, including black writers like Shannon Houston, Raamla Mohamed and Attica Locke, to bring the story of a black Mia Warren and her black daughter, Pearl, to life. The change, however subtle, sharpens the edges of the class conflict that was a hallmark of Ng's original work. The interactions between the Warrens and the Richardsons are more charged…they have more depth…and, despite the show being set in 1990's Ohio, the change makes the show feel even more current.
But as incisive as the writing is, it's Kerry Washington that brings Mia Warren to life. Mia suffers through one microaggression after another from Elena Richardson…and, as in life, the reactions to those are slight and nearly imperceptible…but in Washington's adept hands, we feel each and every microaggression. The audience feels every slight pin pick until ultimately Mia breaks. Elena pushes her too far and assumes too much, Mia smirks and says, "You can't stand it, can you? That someone would choose a different life than yours. What was it you gave up, Elena? A love? A career? A whole life? Because you'd rather stand here, disparaging my daughter, instead of seeing the truth about your own."
That read was one of the most satisfying TV moments of the last year. — Natalie
---
Outstanding Supporting Actor Portraying an LGBTQ+ Character in a Limited Series or TV Movie: Tiffany Boone as Young Mia Warren, Little Fires Everywhere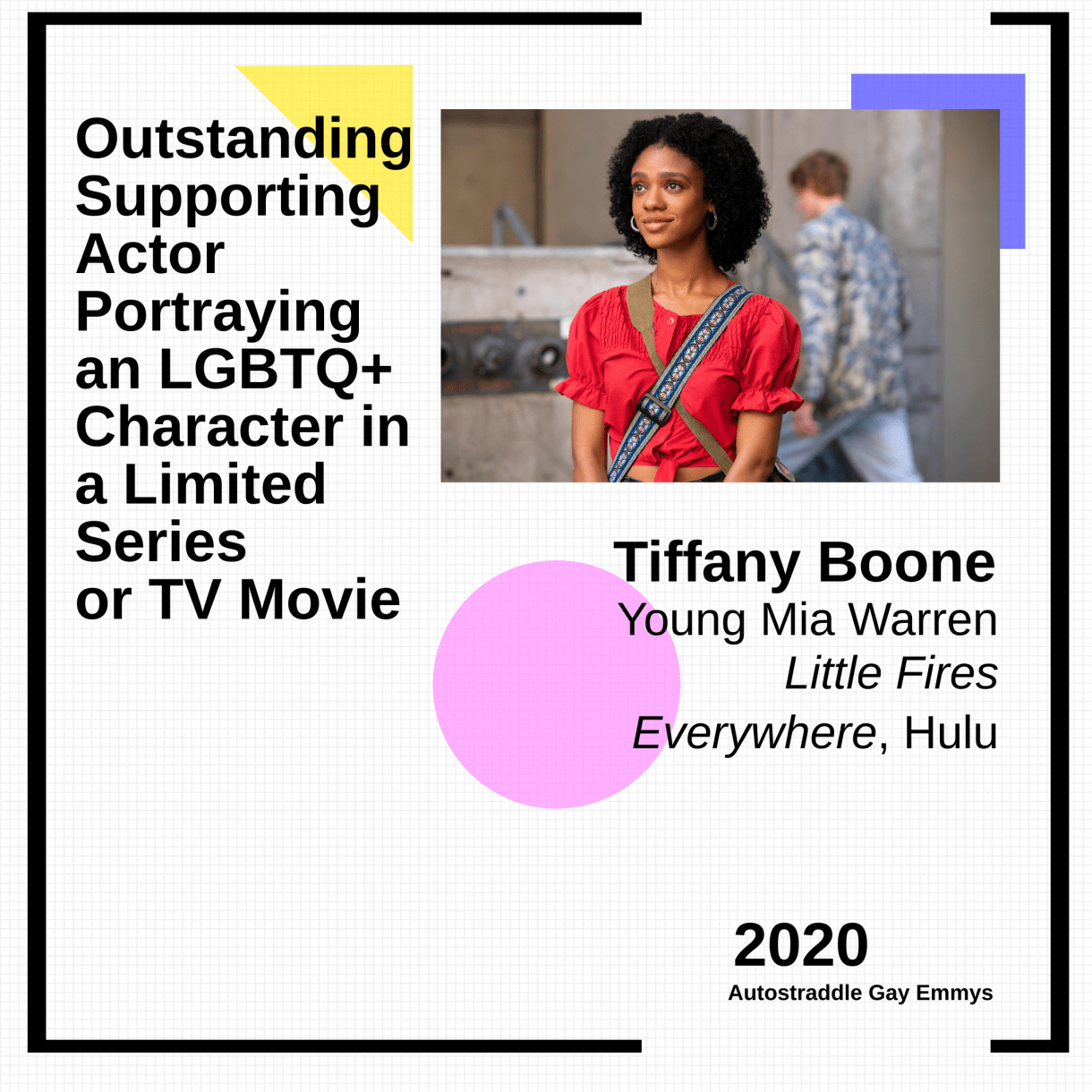 Runner-Up: Megan Stott as Izzy Richardson, Little Fires Everywhere (Hulu)
Other nominees: Katie Kershaw as Amanda Olney, Mrs. Fletcher (HBO) // Bria Henderson as Margaret Sloan, Mrs. America (Hulu) // Ari Graynor as Brenda Feigen-Fasteau, Mrs America (Hulu) // Tiffany Haddish as Leila, Self Made (Netflix)
I thought I knew Tiffany Boone. I'd seen her in a few things before — her guest stints on Southland and Grey's Anatomy, her arc on the short-lived Complications and, most notably, in her starring role on The Chi — but it wasn't until Little Fires Everywhere that I truly got to see her. This show announced her: "this is Tiffany Boone and this is what she is capable of."
It is difficult to play a younger version of a character that exists on the canvas, particularly when that older character is played by a seasoned actress like Kerry Washington. There's a physicality to Washington's characters — you can see it in everything from Chenile in Save the Last Dance to Olivia Pope in Scandal — and portraying it is a difficult needle to thread. But somehow, Tiffany Boone manages it…mastering Washington's walk, the facial expressions (the lip quiver!), the mannerisms, the speech, the pacing…the resemblance is uncanny. She became Kerry Washington for hour of television and it was astounding to watch.
That Boone was not nominated for an Emmy for her performance is one of the most egregious snubs of this year and I am thrilled to see her recognized here. — Natalie
---
Outstanding Guest Actor Playing an LGBTQ+ Character in a Limited Series or TV Movie: Roberta Colindrez as Jules, Mrs. America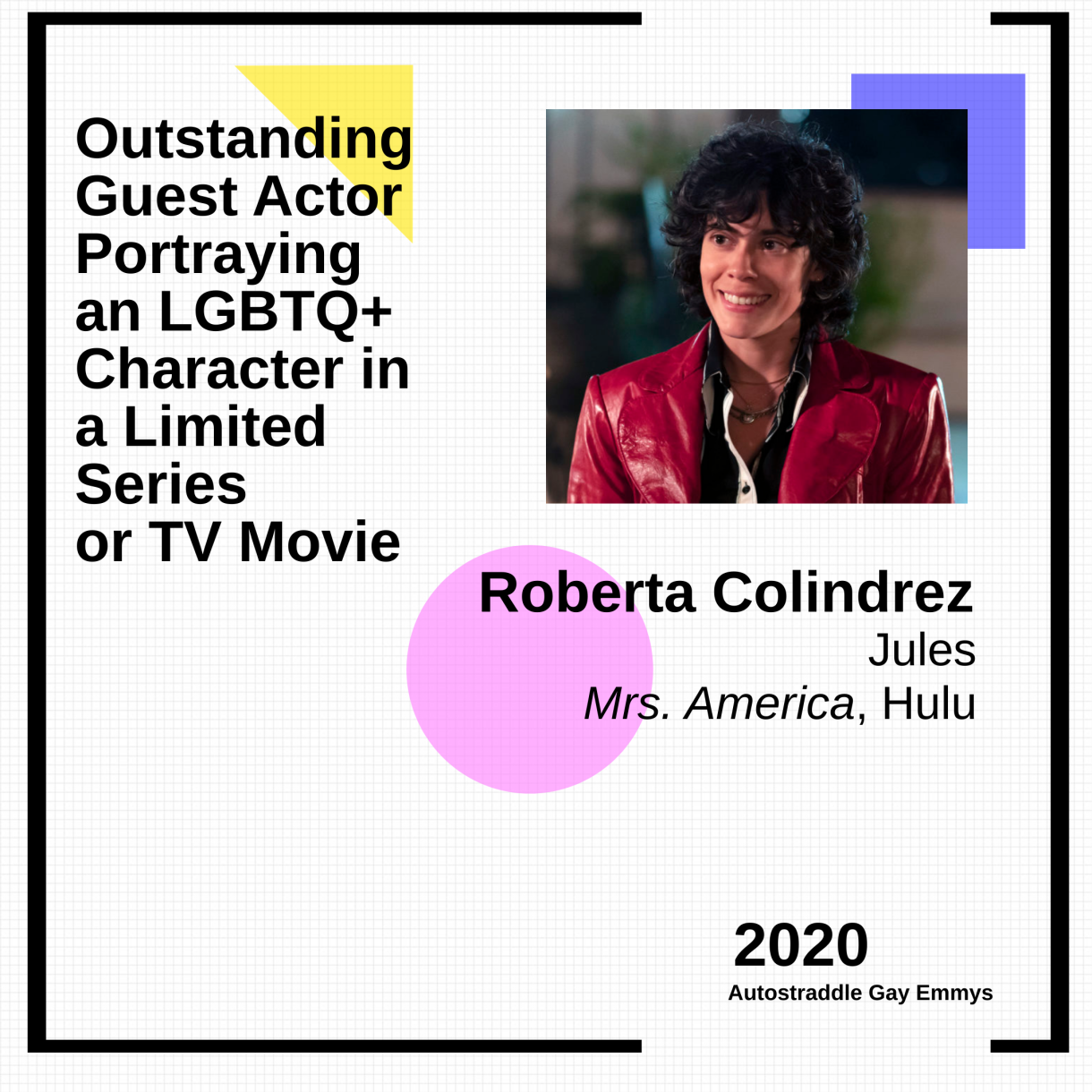 Runner-Up: Anika Noni Rose as Paula Hawthorne, Little Fires Everywhere (Hulu)
Other Nominees: Paget Brewster as Tallulah Bankhead, Hollywood (Netflix) // Michelle Krusiec as Anna May Wong, Hollywood (Netflix) // Annie Parisse as Midge Costanza, Mrs America (Hulu) // Queen Latifah as Hattie McDaniel, Hollywood (Hulu)
There's something specifically dreamy about a masculine lesbian in a period piece, all that charm wrapped around so much striving and a long history of striking out more often than they succeed in their search for love or companionship. Mrs. America isn't the first time a Roberta Colindrez character has charmed somebody's pants off (literally) against formidable odds. Jules, a photographer who often works with various members of The Feminist Movement, only spends an episode with us but in that brief moment we see it all — her care to respect Brenda, her desire to respect herself, her having those eyes and that HAIR HER HAIR IS SO GOOD and those moves. Regrettably, like so many women of color in the feminist movement then and now, Jules only gets a few scenes, just long enough to inspire a political/personal journey for the white woman whose name appears in the episode's title alongside her husband's. I would watch Roberta Colindrez do literally anything, but I'm very pleased that so far she's showed up in so many of my favorite places. — Riese
---
Outstanding Lead Actor Playing an LGBTQ+ Character in a Sci-Fi/Fantasy Series: Chyler Leigh as Alex Danvers, Supergirl
2019 Winner: Jamie Clayton, Sense8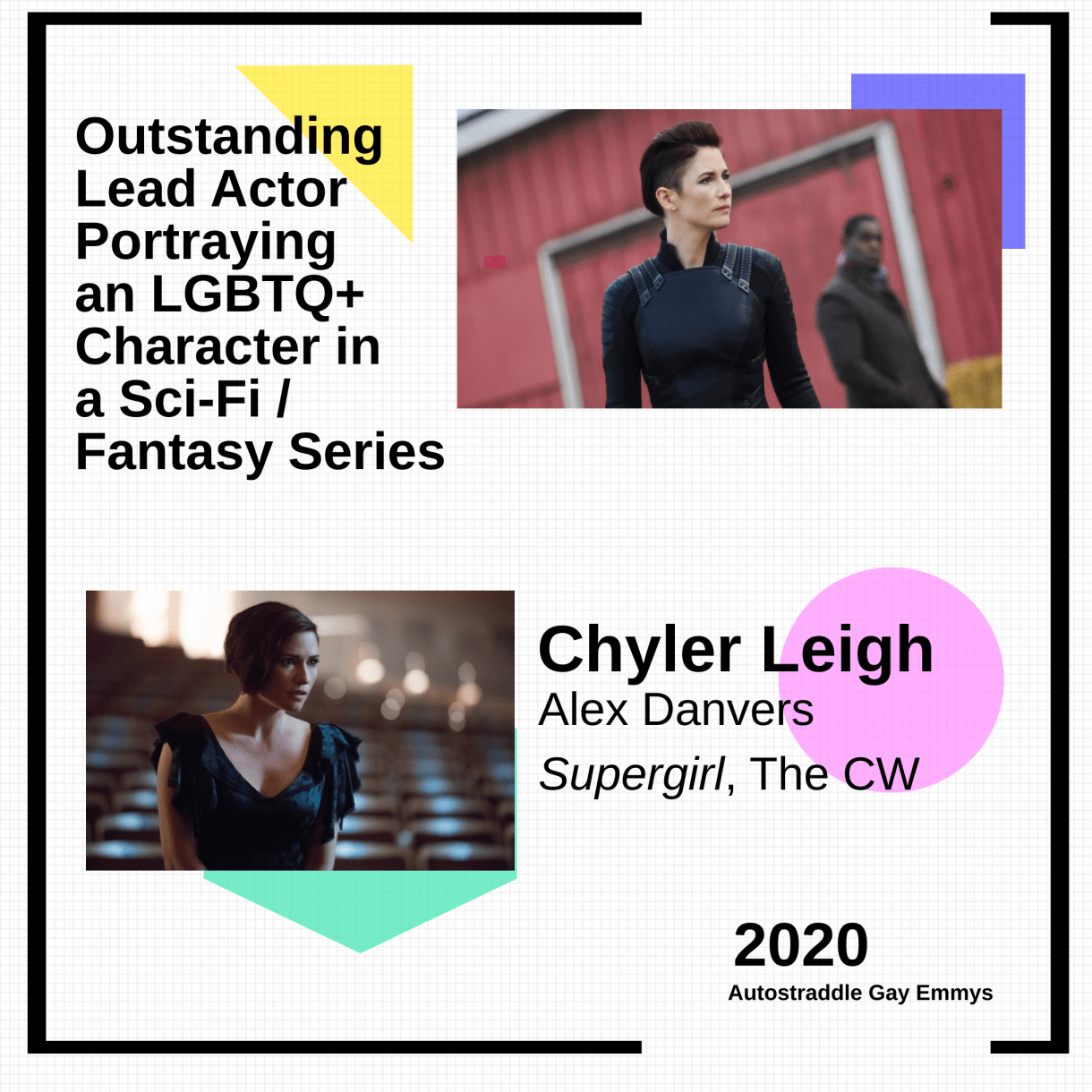 Runner-Up: Caity Lotz as Sara Lance, Legends of Tomorrow (The CW)
Other Nominees: Ginny Gardner as Karolina Dean, Marvel's Runaways (Hulu) // Sophia Lillis as Sydney Novak, I Am Not Okay With This (Netflix) // Lyrica Okano as Nico Minoru, Marvel's Runaways (Hulu) //  Nafeesa Williams as Anissa, Black Lightning (The CW) // Hong Chau as Audrey Temple, Homecoming (Amazon Prime) // Janelle Monae as Alex, Homecoming (Amazon Prime)
Unfortunately Alex hasn't gotten nearly enough airtime on Supergirl lately (neither has her new girlfriend Kelly) but Chyler is giving us her best and not letting one single line or glance go to waste. Besides, she channeled some of that Alex Danvers bravery and Chyler herself came out this year, which adds a little something extra to the glint in Alex's eye. From the first season before Alex was out, to Alex's coming out journey, to her breakup storyline, to her new girlfriend plot, Chyler has always brought something really special and dynamic to Supergirl's super-in-her-own-right lesbian sister. — Valerie
---
Outstanding Supporting Actor Playing an LGBTQ+ Character in a Sci-Fi/Fantasy Series: Maya Hawke as Robin Buckley, Stranger Things
2019 Winner: Nicole Maines, Supergirl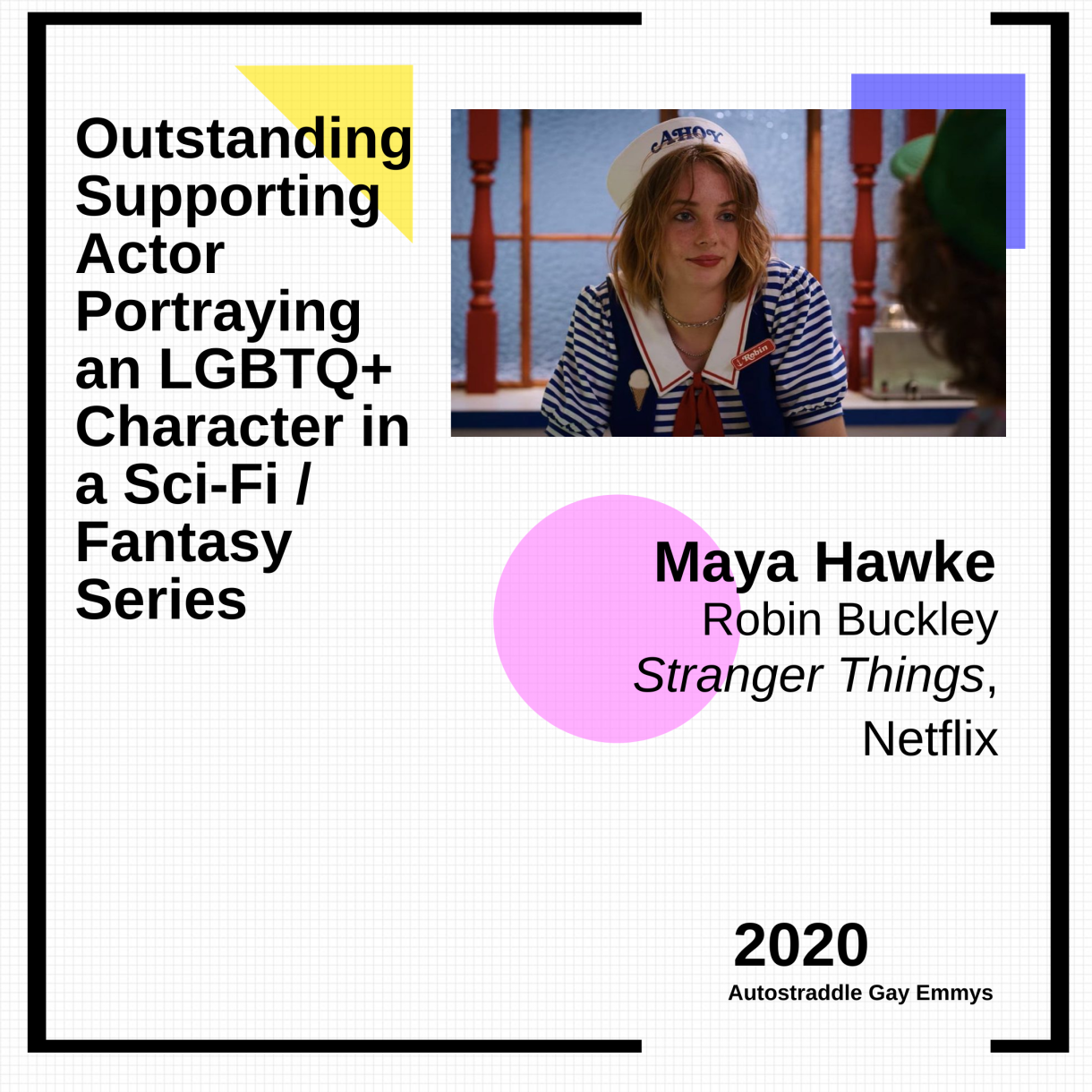 Runner-Up: Chantal Thuy as Grace Choi, Black Lightning (The CW)
Other Nominees: Megan Tandy as Sophie Moore, Batwoman (The CW) // Amalia Holm as Scylla Ramshorn, Motherland: Fort Salem (Freeform) // Azie Tesfai as Kelly Olsen, Supergirl (The CW) // Nicole Maines as Nia Nal, Supergirl (The CW)
Whether or not Robin Buckley was given to us as an apology gift for killing off Barb before they could lean into the chemistry between her and Nancy, I have accepted it as one. Maya Hawk delivered a hilarious, energetic performance of this take-no-shit teenager, which made it all that more impactful when she quietly came out to her best buddy. I honestly wasn't expecting such smart, thoughtful lesbian representation to appear on a show where so much else is going on (like, monsters in the mall much) and it was a damn delight to behold. — Valerie
---
Outstanding Guest Actor Playing an LGBTQ+ Character in a Sci-Fi/Fantasy Series: Jeri Ryan as Seven of Nine, Picard

Runner Up: Christina Wolfe as Julia Pennyworth, Batwoman (The CW)
Other Nominees: Brianne Howey as Reagan, Batwoman (The CW) // Roxy Wood as Yvette, Supergirl (The CW) // Jeri Ryan as Seven of Nine, Picard (CBS All Access) // Riley Voelkel as Freya Mikaelson, Legacies (The CW) // Lisa Kudrow as Maggie Naird, Space Force (Netflix) // Christina Wolfe as Julia Pennyworth, Batwoman (The CW)
While Star Trek has a reputation for being a boundary-pushing paragon of inclusivity from the time The Original Series launched in the '60s, it has always been lightyears beyond on LGBTQ+ rep, especially in the sci-fi and fantasy genre, which has historically been the most gay-friendly genre on TV. (What other awards breakout sci-fi and fantasy? Just these gay Emmys!) Fans, of course, have long read Kirk and Spock as gay, to the point that they were fanfic fan 'zines existed long before the internet. By the time Voyager arrived in the '90s, gay fans, GLAAD, and even Gene Roddenberry agreed that it was time for a queer character — but network restrictions kept the main cast straight. Still, though, fans read Jeri Ryan's Seven-of-Nine as a lesbian (with many fans shipping her hard with Kate Mulgrew's Captain Janeway). In recent years, former producers, including Jeri Taylor, admitted that they pushed hard for Seven to be a lesbian, but the networks wouldn't budge.
Enter Picard. As soon as Ryan arrived on screen, fans were desperate to see her get the gay storyline Seven deserved. Our wish didn't exactly come true, but it came mostly true. After killing Bjayzl, with whom she had sizzling chemistry, Seven finally made eyes at and clasped hands with Raffi while playing the kal-toh in the season one finale. It wasn't fireworks, but it wasn't subtext either. Ryan has been an outspoken fan of the idea that Seven is a lesbian for years, and she seemed just as excited as fans were when it finally happened.
Ryan never shied away from playing the kind of stoic, inured, battle-work borg-y women characters that were not so popular in the early '90s, but are so beloved today. She fits right in on Picard and it's a joy to see her getting a little bit of long-deserved love in her life. — Heather
---
Outstanding Performance by a Straight Actress in a Straight Role: Justina Machado as Penelope, One Day at a Time
2019 Winner: Justina Machado, One Day at a Time

Runner-Up: Rita Moreno as Lydia, One Day at a Time (Pop)
Other Nominees: Uzo Aduba as Shirley Chisolm, Mrs America (Hulu) // Melissa Barrera as Lyn Hernandez, Vida (Starz) // Issa Rae as Issa, Insecure (HBO) // Regina King as Angela Abar / Sister Night, Watchmen (HBO)
It is completely and totally BONKERS that Justina Machado hasn't been nominated for an actual Emmy for her role on One Day at a Time. Manuel Betancourt wasn't the only critic to wonder out loud this year: What does a Latino have to do to get nominated for an Emmy? And it's not just the awards; it's also, as Viola Davis said in her 2015 Emmy speech when quoting Harriet Tubman, a lack of opportunity for women of color. According to a recent report from the USC Annenberg Inclusion Initiative, only 5% of the speaking roles in the top 100 movies of 2019 were Latino actors, even though Latinos make up 18% of the U.S. population! Add that Color of Change's Normalizing Injustice report about crime on TV, which shows that American television perpetuates the propagandic lie that Black and Latino people are inherently more criminal than white people — and, hey, that's why Autostraddle hosts our own Emmys!
There isn't a dang thing Justina Machado doesn't do as Penelope on ODAAT. The laughs? My god, the laughs. This season's masturbation episode is one of the funniest things I have ever seen in my entire life, and she plays Penelope's empowerment and mortification flawlessly. The feelings? I have never seen anxiety and depression depicted with as much compassion and honesty in a comedy as it has been in Penelope's storyline. Sexy? Yes. Ambitious and successful? Yes. A goddamn activist? YES. A mom and a daughter and a woman in the world with her own hopes and dreams and silliness and missteps and triumphs, fighting for her family's health and happiness safety in the middle of a White House administration that has targeted and villainized them at every turn? YES! One Day at a Time is THE show of this moment, and with Justina Machado in the lead, it has risen to every occasion. — Heather
---
Santana Lopez Legacy Award For Outstanding Queer Teen Character: Jordan Hull as Angelica, The L Word: Generation Q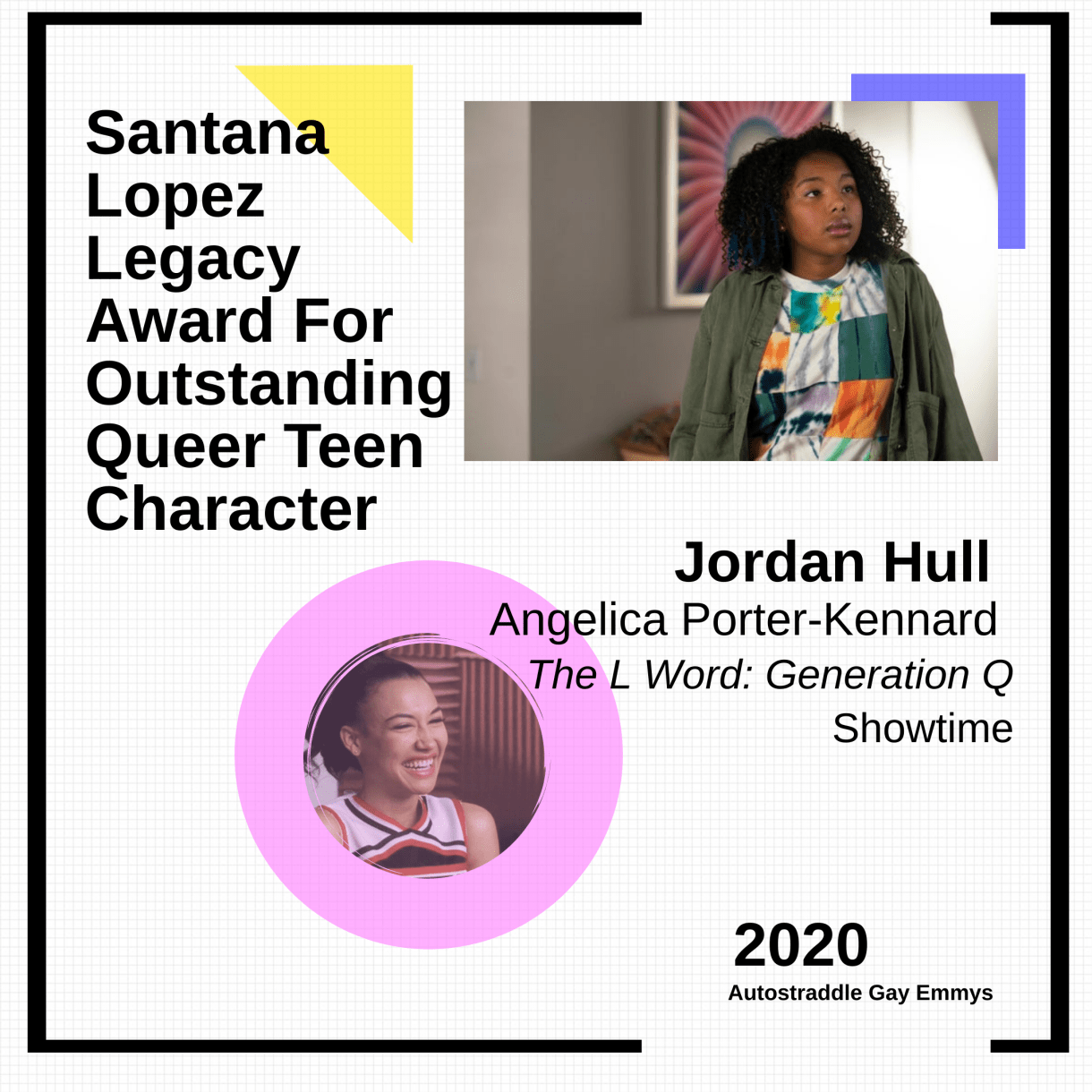 Runner-Up: Zendaya as Rue, Euphoria (HBO)
Other Nominees: Patricia Allison as Ola, Sex Education (Netflix) // Hunter Schafer as Jules, Euphoria (HBO) // Emily Tosta as Lucia Acosta, Party of Five (Freeform) // Eris Baker as Tess Pearson, This is Us (ABC)
When Autostraddle's CEO Riese first suggested the Santana Lopez Legacy Award for Outstanding Queer Teen Character as a new category for this year's Gay Emmys — to be honest, I almost cried. It's such an important memorial for Naya Rivera's life work, and the impact that her performance left on a generation of queer people — many people on our Autostraddle staff included. The second thought I had was: Oh I am so excited for when we are able to give this award to Jordan Hull as Angelica Porter-Kennard. Truthfully, this category was full of winners — the runner up Zendaya is actually nominated for a (straight) Emmy this year for her stirring and incredibly memorable performance as Rue Bennett in Euphoria. I take nothing away from those performances when I say that it was impossible to take my eyes off of Jordan Hull in every scene that she was in.
Little baby Angie came into the sequel series as fan favorite for the last ten years of those of us who loved her mightly as a toddler, and those were already large shoes for any performer to fulfill. Instead, Jordan laced up Angie's rainbow Chucks and ran with it! She became the emotionally mature, sweet, caring, heartbeat around which Bette Porter's world revolved, and our world right along with it. She became the sparkle of her Aunt Shane's eye. Her shy, teenage romance with Jordi was the stuff of the best romantic comedies. Angie is brave and a bit of a smart ass (credit her mother), but she loves fearlessly. It's so easy to root for her, to see a bit of ourselves in her triumphs and fears. We talk a lot about "L Word origin stories," how for many of us the show was watched in secret away from our families when we were young and in some form of the closet. I can't help but think about the teens who are sneaking to watch The L Word now, and how excited I am that they have someone like  Angie shining back at them. What a star. — Carmen
---
Outstanding Cis Male Character: Dan Levy as David Rose, Schitt's Creek
2019 Winner: Rogelio de la Vega, Jane the Virgin
Runner-Up: Billy Porter as Pray Tell, Pose (FX)
Other Nominees: Ben Sinclair as The Guy, High Maintenance (HBO) // Leland B. Martin as Ari Thomas, Boomerang (BET) // Ncuti Gatwa as Eric, Sex Education (Netflix) // Billy Porter as Pray Tell, Pose (FX) // Jeremy Pope as Archie, Hollywood (Netflix) // Nicholas Ashe as Micah West, Queen Sugar (OWN) // Andre Braugher as Captain Holt, Brooklyn 99 (NBC)
Not long ago — but also a million years ago, because pre-pandemic — I was at a gay press day situation where Dan Levy was going to appear alongside about a zillion other gay actors, and regardless of age or label or gender, everyone in that room was universally the most excited to meet Levy. Unlike a lot of other actors and series on this list, Schitt's Creek and Levy have gotten their much deserved (but overdue) praise. They're nominated for real Emmys, and they've already brought home Television Critics Association and GALECA: The Society of LGBTQ Entertainment Critics Association awards.
David Rose has become an absolute icon. You are incapable of having an emotion he hasn't expressed better than you and that has been GIFed. You are incapable of watching Schitt's Creek and not falling in love with him. You are, in fact, regardless of whether or not you claim your heart is cold and black, incapable of not crying when he gets his happily ever after. — Heather
---
Outstanding Performance by an LGBTQ+ Actor in a Drama: Angelica Ross as Candy, Pose
2019 Winner: Mj Rodriguez as Blanca, Pose (FX)
Runner Up: Indya Moore as Angel, Pose (FX)
Other Nominees: Sarah Paulson as Alice McRay, Mrs. America (Hulu) // Jillian Mercado as Maribel, The L Word: Generation Q (Showtime) // Rutina Wesley as Nova, Queen Sugar (OWN) // Holland Taylor as Ellen Kincaid, Hollywood (Netflix) //  Fiona Shaw as Carolyn Martens, Killing Eve (BBC) // Mj Rodriguez as Blanca, Pose (FX)
There will inevitably be crossover in the general categories and the LGBTQ actor categories — the more we play ourselves the truer this will be. And I'm thrilled that Angelica Ross has won both for her portrayal of Candy on Pose. But when I think about this category I'm not just thinking about performance — I'm thinking about the visibility of that performer in their identities off-screen. Ross has always combined activism and art and it's been thrilling as a fan and a trans woman to see what she's accomplished in the year since Candy's painful death. She gave a deliciously subversive performance in American Horror Story: 1984, making her the first trans woman to ever be a series regular on two shows. She executive produced and appeared in the trans web series King Ester. And just last month she inked an overall development deal with Pigeon Production Company. This is only the beginning.
"I honestly feel like the phoenix that is sort of rising out of Candy's ashes," Ross said. "I am Candy. Candy is me, and so the reality is that walking out of my house today, the possibility is that my story could end the same way. My story can end in violence, too. But to see the possibility which I think that people are going to get to see because I'm already working on some amazing projects is that they're going to see a Black trans woman get her life."
Candy's death was controversial. I have a lot of complicated feelings about it and I know a lot of you do too. But I love everything Ross said in its aftermath. Pose isn't Ross' story and it isn't Candy's, but they both owned the narrative whenever they could. And someday it will be their story, someday it will be. — Drew
---
Outstanding Performance by an LGBTQ+ Actor in a Comedy: Ashley Nicole Black, various characters, A Black Lady Sketch Show
2019 Winner: Stephanie Beatriz, Brooklyn 99
Runner-Up: Kate McKinnon, various characters, Saturday Night Live (NBC)
Other Nominees: Abby McEnany as Abby, Work in Progress (Showtime) // Mae Martin as Mae, Feel Good (Netflix) // Gillian Anderson as Jean Milburn, Sex Education (Netflix) // Theo Germaine as Chris, Work in Progress (Showtime)
It is hard to pick out my absolute favorite part of A Black Lady Sketch Show — trust me, I've tried — but if we're honoring just one part of the show, it feels right that it's Ashley Nicole Black.
In ABLSS's hilarious inaugural season, Black was part of three sketches — The Invisible Spy, parts one and two, and Annoying Woman — that focus on people not seeing her. In the latter, she's Jackie Woodson, a social-media obsessed influencer who returns to her hometown to celebrate her 10th grade English teacher, only to realize that no one in the town remembers her…even her parents. In "Invisible Spy," she's Trinity, a super-secret agent able to subvert the tightest of the security by being her regular, ordinary self. The Gay Emmys were meant to bring recognition to those who often go unseen by the mostly straight white men who make up the Academy of Television Arts & Sciences… giving this award to the invisible spy feels serendiptous.
So congratulations, Ashley Nicole Black, we see you… through the tears caused by the side splitting laughter you provoke… we see you. — Natalie
---
Outstanding Performance by an LGBTQ+ Actor in a Sci-Fi/Fantasy Show: Janelle Monae as Alex, Homecoming
2019 Winner: Nicole Maines, Supergirl
Runner-Up: Chyler Leigh as Alex Danvers, Supergirl (The CW)
Nominees: Jamie Clayton as Charlie, Roswell New Mexico (The CW) // Maisie Richardson-Sellers as Charlie, Legends of Tomorrow (The CW) // Ariela Barer as Gert, Marvel's Runaways (Hulu) //  Ruby Rose as Batwoman, Batwoman (The CW)
The first time Janelle Monáe appears on your screen in Homecoming, she's adrift in a lake. She wakes up abruptly, dropping her phone in the still waters, and paddles the oarless boat back to shore. You don't know who she is…she doesn't know who she is…but you know you want to watch.
Part of that is because it's Janelle Monáe and, as queer women, we're all obliged to love her but also because it's Janelle Monáe in this space…playing in the same science fiction fantasyland that she's been concocting for herself since the beginning of her career. It feels like a place where Cindy Mayweather could exist or where Jane 57821 would be on the run from the Nevermind. In short, this role feels made for Monáe and Homecoming is at its best when it remembers that. — Natalie
---
Outstanding LGBTQ+ Director / Producer / Writer / Showrunner: Tanya Saracho, Vida
2019 Winner: Janet Mock, Pose (FX)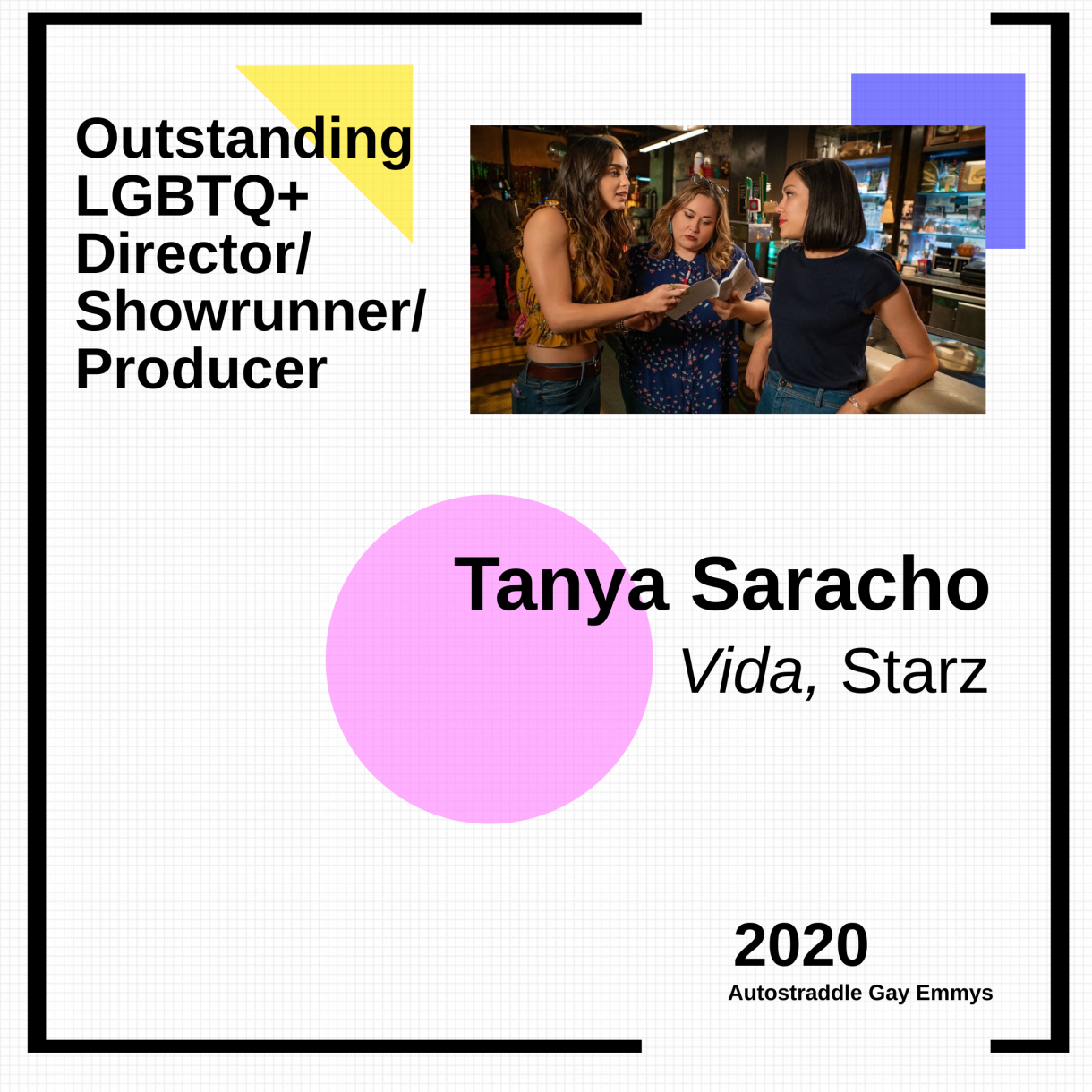 Runner-Up: Janet Mock, Pose (FX)
Other Nominees: Lynn Shelton, Little Fires Everywhere (Hulu) // Lena Waithe, Twenties (BET) // Liz Feldman, Dead To Me (Netflix) // Liz Tigelaar, Little Fires Everywhere (Hulu) // Katja Blichfeld, High Maintenance (HBO) // Abby McEnany, Work in Progress (Showtime)
I've wanted to be in this industry since before my earliest memories. Like I literally said in preschool that I wanted to direct movies. But the desire to write and direct film and television is not the same as the desire to navigate all the bullshit to get there. I love this industry and I hate this industry and some days it feels impossible and yet I know I'll never accept that to be true. I say all this because there are a few people who give me hope, a few people who have managed to navigate this world in a way that fills me with awe. Tanya Saracho is one of those people.
Vida is the creation of someone who's not only brimming with talent, but committed to her principles in a way that frankly shouldn't be possible in our current climate. Throughout its three seasons, Vida had an entirely Latinx writers room. Twenty of its twenty-two episodes were directed by women of color — two by men of color. Several of those directors had never directed television before including Jenée LaMarque who directed seven episodes of the series. The show is unapologetic in its queerness with drag kings and a queerceñera and (in my opinion) the best sex scenes to ever appear in anything ever. The show is cast with actual queer and trans people who play characters, not identities. The show is explicitly political — and explicitly human in those politics — as it covers gentrification and immigration and so much more. These aren't things to celebrate in theory. This is what is on screen. This is what Saracho knew had to happen not just to change the industry, but to make the best show possible.
So, of course, it got canceled. But first! There were three seasons! Twenty-two incredible episodes of this show that did so much that had never been done before. If every failure was this successful, we'd live in a very different world.
This was Tanya Saracho's first show as a creator, but it certainly won't be her last. And I know she'll bring this same talent and these same principles to every project. She did it in the beginning — she did it when it was hardest. We are so lucky to watch TV while she's making it. We are so lucky to have had Vida and so lucky to have whatever she does next. I'm in awe. I don't know what else to say except that I'm in total awe. — Drew
---
2019 Winner: She-Ra and the Princesses of Power
Runner-Up: Bojack Horseman (Netflix)
Other Nominees: The Owl House (Disney) // Steven Universe: Future (Cartoon Network) //  Harley Quinn (DC Universe) // She-Ra and the Princesses of Power (Netflix) // Kipo and the Age of Wonderbeasts (Netflix)
The final season of She-Ra and the Princesses of Power was the stuff of queer nerd fever dreams. It was like Star Wars meets Lord of the Rings meets Harry Potter but MAKE IT VERY GAY. Like the logical flight point of Legend of Kora crawling so Adventure Time could walk so Steven Universe could run so She-Ra could fly! Like literally! She had her own spaceship! The final season anchored a lot of its emotional drama on longterm gay couple Netossa and Spinnerella, and of course Bow's gay dads made an appearance. But the main story, of course, was that Adora and Catra finally confessed their feelings for each other in the most chaotic lesbian drama way — and then saved the world together because of their love. Oh, and also: Scorpia and Perfuma!
But the queerness of She-Ra isn't contained to the romantic storylines. There's the joy and healing of found family, the trauma of being different in the families we're born into, there's pathways out of evangelical fascism, there's guilt and shame and redemption, there's mental illness, and good heavens the rainbows! Mostly, though, in some really dark days, there's hope.
She-Ra isn't without its issues, though, and the creative team, which didn't include any Black writers, made some serious behind the scene missteps that manifested in a disastrous fan panel a few weeks ago. Showrunner and made concrete commitments to hire Black talent and staff at every level on every show she works on in the future. — Heather
---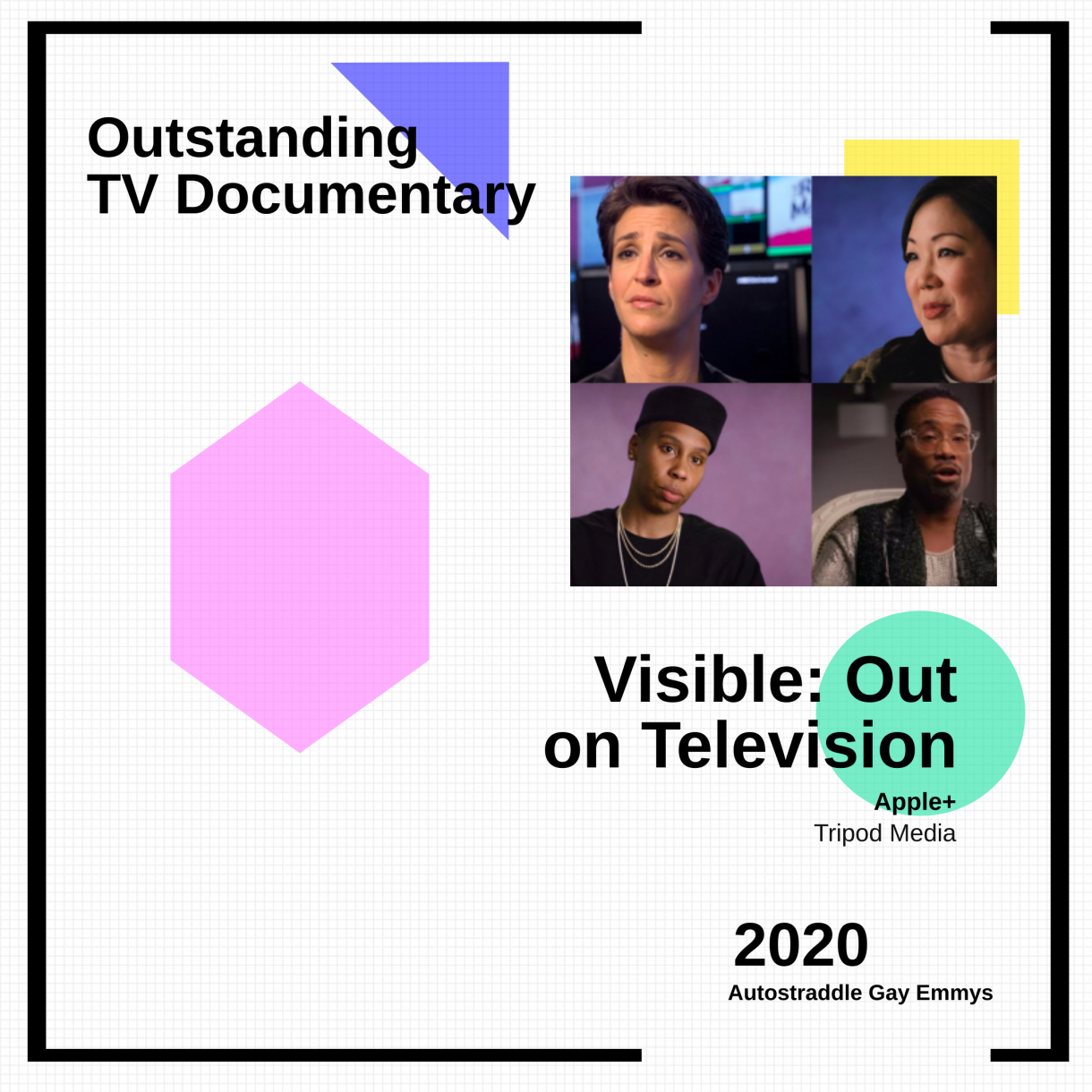 Runner Up: Shakedown (Pornhub)
Other Nominees: AKA Jane Roe: The Real Woman Behind Roe v. Wade (Hulu) // A Secret Love (Netflix) // Circus of Books (Netflix) // Tiger King: Murder, Mayhem and Madness (Netflix)
Visible: Out on Television is the most ambitious LGBTQ+ TV documentary ever attempted — and it succeeds in so many thorough and surprising ways. Opening with the televised Army-McCarthy hearings, which was the first time the word "homosexual" was said out loud on TV, and which launched the Lavendar Scare that decimated Hollywood's attempts at inclusivity for decades, and landing on Janet Mocks' Pose, one of the most revolutionary shows in TV history, Visible leaves few stones unturned in its quest to examine the history of gay and trans storylines, actors, and personalities on TV. The analysis is deeply informed. Creators Ryan White and Jessica Hargrave tapped Rachel Maddow, Janet Mock, Ellen DeGeneres, Margaret Cho, Asia Kate Dillon, Lena Waithe, Billy Porter, Wanda Sykes, Wilson Cruz, and even Miss Major Griffin-Gracy to offer commentary.
What makes Visible isn't that it's exhaustive, it's that it goes to great lengths to contextualize what became flashpoints on TV and examine how those moments changed our culture and our politics when they aired (or, in the case of, say, the Stonewall Riots — when they didn't). Visible even hits up subtextual cult gay classics like Golden Girls and Xena: Warrior Princess. The documentary isn't all celebration; it's quick to point out that most progress achieved by TV has benefitted cis, white gays, especially men. It is rooted in the past, but it keeps its eyes on the horizon too. — Heather
---
Most Groundbreaking Representation (Show): Pose
2019 Winner: Pose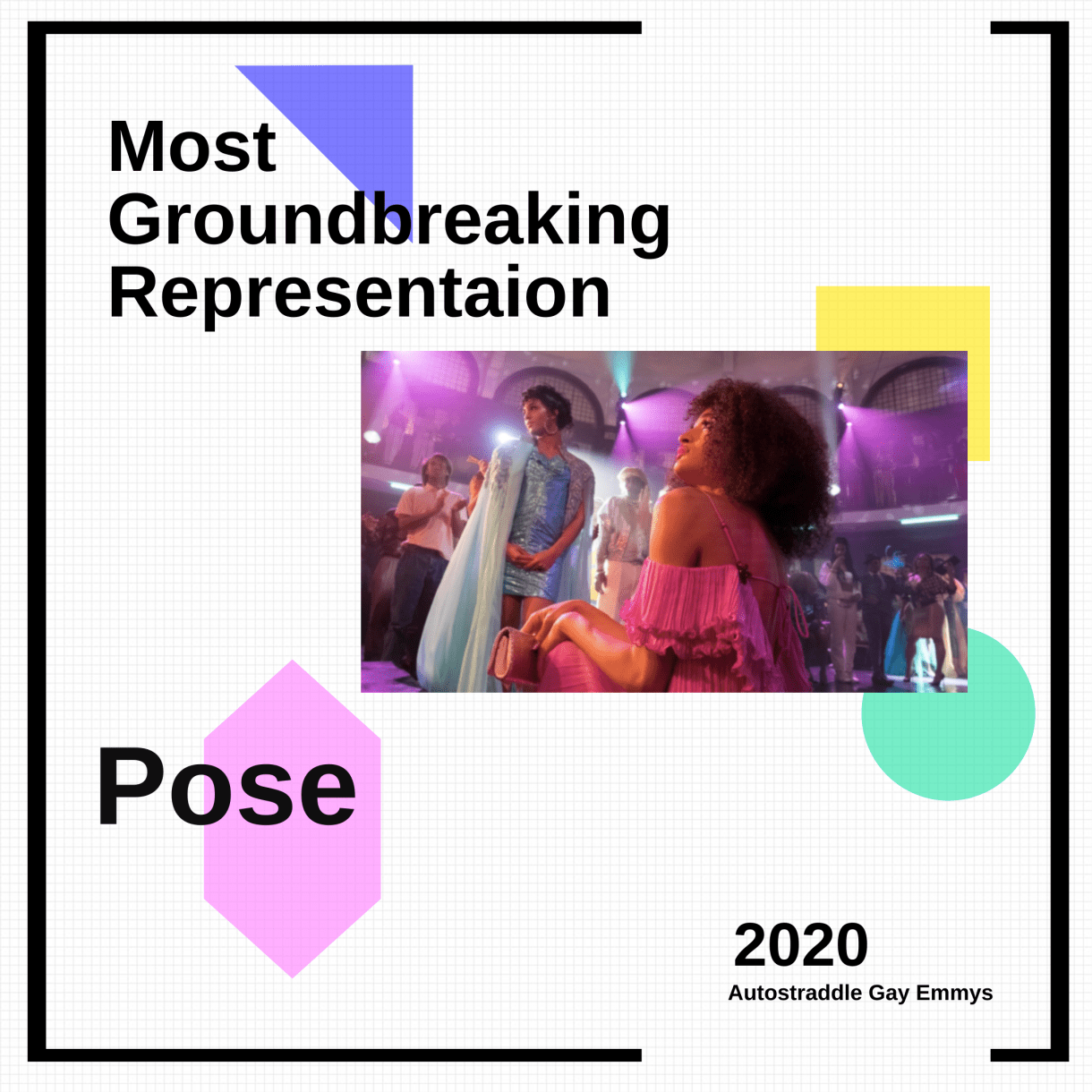 Runner-Up: Batwoman (The CW)
Other Nominees: Work In Progress (HBO) // Twenties (BET) // Party of Five (Freeform) // Vida (Starz)
A recently had the opportunity to write about Pose this year, and I'm going to quote myself a little here, because it's as true as ever:
"It is sincerely dumbfounding how good one television show can be… With skill and artistry, Steven Canals and Janet Mock have tapped into a purity and resiliency and love that beats raw at the center of so many queer chosen families for Black and Brown trans and queer folks. Then, they splashed it in our full splendor across our screens, immortalizing us the same way white cis people have been able to see themselves for years. Pose is so much more than luxurious ballroom runways; it knows we're fucking rich. It knows that small family dinners surrounded by the people who really see you are worth more than gold. It knows even in the specter of death, queer folks don't falter. We hold on to each other harder and stronger — and that fortitude is worth an entire crown of jewels. We've earned our diamonds because we withstood the pressure."
In their second year in a row winning the achievement of "Most Groundbreaking Representation," there's no one better at getting 10s across the board.  — Carmen
---
Best Show That Got Cancelled: Vida
2019 Winner: Jane the Virgin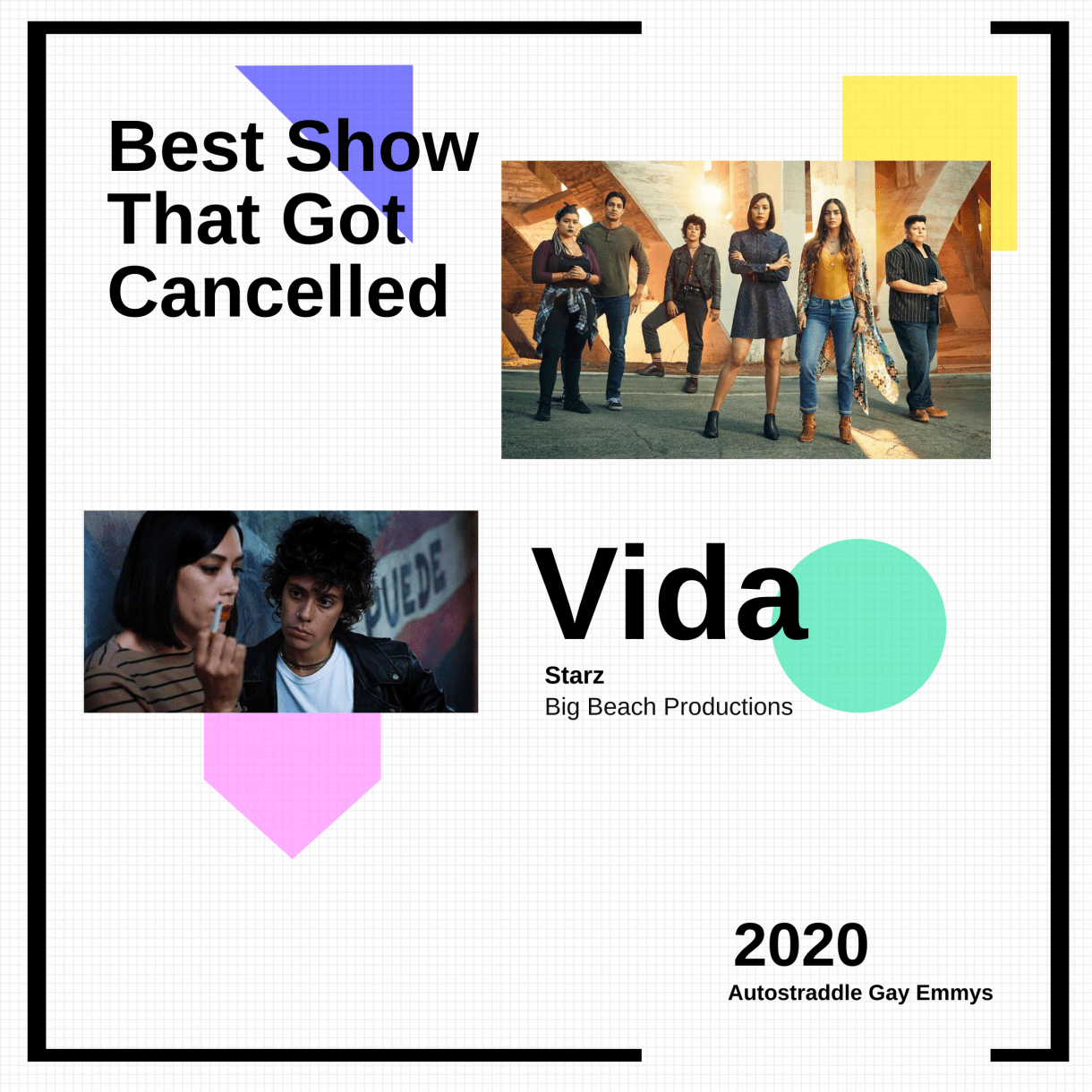 Runner Up: Dare Me (USA)
Other Nominees: Marvel's Runaways (Hulu) // I Am Not Okay With This (Netflix) // Party of Five (Freeform) // High Fidelity (Hulu)
Earlier this week, Jeff Hirsch, the president and CEO of Starz, told investors that "women are really driving our business." Even as other platforms try to branch out, Starz is committed to doing what it's good at: "focusing…on a female demo with original and provocative series." It was hard to read that reporting and not wonder why Vida, this show that focused almost exclusively on women and was as provocative as any show on television, couldn't or shouldn't have had a longer run. Vida is exactly the show that Starz says they wanted but now its end its run.
Vida represents the absolute best in queer television and the landscape is diminished without it. The show set a new bar for how we see ourselves and should be the standard against which future shows will be judged. — Natalie
---
Best TV Episode With LGBTQ+ Themes: Vida S3E6 "Episode 22" (Finale)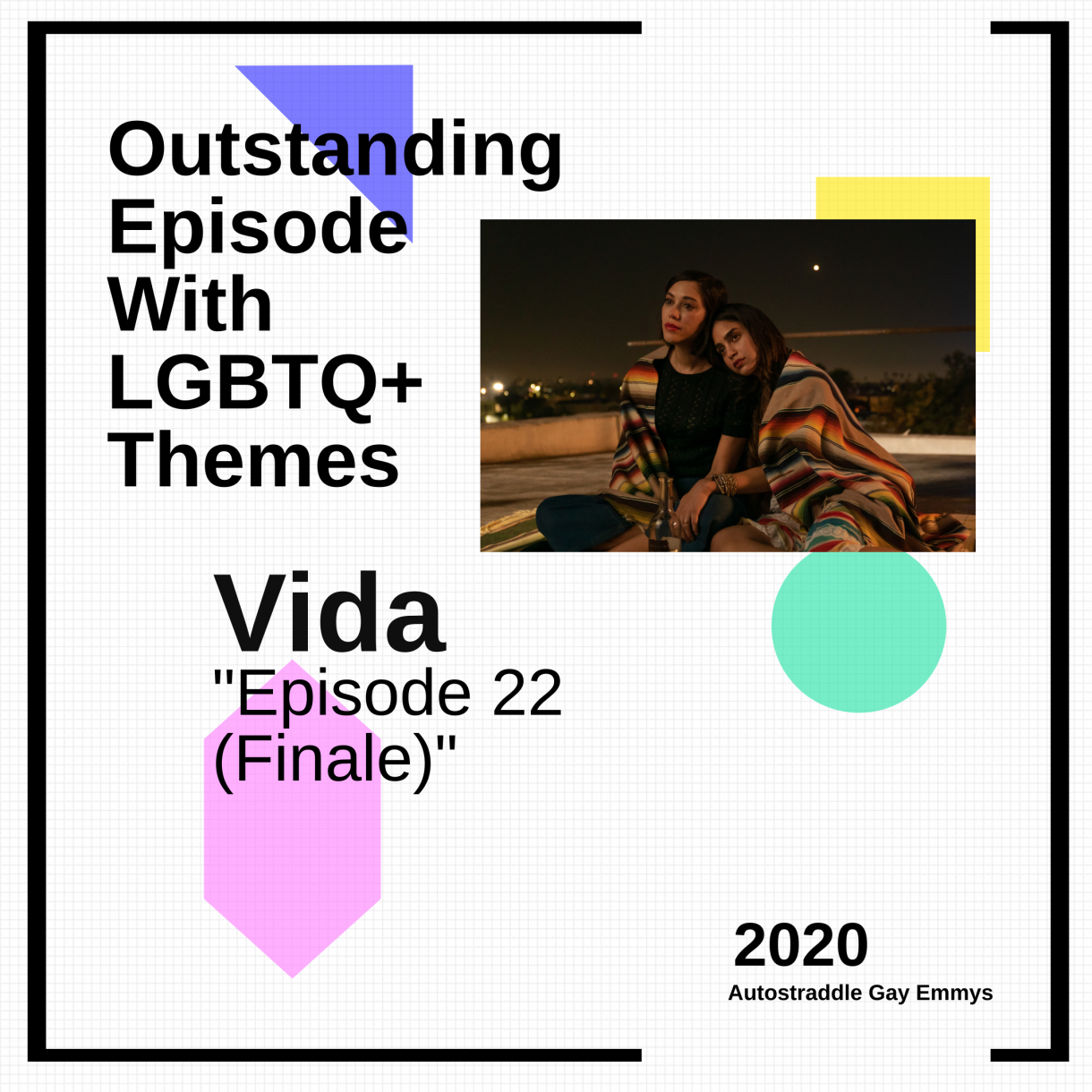 Runner-Up: Little Fires Everywhere S1E6 "The Uncanny"
Nominees: Pose S2E9 "Life's a Beach" // A Black Lady Sketch Show S1E1 "Angela Bassett's The Baddest Bitch" // Euphoria S1E4 "Shook Ones Part II" // The L Word Generation Q S1E4 "LA Times" // Hunters S1E8 "The Jewish Question" // She-Ra and the Princesses of Power S5E13 "Heart Part 2" // Dickinson S1E3 "Wild Nights" // Vida S3E6 "Episode 22" // Killing Eve S3E8 "Are You Leading Or Am I?" // High Maintenance S4E8 "Solo" // Mrs. Fletcher S1E7 "Welcome Back"
My favorite endings aren't endings at all. I know there are a lot of fandoms that really crave finality. I understand the desire some queer people have for an overcorrection of all our tragedy. I get it. But life has no finality except death and while Vida may have started with that exact kind of conclusion it ends with something that is open, hopeful, real.
Vida deserved more episodes, more seasons, but a show like Vida isn't one that ends with its final episode. These characters will live on in their own imagined world and the legacy of the show will live on in its impact on Latinx, queer, and female-led television. What I love about this finale is Lyn and Emma's growth. I love how small it is. I love how monumental it is. There's this idea in storytelling that characters need a drastic arc to show they've changed. But that's not how people change. Lyn has found something like independence. Emma has found something like interdependence. They've each received some closure and that closure will always be incomplete. That's life. This is the end of a chapter, not the book.
It's difficult to pull off something this subtle and have it hit so hard. But Vida does, because Vida is a special show. Hyperbole is lazy, so I'll resist the urge to say Vida is the best show I've ever seen. But it's special. I'll say that. Vida is a really special show. I already miss it dearly. — Drew
---
Outstanding Hairstyling for an LGBTQ+ Character: Sophie Suarez "The L Word: Generation Q"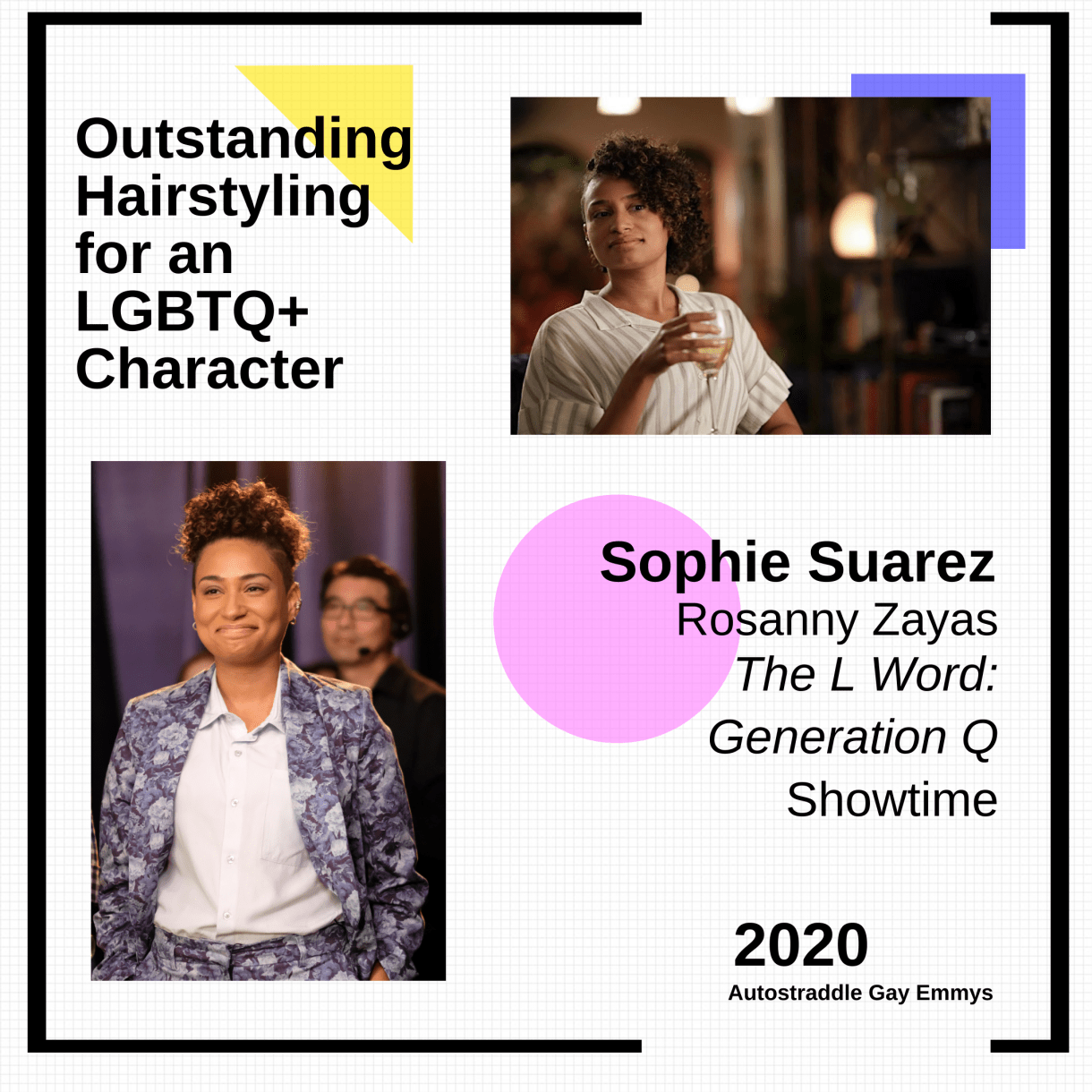 Runner-Up: Tegan "How To Get Away With Murder"
Other Nominees: Toni Topaz "Riverdale" // Eve "Killing Eve" // Anissa Pierce "Black Lightning" // Bette Porter "The L Word: Generation Q" // Bishop "Deputy" // Nico "Vida"
There is a lot that I loved about Sophie Suarez (and her magnetic performance by Rosanny Zayas) last year, but for today let's zoom in on the hair. The production team behind The L Word: Generation Q easily had more than a dozen uniquely queer hair and costume stylings to deal with — a tall order to for anyone! — and they outdid themselves by always paying attention to the small, authentic details first. From Finley's armpit hair to Alice's impeccably coifed bisexual bob, the entire community was accounted for. And then there was Sophie Suarez.
Sure, we can talk about her perfectly shaven undercut or how neat the lines of her edges really were (perfection!). We can talk about her expertly moisturized, much loved, and clearly defined curls piled messily — but also somehow always, neatly — on top of her head. But instead I want to reminisce about a small moment right at the beginning of the series, in episode 2. You could have blinked and missed it. Sophie is talking while getting ready for her day, and in the mirror she pulls out a toothbrush. She leans in close, turns her face up towards the yellow bathroom lighting, and proceeds to lay down the edges of her hair. Now using a toothbrush for bringing order to your rizos is time honored Black tradition, and for Afro-Latinas in particular it's passed down from bathroom ritual to ritual across generations. But watching it happen so casually on my television  — I was stunned. For all the queer attention to detail that Generation Q promised, until that one tiny moment, wow I never actually expected to see all of myself on air. — Carmen
---
Outstanding Costume Design for a Show With LGBTQ+ Characters: Deidra Govan, The L Word: Generation Q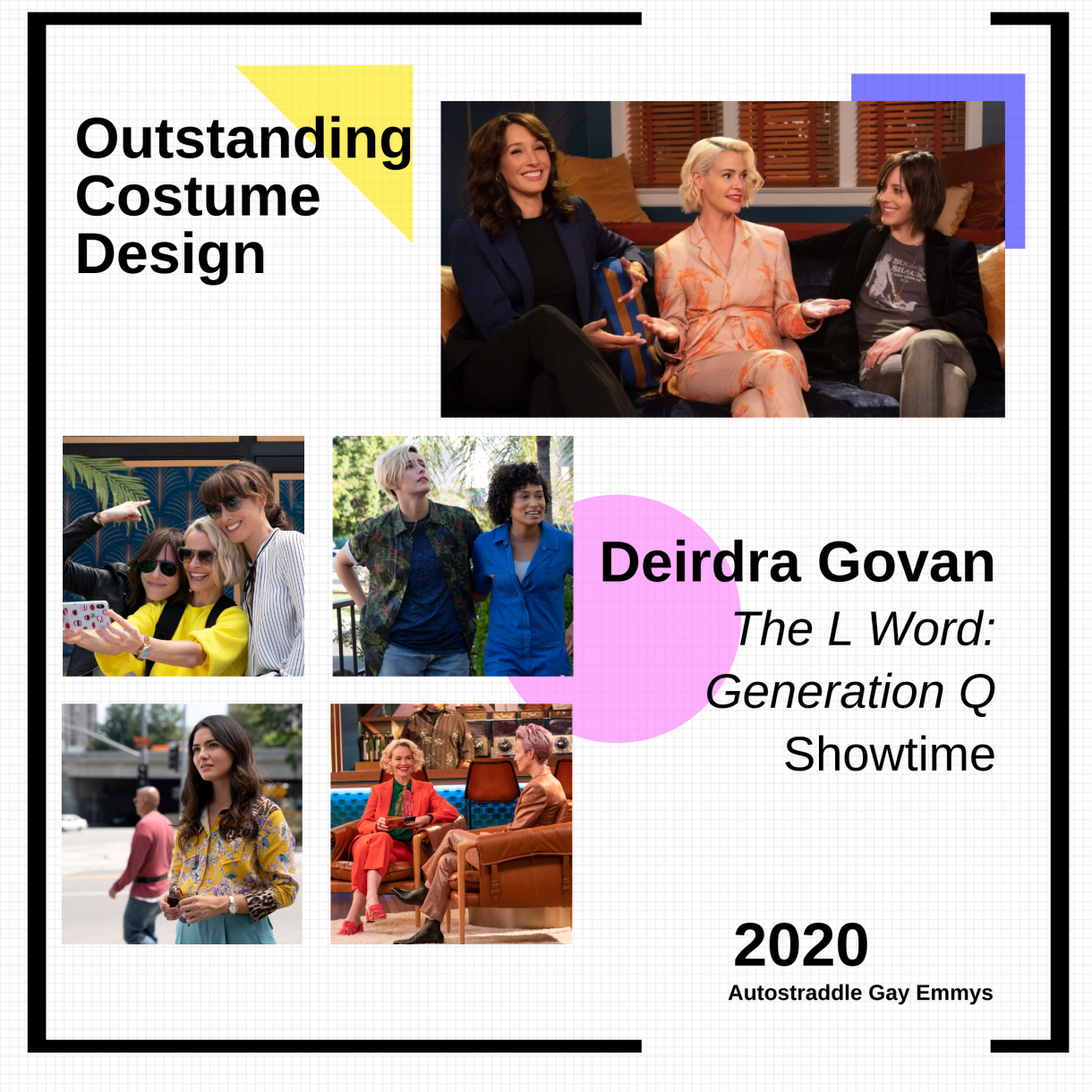 Runner-Up: Sam Perry, Killing Eve
Other Nominees: Analucia McGorty, Pose // Bina Daigeler, Mrs America // Ceci, Black Lady Sketch Show // Beth Morgan, G.L.O.W.
The other nominees in this category were flashier choices — they made costumes after all, some of the loudest costumes television calls for — costumes for drag balls, for '70s feminists and their enemies, for sketch comedy, for lady-wrestlers in Las Vegas. But the winner and the runner-up in this category had a more subtle task to perform. The original series' interpretation of L.A. Lesbian Chic was iconic in its own way — Bette's giant collar shirts, Shane's gauzy t-shirts and skinny ties, Helena's pencil skirts, Jenny's poofy dresses. The L Word: Generation Q's queer style was more deliberately positioned around grounded and often gender non-conforming glamour, managing to pinpoint that indescribable thing that makes a certain take on high fashion still feel queer. We found our beloved characters expressing themselves in Wildfang suiting, designer jumpsuits, boxer-briefs, cheeky button-ups and pants with rises as high as their wearer's ambitions. Sleeker versions of Bette, Alice and Shane emerged in "grounded glamour" with creative takes on bright power-suits, velvet blazers, creative neckwear, bold accessories and enormous eyeglasses while our millennials looked like actual queer millennials on our best days, from casual classics like Tomboyx underwear, Vans, off-shoulder sweaters, fun prints on polos and button-ups to Dani's more professional future-Bette tailored sets and downtime workout clothes. We love fashion.  — Riese
---
Fan Favorite Categories
Fan Favorite Couple: Adora and Catra, She-Ra and the Princesses of Power
2019 Winner: Juliana and Valentina, Amar a Muerte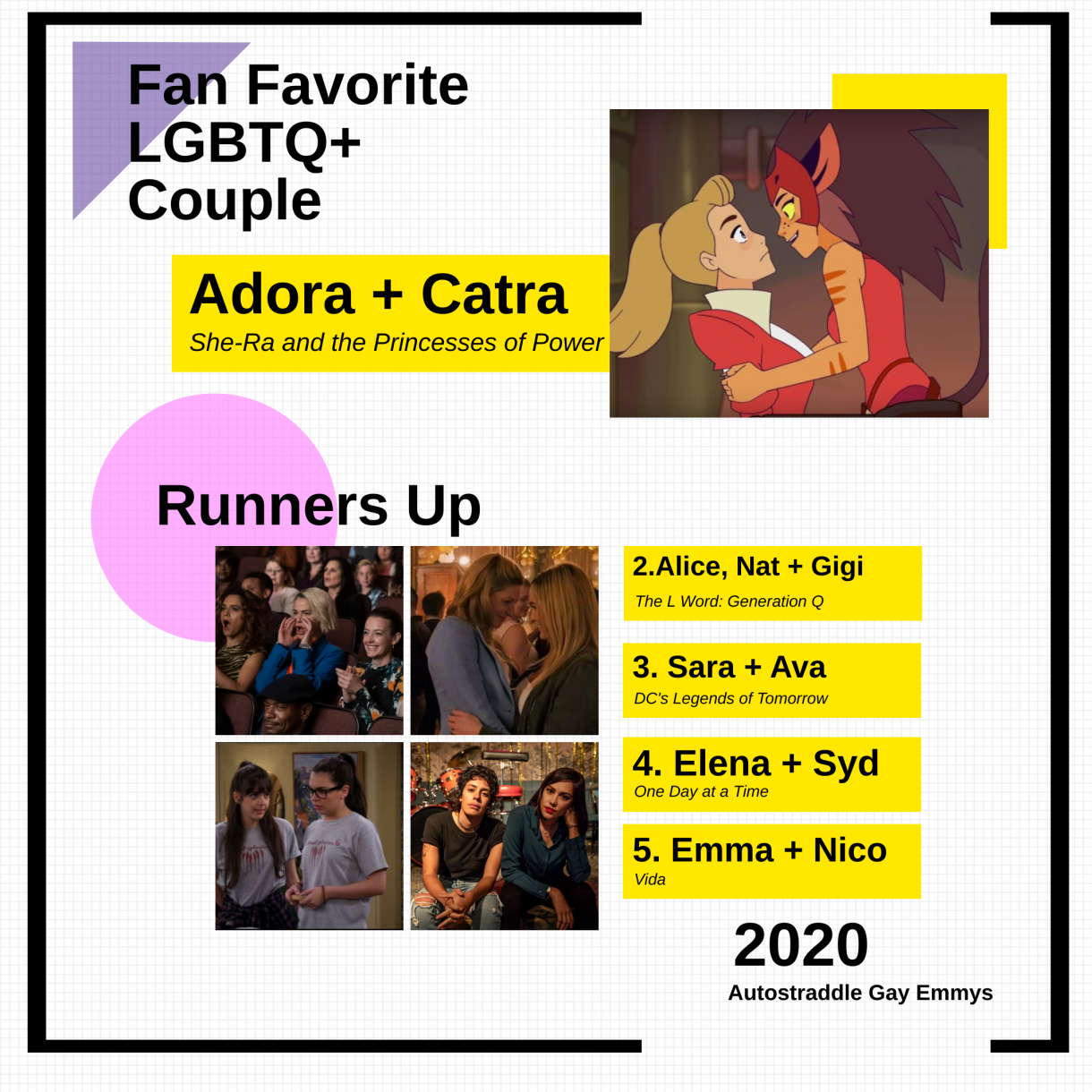 ---
Fan Favorite LGBTQ+ Character: Villanelle, Killing Eve
2019 Winner: Valentina Carvajal, Amar a Muerte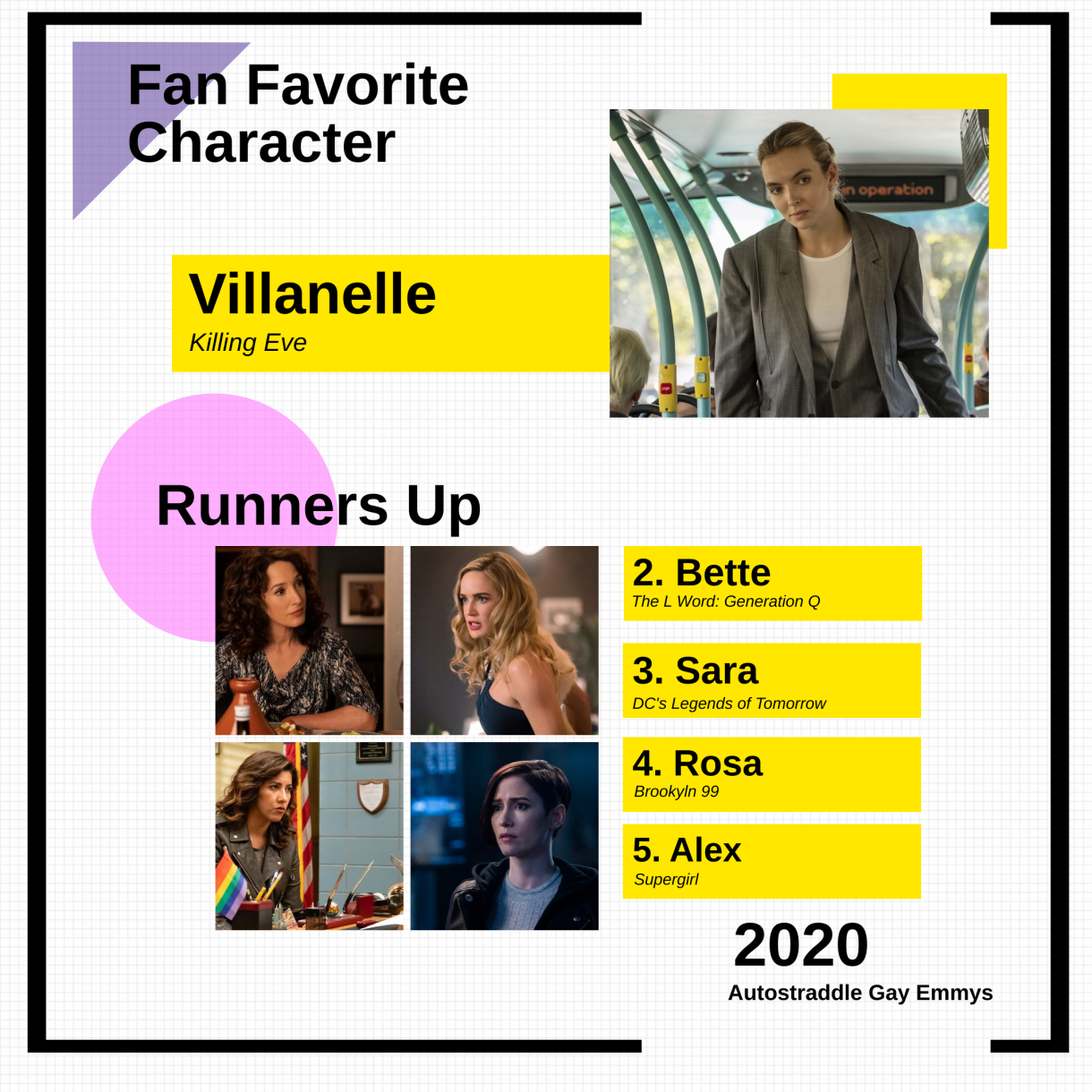 ---
Fan Favorite Out LGBTQ+ Actor: Sarah Paulson
2019 Winner: Katherine Barrell, Wynonna Earp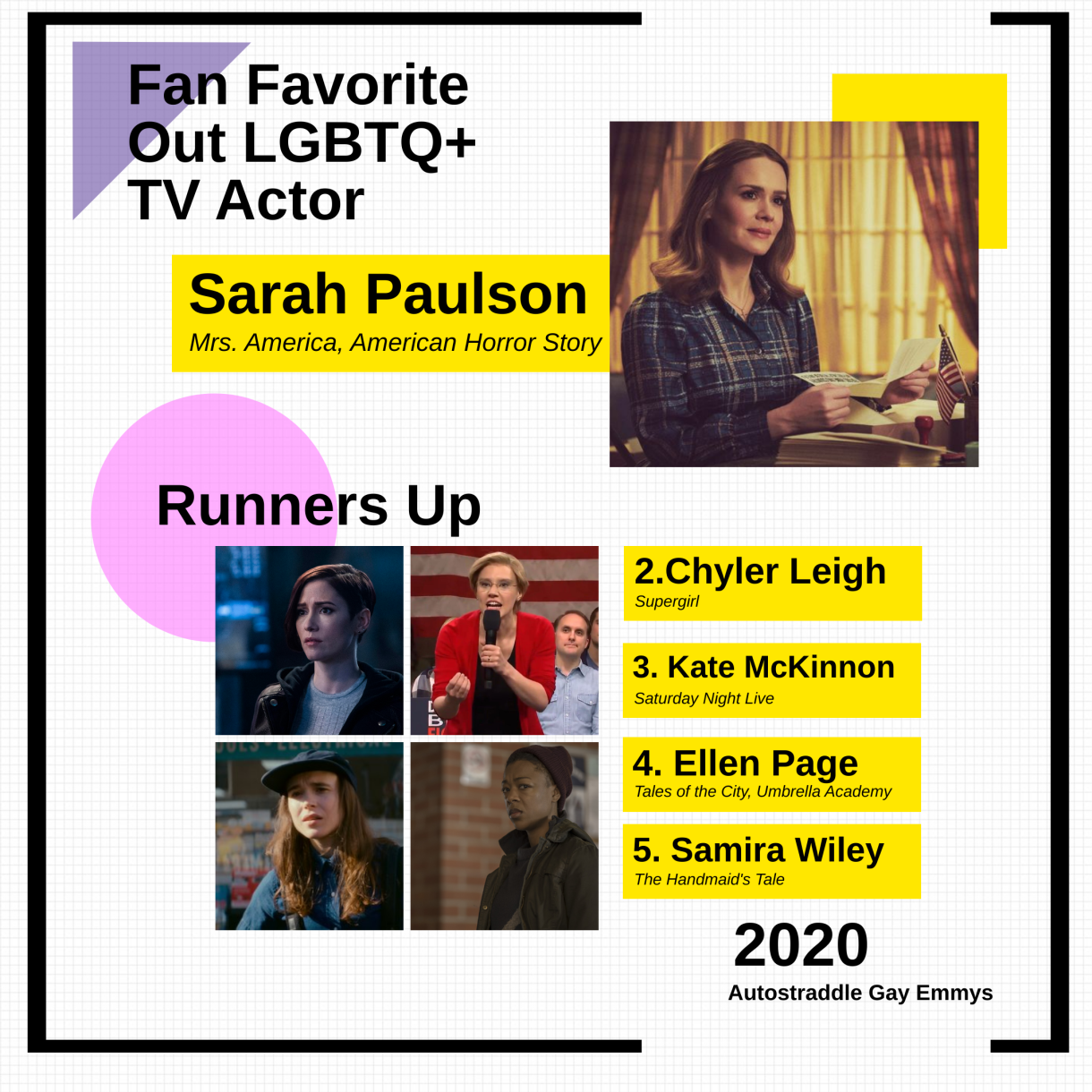 ---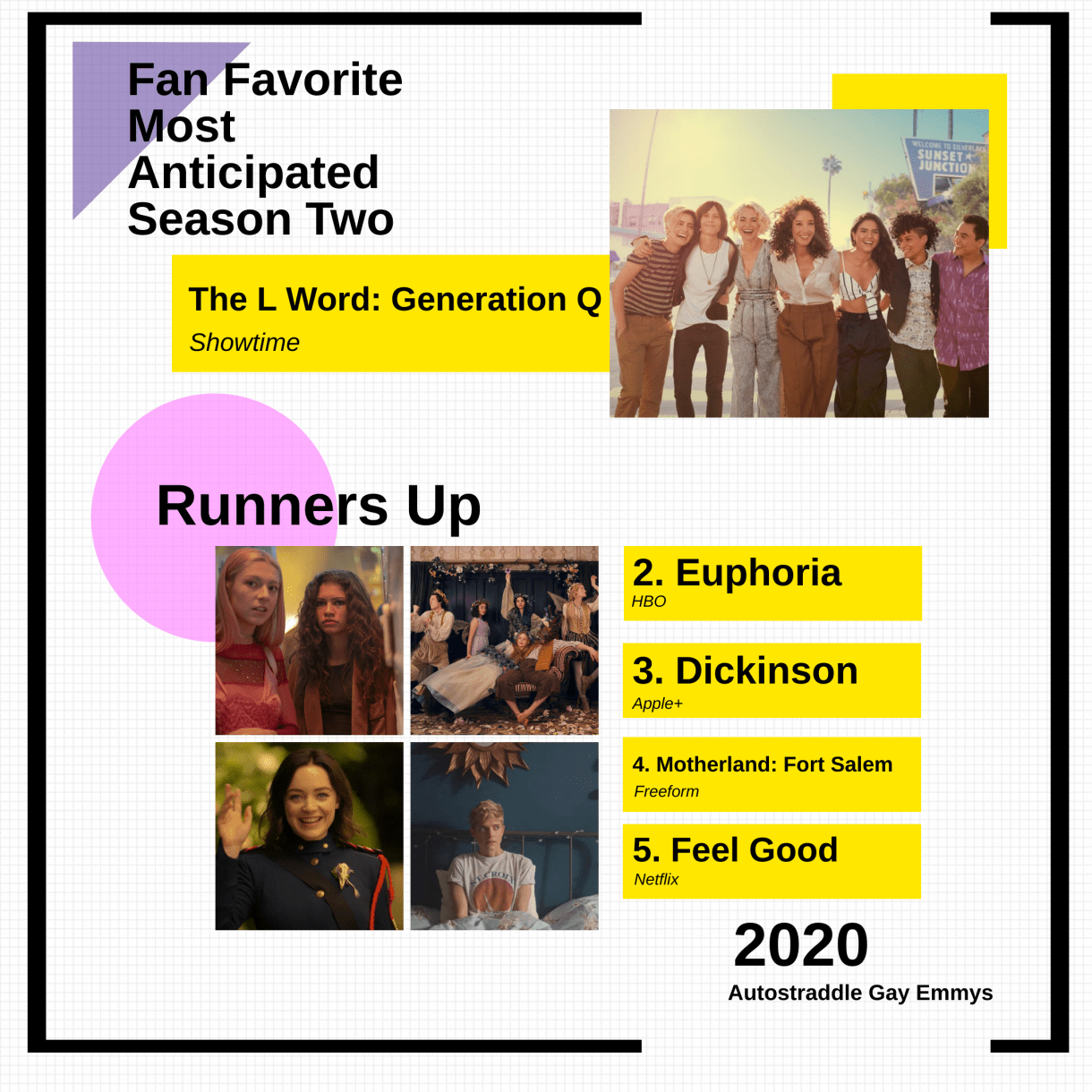 ---
Have you seen our 2020 LGBTQ Television Hub?