Hey y'all! We're on the second-to-last episode of the season and it was a pretty fun one though it started out sad. Blanca gets woken up by a phone call and she finds out her Salon burnt down. The person investigating the case keeps trying to blame the fire on Blanca, or the "flammables" — chemicals she needs for her job — she had in the salon. As Blanca said, "When was the last time you ever heard of a nail salon blowing up out of nowhere?" Obviously, this is the work of Evil Landlady and like every stereotypical villain, she can't resist coming back to the scene of the crime to gloat. Props to Blanca for keeping her cool, or maybe she was just too overwhelmed but I was really expecting her to go off on Frederica, because I certainly would have, but she didn't. Side note: Frederica's outfit looks good as hell.
At Elektra's job, we find out that the summer heat makes most of the Wall Street types — Elektra's primary clientele — leave the city for their beachfront vacation homes or cooler climates so her coworkers are low on clients. Elektra's current client also has a vacation home at the beach but he doesn't use it much. He's far more interested in being kept in isolation and tries to convince Elektra to leave him overnight. Thankfully, she doesn't leave him to his devices.
Angel, Lulu and Elektra show up at Blanca's house to be there for her. She tells them that she suspects Frederica of arson, and Elektra looks almost impressed. Blanca's feeling pretty bummed because she put everything she had into this salon and it literally went up in smoke. That's rough. Elektra's dealing with her own struggles too; the heat is causing the body in her closet to stink and I'm sure it's not the most comfortable thing to live with. Blanca says she needs a vacation and Elektra agrees. She convinces Angel and Lulu — they don't need much convincing, the heat is hell for them too — to tag along despite not telling them their final destination and they all pack their beach things and get ready to leave.
Before they actually hit the road they convene at Elektra's place and they rag on Blanca for her outfit at first but she reminds them that this is all she has to wear and she doesn't feel comfortable in the same things they wear. So they stop for a quick shopping trip and Blanca's new outfit is cute but still definitely her style.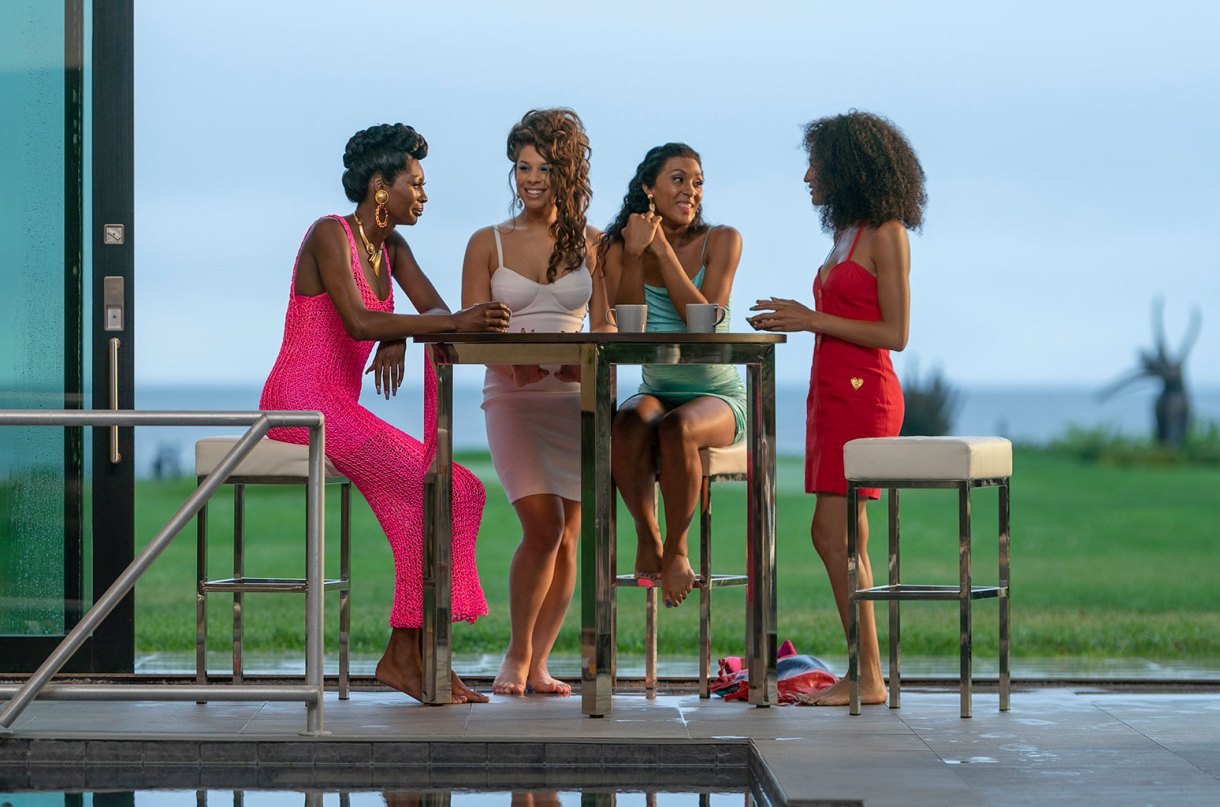 The drive to their destination is hilarious. It's bits of singing merged with Elektra's really, really bad driving and at one point the camera pans out from their singing to show the cars honking behind them and I loved every moment of it. They get to their location and it's a freaking mini mansion. On their way in, Blanca, Angel and Lulu do a really cute t-stance and walk. I didn't know I could love them even more but here we are. Elektra finally reveals that the place belongs to her client. She's convinced him to let her stay here and watch him while he stays in a cage in the garage. Blanca's worried about a repeat of the accidental death situation but Elektra assures her that they'll check on him often. They do check on him and he survives the entire trip.
The women waste no time getting to the beach and they all wonder what it would be like to live by the beach all the time. Blanca wants to hit the water ASAP but the others are comfortable where they're at. Lulu doesn't want to mess up her edges and Elektra is — endearingly — scared of sharks. She's seen Jaws. Angel doesn't want to get in because she doesn't know how to swim. I also don't know how to swim so I felt that but Blanca convinces her to get in the water after pinky-promising not to let go. While they're swimming, Elektra and Lulu talk a bit and Elektra shares that she misses Candy and she regrets not going up to her casket at her funeral. She was so busy planning everything else that she didn't get a chance.
Their talk is interrupted when Elektra notices Blanca's missing and then they see Angel calling for help. The next few moments are really scary but the lifeguard on duty rescues Blanca and resuscitates her. Oh, he's also a cutie with the biggest smile.
They go back to their vacation mini mansion but they're all out of drinks so they go to a restaurant instead. I really loved this scene because it captured the "walking into a place you know doesn't want you" feeling very well. The fam is a breath of fresh air in a pastel colored purgatory but their fellow diners are too racist/transphobic to appreciate the gift of their presence. Their host seats them away from the windows — which she claims are reserved — and is anything but gracious. The women take it in stride though. Stares, racists and transphobes are nothing new to them so they carry on living their best lives. Elektra and Blanca have a moment; Blanca thanks Elektra for the vacation and Elektra reminds her that even though they don't live in the same house she's still her daughter.
Blanca leaves the table to go to the bathroom and one of the pastel people actually decides to ruin her own life and comes up to their table. She tells them that they're "cackling so loudly," she and her friends can't hear their conversations. Elektra calls her on her bullshit and asks her to say what she really wants to say and she launches into a transphobic diatribe. Unfortunately for her, she picked the wrong ones. Elektra launches into one of her classic reads and honestly, I can't do it justice but wow I wouldn't want to be that lady. At one point, Elektra raises a hand to shush her and takes a drink to "lubricate" — Angel's words — her throat and it is divine. Elektra ends by telling her that she knows their presence threatens her but they aren't going anywhere.
While Elektra is dishing it out the hurt, Blanca runs into the cute lifeguard again but this time he's using the restaurant phone to assure his grandma that he's wearing sunblock. He introduces himself as Adrian and flirts with Blanca some, then asks her to go for a walk on the beach. Specifically, he says "I'd die a happy man seeing you glow under that moonlight." This dude is ready to wine and dine and Blanca deserves nothing less.
When she goes back to her table, Lulu, Elektra and Angel tell her what she missed and she tells them about Adrian. They're worried obviously; going anywhere at night with strange men is a risk but Blanca wants to follow her heart on this so they let her — but not before handing her their knives, sprays and other defensive tools. This episode consistently shows the way the women's identities — being trans, being women of color, being poor — complicate what some people would call every day things.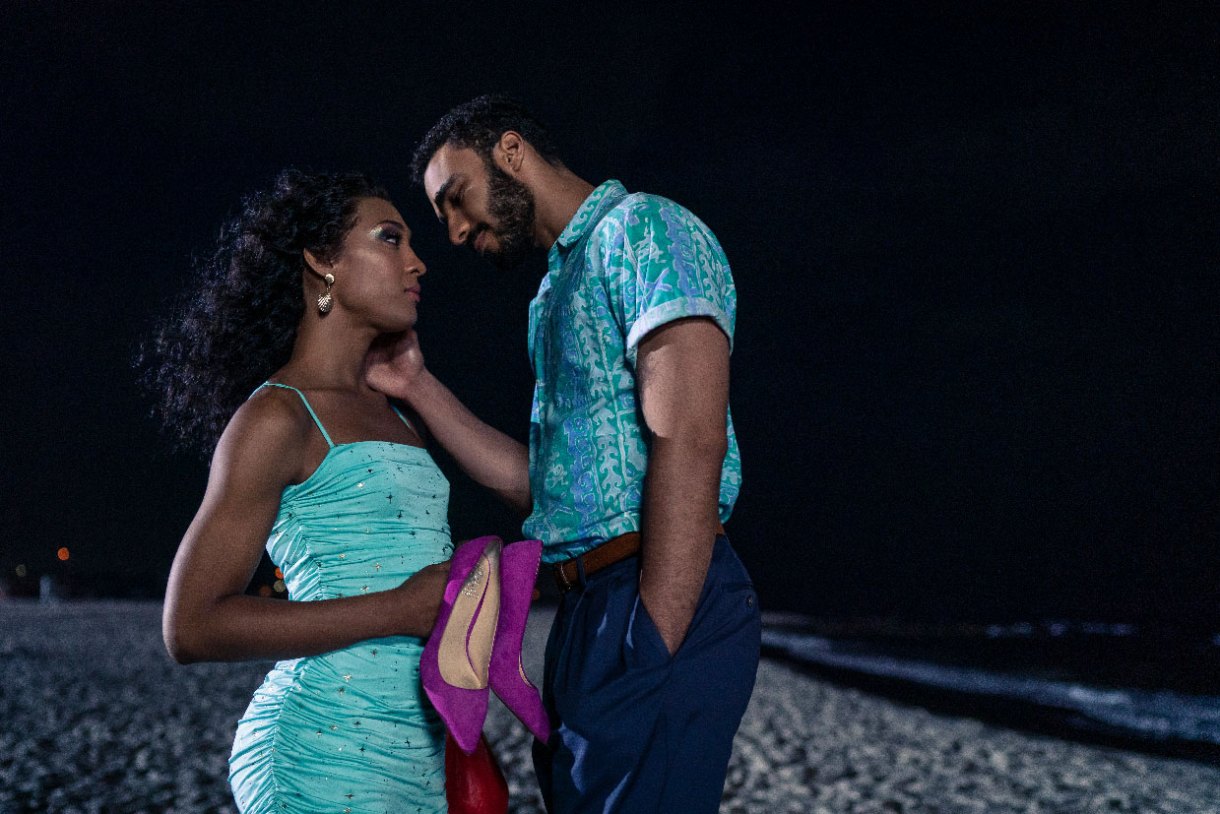 The beach date goes well. He tells Blanca he's studying to be a doctor and she tells him about the salon. He also tells Blanca that he knows she's trans. They talk some more, then he asks for permission to kiss her. Their date is "Hallmark movie meets Sarah Dessen" cute and by the time Blanca walks back to the house, the sun's risen. The rest of the women are anxious and even ready to call the cops by the time she arrives but she lets them know it went perfectly and she even gave him her number. Blanca's date marks the end of their vacation and Elektra lets her client out of his cage. She also lets him know that his ability to choose loneliness is a luxury.
The drive back is much like the drive there — they jam out to "En Vogue" and Elektra drives badly — but this time Candy shows up in the back seat to sing along and only Elektra sees her.
When they get back to the city, Elektra and Lulu head home but Blanca asks Angel to stay. Angel teases her about Adrian but Blanca's convinced he won't call. Except he already did. He left her a voicemail and the episode ends on Blanca calling him back.
There's one more episode left in the season and I'm excited to see where it goes. I feel like there's a lot of story left so I have no idea how they're going to — more or less — tie it up in an episode. Also, Mj Rodriguez made history as the first trans woman to win Best Actress in TV at the Imogen Awards because she's freaking talented and deserves the world.
See you next week!