The Autostraddle Gay Emmys began with a relatively simple goal: Despite the rapidly changing television landscape, the Television Academy itself continues to heavily favor TV that's made for and about straight cis white men. We wanted to help change the conversation. So, we rolled up our sleeves and got to work.
As a team, our writers spent weeks arguing and voting on what we considered to be the very best in lesbian, bisexual, queer, and trans women's storytelling. We pleaded for our favorites, we reasoned with logic, and passionately argued with each other about the depth and quality of LGBT women's stories this year.
Then, when we were down to our top six nominees in each category, we wrote our For Your Considerations and opened up the field to you. We believe that television only works if it's connecting to its audience, and so we wanted to make sure that our audience had their say.
Wow, did you all have a say! Over 30,000 votes worth! (That's a new record for these awards, so thank you.)
For regular categories, the individual TV Team votes were weighted heavily alongside our reader votes. For fan favorite categories, the winner was 100% determined by reader votes.
And without any further ado, here are the winners of Autostraddle's Second Annual Gay Emmys!
---
Outstanding Comedy Series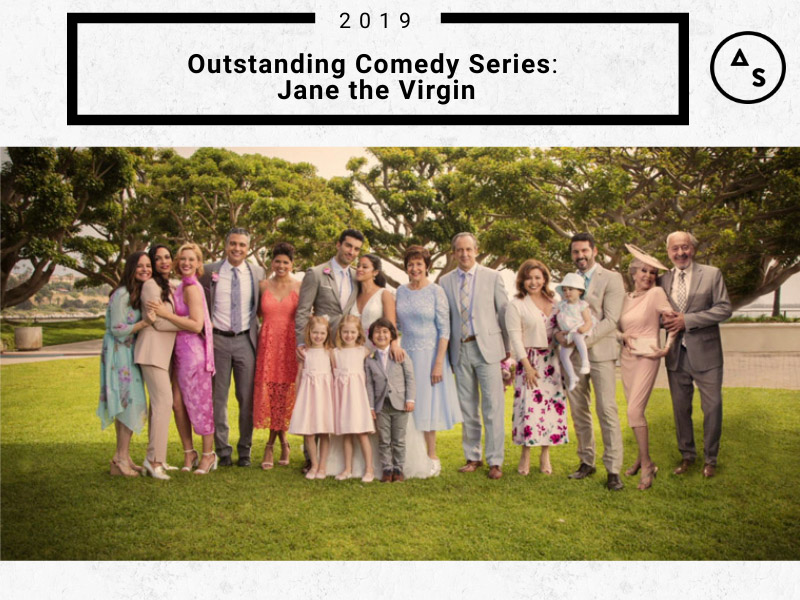 Runner Up: One Day at a Time
Other Nominees: Derry Girls // Vida // The Bisexual // The Good Place
What else is there to say about the perfection that is Jane the Virgin? As a team, we've laughed and cried and discussed and debated as the show wrapped up its last season this summer. There certainly hasn't been a shortage of celebration.
But there's something special about a show that meant so much to so many, winning this award. You may be shocked to discover that Jane the Virgin's only "Straight Emmy" nominations were in the category of "Best Narrator"… and they lost. It's not as if this particular award never goes to women-led work (the last two years The Marvelous Mrs. Maisel and Veep took the top prize), but there's something unapologetic about Jane the Virgin that denied these kinds of accolades.
Staying true to its telenovela roots, Jane the Virgin was big in its romance, big in its comedy, big in its style and plotting and feelings. This is a show about three generations of Venezuelan-American women, each with their own flaws, each with the best intentions, facing the challenges of life with the help of each other. This is a show with male characters who aren't perfect, but who listen and learn and support the women in their life. This is a show that got gayer and gayer every season until it ended with two queer love stories to rival its straight romance.
With bright colors to match its core goodness, Jane the Virgin made an argument that serious doesn't have to equal dark, in any sense of the word. This argument may not have played with the Straight Emmys, but it sure has with the Gay Emmys. This year's winner for Outstanding Comedy Series was a women of color-led, queer women-dominated show that took creative risks and dealt with a range of serious topics. It was never afraid to be what it was: a sweeping romance, a tribute to women, a celebration of stories. – Drew Gregory
---
Outstanding Drama Series

Runner Up: Gentleman Jack
Other Nominees: Killing Eve // How to Get Away With Murder // Riverdale // The Good Fight
It was enough that Pose existed in the world. A show with the largest cast of trans women — and trans women of color, most notably — in television history. The first show to have a trans woman of color in the writers' room. The first show to have a trans woman of color serve as director and producer. If that had been it, if that had been all that Pose had done, that would've been historic and earned its place in the record books.
But, oh no, it had to go and be great, too. There was near unanimity among TV critics — including ours — that Pose was one of the best shows of 2018.
What separated Pose from the other nominees in this category is the unique way it balanced the darkness out with the light. They grappled with examinations of homophobia, transphobia (both from within the LGBT community and outside it), homelessness, HIV/AIDS and the seemingly omnipresent threat of violence — but none of the characters are defined by that. The characters of Pose create their own families and offer each other the tenderness, joy and love that the outside world denies them. And then there are the balls, the lavish celebrations "of a life the world does not deem worthy of celebration" that turn competition into an expression of pure joy.
As Al(aina) wrote when the show debuted: "Pose is about radical hospitality in the face of oppression, and the result is overwhelming joy." — Natalie
---
Outstanding Sci-Fi/Fantasy Series
Runner Up: Sense8
Other Nominees: Supergirl // The Haunting of Hill House // Charmed // Black Lightning //
The Gay Emmys is where Sci-Fi really gets to shine, since they don't usually get the spotlight at other industry award shows. Luckily the Autostraddle Gay Emmys are the most important awards, and sci-fi gets its place in the sun. This Wynonna Earp win feels extra special this year, since they've been on an unusually long hiatus for reasons outside their control, and especially right now because the fandom is in a bit of a lull since the #FightForWynonna has been won, but filming hasn't started up again yet. But Earpers are known for their lack of chill and sticktoitiveness, so I'm not surprised at all they pulled off this win. Besides, the show speaks for itself. With so many queer people on screen and behind the scenes, it's no wonder the queer storylines on the show feel like they're treated with such care. – Valerie Anne
---
Outstanding Lead Actor Playing an LGBTQ+ Character in a Drama Series
Mj Rodriguez, Pose
Runner Up: Suranne Jones, Gentleman Jack
Other Nominees: Indya Moore, Pose // Sandra Oh, Killing Eve // Jodie Comer, Killing Eve // Viola Davis, How to Get Away With Murder
This Sunday, when presenters take the stage and announce the nominees for Best Outstanding Lead Actress in a Drama Series, Mj Rodriguez's name won't be among them. It's hard for me to fathom why that is… how Pose warranted a nomination for Outstanding Drama Series but the actor who gives the show its heart, Mj Rodriguez, did not. But what the Academy missed, the Autostraddle community recognized: Mj Rodriguez's turn as Blanca Evangelista earned our Outstanding Lead Actor Award.
As I wrote last year, Pose asks us to see ourselves in characters who, on their face, might not be like us – to believe in our common humanity. The depth of Mj Rodriguez's performance makes that easy: "She's woman who, instead of being content to inherit something, someday, took a step out on a ledge, and built something of her own. She is a woman who wants to leave a legacy, to leave some proof that she was here. She is a woman who, in the face of discrimination, keeps coming back over and over again, to move us a little closer to justice. She is a woman who cares for others and works tirelessly to secure their future." She is me, she is us.
"Do you know what the greatest pain a person can feel is, the greatest tragedy a life can experience?" Blanca asks in Pose's pilot episode. "That is having a truth inside of you and you not being able to share it. It is having a great beauty and no one there to see it."
We see you, your truth and your beauty, Mj Rodriguez. Today and everyday. – Natalie
---
Outstanding Supporting or Guest Actor Playing an LGBTQ+ Character in a Drama Series
Angelica Ross, Pose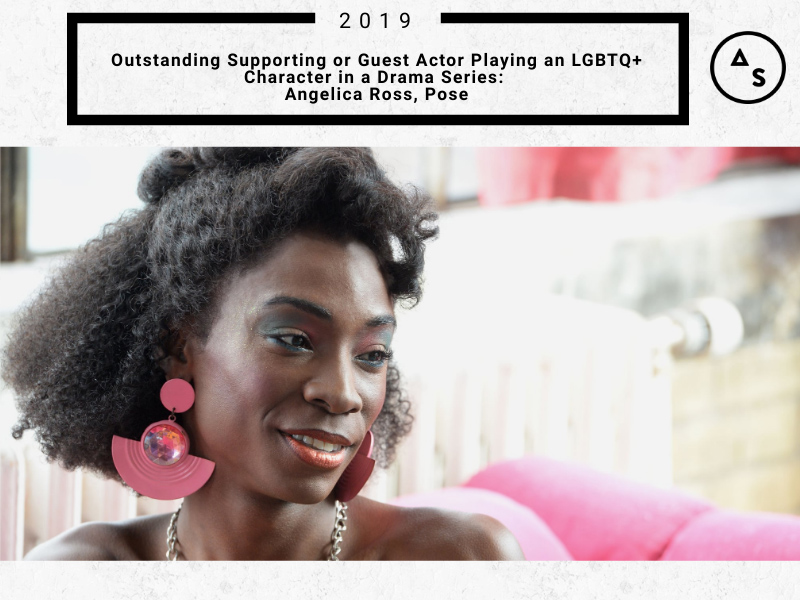 Runner Up: Judy Reyes, Claws
Other Nominees: Isis King, When They See Us // Laverne Cox, Orange is the New Black // Sophie Rundle, Gentleman Jack // Dominique Jackson, Pose
It's been a big week for Angelica Ross. Earlier this week it was announced that she's hosting the 2020 Presidential Candidate Forum on LGBTQ issues. And now she's an official Autostraddle Gay Emmy Winner.
There's a long history of actors who aren't cis, straight, and/or white being involved in activism, using their platforms for change, and, sometimes, shifting their attention completely to social justice. But what makes someone a great activist and what makes them a great actor aren't always separate. They certainly aren't with Ross.
Candy was never the heart of Pose. She was sometimes a dramatic foil, sometimes the comic relief, sometimes, even, underwritten. But Angelica Ross made her real. She understands when portraying a character, or fighting for the community, one has to lead with humanity. Every joke, every big reaction, every moment of physicality, Ross found Candy's motivation. Candy may not have been the star of the show, but she was the star of her own show and Ross allowed Candy a sort of meta-narrative where she fights not to be ignored in real life and in television life.
Episode four, "The Fever," may be my favorite of the show, largely due to Ross' performance. Determined to compete in the Body Category, Candy seeks out dangerous, low-cost implants and Ross plays her somewhere between desperate and determined. She wants to be seen by others as she knows herself to be – and Ross made sure, we, the audience, did just that. – Drew Gregory
---
Outstanding Lead Actor Playing an LGBTQ+ Character in a Comedy Series
 Mishel Prada, Vida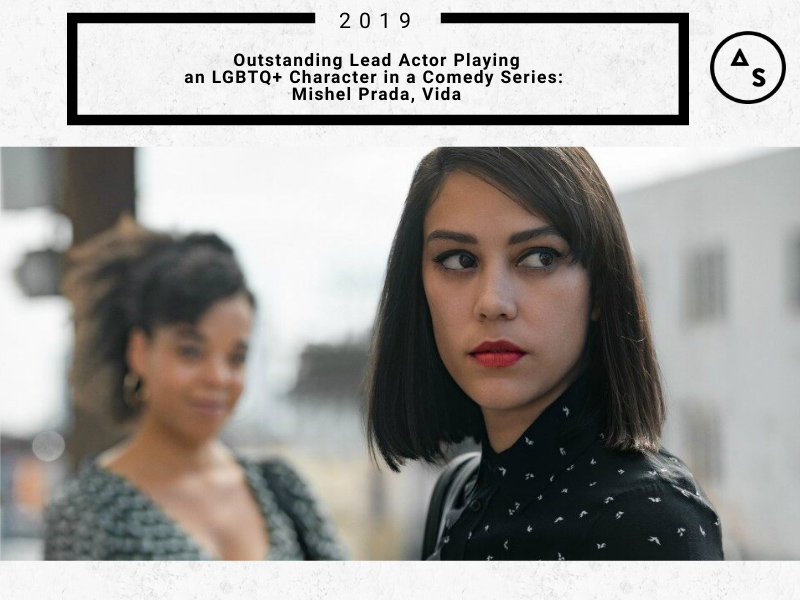 Runner Up: Isabella Gomez, One Day at a Time
Other Nominees: Desiree Akhavan, The Bisexual // Yael Grobglas, Jane the Virgin // Phoebe Waller-Bridge, Fleabag // Stephanie Beatriz, Brooklyn 99
Mishel Prada is a Capricorn. And while actors can certainly play characters with different birth charts than their own, I don't think it's a stretch to read this Capricornness in Prada's performance as Emma on my very favorite show, Vida. Emma is stubborn and determined. She's sometimes cold but never thoughtless. She's hesitant to share her feelings, yet underneath she has so many. And, without fail, she gets the job done.
Prada balances all of Emma's contradictions and her complex personal history in every moment of the show. The intimate handheld cinematography captures every shift in purpose, in feeling, every decision to maintain or stretch her boundaries. It's all visible in Prada's deep brown eyes and her selectively cracked smiles. As the show goes on, it's less that Prada reveals Emma's vulnerability and more that she redefines what vulnerability means to Emma.
Since this is a comedy category I'd be remiss not to mention that within Emma's emotional journey, Prada finds plenty of humor. Emma may be the queer sister but up against the chaotic Lyn, she's the obvious straight man. With just a glance or an eyeroll, Prada heightens Lyn's absurdity, aligning the audience with Emma, and making us laugh at the whole situation. She shoots off deadpan insults with shifting humor whether they're aimed at Lyn, a lover, or anyone on her growing list of nemeses. Emma is self-destructively intelligent and with that comes an equally destructive wit.
Within Vida's first two seasons, Prada has created a person we can relate to, get frustrated with, and lust after. She's created a person who is ever-changing, yet remains exactly the same. She's created a person who feels like just that, a person. It's a remarkable, must-see performance on a remarkable, must-see show. – Drew Gregory
---
Outstanding Supporting or Guest Actor Playing an LGBTQ+ Character in a Comedy Series
Runner Up: Roberta Colindrez, Vida
Other Nominees: Ser Anzoategui, Vida // Yara Martinez, Jane the Virgin // Sheridan Pierce, One Day at a Time // Alex Borstein, The Marvelous Mrs. Maisel
When Rosario Dawson joined Jane the Virgin it felt like the ultimate consolation prize. No, the writers weren't going to have the titular Jane hook up with Petra, her occasional rival and sometimes friend. But they were going to introduce another character, also named Jane, and have her reveal Petra's bisexuality. And, as if to quiet complaints that this wasn't enough, they cast Rosario Dawson.
But what began as possible stunt casting, or a simple gift to the horny queer audience, became a reminder of Dawson's actual talent. As Jane Ramos (a.k.a. JR) Dawson alternates between Petra's baby gay fantasy of a dominant, experienced, and intimidating queer woman, and her own experience dating a baby gay, especially one as complicated as Petra. You can sense in Dawson's performance the conflict between her logic and her feelings. She doesn't want to be Petra's experiment. She doesn't want to trust that what they have is real only to be proven wrong. She thinks of herself as beyond that. But feelings are feelings.
Dawson is so good at making it obvious why Petra is in love with her and making it equally obvious why JR has doubts. She makes sure we understand why they might not work as a couple, all the while desperately hoping that they do. It's a fun, sexy, deeply felt performance, and it's a big reason why Jane the Virgin's queer love story became more than just another subplot. – Drew Gregory
---
Outstanding Lead Actor Playing an LGBTQ+ Character in a Sci-Fi Series
Jamie Clayton, Sense8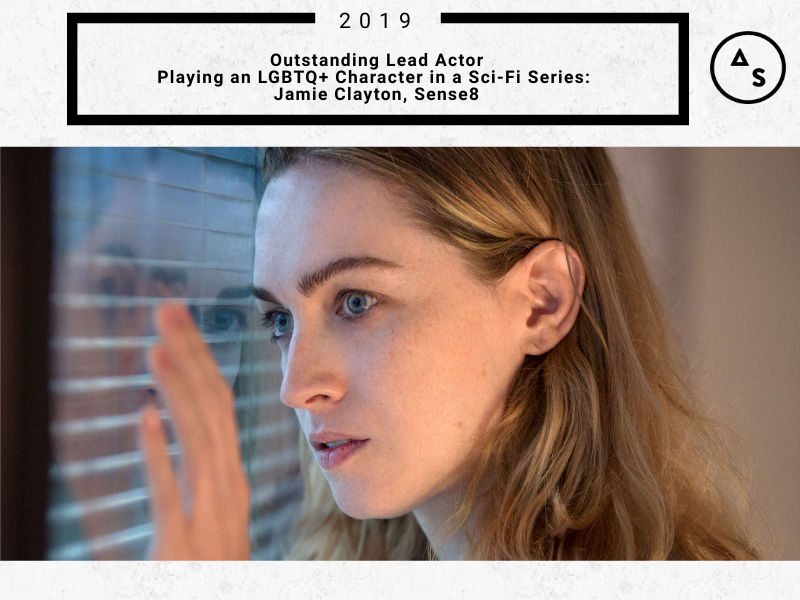 Runner Up: Chyler Leigh, Supergirl
Other Nominees: // Melonie Diaz, Charmed // Nafessa Williams, Black Lightning // Kate Siegel, The Haunting of Hill House // Lyrica Okano, Marvel's Runaways
I love to see a show win on its way out, as a sort of parting gift for all the hard work put into it. Sense8 may be over, but Jamie Clayton's Nomi won't soon be forgotten. A queer trans woman dating a queer woman of color, played by a trans woman – when Sense8 started in 2015, these things were revolutionary. And maybe they still are. Sense8 was always a big jumble of labelless queerness and this final season was no exception. As Kayla mentioned in her review , it was like a love letter to the fans, and this Emmy is a love letter right back. Because in 2019, we still can't take queer happy endings for granted. – Valerie Anne
---
Outstanding Supporting or Guest Actor Playing an LGBTQ+ Character in a Sci-Fi Series
Runner Up: Kat Barrell, Wynonna Earp
Other Nominees:  Chantal Thuy, Black Lightning // Lachlan Watson, The Chilling Adventures of Sabrina // Mayko Nguyen, Killjoys // Hannah John-Kamen, Killjoys
I never really knew what people meant when they said "breakout star" until I saw Nicole Maines playing Nia Nal in Supergirl and all I could think was: This isn't the last we'll see if this girl. She's charming and cute and funny, and her social media presence is hilarious. She seems to be having fun, and that fun shows on screen. And having watched some of her talks on YouTube, she seems to be a strong, smart young woman who is a superhero in her own right; I can't think of anyone better to play trans superhero Dreamer. – Valerie Anne
---
Outstanding Performance by a Straight Actress in a Straight Role
Runner Up: Melanie Scrofano, Wynonna Earp
Other Nominees:  Rita Moreno, One Day at a Time // Sunetra Sarker, Ackley Bridge // Gina Rodriguez, Jane the Virgin // Logan Browning, Dear White People
I am so honored that we get to give this sort of silly titled award to such phenomenal actress. Justina Machado is one of the most gifted comedic actresses of our time, but the fact that "mainstream" Hollywood continues its stubborn refusal to recognize her work is no laughing matter. When you watch the "Straight" Emmys this Sunday, pay attention to the Lead Actress in a Comedy Category; there is not a single person nominated that Justina Machado couldn't go toe-to-toe with and win.
What Justina Macahdo has accomplished with the role of Penelope Alvarez is nothing short of a marvel – scripts often require that her portrayal of the single mom and Army vet living with PTSD change emotional beats at the drop of a pin. Not only can she go from a laugh to a cry faster than you or I take breaths, she does it without ever losing track of Penelope's core honesty. Even her broadest moments never feel forced. Hollywood racism may continue to keep Justina Machado from all the bigger and fancier awards that she rightly deserves, but I hope this acknowledgement and "Thank You" from the Autostraddle community helps just a little to let her know that she's seen. She's appreciated.  – Carmen Phillips
---
Outstanding Individual Episode with LGBTQ+ Themes
"Love Is the Message," Pose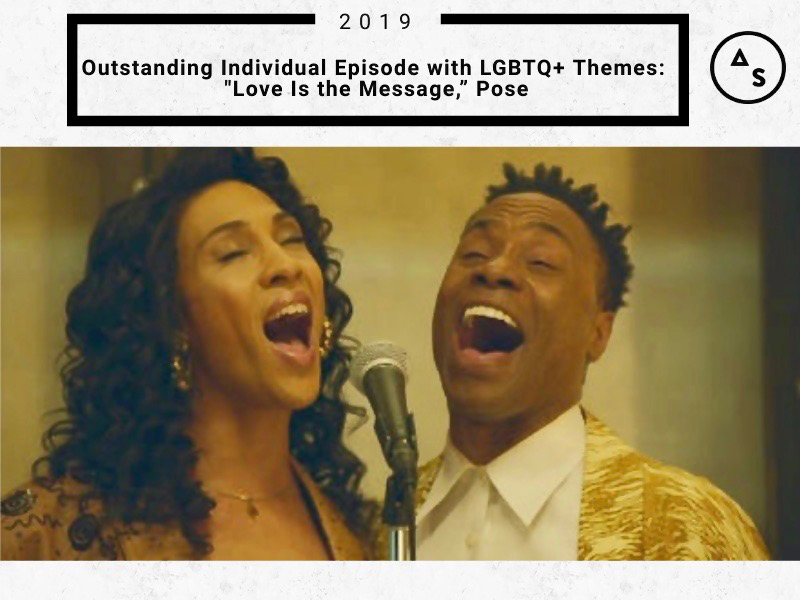 Runner Up: "Touch," The Haunting of Hill House
Other Nominees:  "Ghosts," One Day at a Time // "Reunited," Steven Universe // Episode 9, Vida // "Scream," Claws
Pose's first cabaret episode captures the true heart of the show, which is inherently joyful and celebratory of queer life, making it a rare gem on prestige television where queer and trans lives are far too often treat as tragic. Pose is a very special show, and this is a Very Special Episode without trying too hard to be one. But I'd also be remiss not to mention this category's runner-up: the exceptional "Touch" from The Haunting Of Hill House, which captures queerness, trauma, grief, and otherness in such a beautiful, heartbreaking way. I'm thrilled that such a radiant and ultimately positive episode won this category, but I think these two episodes work beautifully in tandem and are exemplary of how diverse and nuanced this category overall ended up being this year. – Kayla Kumari Upadhyaya
---
Outstanding LGBTQ+ Coming Out Story
Runner Up:  Clare Devlin, Derry Girls
Other Nominees: Eve Polastri, Killing Eve // Tamia "Coop" Cooper, All American // Alice Kwan, Good Trouble // Grace Hanson, Grace and Frankie
There is a great value in seeing our stories told on television. There is power in seeing our identities affirmed and comfort in seeing the oftentimes difficults journeys we have to take to fully live our truth showcased. And, in Tess Pearson's coming out story, we get that: A young black girl coming out to her family on the most watched show on broadcast television? We have never seen it, and for girls who recognize their attraction to other girls at an early age, seeing Tess Pearson is confirmation that you're never too young to embrace your own truth.
"People, um, at school have been having crushes and stuff and lots of girls have boyfriends, but I don't want one," Tess confesses to her parents one night. "It's because I think I might like girls, not boys."
But there's something else about Tess Pearson's coming out, particularly that scene with her parents, that makes me choke up everytime I watch it. In her, we have a possibility model. Tess' story resonates, not because it is my story, but because it is the story I wish I had — it is the story I wish every queer person who was brave enough to share their truth had, it is the story I wish every queer person who hasn't yet come out to their family has in the future.
With every step Tess takes outside the closet — a closet that had already become suffocating to her, as a 10 year old child — she's met with love and grace: first from her Aunt Kate, then from her grandmother and, finally, from her parents. They will love her no matter what, they assure her, and both Tess and the audience walk away believing them. Tess' coming out and the reaction to it should be be a model for every family in 2019. – Natalie
---
Outstanding Performance by an LGBTQ+ Actor in a Comedy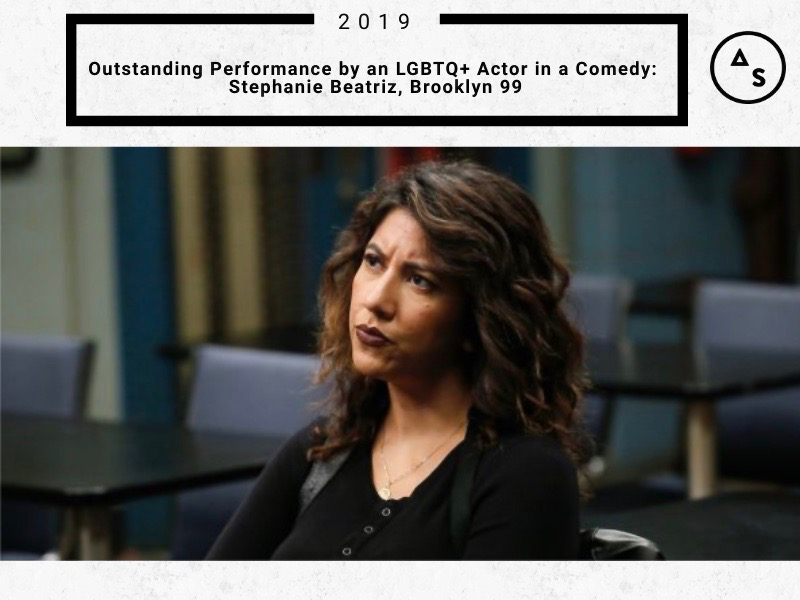 Runner Up: Lily Tomlin, Grace and Frankie
Other Nominees: Desiree Akhavan, The Bisexual // Roberta Colindrez, Vida // Gillian Anderson, Sex Education // Natalie Morales, Abby's
Last year, Stephanie Beatriz was nominated in and subsequently won so many categories in these here awards that I'm surprised we didn't rename them as the Autostraddle Stephanie Beatriz Emmys. Once again, she has deservedly won in the LGBTQ+ actor in a comedy category. Beatriz is funny, inspiring, and compelling. She has done incredible work on and off screen for bi visibility, and it has been delightful to watch Rosa come into her own on Brooklyn 99. – Kayla Kumari Upadhyaya
---
Outstanding Performance by an LGBTQ+ Actor in a Drama
Mj Rodriguez, Pose
Runner Up: Indya Moore, Pose
Other Nominees:  Angelica Ross, Pose // Laverne Cox, Orange is the New Black // Rutina Wesley, Queen Sugar // Dominique Jackson, Pose
As the kids say, "GIVE Mj HER THINGS!!" 💫💫
No, but seriously, if there is one thing that LGBT+ critics have agreed on across print and the internet, it is this: Mj Rodriguez is the most overlooked performer of the last year. The Television Academy's biggest mistake this year was its complete shut out for the actresses Pose. In particular, Mj's work as Blanca Evangelista is the pounding heartbeat that allows Pose to come alive in the first place.
It's so easy to talk about all the ways that Pose breaks records – and we should! The largest trans woman of color cast in television history, the first trans woman of color TV writer in history, first trans woman of color director and producer! – but I sometimes worry that doing so allows straight critics to miss the real headline: LGBT+ creators' work isn't just important because it's representational, it's important because having honest representation makes for damn good television. (On that note, I'd like to recognize all of this category's nominees – all six are black LGBT+ people who represent a full fabric of black queerness in a way we've never had the opportunity to experience before.)
I'm a black Puerto Rican with a chosen queer family of my own and New York roots, and I have never ever seen myself on television the way I have in Blanca Evangelista. That's not something I am saying for "diversity points," I'm saying it because it means there is a lot of Blanca's story that I intimately relate to, and I can tell when there is a false note. With Mj there is not one.
At least once a day I have to stop myself from tweeting "I HOPE Mj RODRIGUEZ KNOWS HOW MUCH I LOVE HER!" but I think today might be the day to shout it from the rooftops – go 'head mamí, come here and collect all your things. You deserve it. – Carmen Phillips
---
Outstanding Performance by an LGBTQ+ Actor in a Sci-Fi Series
Runner Up: Jamie Clayton, Sense8
Other Nominees: Tig Notaro, Star Trek: Discovery // Kate Siegel, The Haunting of Hill House // Kat Barrell, Wynonna Earp // Ariela Barer, Marvel's Runaways
Gosh it feels so good to give a trans actress playing a trans superhero TWO awards in these here Gay Emmys! Because I think it's true that she deserves both; I think she deserves an award for her stellar portrayal of Nia Nal, for channeling that Season One Kara energy and making the New Superhero track her own. But she's also, just in general, an outstanding LGBTQ+ actress. She lives her life out loud, and has since she was a kid fighting for the right to use the girls' bathroom at her school. She's an outstanding person, an outstanding actress, and well deserving of this and any awards thrown her way. – Valerie Anne
---
Outstanding LGBTQ+ Director / Producer / Showrunner
Janet Mock, Pose
Runner Up: Rebecca Sugar, Steven Universe
Other Nominees: Desiree Akhavan, The Bisexual // Lena Waithe, Boomerang // Tanya Saracho, Vida // Leslye Headland, Russian Doll
Janet Mock showed the fuck up for her directorial debut (Pose's "Love is the Message," which already won this year's Gay Emmy for Outstanding Episode), and I'm so excited that she ended up winning this category. As a director, Mock captures romance, trauma, growth, and complicated interpersonal relationships with equal strength. She brings an authenticity to her telling of queer and trans stories that feels meaningful. And she understands her actors' individual strengths as well as how to make them work well together. In short, she's a powerful director who pulls the best out of her cast and tells a visually immersive story. We should all feel thrilled about her future work as a director. Did I mention that she's also a writer and producer on Pose? A triple threat. – Kayla Kumari Upadhyaya
---
Most Groundbreaking Representation (Show)
Runner Up: One Day at a Time
Other Nominees: Vida // Boomerang // She-Ra // The Bisexual
Pose dominates in so many of these categories, because it really is a singular show. No other show celebrates queer and trans—and specifically QTPOC—lives like this one. While it is real and sometimes devastating in its portrayal of QTPOC lives in late 80s-early 90s nyc, it's also a strikingly joyful show. It doesn't resort to tragedy porn and instead rather shows the full range of these characters' lives, which include romances, evolving friendship and familial dynamics, and self-discovery. It's as fun and spectacular as ball culture itself. – Kayla Kumari Upadhyaya
---
Outstanding Male Character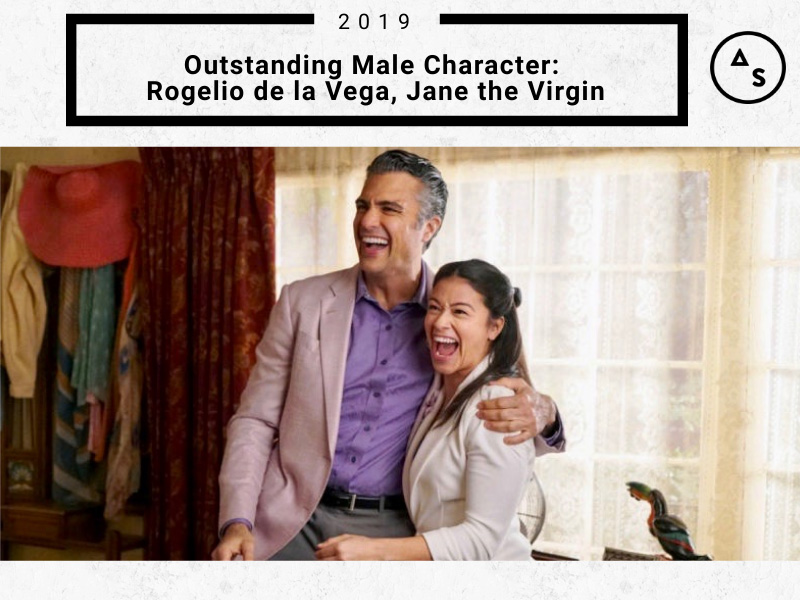 Runner Up: Pray Tell, Pose
Other Nominees: Captain Holt, Brooklyn 99 // Evan Huang, Fresh Off the Boat // Ari Thomas, Boomerang // Lincoln Rice, Broad City
"We consume culture through television now," Vida's creator, Tanya Saracho once said. "If you live in a place that doesn't have a lot of access to Latinx people, then television becomes a great equalizer, like a normalizer, that lets you into these worlds."
I think Saracho's right about television's ability to serve as an equalizing force but, particularly when it comes to the representation of Latinx men, Hollywood is increasingly normalizing a stereotype of those men as criminals. We see this trend in shows like Narcos, Queen of the South, Mayans M.C, Better Call Saul and Ozark. Without personal interactions or varied portrayals of Latinx men on television, ideas about Latinx people — like those espoused by the president — having an easier time taking root.
That's why I'll miss Jaime Camil's portrayal of Rogelio de la Vega, the two-time winner of our Outstanding Male Character category, so much. Though we barely noticed it through our laughter, every time he embraced fatherhood with Jane and Baby, cheered on Xiomara, forged friendships with Michael and Rafael and chased his own dreams of American superstardom — Rogelio was undoing the damage of those harsh tropes. I regret we won't have more years of him and his lavender shirts to serve as the normalizer we need. – Natalie
---
Outstanding Animated Series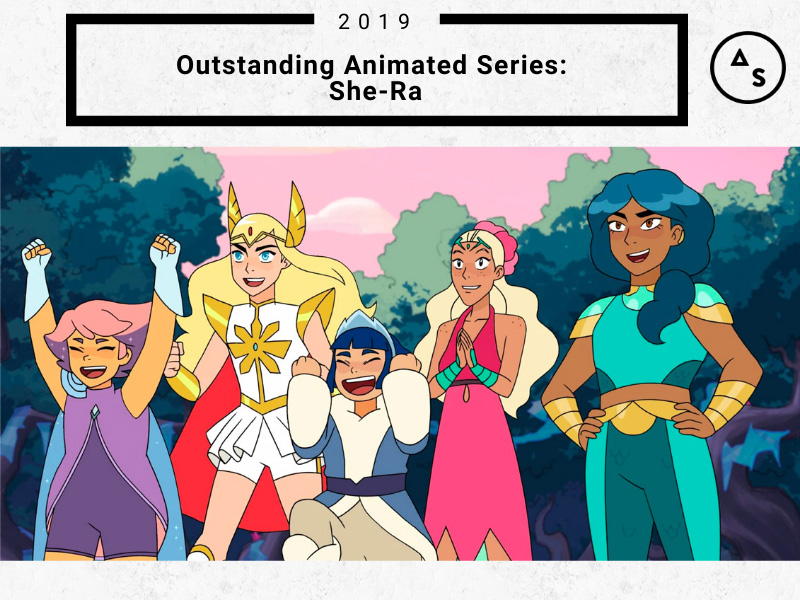 Runner Up: Steven Universe
Other Nominees:  Love, Death & Robots // Bojack Horseman // Adventure Time // Tuca & Bertie
The greatest compliment that I can give She-Ra is that I had not watched an original animated series in probably over a decade, and She-Ra is the one that changed all of that.
What can I say, there's something addictive about watching queer princesses kick so much ass. She-Ra is healing and delightful for the childhood Disney Princess stan in me (seriously – once, in Kindergarten, I wore my Cinderella costume for a month straight), but it's also supremely written and animated television. It takes its villains seriously; I'd argue that Catra and Shadow Weaver have some of the greatest anti-hero storylines written this year. It's not afraid to teach children about darkness that looms, but also that friendship and sparkles and a willingness to just try your best and do good in this world will always be worth the fight. We joke a lot that She-Ra is the "gay agenda," but honestly? Teaching kids to forgive, love each other, and always fight for the good is not a terrible agenda to have.   – Carmen Phillips
---
Outstanding Hairstyling for an LGBTQ+ Character
Runner Up: Angel Evangelista, Pose
Other Nominees: Lena Adams-Foster, The Fosters/Good Trouble // Eve Polastri, Killing Eve // Nova Bordelon, Queen Sugar // Kat Sandoval, Madam Secretary
I have to give it to Chyler Leigh – this haircut is commitment. Not every actor is willing to change their hair for the part, but this hair is so pitch perfectly Alex Danvers that, from where we currently sit, it's hard to even remember what she looked like in Supergirl's earlier seasons. There's the "before" and the "after." Alex's haircut signaled a bright, shining new day for Supergirl, accompanied by not only a new queer love interest for Director Danvers – but the first trans superhero on television with Nicole Maines' Dreamer! And sure, maaaaybe it's an overreach to say that a single gay haircut helped make an already gay show just that much gayer, but you know what? I'm willing to put my foot down about this. Most Import Haircut Of The YEAR.  – Carmen Phillips
---
Fan Favorite Categories
Fan Favorite Couple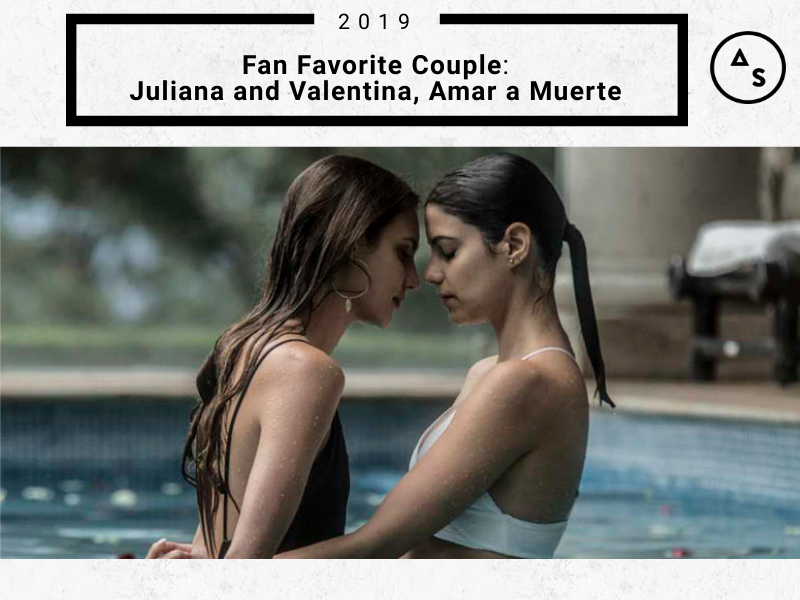 Fan Favorite Runner Up: Waverly and Nicole, Wynonna Earp
---
Fan Favorite Out LGBTQ+ Actor
Fan Favorite Runner Up: Stephanie Beatriz, Brooklyn 99
---
Most Devastating Cancellation
Fan Favorite Runner Up: Fleabag
---
Fan Favorite New Show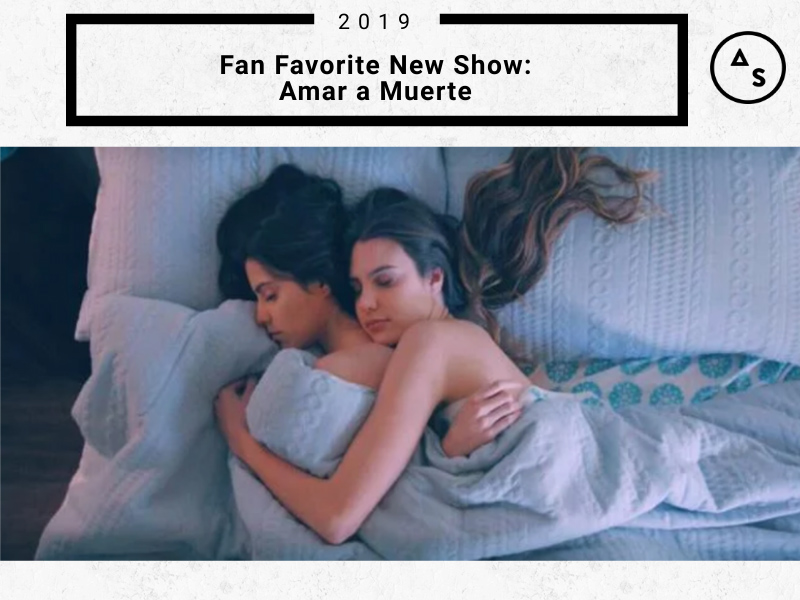 Fan Favorite Runner Up: Gentleman Jack
---
Fan Favorite Character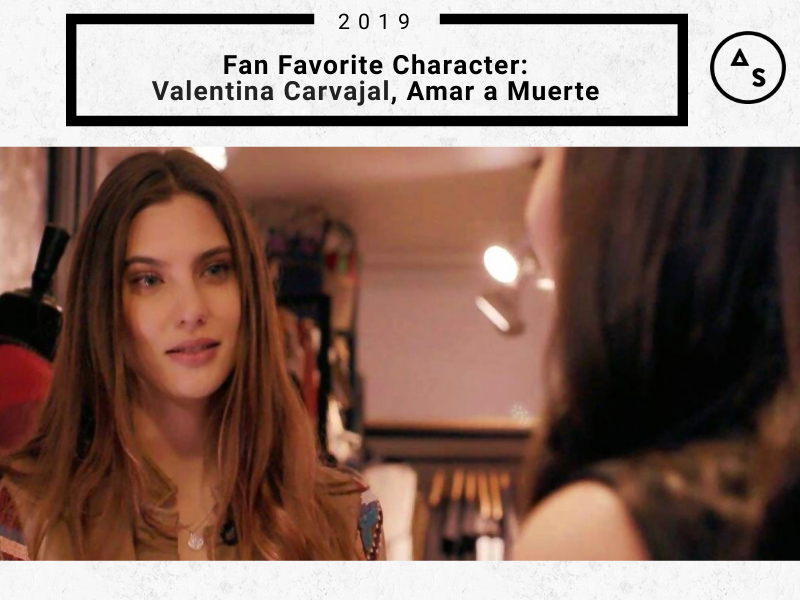 Fan Favorite Runner Up: Juliana Valdés, Amar a Muerte
❤️ ❤️ ❤️
---
The "Straight" Emmys are this Sunday, September 22nd on FOX. Sadly they won't have the depth of queer roles and queer talent recognized that we already know deserve it, but hey – maybe pop a bowl of popcorn and check it out anyway?