My mom had planned for our family trip to Europe as best she could, but when you've used a wheelchair for your entire life you know that nothing is ever going to go as planned.
Our trip began with a ten-hour travel day from Michigan to London which included multiple airports, planes, and a long taxi ride into the city. After we dropped off our bags at the hotel, we had the taxi driver take us about twenty minutes away from the hotel to get our Underground passes. Then we stopped at a café and decided to use our passes for the first time to get back to our hotel. My mom extensively researched the Underground and swore that every station was accessible because of some promotional videos she watched.
The station nearest to us had a flight of stairs and no elevator in sight. My dad, a bit tired from our travels, decided that instead of looking for another station, we would go down the stairs and see if there's an elevator to the tracks. So, he carried me down the stairs and my brother-in-law Curtis carried my wheelchair. Once we got down to the mezzanine my mom turned to an Underground worker and asked, "Are there elevators to get down to the track level? I read that the Underground was completely accessible online."
"No, ma'am, but there is a four-story escalator that you could take to get to the tracks." We all stared at him incredulously as he walked away without offering any further help. Since going downstairs is easier for me than going back up, we decided to continue into the depths of the Underground instead of traveling up just one flight of stairs to the fresh air.

Tackling this four-story escalator was a feat in itself. I was born with Cerebral Palsy; for me, this means I can stand and walk for short periods of time if I'm holding onto something, but I use a wheelchair to get around because I don't have the leg strength to walk all day long. Plus, I'm impatient and walk too slowly for the fast-paced life I like to live. Needless to say, my legs were shaking by the time I got off of the two-minute ride to the bottom of that long and narrow escalator and I could feel myself starting to sweat.
I basically collapsed in my wheelchair once Curtis set it behind me, and when I looked up I saw that we still weren't on the track level, but on another mezzanine where there were multiple staircases going to different tracks of the Underground. Again, no elevator in sight. My mom and sister, Laura, immediately went to the map of the Underground and were trying to figure out which flight of stairs to take. Since these were our first few hours in the city, none of us were familiar with the map or where our hotel was. Once they picked a staircase to go down, I decided I would walk down it since it's dangerous for my dad to carry me, especially in a crowded staircase.
As we began our trek to the track level, the stairs suddenly turned spiral, a winding hell for my body and mind. I had to figure out where to place each step on the curving stairs while holding on to the railing and my dad's arm, all while avoiding the people bustling past me, my dad, and Curtis carrying my wheelchair behind us. My mom and Laura were ahead of us laughing at the scene we were creating around us. In hindsight, I really wish my sister had taken a picture because the sight of us must have been something. The reality was that I half-yelled half-laughed to her and my mom, "I swear to God, if you giggle one more time I am going to start laughing and lose my concentration and fall down the stairs! Just go ahead of us, please!"
After what felt like an hour of me stumbling down the stairs, we were at track level! Curtis brought me my chair again and just as I sat down the train came rolling through the station. While on the train, Laura was able to pull up our hotel information on her phone. "Looks like we are going in the opposite direction of our hotel," she announced. We all stared at her in stunned disbelief and in a panic exited the train at the next stop — where I would have to walk up the stairs to get back to the mezzanine level.

Walking up a flight of stairs is a whole other beast, because I struggle to lift my legs up high enough to make each step. If I thought standing on the escalator and walking down one flight of stairs was hard, going up a spiral staircase is something I never want to experience again. Somehow, I was able to do it with the help of my dad lifting my legs for some of the tricky steps, and using a combination of my arm strength and the guardrail to lift my lower body up to the next step.
Laura did find out the correct station we had to go on to get to the hotel; we triple checked that the exit we were getting off at was accessible, locating the wheelchair symbol on the Underground map that my mom and Laura overlooked when they were looking way back in the beginning of our journey.
Once I knew the end was in sight, I was so excited to get out of there that I practically tripped over my legs to get to the bottom. It was smooth sailing from there to go through the accessible station of the Underground and up the elevator and back to the fresh air. As we were making our way back to the hotel, all we could do was laugh at the adventure we had within hours of arriving in London.

Four years later, I was back in Europe on a trip to Barcelona and Paris with one of my good friends, Tanja. After a lot of planning and talking it over with my parents, I decided to bring my rigid manual wheelchair (this means it does not fold) because it has footrests and my current foldable manual wheelchair does not. Thanks, Nameless Major Airline, for breaking it.
Internally, I was nervous to go on this trip with just my friends. To anyone who asked, I acted like it was no big deal to jet off to Barcelona and Paris. Yet, I kept having flashbacks to my last trip in Europe and how stressful it was at times to handle the inaccessibility of a giant city I wasn't familiar with. I was with my family then; they're used to changing plans last minute because I can't get into an attraction or choosing mainstream tourist spots to go to since those are most likely to be wheelchair accessible. If I'm with my family, I know that when something goes wrong I'll have four other people immediately stepping in and fixing it with me. I know that my friends will jump in and handle any inaccessible situation that happens, but I just don't like having to rely on them in that way. Truthfully, I don't enjoy having to rely on anyone because of my disability and take pride that in most scenarios I am able to take care of myself. Slowly, I am learning to accept that there are just some situations where I need a little help.
I'm well aware of what people might be giving up when traveling with me. I can't go on intense hikes, ride bikes through a city, or easily get onto a beach. I have to plan ahead, or at least be prepared for obstacles to get in my way before being able to enjoy whatever it is I'm doing. But I've known Tanja for most of my life and have known the girls we were meeting up with for years. I just hoped that we all understood what we were getting into when we planned this trip abroad.

To my utter surprise, the first few days of our trip went by without any issues. Tanja and I went on walking tours of Barcelona, shopped in the Gothic Quarter, and drank lots of sangria. There were a few moments of having to take a slightly different route on the walking tours to avoid stairs, but our tour guide handled these few directional changes with ease.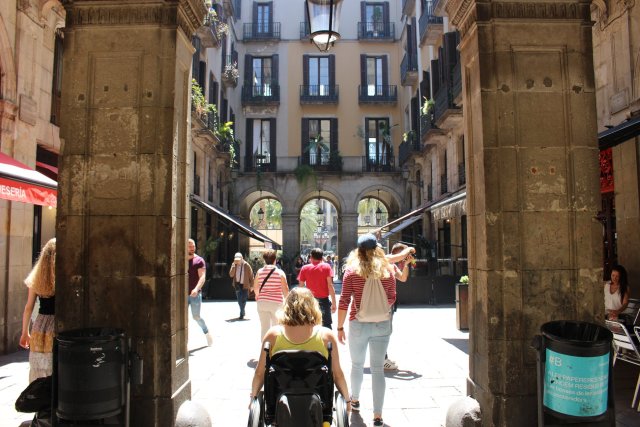 Our problems began when we traveled for a 14-hour day in Paris. Ambitious for two 20-something women regardless of their abilities, I know. I won't get into every detail of how inaccessible the busses were, or how NOTHING in Paris is close to anything else. What I will get into is how, as we were exiting the Eiffel Tower tour after our very long and exhausting day in Paris, one of my front wheels tilted off the hinges, rendering me essentially immobile. It happened just as we were about to catch our flight back to Barcelona.
Immediately, Tanja and I saw that a screw had popped out of the front wheel. If we could find the screw, then we would be able to put it back in and resume our journey — except nothing in my life is ever that simple. It was in this moment that I wished for my mom to be there with me. Whenever something breaks on my chair and she's around she goes into fix-it mode and has eight different solutions to fix whatever the problem may be. And now I couldn't even call her to have her brainstorm solutions with me. It was just me, Tanja, and my broken wheelchair.
After five minutes of scouring the gravel around us, I wondered if it had fallen off just before we left the Eiffel Tower. We carefully went over to the guard and tried to explain what happened by pantomiming the situation we were in. The fact that we don't speak French and he didn't speak English did not help matters. Now, I laugh at the image of Tanja and I simultaneously attempting to show a screw falling out of my wheel with extreme gestures, thinking in our panic that he would be able to understand us. Thank god one of the vendors selling touristy gifts noticed we were having trouble communicating and helped us translate to the guard. At last he understood our dilemma and let Tanja go in. I stayed back, moving inches at a time, to look around me for anything that might be a screw.
The entire time I was waiting for Tanja I was trying not to panic, but couldn't help thinking: If we can't find this screw, then how will I make it to the airport? How will I even make it on the plane and shuttle back to the Barcelona city center and then manage to push myself another ten minutes back to our hotel? What am I going to do the next four days in Barcelona without a working wheelchair? Just sit inside at the hotel and drink?!
At the same time, I was channeling my inner Mom and thinking of solutions. That's when I remembered that I had a tiny screw in my backpack that had come off of my chair earlier in the trip. This happens somewhat often with older wheelchairs, and I've learned just to keep any screw with me until I figure out where it's supposed to go. I knew this screw definitely wasn't the kind that keeps a wheel on, but why not give it a shot?
When Tanja came back with no screw, I said to her with a laugh, "Remember that screw we found the other day? Let's try that!"
There were no benches for me to sit on while fixing the chair; for a few minutes I was trying to keep myself in the wheelie position and help Tanja as we laughed at the ridiculousness of the situation we were in. Luckily, the same vendor who translated for us came over and held up my wheelchair as Tanja used my travel set of Allen wrenches to put the screw into my wheel. By some miracle, the screw was the right width and actually stayed in the wheel when I did a few test rolls around the park. Even though I was still panicking a bit because of the rest of the traveling we had to do that day, I knew this was the best it was going to be until we could find some sort of hardware store in the morning.

After a pretty typical airport experience, plane ride, and shuttle back to Barcelona we made it safely back to the hotel. I couldn't sleep without taking stock of my wheelchair. When I took off my seat cushion to see the bare bones of my chair I was shocked to find that one of the metal pieces that secures the seat cushion onto the frame was almost cracked in half. Yet another issue I had to handle in the morning. It's not like we were in the middle of American suburbia, where Home Depots and Lowes are everywhere. I was in Spain; I barely spoke the language. Where the hell was I going to find a hardware store?!
I woke up excited the next day because we were going to meet up with our friend Kate and her girlfriend, Mariel — and then saw my wheelchair next to me and the reality of the situation flooded back. Before going to bed, I had texted them what had happened now that I finally had Wi-Fi and asked them to meet us at our hotel after lunch. I also had texted my parents. My mom told me that she wished she was with me to help me fix it, but that she knew I would be able to handle this on my own. I teared up at that text since all I wanted was for her to be with me too. But that gave me the confidence boost to push forward with figuring out what my next moves were.
Before getting up, I did a quick search on my phone and looked up how to say hardware store (ferretería), screw (tornillo), zip ties (cinto de plástico), and wheelchair (silla de ruedas) in Spanish. Now that I had some new Spanish knowledge, I found a ferretería only six minutes away. I figured if I could make it through all of the traveling last night, I could make it another six minutes on the cobblestones of the Gothic Quarter to get to the store. I was worried about my seat breaking even further, so I used a few of my hair ties to wind around the broken metal piece and the frame of my wheelchair as a quick fix. One thing you get good at as someone who uses a wheelchair is being innovative with the ways you can keep your wheelchair moving.
Even though I flinched at every bump in the cobblestones, Mariel stopped me every so often to keep the tiny screw aligned with the broken wheel. Kate and I were animatedly talking about the nightmare of a day we had in Paris because she knows I need to talk things out to mentally process it and Tanja took care of navigating us to the hardware store. As this was all happening, I paused for a second and was so grateful for my friends. They set aside their morning to help me through this setback. They all knew exactly what to do to make me not go into complete panic mode and not feel like a burden to them or their enjoyment of the trip.
Somehow we arrived at the store without any mishaps to the chair. Luckily, Kate and Mariel had been traveling in Europe all spring and knew a bit more Spanish than Tanja and I did. The shop owner sort of understood what we were asking for, but it took a lot of gesturing to get him to understand what we were trying to say with cinto de plástico. After we gathered all the necessary tools, I hopped out of my chair onto a staircase in the shop and my friends became my own personal pit crew.
This scenario felt like the set up of a dad joke: "How fast does it take an engineer, a nurse, a writer, and a biologist to fix a busted wheelchair in Spain?" We giggled at the sight of ourselves: three women taking up most of the walking space in this tiny hardware store surrounding an empty wheelchair, and then me sitting on a staircase directing them as to how they might best fix it. There was some cursing, maneuvering, and a lot of opinions, but eventually it was fixed! The punchline? It takes seven laughter-filled minutes to fix a wheelchair.
One might think that after having just been to Europe this year and having that whole ordeal happen to me that I would swear off traveling for awhile. Guess who just bought a flight to Las Vegas? That's right, me. After the fiasco of my wheelchair breaking in Barcelona, I now have the confidence to solve any problem that might arise and move on. The stressful flashbacks I had of my London trip before going to Barcelona are now just a funny memory to me. I've come a long way since that trip to London, I refuse to let the fact that I use a wheelchair stop me from living the life I want. So what, I have some minor inconveniences. I just fix them with the help of family, friends, or kind strangers, laugh through them, and start planning my next adventure. This time my escapades will happen under the bright lights of a city known for the chaos that happens to everyone that visits it.🗺️
Edited by Rachel.