As I was watching Netflix's sequel to Armistead Maupin's long-running Tales of the City — a serialized story that ran in the San Francisco Chronicle and the San Francisco Examiner starting in 1978, was collected in nearly a dozen novels, and spawned multiple TV mini-series in the '90s — the two thoughts I had repeatedly were: 1) I'm not qualified to write about this show, and 2) Every one of these characters would be cancelled on Twitter if they said this stuff out loud.
That might not sound like praise, but it is. Orange Is the New Black alum Lauren Morelli had a monumental task when she joined the latest iteration of Tales as showrunner: Honor the original characters, and original readers and viewers (mostly middle-age cis gay men), and bring the conversation into 2019, where a TV series centered on San Francisco's LGBTQ community needs to reflect the experiences of queer and trans people of color; people of various genders and gender presentations and socio-economic statues; and the intergenerational conflicts that have always taken place in the LGBTQ community around activism priorities, distribution of resources, and the ever-evolving and imprecise language we use to talk about ourselves and each other.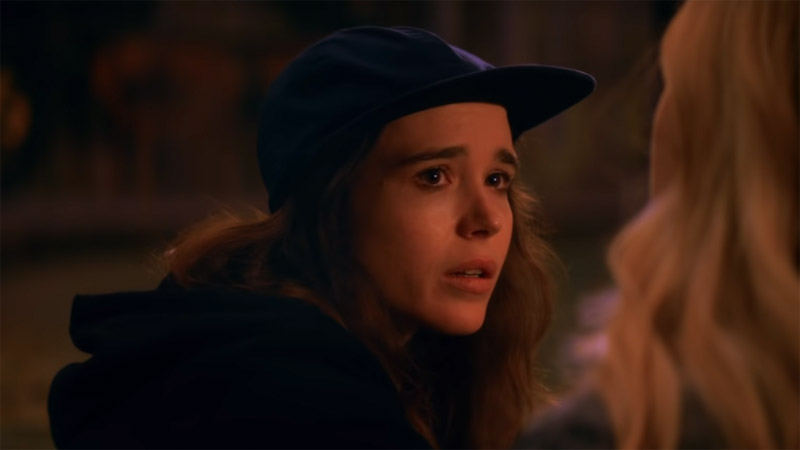 Netflix's Tales Of The City introduces Anna Madrigal's (Olympia Dukakis) iconic home at 28 Barbary Lane to a new audience by reintroducing Mary Ann Singleton (Laura Linney) to the family — including ex-husband Brian (Paul Gross), daughter Shawna (Elliot Page), and best friend Michael "Mouse" Tolliver (Murray Bartlett) — she left to move across the country to pursue a career in journalism decades earlier. Mary Ann has arrived back in San Francisco for Anna's 90th birthday, much to the chagrin of Shawna and angst of Brian. Michael still lives at Barbary Lane and Shawna's moved into Mary and Brian's old place. The other residents include queer couple Margot (May Hong) and Jake (Josiah Victoria Garcia); and Ani and Raven (Ashley Park and Christopher Larkin), a pair of twins looking to make it big as Instagram influencers.
Tales Of The City is legendary for weaving together dozens of intersecting storylines, and letting them all play out against the encroaching backdrop of a pulpy mystery. Over the years, Maupin's stories have been celebrated for being revolutionary (Michael, for example, was diagnosed with HIV in the '80s and lived) and derided for being regressive (the reveal that Anna is a trans woman was clumsy and dangerously cliched, just for one example). Morelli picks up Maupin's mantle in terms of the sheer number of narratives that take place over the ten episodes, and the inclusion of a slowly unraveling secret. Nearly every character has their own arc within the larger arcs of the season. Shawna struggles to deal with Mary Ann's return while getting closer to a queer filmmaker named Claire (Zosia Mamet) who's "making a documentary about queer community and its dissolution as a result of the strangling grip that capitalism has on San Francisco." Jake and Margot deal with the fact that she still considers herself to be a lesbian, despite the fact that Jake has come out as a trans man, and he's starting to develop an attraction for other men. Michael and his younger boyfriend, Ben (Charlie Barnett), work to navigate an interracial, intergenerational relationship. Mary Ann's having a hardcore midlife crisis. And Anna's at the center of the mystery.
Much has been made of the decision to bring back Dukakis in the role of a trans woman, here in 2019, especially when some of the other original roles were recast. Morelli and the creative team tried to work around it by casting trans actress and activist Jen Richards to play a younger Anna in flashbacks, alongside A Fantastic Woman's Daniela Vega. We'll be publishing a roundtable-style discussion of the series with people of various intersecting identities to speak to the stories and storytelling decisions that I, a 40-year-old white cis lesbian, don't have the authority or experience to speak on — but I do feel qualified to say that in Anna's flashback episode, "Days of Small Surrenders," Richards proves herself, once again, worthy of awards, big screen roles, and a place on every queer woman's list of heartthrobs.
Tales of the City is a sweet show. It wants its queer characters to find love, to be happy, and to move through the world without shame. But it does have its moments of deep discomfort, almost always when trying to articulate the nuances of queer conversations many of us are afraid to even have in real life. If I had to guess, I'd say the most talked about scene of the series will be the dinner party Ben attends with Michael and his longtime gay pals. These men lived through the AIDS crisis. They survived. Most of their friends didn't. When Ben speaks up against their casual racism and the use of a trans slur, they turn on him. "Any so-called privilege we happen to enjoy at this moment was won from a society that didn't give two shits if we lived or died," one of them snaps at him. "When I was 28, I wasn't going to fucking dinner parties; I was going to funerals. Three or four a week, all of us were. This world you get to live in, with your safe spaces and your intersectionality, this entitlement you have to dignity, as a gay person, do you even know where that came from?"
And while Ben agrees that he can't understand what living through the AIDS epidemic was like, he is a gay black man, and he absolutely understands what it's like to live in world that is relentlessly hostile to him. No, he wasn't alive in the '80s, but he's sympathetic, and he doesn't believe any level of trauma or persecution should be used as an excuse to stop fighting for members of the LGBTQ community who suffer more oppression than rich, cis, white gay guys.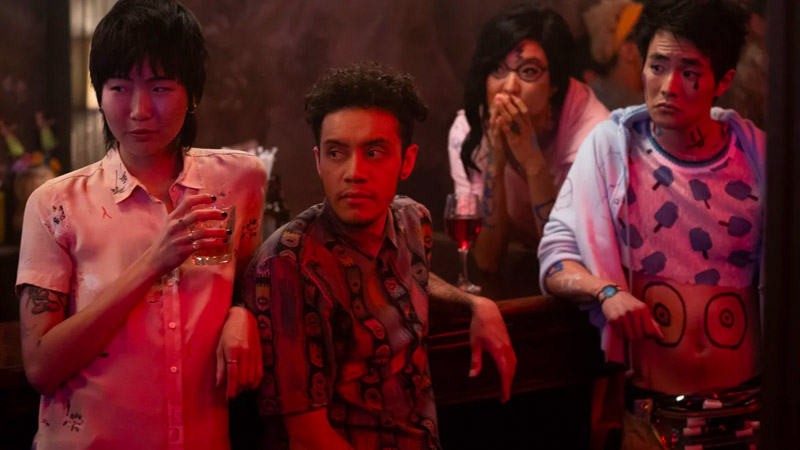 To the show's great credit, it tries as very few shows have — I'm thinking only of Desiree Akhven's The Bisexual, really — to have those conversations on-screen. It's uncomfortable, and it doesn't always work, but it's bold and it's necessary. And that dinner party scene is prophetic, really. As I've talked to other critics and witnessed the conversation in comments sections as reviews of Tales begin to trickle in, longtime fans of the series seem to think it's gone too far, tried to do too much; while many newcomers feel like it didn't go nearly far enough.
Tales has a little something for most queer viewers. Queer and trans people playing queer and trans people written by queer and trans people? Check. Gay sex? Check. Pride flags? Check check check. Scenes to make you laugh? Check. Scenes to make you cry? Check. Inside jokes and light inter-community jabs? Check! ("How very '90s of you," Elliot Page's bisexual Shawna drawls when Margot tells her she's not queer; she's a lesbian.) Tales leans into some tropes, flips others on their head, makes plenty of jokes at its own expense, and — above all — believes in the power of LGBTQ people who come together to make their own family.
Tales of the City lands on Netflix tomorrow, June 7th.