All the token black characters from the shows I religiously watched over the years never felt like me. I know it's TV and you're only supposed to slightly relate to whoever the writer's room comes up with on a Wednesday afternoon, but I always wanted to turn on the TV or sit in a theatre and have my jaw dropped because I connected so strongly with someone on that screen.
If I had to pick and choose from black girls on television to create a cocktail of Shelli from Shrill, it would be:
1 part Jodie from Daria.
A dash of Freddie from A Different World
2 oz of Raven Baxter from That's So Raven
2 bitters shakes of Willona from Good Times
3 to 5 ice cubes of Tara from True Blood
Topped off with an orange peel topper of Riley from The Boondocks
I was married to the idea that I wouldn't ever be able to engage in any party conversation or Twitter feeds where people shouted out the one character they saw themselves in most — but then Fran happened.
Shrill debuted in March of 2019 in a six-episode season on Hulu. It follows Aidy Bryant's Annie on what is basically a self-discovery moment. She realizes what she wants and what she doesn't and most importantly that she is the one with the fat ass and big titties so she gets to decide what to do. I like Annie, I do, I don't find her annoying or messy; she seems real like homies I know and I could see myself hanging out with her and not counting down the moments until our friend date is over — but Fran? Fran I love.
I never saw her put in the box of the black best friend trope. She was always her own person; her storylines made sense and had longevity; and her relationship with Annie works. She never walked the line of "token" for me, I watched and waited for her to and it happily never happened. Whoever wrote her didn't come from the Tyler Perry school of writing black women and it showed.
Last year I went through some massive changes: a relationship ended, I moved into a new place, I stayed out to my family and made it a point to focus on my career as a writer. For the first half of the year, I was still in the middle of all of it. I didn't allow friends to come to see me and didn't truly go out. I stopped my life. I simply woke up, went to my day job then came home. I couldn't watch a lot of TV to escape because I felt like everything was rubbing my situation in my face. Insecure showed me cheating, New Girl showed me a happy breakup and I def had to stop my first watching of The L Word because well, obviously.
Then I started watching Shrill and Lolly Adefope brought her beautiful ass, dark-skinned, braided hair, perfect smile self onto my screen. I wasn't confident in myself at the time and that was a big change for me because I always saw myself as a bad bitch that people were lucky to have in their lives.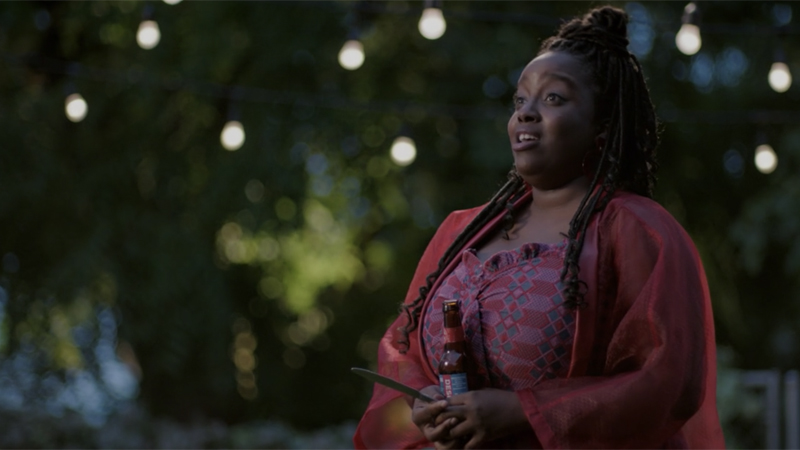 Fran was me to a T (well the usual Shelli) before I got stuck. She was happy in the creative job she chooses to have, she was queer and unapologetic, loved her body and had amazing style, was clearly afraid of commitment but loved sex and women and they loved her right back. Being able to look at her and see myself so entirely encapsulated began to help me feel more like myself. I laughed when she was dismissive to overt whiteness, smiled when she flirted with girls and hit on Vic (uh-oh) and got hype when she stood up for herself in her friendship with Annie.
Season two of Shrill heightened my connection to Fran even more, especially after her sudden break-up. I have never been to Portland, but ask fellow Autostraddlers Vanessa and Sarah, I tweet asking should I move there bi-weekly. I don't know how the queer scene is but I do find it slightly unbelievable that Fran wouldn't know Vic has a whole other ass serious partner. That tiny point aside, when she killed off Vic by deleting her number and blocking her on all socials while at the kitchen table ––– I damn near passed out. I barely save numbers in my phone, so once you make it there it means something, it means that you mean enough to me to take up space in my life in some way so if you do me dirty it hurts 10x more. Fran felt the same way, she was heartbroken and felt stupid for opening up, so she shut back down and figured it was time to see if old Fran was still around and how she needed to improve her.
Her dating and celebrating herself could have come off cheesy and overdone but the writers managed to make it beautiful and honest. It reminded me of the months after I truly started to heal from everything, after therapy actually started to kick in. The sincerest and most relatable moment was seeing Fran cry during the queer cabaret. I've had those same tears, the ones where you simultaneously realize that you are still hurting but that it will soon be a thing of your past. That blended realization can be overwhelmingly intense because once you're healed from something it's actually done and that can be just as saddening.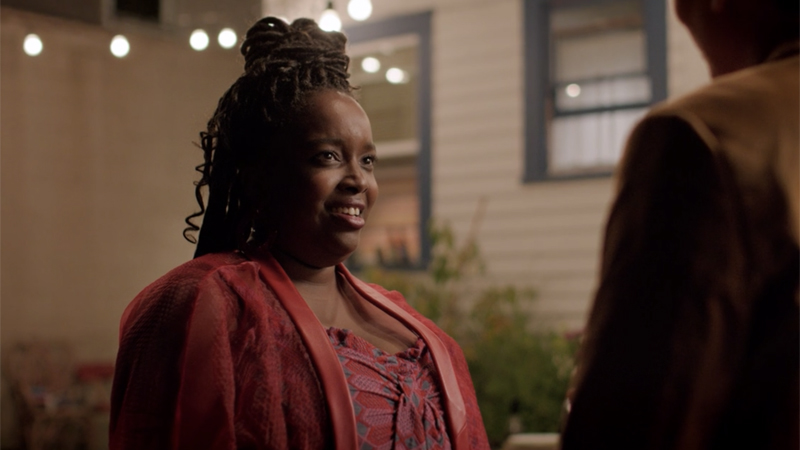 The season wraps with Emily (E.R Fightmaster), one of Portland's resident queer dealers and a friend of the crew, telling Fran how much they are into her. The minute I saw them raise those perfect brows and smile consistently at Fran in earlier scenes, I knew it was going that way. Fran's response to it, making out on the side of her cute Portland house, unnerved me a little bit. Was she rushing into this with Hottie McSexySmirk? Had she really dealt with the Vic situation? What if this goes left and ruins their friendship? Does this mean Fran gets free weed?
Fran speaks to me in the way any writer who is creating a character wants them to. You want people to connect, to wonder what's going to happen next, to care about this person and hope this fictional life works out for the best. I want the best for her because I want the best for me. Our only major difference? She would never listen to "Talkin' Traz" and I 100% would and not in an ironic way. Only Fran can judge me, the rest of you do what that information what you will.