Major spoilers below for season two of DC Universe's Harley Quinn! 
DC Universe's Harley Quinn animated series wrapped its second season exactly the way you'd expect: flame-throwers! laser guns! toxic gas! car chases! flying hellbeasts! complete and total mayhem lovingly unleashed by Harley Quinn! It also wrapped exactly they way you'd never have dreamed: with Harley and Ivy driving off into the sunset together, having finally confessed their feelings to one another after dancing around them, running away from them, fighting over them, and having sex about them multiple times over the course of 13 episodes.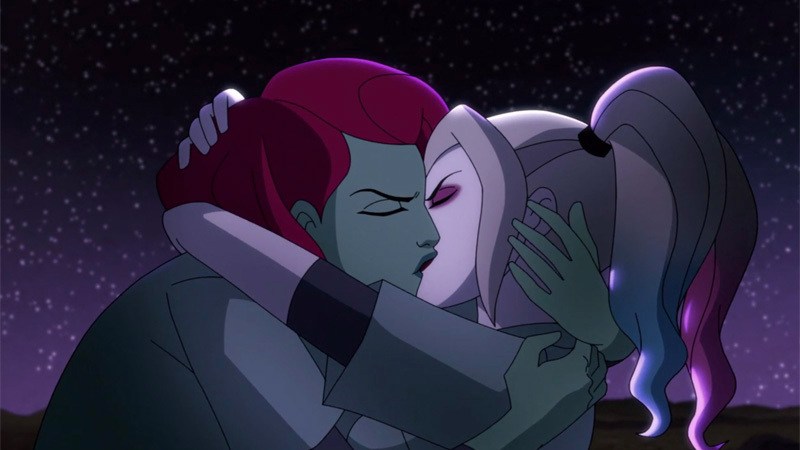 Harley Quinn's season two finale was always heading toward an explosion, literally and figuratively. After dispatching the Joker, sidelining Batman, and banishing the Justice League, Harley realizes that she still isn't in control of her own life, so she ends up at war with Gotham's other supervillains and also Commissioner Gordon. It's her clash with the Comish that gets out of control in the finale. But Harley's real war is with herself. She and Ivy started off the season as just the bestest best friends in the world who love each other so much and know each other better than anyone else and would sacrifice anything for each other, ride or die, favorite person to be with, cuddled up on the couch watching movies and bludgeoning their enemies to death together, blood and guts and staring deeply into each other's eyes — but halfway through the season, Harley realizes her feelings for Ivy are way more than friends, after they accidentally kiss right on the mouth after escaping from Bane's cavern prison together.
The problem is that Ivy is engaged to Kite Man.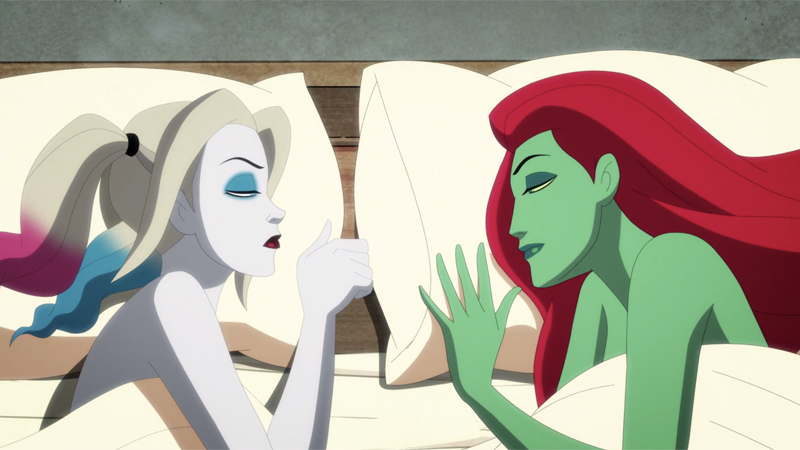 Harley tries to handle it like an adult. First she convinces herself that she's just an agent of chaos and that's just what she does. She kisses her best friend, but whatever, okay? She also makes blood oaths with tyrannical aliens. She kills grandmas who get in her way. She employs para-demons for fun. When that line of emotional obfuscation doesn't work, she decides to throw Ivy the greatest bachelorette party ever! On Themyscira, even! She doesn't account for the fact that Themyscira will make them even gayer for each other. They sleep together, but Ivy decides to marry Kite Man anyway. She trusts Harley with her life, she says, but not with her heart.
Ivy doesn't even want Harley at her wedding, but Harley goes anyway to try to stop Commissioner Gordon from wrecking it and arresting everyone. Harley even gets ordained so she can preform the ceremony herself if she must. She just wants Ivy to be happy. And that's what makes Ivy realize that Harley actually is capable of change. I mean, yes, she is absolutely an agent of chaos — but she's willing to put Ivy's needs and feelings in front of her own, even if it means burning down her wedding venue.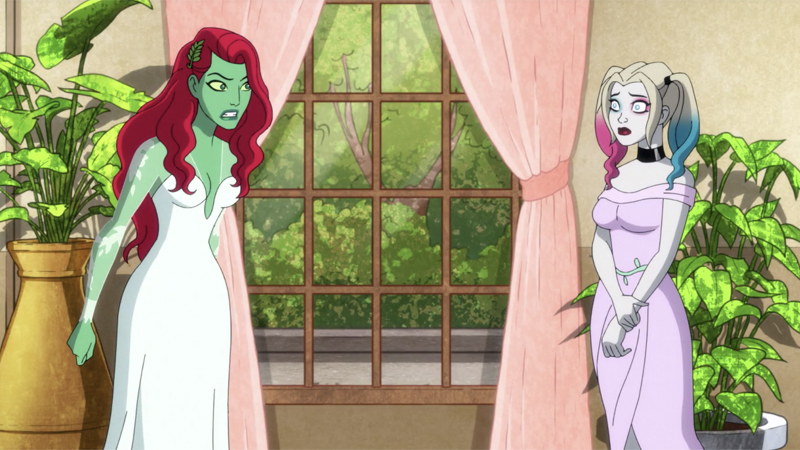 One of my favorite things about this Harley Quinn series is anyone can jump right into season two without any experience with Harley and Ivy and delight in it, but also the way the writers honor and clown on their characters and storylines affirms an affection for and deep knowledge of the entire Bat-verse. I thought the appearance of shark repellent this season — a callback to the most ridiculous moment of the hilarious 1966 Batman movie adapted from Adam West and Burt Ward's TV series — was the best visual, but then, in the final few minutes of the season two finale, the creative team threw it back to Harley and Ivy's first face-off with the GCPD and their first great escape together in the early '90s.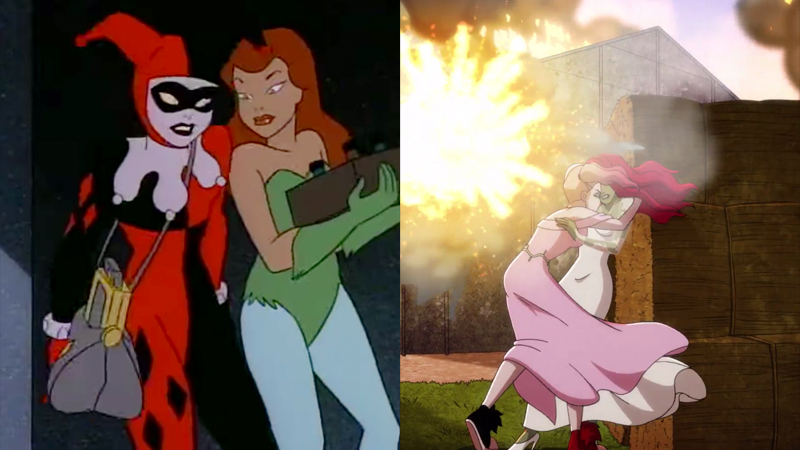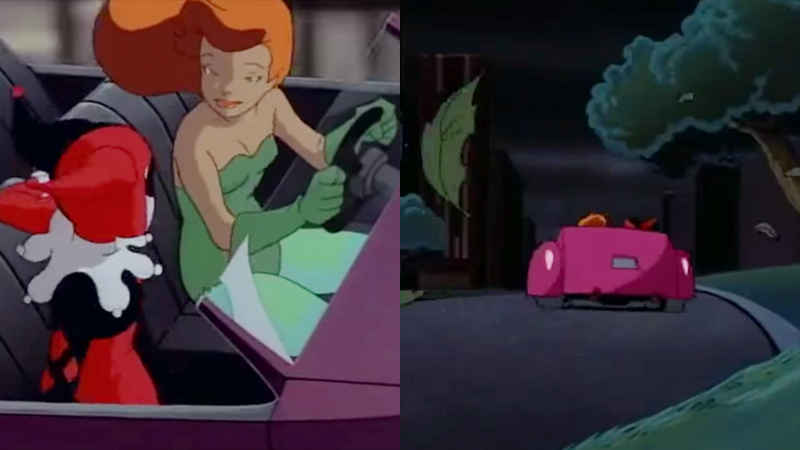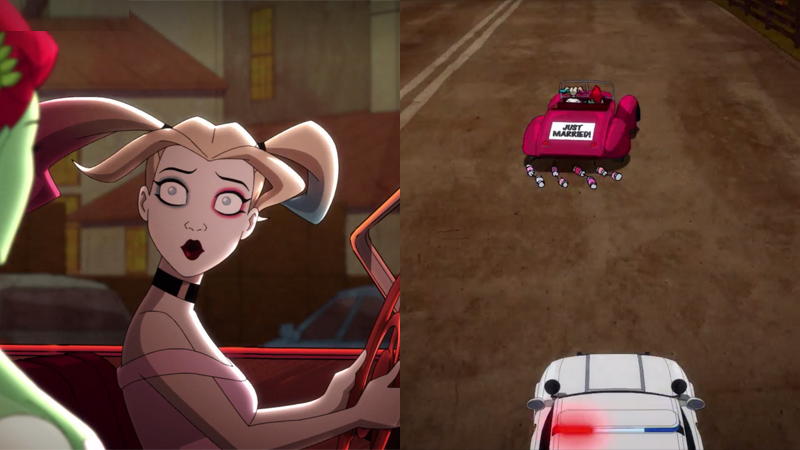 There's nothing gayer than falling in love with your best friend, which is why it's endlessly bizarre and frustrating that we hardly ever see it happen on TV. And why it's so dang satisfying when it actually does — especially when it involves two characters queer fans claimed ages ago. Harley Quinn and Poison Ivy have been gal pal-ing around since 1993, when they tag-teamed to show up the Joker in Batman: The Animated Series' "Harley and Ivy." It took 22 years for them to finally smooch on the page (in Bombshells in 2015 and in the main universe in Harley Quinn #25 in 2017), despite myriad writers and artists saying they were clearly more than friends over the years, and even longer for them to finally get the on-screen romance they deserve. But when they got it, they got it.
Harley Quinn season two is one of the most gratifying gay seasons of television I've ever watched, and hands down my favorite season of any comic book TV show ever.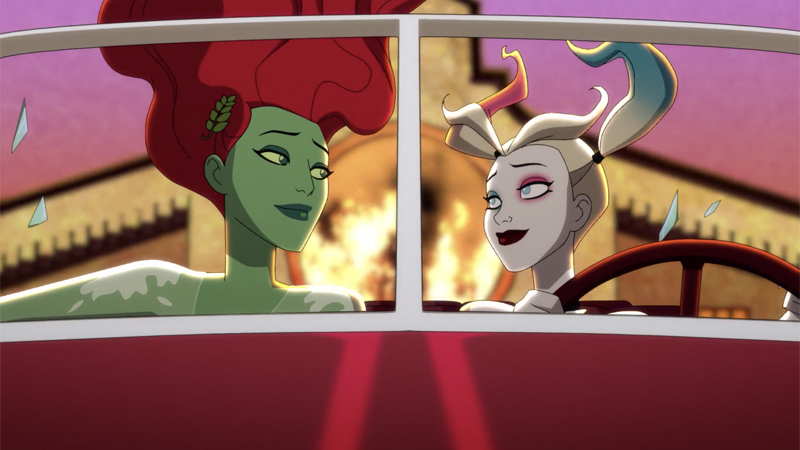 Harley Quinn is available to stream on DC Universe and is coming soon to HBO Max.