Welcome to the third of five fantastic recaps of our entire experience at A-Camp 2.0, which took place 2.5 hours outside of Los Angeles at Alpine Meadows Camp atop a mountain in Angelus Oaks, California, from September 12th-16th, 2012.


A-Camp was the genesis of an idea Riese had at 3AM in July 2010: the concept was to take the spirit of the website into three glorious dimensions and create an affordable option for queers for whom other lesbian vacations aren't always a perfect fit. In April 2012, we did it for the first time — along with 160 campers and 35 staff members, we rented out a summer camp in its off-season and enjoyed a transformative weekend of fun, friendship, panels, workshops, classes, sports, entertainment, events and so forth. It was probably the most awesome experience of our life and we knew from there it would only get bigger and better.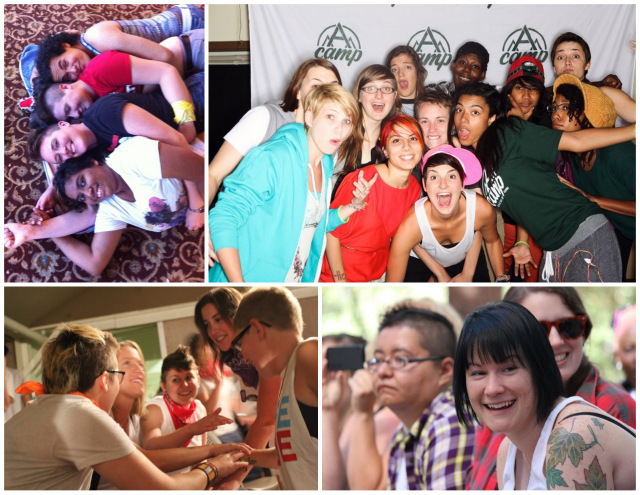 So in September, 220 campers and 40 staff descended upon The Mountain for four days of much-better-organized fun, friendship, panels, workshops, classes, sports, entertainment, events and secret initiation rites.
These epically long monster-posts will do their best to explain and extrapolate upon the camp experience, from avoided-shitstorms to emotional revelations to glory/triumph. But we can't tell you everything. We must leave some things up to the imagination.
The next Camp Autostraddle will take place May 23rd-27th, 2013 in Angelus Oaks, California, Mark your Calendars!
+
Friday, September 14th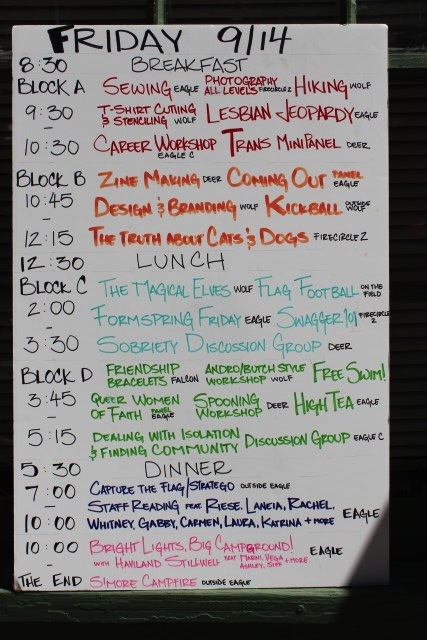 +
I. Here Comes The Sun
Carmen Rios, Misfits Counselor/Contributing Editor: I did not make it to breakfast this day because first my shower exploded and then I had to do some Official Cabin Mama business. But I got a coffee.
Stef Schwartz, Battlestars Counselor/OG Autostraddle: I have never seen so many hungover chicks groaning their way towards the coffee machine than that fateful morning.  If you are one of the few proud souls who made it to breakfast that morning, I commend you ladies.
Riese Bernard, Runaways Counselor/Editor-in-Chief: I didn't drink very much on Thursday night and so I woke up on Friday feeling like a SUPERSTAR, ready to chop the day into little pieces and eat them! Just kidding, I woke up feeling like a SUPERSTAR ready to freak out all day about the Staff Reading.
+
Block A:
Sewing Square w/Carolyn
T-Shirt Cutting & Stenciling w/Carmen, Sara Medd & Laura
Career Workshop with Meredydd
Photography For All Skill Levels w/Robin
Lesbian Jeopardy w/Riese, Haviland & Jill
Trans mini-panel/discussion w/Morgan & Annika
Hiking
Gabby Rivera, Catch-22 Counselor/Writer: Friday morning, I was unjustly hungover. I will blame it on the altitude and not give a shit. I will not blame it on the Maker's.
Vikki, Avengers Counselor/Contributor: On Thursday night, I had a bit of bourbon with my cabin mates and then hung out at a campfire and then went to a party in Wolf Lodge and had some drinks and then I went to Deer Lodge and did some dirty dancing and then I went back to Wolf Lodge and had deep meaningful conversations and maybe danced on the stripper pole a little bit and then went to bed around 3 a.m. Unfortunately, I was scheduled to lead a hike on Friday morning. Sometimes you gotta pay to play so, on Friday morning, I got up and showered and dressed in my snazzy hiking shoes and showed up to do my duty. But then…a light shone upon the dining hall and an angel appeared and offered to lead the hike for me and I married her on the spot in a glorious lesbian wedding attended by all of A-Camp and officiated by a coyote. Okay, I didn't marry her but did have a passionate love affair with her kindness.
Mary Tully, Little Rascals Counselor/Calendar Girl: Hiking on Friday did not have nearly as many people show up because I think everyone was hungover. I did not realize how hungover I was until I was ON the hike. Holy Altitude. Alex joined us this time!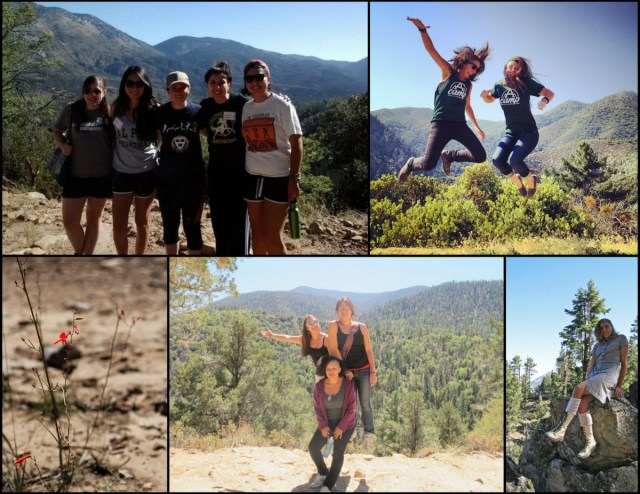 Morgan McCormick, Battlestars Counselor/Contributor/Calendar Girl:  Annika and I's meeting before the Trans Mini-Panel/Discussion went like so: "Feelings?" -A "Feelings." -M "Feelings!" -All of the above.
Annika Penelope, Unicorns Counselor/Writer: This was the only early (9:30am) activity that I was scheduled for during all of A-Camp. I'm lucky if my morning routine takes less than 90 minutes, which means that I had to wake up a 6:30 in order to be ready in time. The early time turned out to be a good thing though, because we ended up having a really intimate discussion of our experience of being trans* or having trans* friends/partners.
Morgan: It was really, I dunno, family-y. We all sat in a big circle and just said what we wanted to about our experiences, everyone listened, everyone waited their turn. So I guess it wasn't like a family at all! Teehee. For cereal, though, my favorite panels are audience-run, and it was a nice change of pace to talk transy things some place other than the internet. I wuv woo, Internet. I do. But there's a real power to hearing people's stories live and out loud, plus if it hadn't been for a trans panel I attended some years ago, who knows, I might not be the me I love so much right now. All hail Trans Panel!
Annika: It was really cool to see people open up and share their stories!
Camper Quote: My favorite part of camp was being a trans queer woman in a queer women's space and not being the only one and it being no big thing.
+
Stef: I wanted so badly to go to the Trans Mini Panel but made a quick detour back to my cabin for a jacket or something, which was a mistake.  I was hit by a nap attack of such tremendous power that I couldn't even make it back into my own top bunk; I passed out in someone else's empty bunk, drooling on myself.
Gabby: I hung around Katrina's Queer Barbershop, pretended to take pictures and mostly napped/got it together on bags of linens. Katrina's barbershop was super mellow and I feel like when she's an old DQ, it will exist in real life.
Camper Quote: "My favorite activity was probably just hanging out at the barbershop listening to the banter and watching people get alternative lifestyle haircuts."
+
Laura Wooley, Bomb Girls Counselor/Associate Editor: Some girls can get away with having an entire game show devoted to getting girls to take their shirts off. Those of us who can't take other routes. At the T-shirt Cutting & Stenciling Workshop the next morning, I found myself in a room with 12 women in various states of toplessness thanks to the imprecise art of t-shirt cutting (and recutting). There's more than one way to skin a cat, y'all.
Carmen: Many an Autostraddle-deco item was made! We listened to "Watch the Throne" throughout. I went to my next panel with one sleeve cut off of my STAFF shirt.
Carolyn Yates, Valencia Counselor/Contributing Editor: I was worried that not that many people would show up to the Sewing Circle on Friday because I forgot to mention that it was happening again on Thursday, and I was right! Also a lot of people thought we were T-shirt cutting, and/or absconded with the scissors. But I actually did teach someone how to sew! She showed me her beanbag the next day and I felt irrationally accomplished. Also someone else came up to me and showed me her cross stitch, which was both about science and finished, and which was particularly awesome because she'd never done cross stitch before.
Robin Roemer, A-Camp Co-Director/Photographer: I always get really nervous before I have to do a Photo Workshop because I'm not comfortable talking about myself. So I chatted a bit about my experience and had everyone talk briefly about their experience/skill level before getting into some technical aspects of photography and a Q&A session with the help of camper Kamila who had a lot to share with us from her own studio lighting experience.
Meredydd, Golden Girls Counselor/Business Advisor: Even though The Career Workshop was sparsly attended I think it ended up going okay! The questions the campers were looking for help with really matched up neatly with the experience Cee and I have. This let us really connect with campers pretty much one-on-one which is always great.
Riese: I love trivia! I love Jeopardy! I love hosting things with Haviland and I love Jill! All of those things came together for a glorious game of Lesbian Jeopardy, featuring thrilling categories like "Ani Difranco Lyrics" and "Literature Featuring Hot Lesbians."
Jill, Wild Stallions Counselor/VIP Camper: I was in charge of determining who buzzed in first.  "Yes! Easy job!" I thought.  Riese even tried to intimidate everyone by telling them I was a cowboy and would kick their ass.  But instead I ended up feeling like one of the replacement NFL refs with my cabin heckling me and trying to influence my calls.  And then I forgot that I was going to exact my cowboy revenge on them so beware next time my campers! BEWARE.
Riese: Lizz was with us in spirit by having written questions for a category called "The Seven Sisters As Described By The Simpsons."
Hansen, Camper/Contributing Editor: Misfits didn't win Lesbian Jeopardy. Surprise!
Riese: I think Marika won. Marika of The Yellow Team. She's not allergic to winning, it turns out.
Crystal, Thundercats Counselor/Music Editor: Carly and I spent the morning writing anonymous notes to our campers and discussing how perfect they all are.
Carly Usdin, Thundercats Counselor/Contributor/OG Autostraddle: They were so weird. Like, the weirdest notes. For Rachel Walker, I [poorly] drew a robot wearing a bowtie. For Jen Freitag, I wrote the following—
Hey I just met you,
And this is crazy.
But here's a cat in a denim vest,
Your spirit animal, maybe?
Crystal: For the rest of the day I was on "Rover" duty, which I interpreted to mean that I should walk around the camp site showing everyone photos of my kitten.
Stef: I spent the afternoon in Falcon Lodge, rehearsing for The Haviland Stillwell Show with Marni.  Because I live in Brooklyn and Marni's in Oakland, we hadn't had a chance to actually sit together and practice together until the day of the show, which was a little nerve-wracking.   We were putting together arrangements and sorting out the set list when suddenly Marni busted out this amazing Ani DiFranco-style rendition of Jessie J's "Do It Like A Dude," which made my heart stop and my eyes bug out of my head.  Marni, you guys. Heartthrob.
+
Block B
Zine-Making w/Riese, Laneia & Rachel
The Truth About Cats and Dogs with Mary Tully and Jill
Design & Branding w/Alex, Geneva & Meredydd
Coming Out Panel w/Robin, Whitney, Morgan, Haviland, Carmen, Carrie, Annika & Mollie
Kickball w/Jamie

Alex Vega, Avengers Counselor/Design Director: For the Design & Branding Workshop, we all sat in a circle and talked about marketing, designing websites and the importance of branding, which may sound boring but I promise you that our super casual discussion was far from boring, my friend. We talked a little about Autostraddle and our brand and process.
Meredydd: It was great hearing Alex talk about her creative process and so helpful to hear campers talking about what they want from the site redesign.
Alex: Meredydd is a branding genius and shared some fun anecdotes from when she worked on projects with fancy pants businesses like Coca-Cola. Everyone had feelings about their jobs and office environments and how different it is living and working as a creative person and what that means for us.
Meredydd: Sharing the concept of 'flawsome' with everyone has got to be one of the highlights of camp. Branding is a huge passion of mine and it was great to share that. Next time I hope we talk more about the design process too.
Jill: Mary and I had a wonderful time at The Truth About Cats And Dogs. Mary is an animal trainer/behaviorist and I'm a veterinarian so we've got this subject on lockdown.  Also – Digger was there!!! She trains animals too and had a lot of great things to add!
Mary: We talked about training and animal healthcare. Everyone that came had such great questions! I was pretty much in heaven. Then my whole cabin showed up to participate. And I died. LONG LIVE THE LITTLE RASCALS!
Jill: Workshop attendees wowed us with insightful questions about their cute, silly, and crazy pets.  Mary and Digger answered questions about how to train dogs (and cats!), and how to remedy some specific problems such as a dog that is scared of cars on the highway.  I answered general questions about pet health such as why chocolate is toxic for pets and things to do for an arthritic dog.  We were having such great discussions that I think we even went over our allotted time a little bit!
Carmen: Not gonna lie, the Coming Out Panel was emotional. But a lot of people were glad we had it.
Morgan: Can I come out as being in love with all of Coming Out panel? It was like Gender Panel but in a completely different array of rainbow flavors.
Whitney Pow, Neverland Counselor/Contributing Editor: Coming out is a really scary process, and having so many people be able to speak to their individual experiences — coming out to friends, siblings, parents — was really inspiring.
Carrie, Forever 21 Counselor/Community Managarette: I don't know what to say except that I felt like I learned as much from the audience as I did from fellow panelists. And I wanted to high-five Morgan every time she talked.
Morgan: Also it had Robin being totes adorably pumped. I know Robin's always pumped, but still!
Robin: I shared my experiences coming out to a very religious mother.  Coming out is never easy and I really liked the focus on not feeling pressured about coming out and the importance of a support system.  Everyone had so many amazing things to share.
Whitney: I spoke about coming out to my family and how, while the beginning was difficult and sad, my article for Autostraddle, "Estranged," ended up carving out a space in my family to talk about me being gay and about me getting married. My extended family read the article. My parents read the article. My brothers read the article. My aunts, uncles and cousins started reaching out to me — calling me, sending me emails, telling me they loved me. I never expected anything like this to ever, ever happen. I had no idea that an article, that words, could make such an impact.
Sarah Croce, Forever 21 Counselor/Calendar Girl/Contributor: Coming out is the great equalizer of our people. We have all been through it, or will have to go through it. No matter how hard or easy each person feels it was, it is something we have all had to confront and admit first to ourselves, and then out loud.
Riese: I entered 'zine-making and exclaimed "I didn't get drunk last night and I feel SPECTACULAR! Let's make some motherfucking 'zines!" I was so pumped.
Rachel Kincaid, Jetpack Counselor/Senior Editor: Zine-making REPRISE. This time there was at least one camper present who knew more about zines and zine-making than I did, which was awesome and made me feel even better than I already did about all the new people I was meeting at camp.
Riese: I love it when that happens, I just wanted to hear about all her things! Also, Shannon brought stacks of old comic books for us to use, which was especially awesome.
Laneia, Runaways Counselor/Executive Editor: I eavesdropped on Grace and Shannon while they conceptualized and titled their future zines. I hope they make them all because they sounded so cool.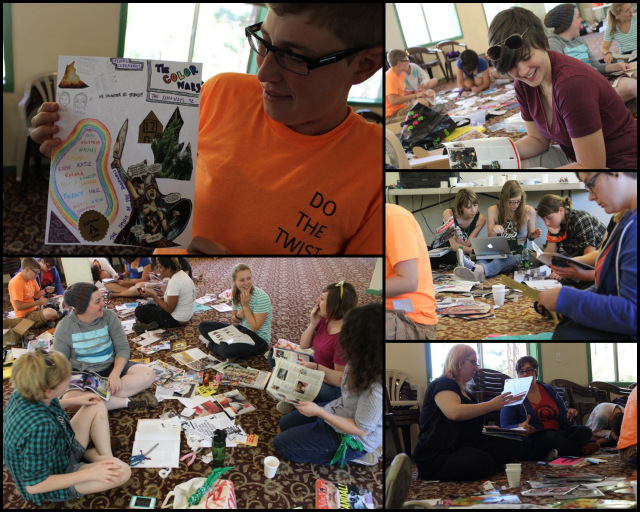 Rachel: Also, sidenote, I really wish ReadyMade was still in circulation. Also that Grace attended everything I did in real life, so that she could fetch coffee and exacto knives.
Hansen: I was really inspired by all of the zines we got to look through, especially Laneia's because it's beautiful, you guys. We decided to make a zine about our cabin, but in true Misfit nature, we basically sat in a circle and put paper mustaches I found in Bitch magazine on our faces. We then wore them to lunch. I lost mine shortly thereafter and I'm still upset about it.
Laneia: Rachel played Fiona Apple for us this time and I felt a lot more focused and centered. I think this is when we realized that zine making, like High Tea, was actually just an elaborate way to hang out with people you hadn't met yet. In that sense, these activities are pretty important.
Camper Quote: Lesbian Jeopardy was very enjoyable and funny but it made me realize I mostly wanted to just talk to people at A-Camp– which is why I went to zine making for the next block (I hadn't planned to go because I am not creative and have no zine feelings) which turned out to be the perfect art therapy and bonding experience.
Cee Webster, Golden Girls Counselor/Tech Director: A lunchtime PDX meetup was organized by the Portlanders, and so I joined that. Us Portlanders exchanged restaurant & bar recommendations and email addresses. I hope everyone comes to the Autostraddle Portland meetups!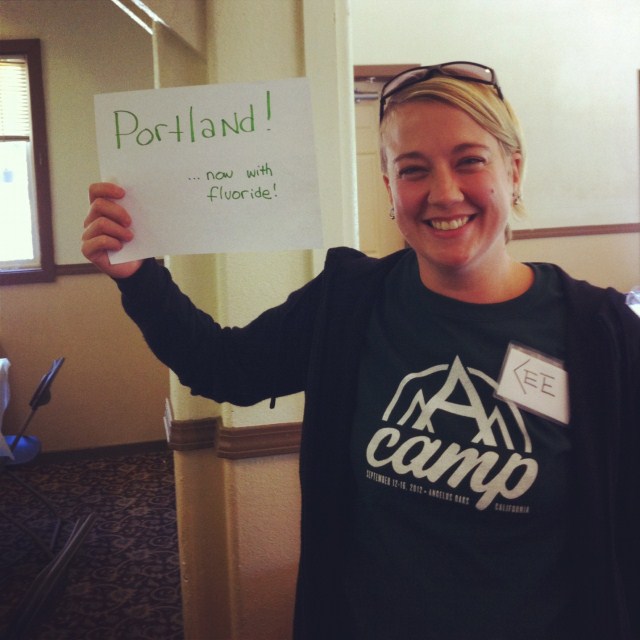 NEXT: Get your Swag(ger) on!
II. Afternoon Delight
Block C
The Magical Elves w/Robin & Sara Medd
Sobriety & Substance Abuse Discussion Group w/Anonymouses
Swagger 101 w/Gabby & Katrina
Formspring Friday w/Riese, Laneia, Alex, Laura & Rachel
Flag Football w/Jill
Jill: Flag Football was pretty much a case study in Darwinian Evolution.  Only the strongest survived.  People fell onto rocks, had asthma attacks, were attacked by water fountains, ran head first into metal poles, and so on and so forth.  But I feel by the end we had a good game.  A-camp has some good quarterbacks and kickers let me tell you!
Laura: My face always turns a Grace-worthy shade of red at some point during Formspring Friday Live. This time was no exception. In other news, I feel like next time we should rename this panel Formspring Friday: The Opposite Day Edition because we had fun turning questions back on everyone there again this time.
Rachel: Formspring Friday is an event that involves both speaking about my own personal life and having the intimate details of others' personal lives revealed, and so it is a thing I associate with a mild amount of day drinking. But there was also the staff reading that evening, which would require a significant drinking commitment, and I really didn't feel like I could sustain a full day of being sort of drunk. This was a conundrum! But all was well, because this Formspring Friday actually turned out to be pretty doable, and I did not end up telling the story of the first time I had sex with a boy in high school, so that was an improvement.
Cee: Riese asked if I could hang out there in case anyone had any questions about the website. It turned out that many people did.
Alex: It always ends with us asking the audience questions.
Rachel: After all the work and worry of raising the money it was really satisfying to talk to actual people who care about the website and envision what it will all turn out to be.
Cee: I was happy to get feedback from everyone on what they were looking for in the redesign and possible ideas to improve the site. It also made me realize just how much everyone loves the site and how important my job in fixing it is. Yikes.
Rachel: Cee is really attractive when she's in her element as a supersmart web developer. (Also, at all other times.)
Riese: I loved that we had some time to discuss website stuff with Cee! BUT ALSO Real Talk – Formspring Friday was not awesome this time! We got through all the questions from The Formspring Box in about 20 minutes 'cause there weren't very many, and I kept being like, "well then, I guess we're out of questions!" thinking everybody would peace out and I could go obsessively edit my essay again, but I think they felt obligated to sit there for the full 1.5 hours, like that episode of Buffy where everyone wants to leave the house but are somehow unable to do so because of some kind of spell. It was weird.
Laneia: It made me a little sad.
Riese: I think um, the Formspring Friday ship has sailed into the horizon of A-Camps Past, but a "talk to Alex and Cee and me about what you want for the website" could be its own activity, because I genuinely enjoy those parts. Regardless, this aspect of the pre-show was cute:
Sara Medd, 21 Hump Street Counselor/Calendar Stylist: Robin and I wanted to be little Magical Elves and leave notes in boxes, so we gathered up all the zine-making supplies and made fancy little notes for people's pigeon holes.
Robin: This arts and crafts hour ended up turning into a really amazing conversation between me and some of the campers. I loved getting to know you all and I was able to make a little Thank You note for each of my staff.
Katrina: Swagger 101 is my favorite activity we do at camp. I get to work with Gabby, my fairy godbrother, who truly brings the magic to every swagtastic morsel of advice dispersed. An hour before our workshop started, we brainstormed in our cabin, pacing back and forth debating over the do's and don't's of picking up chicks, and when we were finally ready, we dressed to the nines, because you deserve it like that.
Gabby: Here's how that went:
1) Ask everyone to write down their one major insecurity/issue in approaching someone they like/ think is hot. Collect written answers in a thing.
2) Admit to campers old feelings of worthlessness, not measuring up to any beauty/desirability standards, crazy awkward feelings – all of the things that ever made me or katrina doubt our ability to talk to chicks, people and/or queers in dark bars
3) Pick some of the answers. Role-play scenarios with A-Campers/mostbeautifulgaybabyarmy
4) Talk shit. Mean it.
5) Questions from campers trump all other things on list.
6) Wingpersonship: A Study on Gentlequeers and the Art of the Wing.
7) Be Yourself and not a D-Bag
8) Feelings are great. So is subtlety.
9) Get up, ya'll. Look at each other. See possibility and beauty in everyone.
10) Confidence is for everyone.
11) Compliments should be original. They should never be insulting or corny, unless they're nerd-cute-corny then you just might win a girlfriend.
12) Go get yours.
Katrina: Gabby and I usually open up this workshop by talking about why we're qualified to be doing so. I still don't totally have an answer for this. I think it's probably something along the lines of "because being shy is hot." But mostly I felt qualified to run this workshop because girls make me really nervous too! Sometimes you have to put the talk before the walk, I guess, because once you set expectations, you have to live up to them, right? I think what I'm trying to say is: "I'm qualified because if I can do it, then so can you."
Gabby: For me, the best part, the most crucial part about running the Swag workshop is that it provides the space needed to discuss the awkwardness and the crippling fear of rejection embedded in our social interactions.
Katrina:  It's like a 1.5 hour practice session in verbal wingmanning. The turnout was great and so exciting. I found out that I'm still vaguely terrified at speaking in front of large groups of women (get at me though). But I also found out that a little inner confidence goes a long way, which I think was the point of this whole thing anyway.
Gabby: There is no other place where a large group of queer women can tell their stories and ask stutter-inducing questions about girls in an environment that is both public and private. We exist together but there's still a certain level of anonymity in just being at camp, mainly because so many of us don't know each other. Camp is where we meet and there isn't any bullshit yet. We can still nerd out, share ways to compliment someone, talk about femme invisibility, role play it out and have some fun. Everyone deserves to feel sexy, confident, dashing and like they can go up and talk to anyone they want. For some people that just comes naturally but the rest of us have to work on ourselves and our game. This is the space for it and looking at all the queers that came out to hear what Katrina and I had to say, ya'll are putting in the work and looking damn good.
Katrina: Yo, camp can get pretty heavy, and I really like that because I believe that talking about serious/personal issues in a safe space is totally imperative to the camp experience and also good for everyone's little hearts. However, we do sometimes need a break that isn't whiskey-related, and that's Swagger 101 for me.
Gabby: I hope the Swag workshop was a success beyond camp. Like speed dating, my hope is that it gave everyone in attendance the ability to just say hello, maybe get kissed, get consensual breathless sex and even fall into magical neon rainbow love or something. Something good.
Camper Quote: Swagger 101 was one of the highlights of camp for me. I learned so much and gained so much confidence. Thank you Gabby and Katrina! I was using the wing-queer tips successfully within an hour after the workshop.
Crystal: The highlight of my afternoon was roaming around with Riese's camera. I encountered a group of super cute and diversely dressed campers — Ambra and Dana were wearing bikinis, Martina was rocking a blazer, Sara was wearing a neck tie and vest and Chloe was sporting her team colors — chilling out under some trees, sharing stories about Pride. It was a really special 'only at A-Camp' moment.
Carrie: Croce's staff schedule said she was supposed to be "making eyes at people" but it should've read "Croce walks around while everyone makes eyes at her." We checked out the Swagger workshop and then hung out with the Golden Girls at the pool.
Carmen: Sophia, Fonsexy, Geneva and I ended up all sitting in the sun sprawled out on towels drinking Coors Light with the Golden Girls cabin and let me tell you this now before I say another word – it was the fucking highlight of my trip. Even if I was questioned about whether or not I would "ever get my voice back."
Carrie: They'd somehow managed to get a cooler of beer on the pool deck even though ice was in short supply on the mountain. They're amazing. The Golden Girls ran out of fucks a long time ago.
Cee: Yup, my cabin paid extra to have the pool open all afternoon because they're clearly the best cabin ever. I hung out by the pool for a bit with everyone which was nice and relaxing.
Riese: [it's $75/hour to have the pool open because of their lifeguard, which is why we didn't already have free swim all the time!]
+
Block D
Friendship Bracelets w/Meredydd & Laura
Andro/Butch Style Workshop w/Carly, Alex, Sara Medd & Fonseca
Queer Women of Faith Panel w/Marni, Whitney, Morgan, Haviland, Gabby & Jill
Dealing With Isolation and Finding Community w/Guest Facilitator Sara Evan
Spooning Workshop w/Stef & Katrina
High Tea w/Laneia & Rachel
Riese: For most of the days leading up to camp, Robin, Marni and I did not believe that The Spooning Workshop was a real thing. I think we kept "leaving it off the schedule."
Stef: Last camp, Taylor and I had a private joke that there was a spooning workshop going on in both of our bunks and that admission was extremely limited. Imagine my surprise when this time around, the powers that be actually allowed me to make my dream panel a reality.
Katrina: I went straight from the swagger workshop to the spooning workshop, which I think is ideally how it goes in life anyway. This was definitely my biggest "what in all the world is going on right now" moment. One week I was in Brooklyn on my couch with Stef, diligently taking notes for the workshop while in the spooning position, the next I was in the mountains, being spooned on the floor of a lounge, lecturing about it to a group of queers. I only hope that my academic career may be so successful.
Stef: Once I got over my abject panic, Katrina and I pulled together a curriculum encompassing all the finer points of cuddling – positions, strategies, techniques, and other important factors.
Katrina: The turnout was pretty big, I think because of the obnoxious ambiguity we insisted upon attaching it. When someone asked me what exactly our workshop would consist of, I would reply in a similar manner as when a straight person would ask me what lesbian sex is: "I can't tell you, you'll just have to come and find out."
Carrie: Stef summed up the workshop perfectly — "When you tell people you went to lesbian camp this is EXACTLY the kind of thing they imagine."
Stef: Sarah Croce was there, which is an endorsement if i ever heard one.
Sarah Croce: Katrina and Stef were hilarious and adorable.
Carolyn: When I walked in, there was this massive circle of people on the floor and Stef and Katrina demonstrating spooning in the middle of the floor. At one point a camp staff person walked in to change the water cooler, which was special.
Sarah Croce: I left early because I'm afraid of intimacy (and safe spaces), but I heard there was a sexy little spooning line following my departure.
Carolyn: Since camp I have mostly explained what you do at lesbian camp by explaining that this workshop happened. Everyone is awed by it.
Katrina:  Stef and I talked about the politics of big and little spoons, about when it is and is not appropriate to spoon an individual, and where the fuck to put your inside arm when being the outside spoon. I met some great cuddlers. I reclaimed the little spoon identity.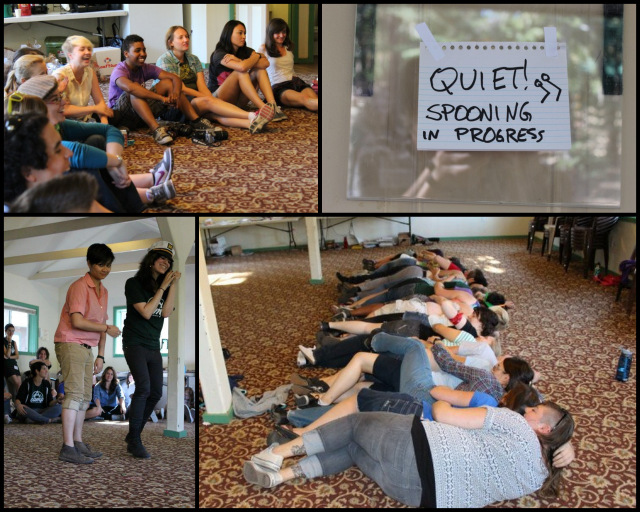 Stef: We gathered the girls into one giant spooning collective, and three Battlestars and one brave Unicorn laid there cuddling for probably a solid 45 minutes after the fact.  I'm just honoured to have made a difference.
Katrina: Yes indeed: we came, we saw, we climbed that mountain, and goddammit we spooned.
Camper Quote: I was super impressed by how much Spooning was actually educational, Stef and Katrina did a lot of preperation and also it was very funny.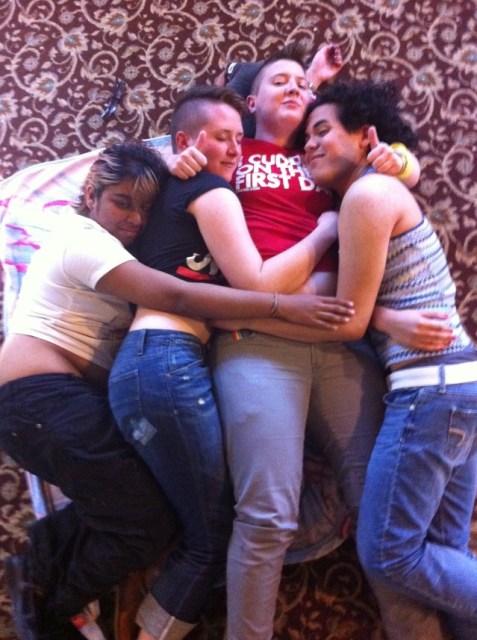 Fonseca, 21 Hump Street Counselor: I participated in the Butch and Andro Style Workshop with Alex, Carly, and stylist-to-the-stars Sara Medd. Talk about intimidating! I'm just a girl with a style tumblr that people happen to like.
Carly: OMG this was so fun. It was so awesome being in a room full of queer ladies who had a lot in common with me, sartorially speaking.
Fonseca: We talked a lot about the importance of tailoring, where to find clothing as a petite queer, and accessories that have a history.
Alex: Sara Medd, stylist to the stars, led a terrific discussion where basically everyone (audience included) shared their tips, tricks, and knowledge about how to dress ourselves dapperly/androgynously whilst avoiding the bullshit that is the gender divide in what's available in terms of our fashion choices.
Carly: I revealed my Personal Style Rules and in doing so, exposed myself for the actual crazy person that I am. But it was well received, so much so that several campers said they'd love to see me write more style pieces for the site, so look out for that in the relatively near future.
Sara Medd: We talked about bowties, butch-sexy underwear, the importance of tailoring, and some of the best places to find menswear that fits a more feminine shaped body.
Fosenca: Everyone who showed up already looked amazingly dapper; I honestly couldn't figure out which side of the room should be doling out advice.
Carly: Between this and the gender panel, I noticed a small group of dapper campers forming, and I started lovingly referring to them as the Tiny Carly Army. One of my most heartwarming life experiences.
Mary: Robin and I sat in on half of the workshop. I learned I need to tailor everything and my sleeves need to stick out more. A QUARTER INCH! Then Robin, Mollie and I went swimming!!!!!! Then Robin and I went back to make weird faces in the window behind the Andro/ Butch Style Panel people.
Camper Quote: The Andro/Butch Style Workshop was my favorite. I think it was the first time someone said to my face that how I prefer to look and dress is perfectly fine.
Jill: The Queer Women Of Faith Panel was my first panel so it was my first encounter with ALL THE FEELINGS. I'm bringing boxes upon boxes of Kleenex to next camp let me tell you.
Marni Kellison, Camp Co-Director/Contributor: My entire background in camps comes from the decade I spent working at a small, Presbyterian summer camp, so I was really happy to be able to share that experience and what it means for me to be queer and "of faith," and how that's evolved over time. It was never a problem for me that I was gay and running a Christian camp, which isn't necessarily a super common experience, so talking about that was great.
Whitney: I spoke a bit about how I'm just starting to open up again to the concept of faith and God after years of feeling alienated from the church because of being gay. I'm starting to search and find out for myself what God means and what faith means and piecing together what religion means to me as a queer woman — not as a place of judgment and rejection but as a place of love and self-acceptance.
Jill: I discussed how I keep rocking the Catholicism, because where I come from, the Catholics are the liberals fighting for truth, justice, compassion, and the right to drink beer.  So I'm proud to continue the tradition!
Gabby: It was awesome learning about the faiths or faith-based upbringing of fellow staff but I didn't feel connected to the panel until the audience spoke up. Camper participation made the dialogue spring alive in very real ways. It made my experience of being a frightened kid in a fundamentalist church seem less rare and strange. When people opened up I felt like we were making connections beyond being queer.
Whitney: There were two audience members who stood up and spoke at length about the rejection they experienced from their church communities because they were gay, but still these two women continued to have faith. Their unwavering strength and courage really spoke to me and gave me a sense of who I want to be as a queer woman of faith — loving, kind and solid.
Gabby: We had our own Pentecost. Those are my words and obviously not everyone was Christian, Jewish, Muslim or connected to any sort of religion or god. I don't even know what my identifiers are in this area. When I say Pentecost, I just mean spiritual communion. I haven't felt that in so very long.
Marni: The campers who shared their own stories were so moving.
Gabby: Without going into too many personal details of the panel, I'd just like to thank Launa and Lainie for their unabashed honesty and willingness to reach out to people they didn't know. That's why we do this.
Riese: I was sad to have missed this and I think we need some Jews up in there if we do it next time. (I'm looking at you, Vanessa!)
Camper Quote: The Queer Women of Faith Panel was very moving and just wonderful to be around people with shared experiences and deep feelings about what it means to have faith and be queer.
Rachel: Friday was our last High Tea, and honestly, we were spent. I don't even know how we got anyone any tea at all. I think we were out of teabags. Coffee filters may have been employed. Really, I was mourning not being able to go to the spooning workshop the whole time. I'm so good at spooning, you guys. But I could always get better.
+
III. Sunrise, Sunset
Evening Entertainment:
Fister Spit Reading w/Riese, Laneia, Rachel, Whitney, Gabby, Carmen, Laura & Katrina
Capture the Flag w/Robin
Bright Lights Big Campground w/Haviland Stillwell, Marni, Alex, Ashley & Stef
Riese: I felt like the Staff Reading on Friday night, which I'd dubbed "Fister Spit," was a good opportunity for me to slice my heart open and pass it around by reading an essay I'd published pseudonymously six years ago about something kinda huge in my past that I don't talk about on the internet. It was gonna be a big huge surprise for the audience and even some of my friends, wheee! I'd been editing it compulsively, and after Formspring Friday I beelined for my room but encountered Runagay Naomi on the way and we sat on a rock and talked about my feelings, and then I spent the next three hours in my room, "sipping" whiskey and listening to Ani and editing.
Carmen: This dinner was the moment in which I realized I was about to spill my guts to a room full of anonymous campers and probably vomit and die everywhere. I ate heavily in preparation for what drinking would ensue before and after.
Sara Medd: Somewhere between the workshop and dinner and evening activities, I was starting to feel really drained and exhausted and full of feelings.
Marni: Friday was the day that my body stopped responding to basic commands. Three days of sleep deprivation, altitude weirdness, dehydration, running around non-stop and rarely getting a chance to sit down and eat at meals culminated in my turning into a crazy zombie who could barely form coherent sentences. Thankfully Sara Medd made me mainline some chicken breasts at dinner (which I ate with my hands like a caveperson) and I felt a lot better.
Sara Medd: I don't know if I was the only one who was having a hard time so early on, but I made myself a vodka-something and ended up in Brandy and Julie's room where they inadvertently became my safe place to download a little. Bless them for that necessary moment.
Brittani Nichols/Contributing Editor: Because sometimes the world is awesome, I got a gig associate producing a pilot a couple weeks before camp. And because the world isn't fair, that meant I'd be M.I.A. the majority of camp. I'd spent so much energy not thinking about all of the things I was missing that piece by piece my brain had flown to the mountain without me even noticing and the rest of me was just existing in the non-camp world without any major grumblings because that really wouldn't have gotten me on that mountain any faster. The only grievance I allowed myself to air to myself was missing Julie and Brandy's Game because that is obviously this predicament's biggest casualty. I thought I would roll into camp and no one would notice… except probably Carmen.
Brittani: Howevs when I got there Laneia spoke more words to my face than I think she had the entirety of last camp and I immediately stopped feeling like I was going to be intruding on the love bubble everyone had already been living in since camp began. I then delivered Carmen and Sophia packs of cigarettes I bought for them in LA even though they are against my personal code of conduct. But when Carmen Rios wants cigarettes, you get cigarettes.
Marni: My big focus on Friday was getting ready for Haviland's Show. It wasn't entirely clear to us exactly how it was all going to come together – this ensemble of acoustic guitars and a drum machine and Haviland – but we trusted the vision and knew that it would be great. We spent lots of quality time hunched over chords scrawled on napkins.
Stef: Right after dinner, Haviland, Marni, Alex, Ashley and I gathered in Eagle to practice a bit while Grace and Carly set up all the techy things.
Marni: Alex, being the killer drummer that she is, only got to go through each song with us about once and managed to work out her drum lines for the whole set on just that. Just to make things super fun, the pickup on my guitar suddenly decided to stop working right as we were starting, but I had brought a weird other pickup for the soundhole of a classical guitar and Grace and I figured out a solution. God I love Grace so much.
Stef: We rehearsed until I felt like a well-oiled Dolly Parton cover machine, and then the staff reading happened and everything was so emotional that my brain exploded and I forgot how to play all the songs.

Next: Everybody spills their guts on the floor!
Fister Spit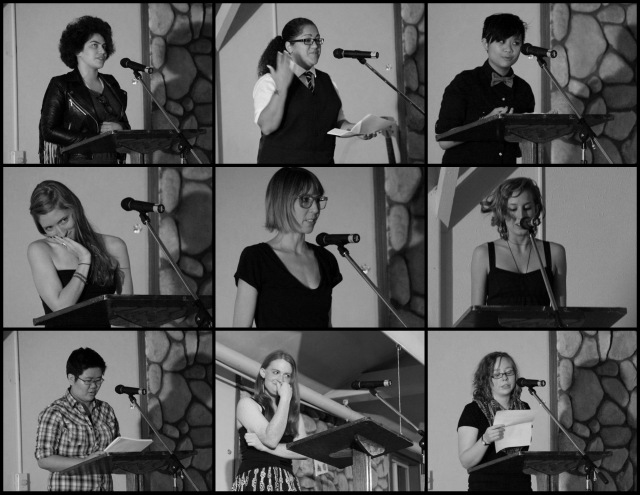 Riese: I'm not a party-planner or a panel-planner or a workshop-planner or really an anything-involving-live-humans planner, but READINGS! I've been doing readings for like 15 years and had this idea to do one at camp and everybody thought I was crazy. I guess it sounded boring? "Reading."  It was actually the first A-Camp event besides various trivia situations that I completely envisioned and organized myself. My initial proposal involved it being "coffee-house style" with candles and little tables, and Alex and Robin and Marni made fun of me about the impossibility of my little tables vision a lot. I even made programs and was very proud of myself. Also, I really thought it'd be a nichey thing that maybe 50 people max would be interested in.
Rachel: After dinner was time to get ready for the staff reading, aka freak out enormously. Although I've read my work out loud to people before, they were usually small, bored crowds, and everyone listening was just there in a general way. I never felt like anything I wrote would be scrutinized too carefully. But I was pretty sure people who came to this reading would actually be listening. Also, it's not that often, honestly, that my real-world life where I'm a grad student, fiction writer and teacher of freshman comp intersects with the one where I write and edit articles about vibrators and ex-gay therapy on the internet. It felt weirdly like your best friend meeting your significant other for the first time — what will happen when the streams cross?!?
Laneia: Basically, even though I feel like the least qualified person to be at a reading and I have zero experience with this medium, I was not scared at all and only mildly arsed that I would need to find something to read.  Then! When we actually got to the mountain, Riese and Rachel were like "Oh my god the reading. I'm so nervous about the reading. What am I going to read?? I have to edit my piece! I have to make sure it's not too long! Excuse me I have to go do things for the reading! Reading! Piece! Edit excerpt!" And I was like, "Should I be nervous about this??" And then, without any warning or reason, I was. I was fucking nervous. I was so nervous that I almost threw up. I couldn't tell when people were talking to me because I was too nervous thinking about whether or not the piece I'd settled on would even be relevant. I'd forgotten to print it off before we left, so I spent High Tea and most of the dinner block copying the piece onto notebook paper by hand.
Riese: Morgan approached me shortly before the reading and said she'd heard about it and wondered if she could participate, too — she wanted to read the story from our Coming Out Panel post. I said, "do you have a black shirt with you?" and she said, "I do and I have a black and white swishy skirt!" and I said, "go change, you're in."
Morgan: I'm thankful that, when I asked to be a part of it at the dead last second, I was welcomed in without hesitation among a group of writers I'd admired a long while from afar.
Laneia: After dinner, Megan took me to Falcon so I could practice in front of a very small, forgiving and patient audience (her). I tried to convince myself that it would be just like a dance recital, which should've calmed me down because I've done so many of those, but really it just left me dealing with the disbelief that I'd ever been on a stage and shown everyone my actuality — how the hell had I done that?
Riese: Since I was editing until the very last moment, I was gonna have to read straight off my laptop, which was gonna be interesting. I sort of rotated between muppet-face and slack-jaw as the room filled up. I'd only made 75 programs!
Whitney: Riese was sitting next to me and told me, "I thought there would only be 30 people here!" but the entire room was packed to the brim with the entirety of A-Camp.
Crystal: This was the event that I had most been looking forward to at camp, I was so excited.
Laneia: Riese sold it to me using words like 'intimate' and 'small' and 'like maybe 20 people will show up.' For some reason I was imagining that everyone would sit in the floor and we'd sit on the stage, and it would feel like being in a bedroom or our cabins.
Riese: It actually ended up being the most popular event of the weekend. Oops.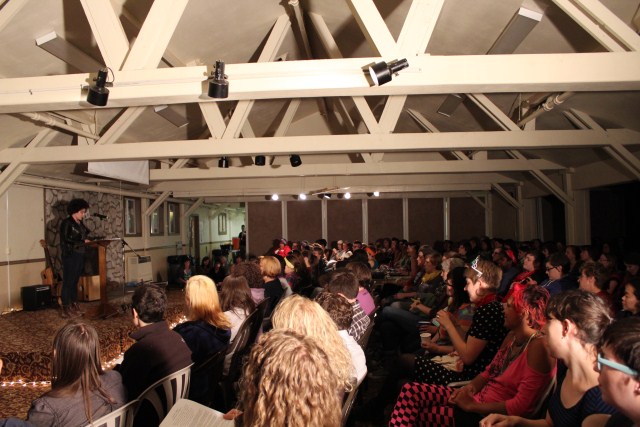 Gabby: All the staff presenters I spoke to before this reading were dying of the nerves. It was amazing. I mean essentially this is what we all do and why we are here. Because we write the things and then share them with the people. Right? Yeah but take away the computer screen, the long distances and the anonymity of others and boom, you have an 18-bunk cabin full of freaked out A-camp staffers. Adorable. Oh, yeah, I was one of them too but mostly I was just super excited to hear everyone read in their voice.
Morgan: Laneia whispered to me how awesome it was that we were all nervous as hell, and if I hadn't been nervous as hell at the time I totally would have been able to appreciate it.
Whitney: Many "I love you"s were said beforehand, many hands were clasped on shoulders, many kind words were shared between us, and some of us had a sip of whisky to prepare.
Riese: After much deliberation, I'd gone with whiskey instead of Xanax.
Sara Medd: I wasn't sure if I would be able to emotionally handle an hour or so of hearing more heavy subjects at this point in the day, but it was something I knew I should support so I went, and just made sure I was surrounded by people I could cry to if necessary.
Riese: Everything looked perfect, everybody was in black and Katrina and Gabby were extra-dapper  and I actually started to feel anxious in a good way — anxious to tell my story and see if it mattered to anybody, but I was anxious to hear everybody else too — especially those I'd had to strongarm into participating 'cause they'd never read before, like Laura, Katrina and Laneia. I was eager to see them show themselves what they could do, and what I've always known they could do.
Laneia: There's no way I would've done the staff reading if Riese hadn't made me (this is a theme of our friendship, actually).
Riese: Rachel read fiction! Rachel's in an MFA program for fiction, and I'd never read her fiction before, so that was awesome, seeing this whole other side of her lovely brain. I want to see more!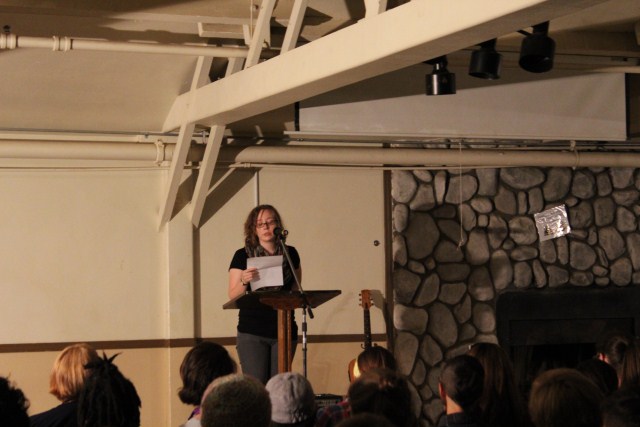 Laura: You guys, I was so nervous for the staff reading, but it ended up being one of my favorite parts of camp. I mean, I did something that terrified me and liked it and I got to hear the brilliant people I work with read things that they've written in the voice that I'm supposed to hear them read. Realizing that I know all these people who do incredible things made me so proud of them and made me smile to myself because sometimes I can't believe I'm so lucky.
Laneia: Laura stood on her tiptoes the whole time and it suited her excerpt perfectly.
Riese: Laneia read one of my favorite blog posts of hers, I remember the first time I read it, thinking Laneia's got a book in her. One day I will force her to write that book.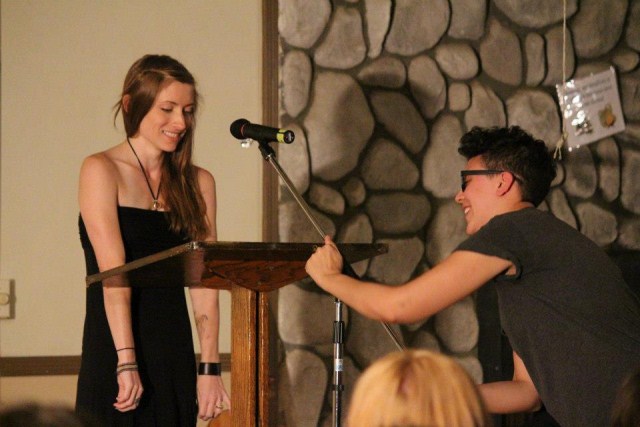 Katrina: This was my first reading ever, and I was super nervous about it. I wasn't sure what this was going to be like. I think I've always wanted to be someone who wrote edgy lesbian poetry. Like I wanted to stand on a stage maybe scantily clad announcing something like, "Thank you, this next poem is called 'Sidecar Pussy.'"
Carly: I adjusted the mic stand a lot during this event.
Katrina: Sitting in this row of incredible writers and peers who I've always loved and respected and admired was sort of wracking on the nerves, but I think everyone was in a similar place, and what I felt most strongly was excited and flattered that anyone would want to listen to my words.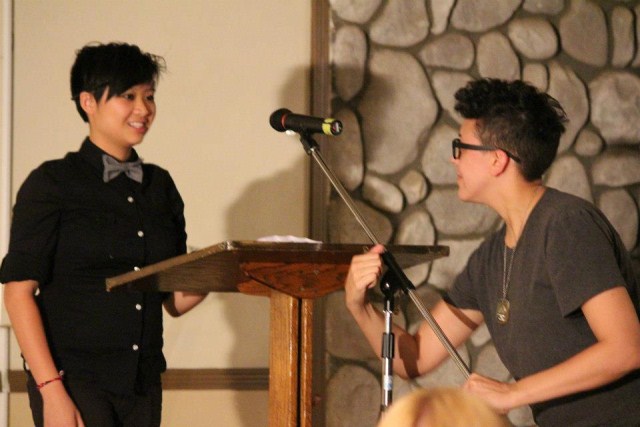 Katrina: For this reading, I meant to write an essay called "I Did It For Love," which which was going to be roughly 1000 words about pretending to understand art to impress girls, but I never wrote this piece because I still don't understand art, and am not sure if I have the words to explain that yet. So I did the only thing I could do. I read "No Fucks to Give." And even though I was so nervous that I couldn't feel the right side of my body, I had so much fun.
Gabby: EVERYONE went A-Camp crazy for Katrina and her "No Fucks" piece which is pretty much the A-Constitution, right?
Whitney: When it was my turn to go on stage, I my hands were shaking, and I was absolutely sure that I would cry. I read a narrative poem titled "A Goodbye Note to my Mother" — I wrote it to come to terms with how difficult and strained my relationship with my mom has been for five years. My voice cracked. Reading the piece made me feel completely laid bare. And when I finished reading, there was silence for about seven seconds before the applause. And I then I finally exhaled.
Laneia: Whitney's little heart was right there for all of us to see.
Crystal: Everyone's readings were so special, I was moved by all the words and admired them so much for standing up on stage and sharing them.
Morgan: A-Camp is a something-for-everybody kind of shindig, but this truth seemed to be most self-evident at staff reading. A black and white attire affair in front of most, if not all of, camp where we read treasured personal pieces. I don't know if staff there gathered has ever been cuter or more real to me.
Sara Medd: I'm so glad that I went. All of the readings were beautiful and inspiring, but if for no other reason, I know that I was meant to be in that room to hear Morgan's piece. I have so much love in my heart for Morgan and she looked so beautiful up on that stage.
Gabby: Morgan made everyone cry. Like her piece should have been called "the most beautiful love story you will ever hear in your life".
Marni: Morgan practically made me start weeping openly.
Gabby: I have to admit that when Carmen said she had 8 pieces to read, a vein in the side of my forehead twitched. I was like "Oh Lawd, we 'bout to be here FOREVERRRRR." I'm an asshole. Whatever, but but but then Carmen did her thingggg. She read 8 tumblr posts about a relationship and seamlessly took us through the nuances of that relationship without losing a moment. Succinct. Crisp. Beautiful. Love in a stream of consciousness. #clapclapbravogirl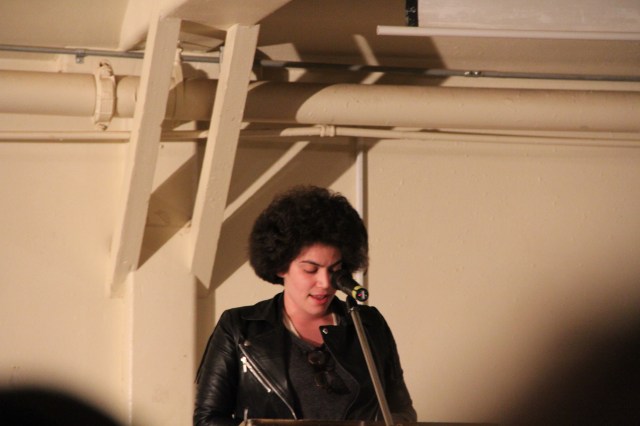 Carmen: I was wearing Sophia's jacket, which is the flyest thing I've ever seen, and I stole it every other night for the entirety of camp. I read eight excerpts from my secret tumblr (aka my feelings and short stories journal) and didn't vomit, die, or really do anything in-between. I never looked up, not once. And I had the distinct honor to read alongside my own favorite poet, Gabby Rivera.
Riese: I knew Gabby would be awesome because this is like, Gabby's thing. "Performance poetry" is definitely on the list of Top Five Things Gabby Is The Best At. The stuff she read really hit home, too, she always blows me away.
Laneia: Gabby is such a powerful person anyway, but with a mic in front of her she becomes this thing that's happening to you. Does that sound crazy? I cried so much when she read.
Gabby: For me, just sitting in a row surrounded by some of the people I love and respect the most in this world was enough to fill me with so much pride. All of the words spoken found a place in my heart. They connected my concepts of people to who they are in their quiet spaces. I didn't know family could feel like this.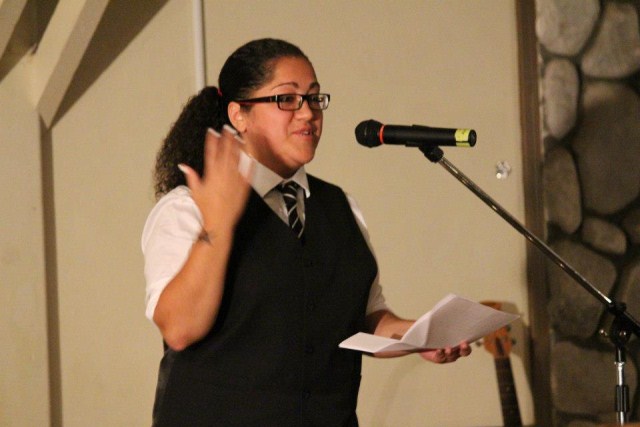 Laneia: When I know that Riese is about to do something big and honest and super real, my protective instincts kick in and I balance on the edge of all the seats and hold my breath and hope that everyone she's inviting into her world doesn't trash it after they get inside. I knew what her piece was going to be about and I knew how much it meant for her to share it with everyone there. I just hoped they got it — that being there made her trust them.
Marni: I was trying to take pictures all through the reading but I kept being stunned to silence by how beautiful and moving everyone was. And Riese, what can I say. Riese had been so nervous in the weeks leading up to camp trying to figure out what to do for the reading and would anybody like it, and she was just so perfect and brilliant. I was standing on the side, nervous but just so proud. I couldn't stop looking out over the room, amazed and humbled by all of it.
Rachel: Laura's poem was so bright and beautiful, and Katrina looked so good and made me feel so great about the world, Carmen was moving, Gabby made me cry, Laneia made me remember how big and weird and sad and good the world is, Morgan made me swoon, Whitney made my heart catch in my throat, and Riese made me feel every feeling. After it was over I was so overwhelmed with every emotion my heart knows how to feel that I had to go hide in the woods for like an hour and cry and wish I had a cigarette. In a good way, obviously.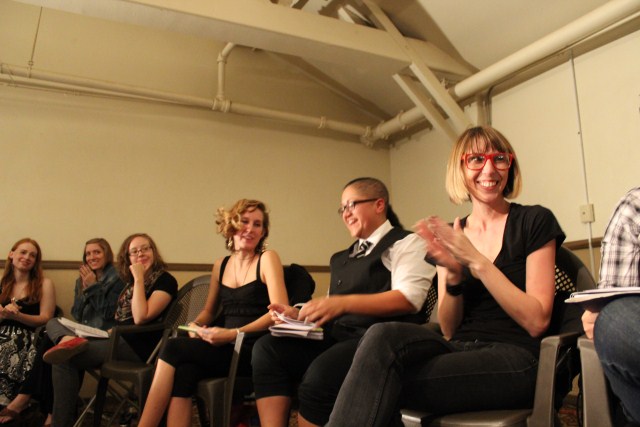 Carly: The staff reading was incredible and moving. I'm always so in awe of the writing and storytelling abilities of our staff, and I was especially proud of Riese for sharing her story.
Hansen: I held hands with Ali because I was positive that I was going to cry a lot. It was such an amazing moment for me because I was just really proud to be a part of Autostraddle and this group of incredible writers, on and off the actual website.
Mary: Everyone did a beautiful job. I honestly loved every single piece. I now tell everyone at work that I have no more fucks to give.
Whitney: Many people came up to me after that night to tell me that they were moved by my poem, and that they felt like it described their strained relationships with their mothers, their fathers, their elders. It meant so much to me that a piece of my own writing could resonate so clearly with people. This is why I love A-Camp — the community, the sharing, the knowledge that if I speak honestly and am vulnerable, people will listen and understand and in turn share their own stories.
Riese: So it was good, is what I'm telling you. In my head were tiny dancing pandas of love for the writers.
Laneia: I had to go outside and stand under a big tent until I could breathe again because it was all really overwhelming. Camp is just a different world sometimes. If the real world were that intense I think we'd all hyperventilate into comas.
Camper Quotes: 
"The staff reading was my favorite activity at camp. I still can't believe that happened. It was mind blowingly amazing! Everyone was so brave to go up and speak. It was incredibly cool to hear our favourite writers actually reading their work, especially something like Katrina's No Fucks article as that was one of the first articles I ever read from Autostraddle. Morgan left me in a puddle of tears but in such a good way. And Riese. Oh my god. She is so incredible and brave and I feel so incredibly lucky that we got to be a part of that moment for her."
"The staff reading…wow. That was easily the most powerful evening activity. Everyone was amazing! It reinforced why I love AS – you all are so transparent and share your lives with us, and we love you so hard for it."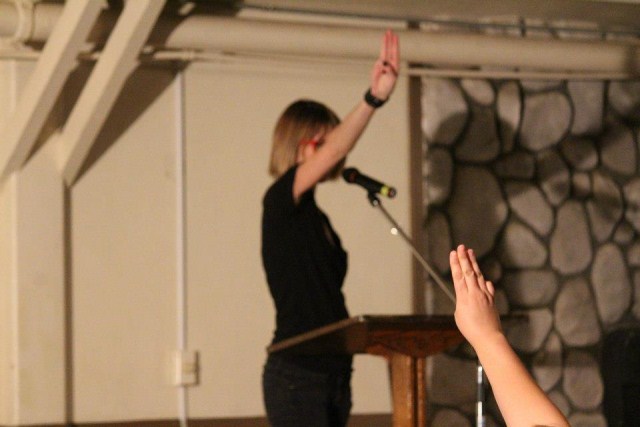 Next: Capturing and Singing and Clubbing!

Capture the Flag
Robin: Capture The Flag "apparently was socialism because I don't think anyone won" (-camper Lanie Hughes). Playing this game with my own color team was one of my favorite memories from camp when I was a kid. I just need another hour and a whole lot more light and next time, there will be a winner!!! :)  So many people wanted to play and the "jail" was so overcrowded we couldn't time anyone's stay, but if they wanted to swing around the stripper pole Mollie Thomas had left up there from dance class, they were set free right away!
Carrie: Robin assigned a bunch of us to be the "jailers" in Wolf Lodge for this game. We were supposed to make sure people stayed in the lodge for three minutes of their "jail time" before letting them leave.
Sarah Croce: This game wasn't sexy enough so we only let captives out on "good behavior" (read: pole dances).
Carrie: I'm glad real jail doesn't work like that, but it's the only way that lesbian camp jail should work.
Robin: I know it was a bit of a mess, but thanks for playing anyway! Maybe next time there should be a Hunger Games theme.
Bright Lights Big Campground
Carly: We juxtaposed the heaviness and feelings-ness of the staff reading with the subsequent event, Haviland & The Hav-Nots: Bright Lights Big Campground. This was a lot of fun, and was our first collective glimpse at Rockstar Marni, who gave me a lot of confusing feelings.
Gabby: I got to intro Hav & the Have-nots. I can now die a happy homo.
Mary: Haviland Stillwell really classed things up with her shiny, gold belt.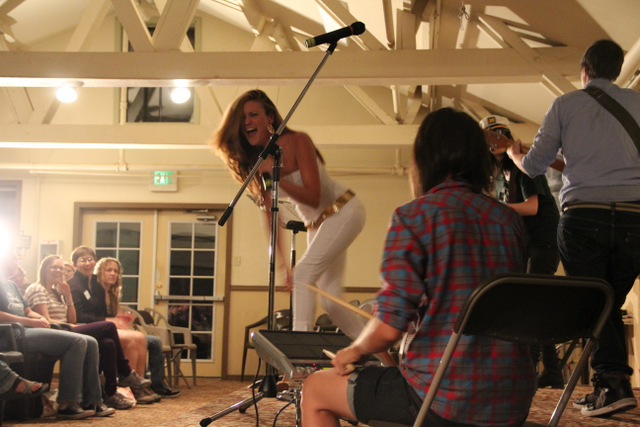 Crystal: I'm still laughing about the fact that Haviland and her band — Alex, Stef, Marni and Ashley — had named themselves 'Hav & The Hav Nots'. Genius. They were so fun to watch!
Riese: I knew Marni, Alex and Stef were all super-nervous about the Haviland Stillwell Family Funtime Variety Hour 'cause there hadn't been much time to rehearse but it was SO GOOD and fun! Haviland always keeps it pro — like she brings 150% to everything she does. As the hub of the chart-branch that brought those four together into each other's lives at various points in history, I loved seeing them all play together, and Ashley too! Also now everybody knows how hot and talented Marni is!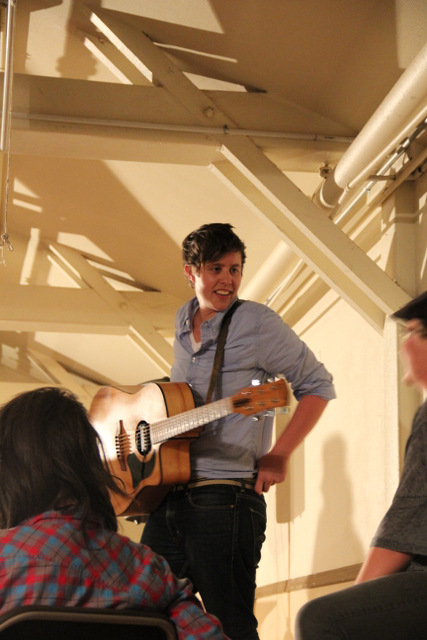 Marni: Seeing Haviland up there doing her thing, and having the chance to be on the stage jamming with her, Stef, Alex and Ashley was just so unbelievably fun. And kicking my leg in the air before starting the intro to Heart's "Crazy on You" was possibly the highlight of my life. I want to be in a band with Stef everyday.
Stef: Truthfully, I just wanted to play "Crazy On You" with Marni and her well-choreographed guitar kicks over and over and over again.
Riese: Also I was sitting on the ground with The Runaways, so it was winning all around.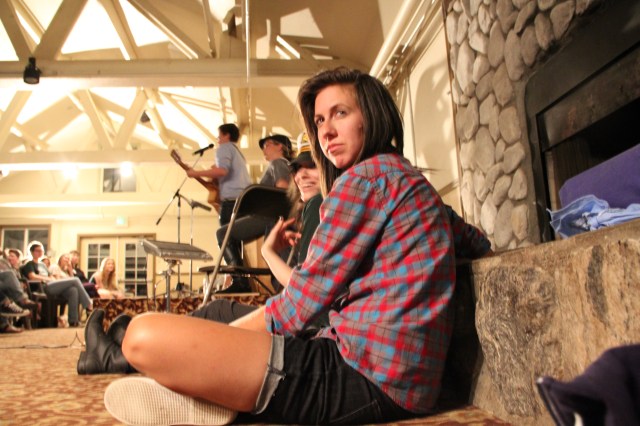 Riese: At the end, Marni and Haviland did the Indigo Girls' classic encore song "Closer to Fine" together, so now everybody knows that Marni is hot, talented, and can sing. Also because it was basically my lifelong fantasy coming true. YOU GUYS, CLOSER TO FINE! MY GIRLFRIEND AND MY BEST FRIEND SINGING "CLOSER TO FINE." I can't even.
Sara Medd: I think I giggled through this entire thing because of the irony of all the songs Haviland chose. I have to admit that they were all some of my favorite songs in life, and there is just something about Haviland performing that proves uplifting. Especially when wearing a white tube top. My favorite by far was "Crazy on You" by Heart. Haviland, please sing that song to me every day for the rest of my life.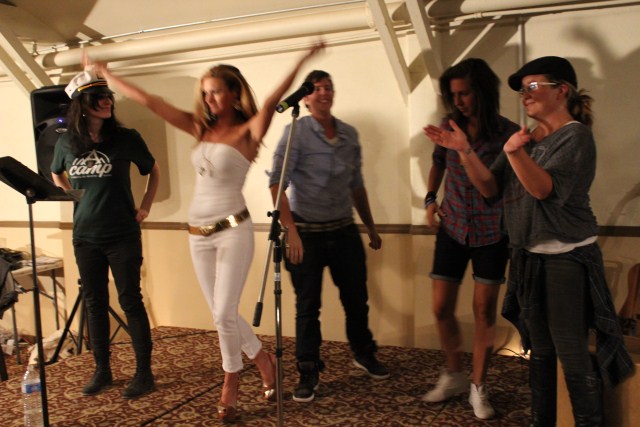 Brittani: I spent most of this time lamenting on the fact that I didn't know any of the songs being performed, wished I did. After this, I was introduced to the amazingness that was Klub Deer.
+
KLUB DEER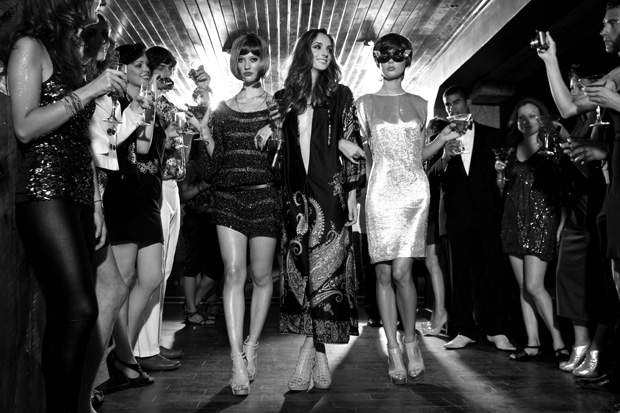 Carrie: On Friday I was in charge of late-night karaoke in Deer, but the microphone was confusing and no one wanted to sing so we decided to do a repeat of the previous night's dance party with help from Cee and Meredydd. This was when Deer Lodge officially became Klub Deer.
Sarah Croce: With borrowed speaker equipment, a Dinah DJ mix I had on my phone, wristbands from Forever 21 that Carrie and I had left over, endorsements from many popular staff members, a giant tube of lube, a twister board, and headlamp strobe lights: Klub Deer was born.
Carrie: The wristbands — I've never been so proud of an Oriental Trading Company purchase.
Cee: Carrie came into Wolf, where we were all hanging out, and kept saying there was a huge party in Deer and kept convincing people that's where the cool people were hanging out. We all showed up and it was completely empty. But somehow within 5 minutes, music was procured, the lights were turned low, headlamps were turned into strobe lights and Croce and Carrie were at the door with shades on looking like tough bouncers.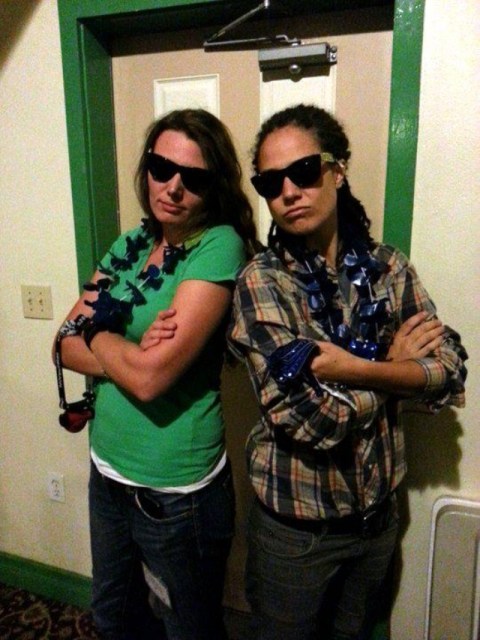 Meredydd: Nothing beats the sight of Carmen Rios trying to get through the crowd of campers going into Klub Deer and the bouncers making her wait for a wristband.
Carmen: Carrie and Croce opened Klub Deer so I felt I really had to be there, y'know? I'm kind of a big deal. No, actually I didn't get in for a little while and was embarrassed.
Stef:  I wandered into Deer in search of bourbon, only to be met by "security guards" asking, "Welcome to Club Deer, do you have a wristband?" Club Deer continued the previous night's tradition of headlamp-flickering, scandal-inducing dance party, but added Twister and lube.
Carolyn: We opened the windows and doors and then Robin came by and told us to we were being too loud and we had to shut it down. Club Deer was born.
Carrie: When it got really loud we kicked everyone out and the party moved to the Wolf Lodge, our rival club up the trail. #klubdeerforever
Stef:  It is an A-Camp nightlife staple that will live in infamy.
Croce: Please note: Klub Deer became the biggest prank to be pulled at A-camp yet. Because all 100+ people who attended the sexy dance party showed up to breakfast the next morning wearing BLUE WRISTBANDS. GO TEAM BLUE!
Laura: Renamed "cuddlingus" by our guest, Ms. Rachel Walker, the Bomb Girls spent Friday night practicing what we learned in the spooning workshop in a fort made out of trundle beds and  sheets. I can't tell you what kind of top secret stuff we talked about but I can tell you that we had the best named slumber party ever.
Crystal: I took a time-out in Riese's cabin and therefore only found out about Klub Deer after it had been shut down. It was all anyone was talking about the next morning!
NEXT TIME: Klub Deer makes flyers, we talk about sex, and enjoy a Show of Talent!
---
Before you go!
It takes funding to keep this publication by and for queer women and trans people of all genders running every day. We will never put our site behind a paywall because we know how important it is to keep Autostraddle free. But that means we rely on the support of our A+ Members.
Still, 99.9% of our readers are not members.
A+ membership starts at just $4/month.
If you're able to, will you join A+ and keep Autostraddle here and working for everyone?
Join A+
Pages: 1 2 3 4See entire article on one page