One time we had a fundraising campaign to hire the necessary tech support to keep our little-website-that-could alive. Y'alls support blew our $40,000 goal out of the water within 21 hours. Then this other time we wrote this post about what we would do at each fundraising milestone to keep the incentives coming, to keep you happy and give you things that you wanted.
We promised to make "You Do You" underwear when you got us to $50,000 and obviously you eventually got us WAY OVER THAT, so here we are making good on our word!
Our "You Do You" boybriefs are now available in The Autostraddle Merch Store!
The "you do you" is printed on the side of aqua-colored American Apparel Unisex Baby Rib Briefs. They're comfy and are some of the team members' favorite undies to wear. Next on our list of things to make for you are "Straddle This" boxer briefs (which I am excited about because I love American Apparel Unisex Boxer Briefs and I want to share the magic with you). So stay tuned for that!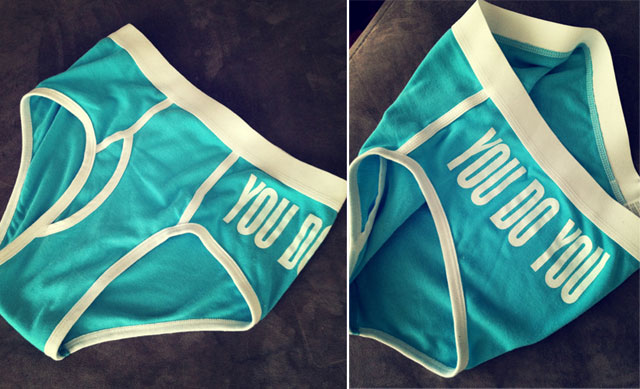 We're also happy to announce that brand new Unicorn Plan-It shirts are also now available in The Autostraddle Merch Store, and they're going fast. These 3/4 sleeve Raglan Baseball Shirts were very popular at Camp and are a fantastic opportunity to support the people who brought you the scissor bump!
See, it's hard to believe but I think the shirts make Sarah, Ashley, and Haviland hotter than they already are.
As always, thanks for your support! Here's that link one more time:
The Autostraddle Merch Store