II. Afternoon Delight
Block C
The Magical Elves w/Robin & Sara Medd
Sobriety & Substance Abuse Discussion Group w/Anonymouses
Swagger 101 w/Gabby & Katrina
Formspring Friday w/Riese, Laneia, Alex, Laura & Rachel
Flag Football w/Jill
Jill: Flag Football was pretty much a case study in Darwinian Evolution.  Only the strongest survived.  People fell onto rocks, had asthma attacks, were attacked by water fountains, ran head first into metal poles, and so on and so forth.  But I feel by the end we had a good game.  A-camp has some good quarterbacks and kickers let me tell you!
Laura: My face always turns a Grace-worthy shade of red at some point during Formspring Friday Live. This time was no exception. In other news, I feel like next time we should rename this panel Formspring Friday: The Opposite Day Edition because we had fun turning questions back on everyone there again this time.
Rachel: Formspring Friday is an event that involves both speaking about my own personal life and having the intimate details of others' personal lives revealed, and so it is a thing I associate with a mild amount of day drinking. But there was also the staff reading that evening, which would require a significant drinking commitment, and I really didn't feel like I could sustain a full day of being sort of drunk. This was a conundrum! But all was well, because this Formspring Friday actually turned out to be pretty doable, and I did not end up telling the story of the first time I had sex with a boy in high school, so that was an improvement.
Cee: Riese asked if I could hang out there in case anyone had any questions about the website. It turned out that many people did.
Alex: It always ends with us asking the audience questions.
Rachel: After all the work and worry of raising the money it was really satisfying to talk to actual people who care about the website and envision what it will all turn out to be.
Cee: I was happy to get feedback from everyone on what they were looking for in the redesign and possible ideas to improve the site. It also made me realize just how much everyone loves the site and how important my job in fixing it is. Yikes.
Rachel: Cee is really attractive when she's in her element as a supersmart web developer. (Also, at all other times.)
Riese: I loved that we had some time to discuss website stuff with Cee! BUT ALSO Real Talk – Formspring Friday was not awesome this time! We got through all the questions from The Formspring Box in about 20 minutes 'cause there weren't very many, and I kept being like, "well then, I guess we're out of questions!" thinking everybody would peace out and I could go obsessively edit my essay again, but I think they felt obligated to sit there for the full 1.5 hours, like that episode of Buffy where everyone wants to leave the house but are somehow unable to do so because of some kind of spell. It was weird.
Laneia: It made me a little sad.
Riese: I think um, the Formspring Friday ship has sailed into the horizon of A-Camps Past, but a "talk to Alex and Cee and me about what you want for the website" could be its own activity, because I genuinely enjoy those parts. Regardless, this aspect of the pre-show was cute:
Sara Medd, 21 Hump Street Counselor/Calendar Stylist: Robin and I wanted to be little Magical Elves and leave notes in boxes, so we gathered up all the zine-making supplies and made fancy little notes for people's pigeon holes.
Robin: This arts and crafts hour ended up turning into a really amazing conversation between me and some of the campers. I loved getting to know you all and I was able to make a little Thank You note for each of my staff.
Katrina: Swagger 101 is my favorite activity we do at camp. I get to work with Gabby, my fairy godbrother, who truly brings the magic to every swagtastic morsel of advice dispersed. An hour before our workshop started, we brainstormed in our cabin, pacing back and forth debating over the do's and don't's of picking up chicks, and when we were finally ready, we dressed to the nines, because you deserve it like that.
Gabby: Here's how that went:
1) Ask everyone to write down their one major insecurity/issue in approaching someone they like/ think is hot. Collect written answers in a thing.
2) Admit to campers old feelings of worthlessness, not measuring up to any beauty/desirability standards, crazy awkward feelings – all of the things that ever made me or katrina doubt our ability to talk to chicks, people and/or queers in dark bars
3) Pick some of the answers. Role-play scenarios with A-Campers/mostbeautifulgaybabyarmy
4) Talk shit. Mean it.
5) Questions from campers trump all other things on list.
6) Wingpersonship: A Study on Gentlequeers and the Art of the Wing.
7) Be Yourself and not a D-Bag
8) Feelings are great. So is subtlety.
9) Get up, ya'll. Look at each other. See possibility and beauty in everyone.
10) Confidence is for everyone.
11) Compliments should be original. They should never be insulting or corny, unless they're nerd-cute-corny then you just might win a girlfriend.
12) Go get yours.
Katrina: Gabby and I usually open up this workshop by talking about why we're qualified to be doing so. I still don't totally have an answer for this. I think it's probably something along the lines of "because being shy is hot." But mostly I felt qualified to run this workshop because girls make me really nervous too! Sometimes you have to put the talk before the walk, I guess, because once you set expectations, you have to live up to them, right? I think what I'm trying to say is: "I'm qualified because if I can do it, then so can you."
Gabby: For me, the best part, the most crucial part about running the Swag workshop is that it provides the space needed to discuss the awkwardness and the crippling fear of rejection embedded in our social interactions.
Katrina:  It's like a 1.5 hour practice session in verbal wingmanning. The turnout was great and so exciting. I found out that I'm still vaguely terrified at speaking in front of large groups of women (get at me though). But I also found out that a little inner confidence goes a long way, which I think was the point of this whole thing anyway.
Gabby: There is no other place where a large group of queer women can tell their stories and ask stutter-inducing questions about girls in an environment that is both public and private. We exist together but there's still a certain level of anonymity in just being at camp, mainly because so many of us don't know each other. Camp is where we meet and there isn't any bullshit yet. We can still nerd out, share ways to compliment someone, talk about femme invisibility, role play it out and have some fun. Everyone deserves to feel sexy, confident, dashing and like they can go up and talk to anyone they want. For some people that just comes naturally but the rest of us have to work on ourselves and our game. This is the space for it and looking at all the queers that came out to hear what Katrina and I had to say, ya'll are putting in the work and looking damn good.
Katrina: Yo, camp can get pretty heavy, and I really like that because I believe that talking about serious/personal issues in a safe space is totally imperative to the camp experience and also good for everyone's little hearts. However, we do sometimes need a break that isn't whiskey-related, and that's Swagger 101 for me.
Gabby: I hope the Swag workshop was a success beyond camp. Like speed dating, my hope is that it gave everyone in attendance the ability to just say hello, maybe get kissed, get consensual breathless sex and even fall into magical neon rainbow love or something. Something good.
Camper Quote: Swagger 101 was one of the highlights of camp for me. I learned so much and gained so much confidence. Thank you Gabby and Katrina! I was using the wing-queer tips successfully within an hour after the workshop.
Crystal: The highlight of my afternoon was roaming around with Riese's camera. I encountered a group of super cute and diversely dressed campers — Ambra and Dana were wearing bikinis, Martina was rocking a blazer, Sara was wearing a neck tie and vest and Chloe was sporting her team colors — chilling out under some trees, sharing stories about Pride. It was a really special 'only at A-Camp' moment.
Carrie: Croce's staff schedule said she was supposed to be "making eyes at people" but it should've read "Croce walks around while everyone makes eyes at her." We checked out the Swagger workshop and then hung out with the Golden Girls at the pool.
Carmen: Sophia, Fonsexy, Geneva and I ended up all sitting in the sun sprawled out on towels drinking Coors Light with the Golden Girls cabin and let me tell you this now before I say another word – it was the fucking highlight of my trip. Even if I was questioned about whether or not I would "ever get my voice back."
Carrie: They'd somehow managed to get a cooler of beer on the pool deck even though ice was in short supply on the mountain. They're amazing. The Golden Girls ran out of fucks a long time ago.
Cee: Yup, my cabin paid extra to have the pool open all afternoon because they're clearly the best cabin ever. I hung out by the pool for a bit with everyone which was nice and relaxing.
Riese: [it's $75/hour to have the pool open because of their lifeguard, which is why we didn't already have free swim all the time!]
+
Block D
Friendship Bracelets w/Meredydd & Laura
Andro/Butch Style Workshop w/Carly, Alex, Sara Medd & Fonseca
Queer Women of Faith Panel w/Marni, Whitney, Morgan, Haviland, Gabby & Jill
Dealing With Isolation and Finding Community w/Guest Facilitator Sara Evan
Spooning Workshop w/Stef & Katrina
High Tea w/Laneia & Rachel
Riese: For most of the days leading up to camp, Robin, Marni and I did not believe that The Spooning Workshop was a real thing. I think we kept "leaving it off the schedule."
Stef: Last camp, Taylor and I had a private joke that there was a spooning workshop going on in both of our bunks and that admission was extremely limited. Imagine my surprise when this time around, the powers that be actually allowed me to make my dream panel a reality.
Katrina: I went straight from the swagger workshop to the spooning workshop, which I think is ideally how it goes in life anyway. This was definitely my biggest "what in all the world is going on right now" moment. One week I was in Brooklyn on my couch with Stef, diligently taking notes for the workshop while in the spooning position, the next I was in the mountains, being spooned on the floor of a lounge, lecturing about it to a group of queers. I only hope that my academic career may be so successful.
Stef: Once I got over my abject panic, Katrina and I pulled together a curriculum encompassing all the finer points of cuddling – positions, strategies, techniques, and other important factors.
Katrina: The turnout was pretty big, I think because of the obnoxious ambiguity we insisted upon attaching it. When someone asked me what exactly our workshop would consist of, I would reply in a similar manner as when a straight person would ask me what lesbian sex is: "I can't tell you, you'll just have to come and find out."
Carrie: Stef summed up the workshop perfectly — "When you tell people you went to lesbian camp this is EXACTLY the kind of thing they imagine."
Stef: Sarah Croce was there, which is an endorsement if i ever heard one.
Sarah Croce: Katrina and Stef were hilarious and adorable.
Carolyn: When I walked in, there was this massive circle of people on the floor and Stef and Katrina demonstrating spooning in the middle of the floor. At one point a camp staff person walked in to change the water cooler, which was special.
Sarah Croce: I left early because I'm afraid of intimacy (and safe spaces), but I heard there was a sexy little spooning line following my departure.
Carolyn: Since camp I have mostly explained what you do at lesbian camp by explaining that this workshop happened. Everyone is awed by it.
Katrina:  Stef and I talked about the politics of big and little spoons, about when it is and is not appropriate to spoon an individual, and where the fuck to put your inside arm when being the outside spoon. I met some great cuddlers. I reclaimed the little spoon identity.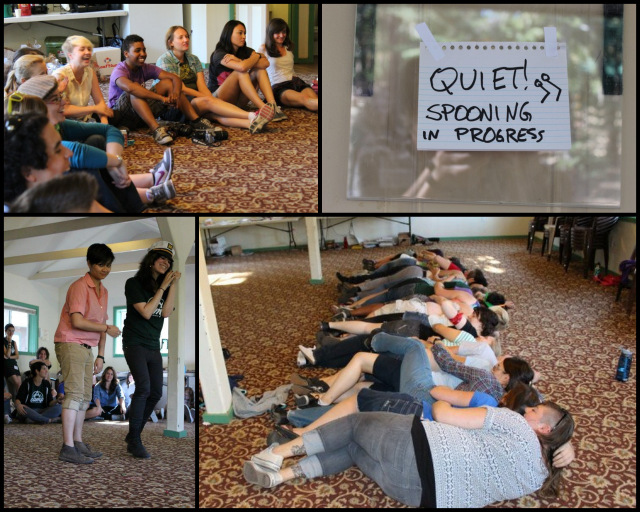 Stef: We gathered the girls into one giant spooning collective, and three Battlestars and one brave Unicorn laid there cuddling for probably a solid 45 minutes after the fact.  I'm just honoured to have made a difference.
Katrina: Yes indeed: we came, we saw, we climbed that mountain, and goddammit we spooned.
Camper Quote: I was super impressed by how much Spooning was actually educational, Stef and Katrina did a lot of preperation and also it was very funny.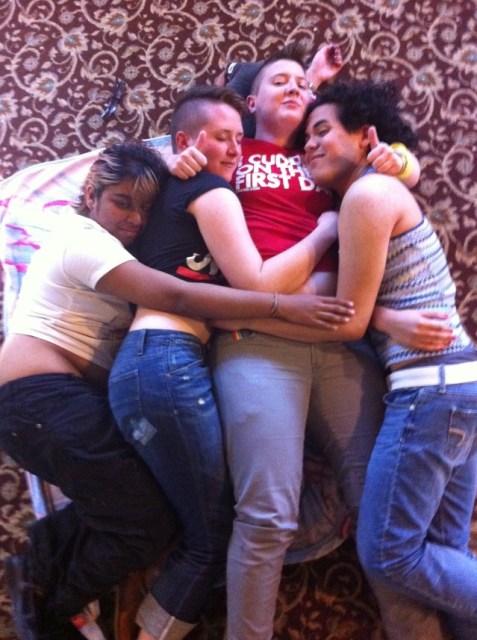 Fonseca, 21 Hump Street Counselor: I participated in the Butch and Andro Style Workshop with Alex, Carly, and stylist-to-the-stars Sara Medd. Talk about intimidating! I'm just a girl with a style tumblr that people happen to like.
Carly: OMG this was so fun. It was so awesome being in a room full of queer ladies who had a lot in common with me, sartorially speaking.
Fonseca: We talked a lot about the importance of tailoring, where to find clothing as a petite queer, and accessories that have a history.
Alex: Sara Medd, stylist to the stars, led a terrific discussion where basically everyone (audience included) shared their tips, tricks, and knowledge about how to dress ourselves dapperly/androgynously whilst avoiding the bullshit that is the gender divide in what's available in terms of our fashion choices.
Carly: I revealed my Personal Style Rules and in doing so, exposed myself for the actual crazy person that I am. But it was well received, so much so that several campers said they'd love to see me write more style pieces for the site, so look out for that in the relatively near future.
Sara Medd: We talked about bowties, butch-sexy underwear, the importance of tailoring, and some of the best places to find menswear that fits a more feminine shaped body.
Fosenca: Everyone who showed up already looked amazingly dapper; I honestly couldn't figure out which side of the room should be doling out advice.
Carly: Between this and the gender panel, I noticed a small group of dapper campers forming, and I started lovingly referring to them as the Tiny Carly Army. One of my most heartwarming life experiences.
Mary: Robin and I sat in on half of the workshop. I learned I need to tailor everything and my sleeves need to stick out more. A QUARTER INCH! Then Robin, Mollie and I went swimming!!!!!! Then Robin and I went back to make weird faces in the window behind the Andro/ Butch Style Panel people.
Camper Quote: The Andro/Butch Style Workshop was my favorite. I think it was the first time someone said to my face that how I prefer to look and dress is perfectly fine.
Jill: The Queer Women Of Faith Panel was my first panel so it was my first encounter with ALL THE FEELINGS. I'm bringing boxes upon boxes of Kleenex to next camp let me tell you.
Marni Kellison, Camp Co-Director/Contributor: My entire background in camps comes from the decade I spent working at a small, Presbyterian summer camp, so I was really happy to be able to share that experience and what it means for me to be queer and "of faith," and how that's evolved over time. It was never a problem for me that I was gay and running a Christian camp, which isn't necessarily a super common experience, so talking about that was great.
Whitney: I spoke a bit about how I'm just starting to open up again to the concept of faith and God after years of feeling alienated from the church because of being gay. I'm starting to search and find out for myself what God means and what faith means and piecing together what religion means to me as a queer woman — not as a place of judgment and rejection but as a place of love and self-acceptance.
Jill: I discussed how I keep rocking the Catholicism, because where I come from, the Catholics are the liberals fighting for truth, justice, compassion, and the right to drink beer.  So I'm proud to continue the tradition!
Gabby: It was awesome learning about the faiths or faith-based upbringing of fellow staff but I didn't feel connected to the panel until the audience spoke up. Camper participation made the dialogue spring alive in very real ways. It made my experience of being a frightened kid in a fundamentalist church seem less rare and strange. When people opened up I felt like we were making connections beyond being queer.
Whitney: There were two audience members who stood up and spoke at length about the rejection they experienced from their church communities because they were gay, but still these two women continued to have faith. Their unwavering strength and courage really spoke to me and gave me a sense of who I want to be as a queer woman of faith — loving, kind and solid.
Gabby: We had our own Pentecost. Those are my words and obviously not everyone was Christian, Jewish, Muslim or connected to any sort of religion or god. I don't even know what my identifiers are in this area. When I say Pentecost, I just mean spiritual communion. I haven't felt that in so very long.
Marni: The campers who shared their own stories were so moving.
Gabby: Without going into too many personal details of the panel, I'd just like to thank Launa and Lainie for their unabashed honesty and willingness to reach out to people they didn't know. That's why we do this.
Riese: I was sad to have missed this and I think we need some Jews up in there if we do it next time. (I'm looking at you, Vanessa!)
Camper Quote: The Queer Women of Faith Panel was very moving and just wonderful to be around people with shared experiences and deep feelings about what it means to have faith and be queer.
Rachel: Friday was our last High Tea, and honestly, we were spent. I don't even know how we got anyone any tea at all. I think we were out of teabags. Coffee filters may have been employed. Really, I was mourning not being able to go to the spooning workshop the whole time. I'm so good at spooning, you guys. But I could always get better.
+
III. Sunrise, Sunset
Evening Entertainment:
Fister Spit Reading w/Riese, Laneia, Rachel, Whitney, Gabby, Carmen, Laura & Katrina
Capture the Flag w/Robin
Bright Lights Big Campground w/Haviland Stillwell, Marni, Alex, Ashley & Stef
Riese: I felt like the Staff Reading on Friday night, which I'd dubbed "Fister Spit," was a good opportunity for me to slice my heart open and pass it around by reading an essay I'd published pseudonymously six years ago about something kinda huge in my past that I don't talk about on the internet. It was gonna be a big huge surprise for the audience and even some of my friends, wheee! I'd been editing it compulsively, and after Formspring Friday I beelined for my room but encountered Runagay Naomi on the way and we sat on a rock and talked about my feelings, and then I spent the next three hours in my room, "sipping" whiskey and listening to Ani and editing.
Carmen: This dinner was the moment in which I realized I was about to spill my guts to a room full of anonymous campers and probably vomit and die everywhere. I ate heavily in preparation for what drinking would ensue before and after.
Sara Medd: Somewhere between the workshop and dinner and evening activities, I was starting to feel really drained and exhausted and full of feelings.
Marni: Friday was the day that my body stopped responding to basic commands. Three days of sleep deprivation, altitude weirdness, dehydration, running around non-stop and rarely getting a chance to sit down and eat at meals culminated in my turning into a crazy zombie who could barely form coherent sentences. Thankfully Sara Medd made me mainline some chicken breasts at dinner (which I ate with my hands like a caveperson) and I felt a lot better.
Sara Medd: I don't know if I was the only one who was having a hard time so early on, but I made myself a vodka-something and ended up in Brandy and Julie's room where they inadvertently became my safe place to download a little. Bless them for that necessary moment.
Brittani Nichols/Contributing Editor: Because sometimes the world is awesome, I got a gig associate producing a pilot a couple weeks before camp. And because the world isn't fair, that meant I'd be M.I.A. the majority of camp. I'd spent so much energy not thinking about all of the things I was missing that piece by piece my brain had flown to the mountain without me even noticing and the rest of me was just existing in the non-camp world without any major grumblings because that really wouldn't have gotten me on that mountain any faster. The only grievance I allowed myself to air to myself was missing Julie and Brandy's Game because that is obviously this predicament's biggest casualty. I thought I would roll into camp and no one would notice… except probably Carmen.
Brittani: Howevs when I got there Laneia spoke more words to my face than I think she had the entirety of last camp and I immediately stopped feeling like I was going to be intruding on the love bubble everyone had already been living in since camp began. I then delivered Carmen and Sophia packs of cigarettes I bought for them in LA even though they are against my personal code of conduct. But when Carmen Rios wants cigarettes, you get cigarettes.
Marni: My big focus on Friday was getting ready for Haviland's Show. It wasn't entirely clear to us exactly how it was all going to come together – this ensemble of acoustic guitars and a drum machine and Haviland – but we trusted the vision and knew that it would be great. We spent lots of quality time hunched over chords scrawled on napkins.
Stef: Right after dinner, Haviland, Marni, Alex, Ashley and I gathered in Eagle to practice a bit while Grace and Carly set up all the techy things.
Marni: Alex, being the killer drummer that she is, only got to go through each song with us about once and managed to work out her drum lines for the whole set on just that. Just to make things super fun, the pickup on my guitar suddenly decided to stop working right as we were starting, but I had brought a weird other pickup for the soundhole of a classical guitar and Grace and I figured out a solution. God I love Grace so much.
Stef: We rehearsed until I felt like a well-oiled Dolly Parton cover machine, and then the staff reading happened and everything was so emotional that my brain exploded and I forgot how to play all the songs.

Next: Everybody spills their guts on the floor!
---
Before you go!
It takes funding to keep this publication by and for queer women and trans people of all genders running every day. We will never put our site behind a paywall because we know how important it is to keep Autostraddle free. But that means we rely on the support of our A+ Members.
Still, 99.9% of our readers are not members.
A+ membership starts at just $4/month.
If you're able to, will you join A+ and keep Autostraddle here and working for everyone?
Join A+
Pages: 1 2 3 4See entire article on one page