Capture the Flag
Robin: Capture The Flag "apparently was socialism because I don't think anyone won" (-camper Lanie Hughes). Playing this game with my own color team was one of my favorite memories from camp when I was a kid. I just need another hour and a whole lot more light and next time, there will be a winner!!! :)  So many people wanted to play and the "jail" was so overcrowded we couldn't time anyone's stay, but if they wanted to swing around the stripper pole Mollie Thomas had left up there from dance class, they were set free right away!
Carrie: Robin assigned a bunch of us to be the "jailers" in Wolf Lodge for this game. We were supposed to make sure people stayed in the lodge for three minutes of their "jail time" before letting them leave.
Sarah Croce: This game wasn't sexy enough so we only let captives out on "good behavior" (read: pole dances).
Carrie: I'm glad real jail doesn't work like that, but it's the only way that lesbian camp jail should work.
Robin: I know it was a bit of a mess, but thanks for playing anyway! Maybe next time there should be a Hunger Games theme.
Bright Lights Big Campground
Carly: We juxtaposed the heaviness and feelings-ness of the staff reading with the subsequent event, Haviland & The Hav-Nots: Bright Lights Big Campground. This was a lot of fun, and was our first collective glimpse at Rockstar Marni, who gave me a lot of confusing feelings.
Gabby: I got to intro Hav & the Have-nots. I can now die a happy homo.
Mary: Haviland Stillwell really classed things up with her shiny, gold belt.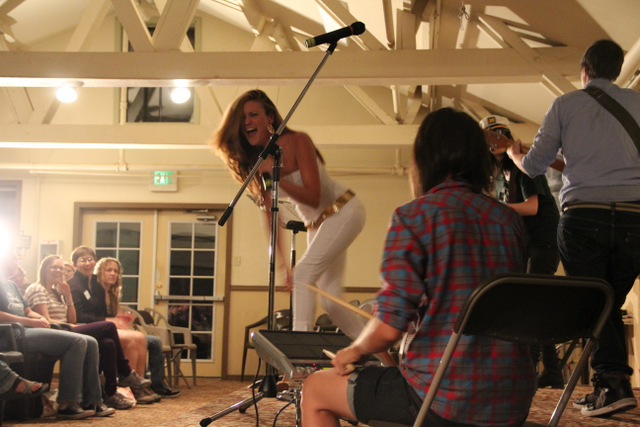 Crystal: I'm still laughing about the fact that Haviland and her band — Alex, Stef, Marni and Ashley — had named themselves 'Hav & The Hav Nots'. Genius. They were so fun to watch!
Riese: I knew Marni, Alex and Stef were all super-nervous about the Haviland Stillwell Family Funtime Variety Hour 'cause there hadn't been much time to rehearse but it was SO GOOD and fun! Haviland always keeps it pro — like she brings 150% to everything she does. As the hub of the chart-branch that brought those four together into each other's lives at various points in history, I loved seeing them all play together, and Ashley too! Also now everybody knows how hot and talented Marni is!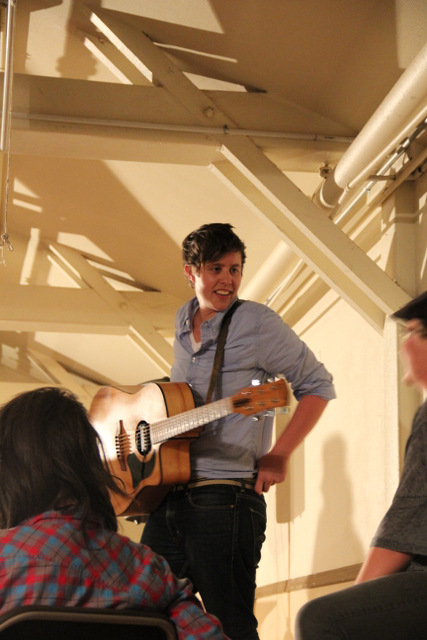 Marni: Seeing Haviland up there doing her thing, and having the chance to be on the stage jamming with her, Stef, Alex and Ashley was just so unbelievably fun. And kicking my leg in the air before starting the intro to Heart's "Crazy on You" was possibly the highlight of my life. I want to be in a band with Stef everyday.
Stef: Truthfully, I just wanted to play "Crazy On You" with Marni and her well-choreographed guitar kicks over and over and over again.
Riese: Also I was sitting on the ground with The Runaways, so it was winning all around.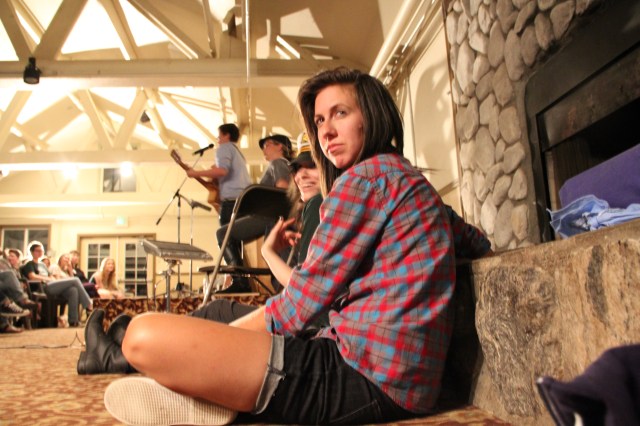 Riese: At the end, Marni and Haviland did the Indigo Girls' classic encore song "Closer to Fine" together, so now everybody knows that Marni is hot, talented, and can sing. Also because it was basically my lifelong fantasy coming true. YOU GUYS, CLOSER TO FINE! MY GIRLFRIEND AND MY BEST FRIEND SINGING "CLOSER TO FINE." I can't even.
Sara Medd: I think I giggled through this entire thing because of the irony of all the songs Haviland chose. I have to admit that they were all some of my favorite songs in life, and there is just something about Haviland performing that proves uplifting. Especially when wearing a white tube top. My favorite by far was "Crazy on You" by Heart. Haviland, please sing that song to me every day for the rest of my life.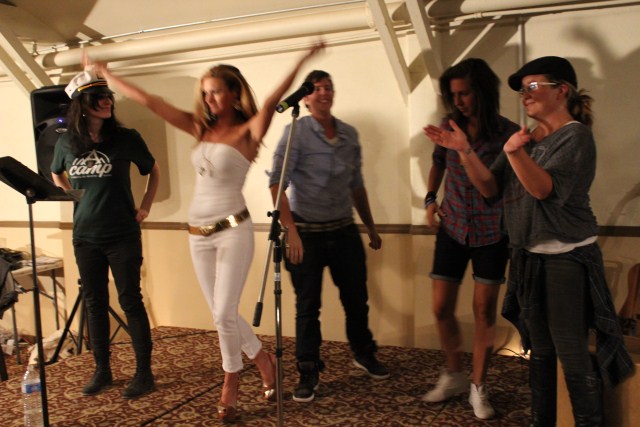 Brittani: I spent most of this time lamenting on the fact that I didn't know any of the songs being performed, wished I did. After this, I was introduced to the amazingness that was Klub Deer.
+
KLUB DEER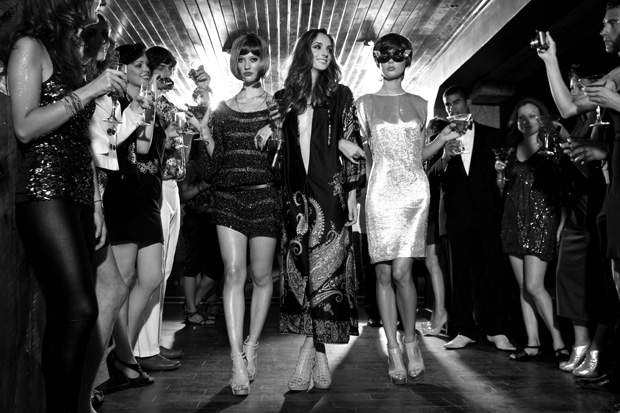 Carrie: On Friday I was in charge of late-night karaoke in Deer, but the microphone was confusing and no one wanted to sing so we decided to do a repeat of the previous night's dance party with help from Cee and Meredydd. This was when Deer Lodge officially became Klub Deer.
Sarah Croce: With borrowed speaker equipment, a Dinah DJ mix I had on my phone, wristbands from Forever 21 that Carrie and I had left over, endorsements from many popular staff members, a giant tube of lube, a twister board, and headlamp strobe lights: Klub Deer was born.
Carrie: The wristbands — I've never been so proud of an Oriental Trading Company purchase.
Cee: Carrie came into Wolf, where we were all hanging out, and kept saying there was a huge party in Deer and kept convincing people that's where the cool people were hanging out. We all showed up and it was completely empty. But somehow within 5 minutes, music was procured, the lights were turned low, headlamps were turned into strobe lights and Croce and Carrie were at the door with shades on looking like tough bouncers.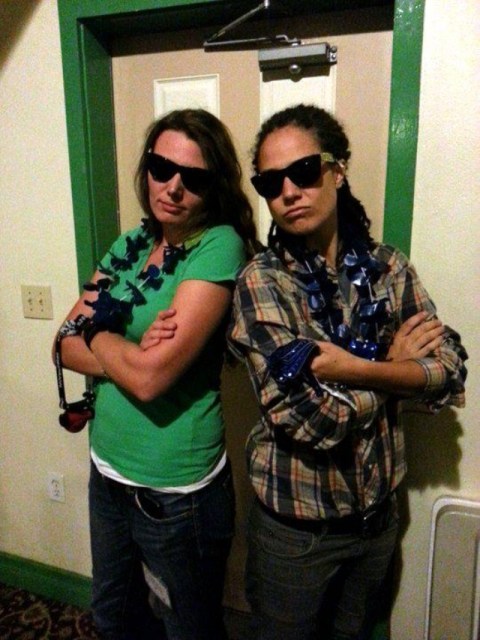 Meredydd: Nothing beats the sight of Carmen Rios trying to get through the crowd of campers going into Klub Deer and the bouncers making her wait for a wristband.
Carmen: Carrie and Croce opened Klub Deer so I felt I really had to be there, y'know? I'm kind of a big deal. No, actually I didn't get in for a little while and was embarrassed.
Stef:  I wandered into Deer in search of bourbon, only to be met by "security guards" asking, "Welcome to Club Deer, do you have a wristband?" Club Deer continued the previous night's tradition of headlamp-flickering, scandal-inducing dance party, but added Twister and lube.
Carolyn: We opened the windows and doors and then Robin came by and told us to we were being too loud and we had to shut it down. Club Deer was born.
Carrie: When it got really loud we kicked everyone out and the party moved to the Wolf Lodge, our rival club up the trail. #klubdeerforever
Stef:  It is an A-Camp nightlife staple that will live in infamy.
Croce: Please note: Klub Deer became the biggest prank to be pulled at A-camp yet. Because all 100+ people who attended the sexy dance party showed up to breakfast the next morning wearing BLUE WRISTBANDS. GO TEAM BLUE!
Laura: Renamed "cuddlingus" by our guest, Ms. Rachel Walker, the Bomb Girls spent Friday night practicing what we learned in the spooning workshop in a fort made out of trundle beds and  sheets. I can't tell you what kind of top secret stuff we talked about but I can tell you that we had the best named slumber party ever.
Crystal: I took a time-out in Riese's cabin and therefore only found out about Klub Deer after it had been shut down. It was all anyone was talking about the next morning!
NEXT TIME: Klub Deer makes flyers, we talk about sex, and enjoy a Show of Talent!
Pages: 1 2 3 4See entire article on one page