Hey guys, you know when you first read Cinderella and you thought, "Holy shit![but hopefully as a kid you didn't use bad words like 'shit'] Cinderella gets to ride in a PUMPKIN coach! I want to ride in a pumpkin!" Well, this recipe will kinda make that dream come true, except not really.
Don't worry though. I imagine actually riding in a pumpkin coach would be dangerous and uncomfortable. Cinderella probably hated it and just put up with the whole thing because of the dance and the prince and the patriarchy. Come to think of it, I'd much rather eat Cinderella stew than be Cinderella or ride in her coach. So let's get to it then, shall we? If you don't finish making and eating this stew by the stroke of midnight, it will all disappear. This is a serious undertaking with a measurable risk.
Ingredients:
The Stew:
2 tbsp (30 mL) butter
2 large onions, chopped
2 cloves garlic, minced
2 lb (907 g) lean stewing beef or lentils if you are a vegetarian
1/4 cup (60 mL) all-purpose flour
1/4 tsp (1 mL) salt
1 pinch of pepper
1 tbsp (15 mL) olive oil
1 can of tomatoes (undrained)
3 tbsp (45 mL) currants
1/4 tsp (1 mL) cinnamon
1/4 tsp (1 mL) cumin
1 pinch cloves
1 bay leaf
The Pumpkin:
1 pumpkin (6 pounds, about the weight of a newborn baby)
2 tbsp (30 mL) butter, melted
1/4 tsp (1 mL) salt
1 pinch of pepper
The Topping:
1-1.5 cups (375 mL) of plain yogurt
1/2 cup (125 mL) of chopped green onions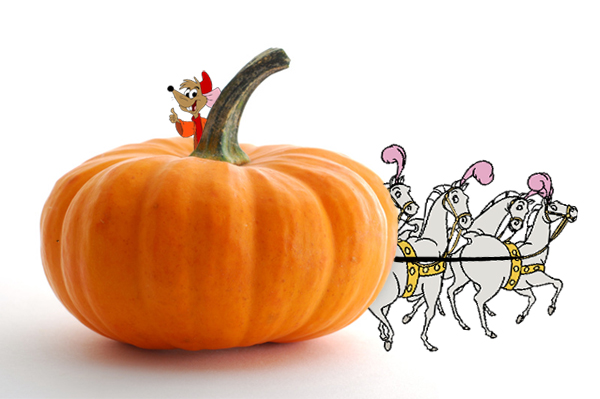 Directions:
The Stew:
1. In a saucepan, melt butter and cook onions and garlic for approximately 5 minutes, or until the onions are limp. Remove and set aside
2. (skip this step if you're using lentils instead of beef) Cut the beef into 1-inch cubes. Mix flour, salt, and pepper in a plastic bag. Add the meat and shake, shake, shake until it's coated in flour.
In the saucepan, melt some more butter with olive oil over high heat. Add the meat, one layer at a time and cook it until it's browned.
3. Return onion mixture and meat to the saucepan. Add tomatoes, currants, cinnamon, cumin, cloves and bay leaf. If you're using lentils, stir them in. Cover the mixture and bring to a boil; then, simmer until meat is tender (about 1 1/2 hours) or, if you're using the lentils, until the mixture thickens. Stir frequently.
The Pumpkin:
1. Wash the pumpkin, cut out a 4-inch lid, and then remove its guts. Save the seeds because wasting food is bad and roasted pumpkin seeds are good! Brush the inside of the pumpkin with butter and sprinkle with salt and pepper. Bake in oven at 425°F (220°C) for 25 minutes.
2. Pour stew into the pumpkin, cover it with the pumpkin-lid, and bake for about 45 minutes or until the pumpkin is tender.
The Topping:
1. Right before serving, mix yogurt and onions. Spoon the topping on top (that's why it's called topping, get it?) of your pumpkin stew.
There are many ways to eat this Cinderella Pumpkin stew. You and friends could gather around the pumpkin like it is a cauldron and you are witches, or for a more "polite society" approach, just spoon the stew and pieces of pumpkin into bowls or onto plates. Easy! Enjoy! Remember to finish eating before the clock strikes midnight, or else you'll go back to being pumpkin stew-less [cue scary music].