Feature image by Carolina Kroon
Hey you! Yeah, you! What are you doing today? I mean, after brunch and before going to a Meet-Up. Nothing?
Well, you're in luck: today Autostraddle is a proud sponsor of a very exciting Lesbian Avengers event happening in at Dixon Place in New York City. (Did you read Kelly's post yesterday about the Avengers? Go read it!) But since only some of you live in NYC, this event is actually going to be live-streamed from 3pm-6pm est, which means you can watch and ask questions/chat from wherever you are, as long as you have a computer in front of you! This is the first time we've sponsored a live-streamed event, and we're really excited about it.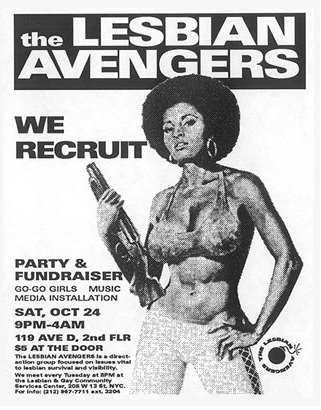 Some more about the event: this is going to be a panel/roundtable discussion about the East Village and the Lesbian Avengers featuring playwright and Avenger co-founder Ana Simo, performer Carmelita Tropicana, filmmaker and Avenger Su Friedrich, videomaker and Avenger Harriet Hirshorn, musician and Avenger Eve Sicular, and other special guests.
The East Village of the '80s and '90s was a hotbed of dyke activism, a laboratory of queer identity, and flashpoint of a nationwide culture war declared by Pat Buchanan at the 1992 Republican National Convention. As our rights as queers and as women hang in the balance of the upcoming election, it's never been more urgent to revisit the strategies of our radical roots, and ask: are the Lesbian Avengers ancient history, or are they just what we need to reignite the revolution?
This is an incredible opportunity to talk to some Lesbian Avengers and hear their amazing stories. Hope to see you there!