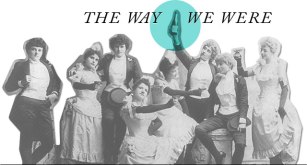 Join us on Saturday, October 13, from 3-6pm EST, as the Lesbian Avengers host a live-streamed roundtable and panel from Dixon Place in NYC. The panel will feature playwright and Avenger co-founder Ana Simo, performer Carmelita Tropicana, filmmaker and Avenger Su Friedrich, videomaker and Avenger Harriet Hirshorn, musician and Avenger Eve Sicular, and other special guests.
Explore the Avengers' roots in the East Village of the '80s and '90s, which was a hotbed of dyke activism, dyke art, laboratory of queer identity, and flashpoint of a nationwide culture war declared by Pat Buchanan at the 1992 Republican National Convention.
This is an incredible opportunity to chat with Avengers and hear their amazing stories, so don't miss it! 

There used to be a saloon next door run by this German-American anarchist Justus Schwab (1847-1900). All the radicals would hang out there, including Emma Goldman and Ambrose Bierce. I only know because they put up a plaque a couple months ago. Maybe I'll put my own up here. "At this spot, in 1992, the Lesbian Avengers were founded by resident Ana Simo and her co-conspirators Maxine Wolfe, Sarah Schulman, Anne-christine d'Adesky, Marie Honan and Anne Maguire."
It was an iffy proposition, starting a lesbian direct action group, and required a good dinner and lots of wine, as most revolutions do. In the '90s, lesbians fought against AIDS, and for abortion and women's health care. They stood up for animal rights and sweat shop workers. But for lesbians, as lesbians? Not so much.
For this, the neighborhood made its contribution, almost as much as all the talent and experience in the room. Five of the six lived and worked in the East Village, perfectly matched to the cheap rent and rabid dissatisfaction apparent in the street. Every flat surface had a sticker on it, or flyer. Lampposts were perfect for pink triangles announcing Silence=Death, or posters advertising for an ACT-UP or WHAM (Women's Health Action Mobilization) demo, or poetry slam. Ads weren't always what they seemed. Sometimes they were advertising movies. Sometimes, if Dyke Action Machine was involved, they might be offering co-opted images of lesbian power.
It was a kind of evolutionary soup, a crucible of artists and queers, and activists, with an enormously long history of agitating immigrants. And since at least the late '70s, when projects like the all-dyke Medusa's Revenge Theater started up, it had been a laboratory of identity. If you weren't careful, a bite from a radioactive Spiderwoman might transform the quirk of your sexual orientation that you thought was either a horrible tragedy or just a spare appendage, into an intrinsic, essential part of yourself. New superhuman powers included X-ray bullshit detection, and the instant assessment of the web of life.
That's why ACT-UP didn't just take on one hospital, one bigoted priest, but the entire church, the whole medical system, the government that supported it, the nation that held it all in place. And why at WOW, Women's One World theater, lesbian performers like Holly Hughes, author of The Well of Horniness, Carmelita Tropicana, and later the Five Lesbian Brothers, didn't just separate themselves off to the side, they re-envisioned the entire world.
I was still pretty fresh from the potlucks and softball dykes of Kentucky when my friend Amy Parker took me to see the Brothers at WOW. My god, they blew my mind. The intrigue, the sex, the hilarious, unmitigated muff-diving desire. They didn't just put our dyke selves front and center. They reduced the outside universe to a mythology fainter than shadows on a cave wall. You could play with them, or laugh at them until your face cracked.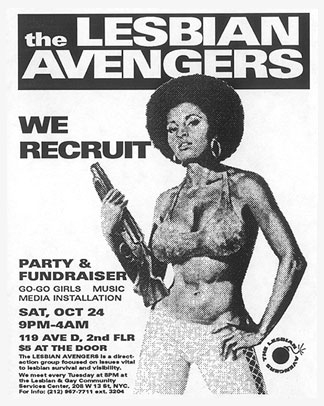 That's what made queers so dangerous in the '80s and '90s. We were getting bigger and bigger. Indivisible. Taking up more space. Imagining ourselves as part of the city, of the country. In his essays written in the death throes of AIDS, David Wojnarowicz took on all of America. "My rage is really about the fact that WHEN I WAS TOLD THAT I'D CONTRACTED THIS VIRUS IT DIDN'T TAKE ME LONG TO REALIZE THAT I'D CONTRACTED A DISEASED SOCIETY AS WELL."
Poet Eileen Myles didn't just stick to her poems but ran for president in '92. If a bastard like Pat Buchanan could run for president, somebody like Myles had better, too. And just a couple weeks before the Lesbian Avengers' first action, the failed presidential candidate Buchanan went to the '92 Republican National Convention in August, and gave a speech declaring war, a Culture War, complete with a blitzkrieg campaign to divide and conquer those minorities increasingly encroaching on straight white male power. He set the "brave people of Koreatown" in opposition to the (black), welfare-ridden mobs of the LA riots, and unleashed everybody against the bra-burning feminists, tree-huggers, and homos.
"Friends, this election is about more than who gets what. It is about who we are. It is about what we believe and what we stand for as Americans. There is a religious war going on in this country. It is a cultural war, as critical to the kind of nation we shall be as the Cold War itself. For this war is for the soul of America."  – Buchanan
It was good to have it spelled out. It confirmed the decision of those first six Avengers to go big, launch the group by taking sides on one of the most important issues in New York City: the Rainbow Curriculum. Its purpose was to teach school kids tolerance, mostly of racial and ethnic difference, but also of women and queers. But even though only a few of the 400 odd pages mentioned lesbians or gay men, the Christian Right used queers as a wedge in their D & C campaign, and attacked it as the "gay" curriculum. By getting involved, the Lesbian Avengers not only inserted a lesbian voice into the city, but entered the nationwide battle for the soul of the country.
The first action is still almost unthinkably daring. We didn't chain ourselves to anything, or clash with cops. We stood outside an elementary school in Queens as open dykes, and gave balloons to school kids that encouraged them to, "Ask about Lesbian Lives." Some of our tee shirts read, "I was a lesbian child."
The rest is history. The Rainbow Curriculum got squashed, but not the Avengers. Dykes everywhere embraced our in-your-face mix of humor and anger, and the goal of lesbian visibility. Two years after that first action, the fire-eating Lesbian Avengers had become an international lesbian movement. We mobilized twenty thousand dykes for a march on Washington, and almost as many for the International Dyke March in New York. There were more than sixty chapters worldwide. As a legacy, we left behind Dyke Marches that continue from San Francisco to London, and a changing cultural space we helped expand. Especially inside dyke brains.
next: read an excerpt from Kelly Cogswell's upcoming work, "Eating Fire," describing the Lesbian Avengers' first demonstration in front of an elementary school
+
Pages: 1 2See entire article on one page