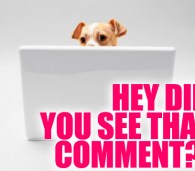 HEY KIDS! Here's what happened this week: an open thread about living with a vegetarian where everyone got really serious about food and stuff. Season 3 of Anyone But Me premiered and we've got the video, Crystal visited some cities in the Mediterranean and it was gorgeous, and Canada had an election with sad results. Also, Riese and Laneia compiled a top ten list of queer movies that will make you cry, because well, let's face it, a lot of queer movies are depressing.
Also, also! We've finally got our calendar girls for April and May! And speaking of hot, we are putting together a Hot 100 featuring you and me and everyone we know (personally).
---
On Telenovela Plot Includes Lesbian Couple, Sexy Content:
The Beerios Award to cynthia, pips, RachelwasHere:

On OPEN THREAD: How to Love, Date and/or Cohabitate with a Vegetarian:
The Yes…That Must Be It Award to Andrea:
Every girlfriend I've had has eventually adopted my vegetarian ways. I guess I'm just a good… cook, hehe.
On Wild Stuff Going Down With Lesbians All Over The World:
The Scissor Attack! Award to fragile, terracottatoes, LimeyLimes: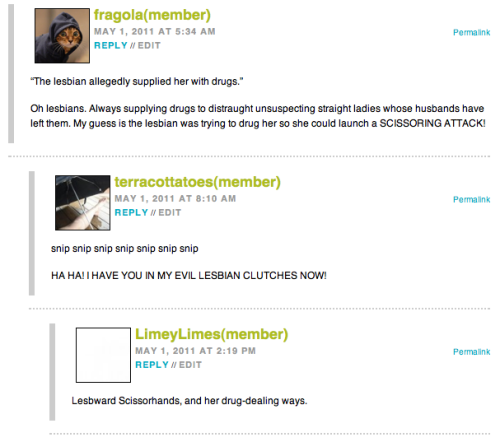 On VIDEO! Obama, Seth Meyers Are Funny At the White House Correspondents Dinner:
The DONALD TRUMP LESBIAN Award to Middling, kaythen: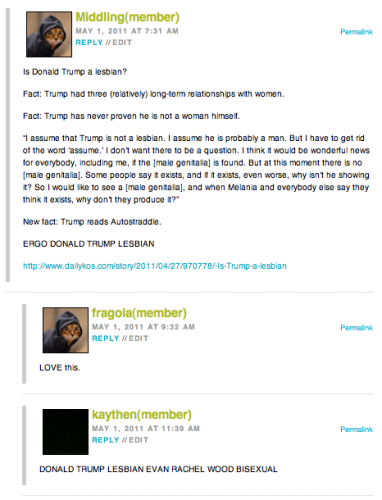 The Harry Potter Award to nosidam:
Little known fact: Bin Laden created several thousand horcruxes out of household objects (he had a particular hatred of toe nail clippers). After the TSA was able to destroy all of these items, they were able to go after the man himself.
On This Is A Canadian Election Day Post:
The I Don't Know What Are You Even Saying Award to terracottatoes: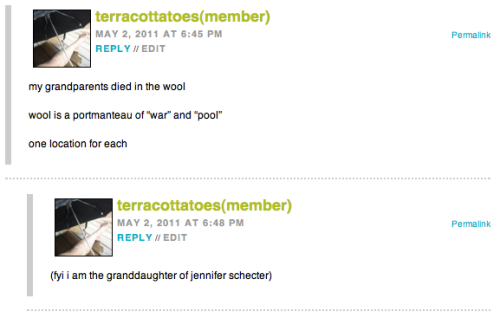 On Juicy Pink Box Threw A Screening Party and Everyone Came:
The Lesbian Rendition Award to Kai:
This is what first came to my mind – my lesbian rendition of "Losing my Religion."
That's me in the flannel,
That's me in the tight shirt,
Viewing porn with women….
Trying to drink more champagne,
And I don't know if I can do it.
Oh no, was that Marie… Antoinette?

On Glee Sneak Peek: 'Brittany's Fondue for Two' is Revelant to Your Interests, Lesbians:
The Rumours Award to Jenissuper, countrysongs: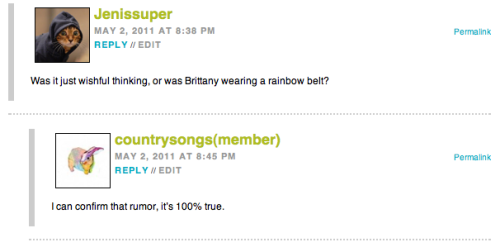 On Minnesota House Committee Passes Anti-Gay Marriage Amendment, Narrowly Subverts Nuclear War and Apocolypse:
The No Such Thing As Homophobia Award to Kristy77:
WOW! I can ride at the front of the bus???I didn't know that! I thought I belonged in the back with all the rest of the queers! Guess I'll shut up about wanting gay marriage because at least I get a front row seat on the bus!!!

On Good Thing Price William Isn't Gay:
The BRANDY HOWARD BISEXUAL SIDEBOOB Award to Marika; honorary award to ragdoll, not pictured:

On Tennessee's Republican Senators' Delusional Plan to Pretend Gay People Don't Exist:
The Yeah…No. Award to Dena, yodelmachine: