THANK GOD SOMEONE IS LOOKING OUT FOR THE FUTURE OF THIS COUNTRY AND THE WHOLE WORLD!
Over in Minnesota, home of the film Fargo and millions of lovely people and the blasphemous Senator Al Franken, the House Committee has found an ingenious way to get health care to low-income families and ensure all Americans learn how to read before second-grade: "along party lines (10-7), the House Civil Law Committee passed a bill Monday to add a constitutional amendment that would restrict marriage in Minnesota to one man and one woman"!!!
I mean seriously people DUH — this is how you solve problems, it's not complicated! Well if you can't wrap your Yankee head around it, I drew you a picture: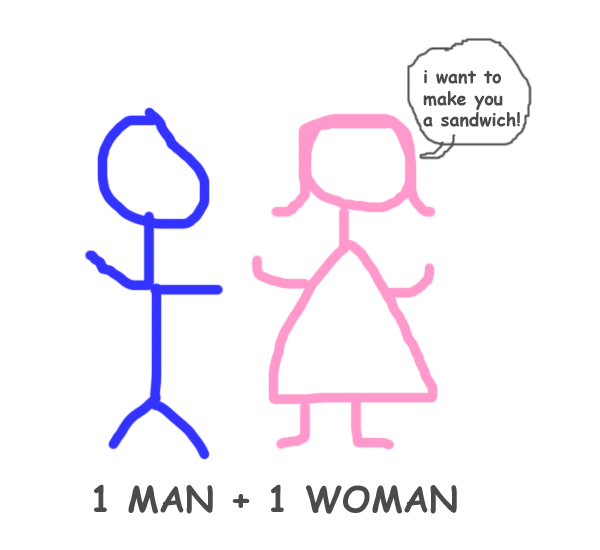 Now the Pro-Gay side really did put up a fight, trying to convince the Anti-Gay to have feelings like "empathy" or "the feeling recognizing our common humanity" — I mean they even brought out a guy who's gay son DIED in Afghanistan to tell a devastating, passionate, emotional story which ended with a plea to Veterans specifically to not be bigots. Luckily, the other side stood up against that appeal to their hearts and instead voted to introduce discrimination into their constitution, just as George Washington would have wanted them to. USA! USA!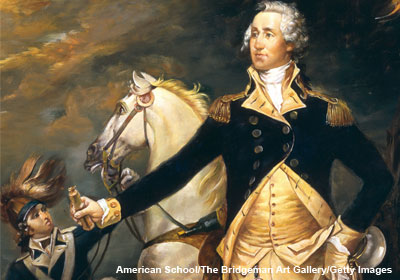 Bishop Bob Battle of the Berean Church of God in Christ, which sounds very lovely and Christ-like, shared this opinion:
"I don't consider gay marriages as the same as whites not being allowed to marry blacks. Gay marriage advocates have attempted to hijack the civil rights movement. I know what civil rights are, and gays in America have all the civil rights as anyone else."
When pressed to explicate on this point that should really be obvious to anyone who's ever read a newspaper or magazine, Bob Battle pointed out  that gays have "the right to vote, the right to housing, the right to employment and the right to ride in the front of the bus."
Let me recap that for you in case you were too busy crying about Canada:
1. right to vote
2. right to housing
3. right to employment
4. right to ride in the front of the bus
Now, the liberal hogwash newspaper biased media hellmachine from Satan which "reported" this news thought they'd slip in this little piece of "journalism" after that excellent point from Bob Battle:
Despite that testimony, 40 states currently allow discrimination against LGBT people in employment, housing and public accommodations.
WHATEVER! Anyhow, then some liberal girl in some level of government in Minnesota, her name is Melissa Hortman, what could she possibly say when people like Bob Battle are out there existing, saying brilliant things:
"The definition of marriage used to be about property: Me, as property passed from my father to my husband. The definition of civil marriage has evolved over time — and thank God it has. I appeal to you not to put the question of fundamental civil rights to a majority vote."
I'm sorry, is my pie ready, Melissa? WOMAN BAKE ME A PIE.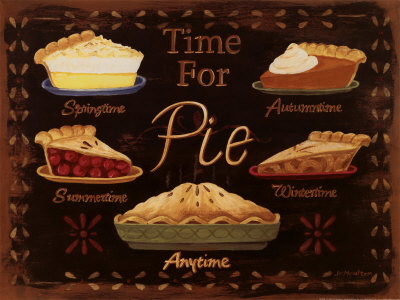 Yeah, that's what I thought. Pie time, lady. Pie time. Anyhow moving on to the next gassbag to take the stand. This guy, Steve Simon, he's Jewish, so what's he complaining about, he's probably really rich and can buy whatever he wants, like a duck or a gay marriage or a duck pond.
Steve Simon says this BRILLIANT life-saving ammendment is an attempt to "enshrine religious beliefs" into the Minnesota Constitution, and this should be especially obvious when considering that "almost all the testifiers in support are religious leaders."
Right, hello! God sent them here and told them to come to this courthouse and spend their time getting this amendment onto this bill. That's why they're called RELIGIOUS LEADERS. Starving children don't feed themselves, sometimes you have to get your hands dirty!
Sorry but who am I gonna listen to, the dude God sent, or this Jewish guy? Well I'm not Pro-Choice so you won't see me lining up with The Chosen People.
"I'm Jewish. Eating pork or shellfish is not allowed in my tradition, but I would never ask the government to impose that on our fellow citizens…. How many more gay people does God have to create before we accept that God actually wants them around?"
Yawn.
In other news, the Democrats in Minnesota have been walking around with their skorts in their noses, claiming this is all some Big Distraction from important issues like "the budget.":
"Regardless of how you feel about [gay marriage rights], now is the not the time to be working on them. We have a $5 billion deficit that's staring us in the face, let's focus on that."
Math. Boring.
+
+
Here's a video:
+

womp WOMP.
So when the 2012 election comes around this question will be right up on it:
"Shall the Minnesota Constitution be amended to provide that only a union of one man and one woman shall be valid or recognized as a marriage in Minnesota?"
So if you live there, you can decide for yourself if you want to see Minnesota explode in flames or if you want to see Minnesota be the "nice" place Al Franken thinks it should be. It also looked very friendly in Fargo.
SEE YOU THEN SUCKERS, I'm going to EuroDisney!