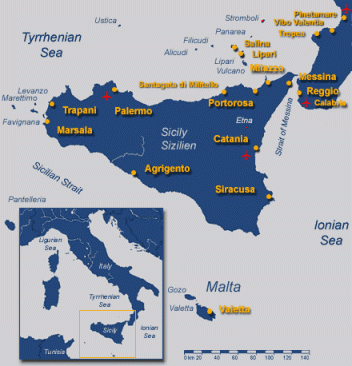 Right now I'm kicking around the Mediterranean and the Middle East with my girlfriend on an all-expenses paid-vacation that I could never afford myself. Over the span of a few weeks I'll be exploring two countries, two islands and two Arab emirates, via eight planes, one boat and, hopefully, some camels, abras and horse-drawn carriages.
When I told my people that I would be visiting places like Malta and Modica, it was clear that not many knew where those places were, exactly, or why people would want to visit them. I didn't know either; prior to this trip my knowledge of the Mediterranean was limited to antipasto and the Santorini location shots featured in The Sisterhood of the Traveling Pants.
At first I wasn't going to write this feature, running on the (correct) assumption that the somewhat conservative Catholic and Islamic regions that I would be visiting wouldn't offer up too many queer experiences. But then I got here and I discovered the most adorable and humble places and people that I felt compelled to document every precious little moment. Most of them involved food. This is actually a food blog.
Part 1 – The Mediterranean
First Stop: Malta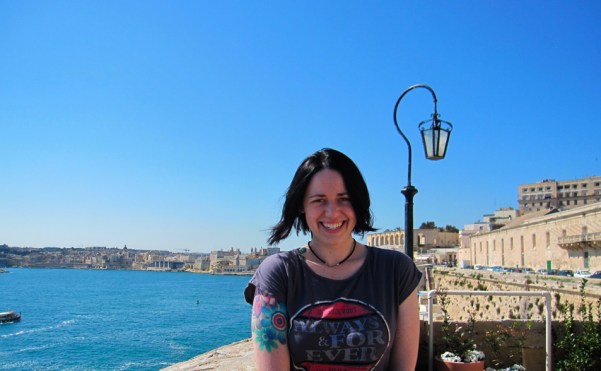 I'd heard from a reliable source that the Maltese make the world's best pastry and, being highly food motivated, that was something I was prepared to travel to the ends of the earth for.
Malta is a small island located in the middle of the Mediterranean Sea, occupied by a mere half-million locals spread out over three small historical cities. The city I was drawn to, and stayed in, was the city of Valletta, a seaside business and government district that was built in the 16th Century by the Knights Hospitaller, aka The Knights of Malta.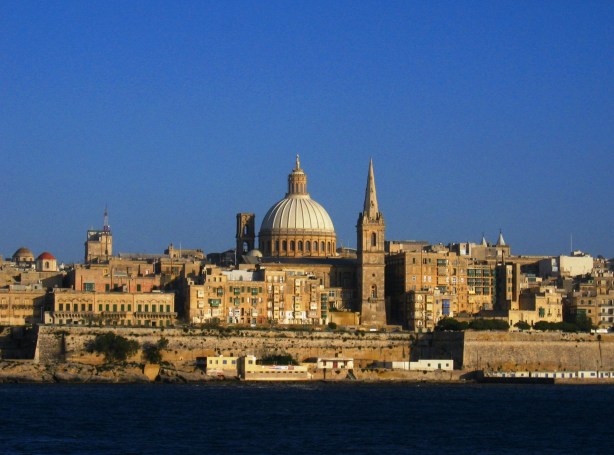 Moments after checking into the hotel, the Phoenician, we were herded towards a popular tourist attraction called The Malta Experience, a short documentary about the history of Malta and Valletta.
What are we doing?
We're seeing a movie called The Malta Experience.
Can't we just have the Malta experience.
The film was recommended with the argument that we needed to know a little about Malta's history in order to fully understand and appreciate its unique Arabian and European influenced landscape, language and culture. Said history is best described as turbulent – due to easy access by sea, Malta was subject to a series of invasions by the French, Greeks, Romans, Sicilians, British, Turkish and seemingly every other region from 418 B.C. t0 1800 A.D, before finally gaining independence in 1964.
Despite its political and administrative functions, the city of Valletta is hugely romantic. It's largely due to Baroque architecture; beyond the city's huge sandstone gates are villas, piazzas, palaces, churches and museums that line narrow cobblestone streets…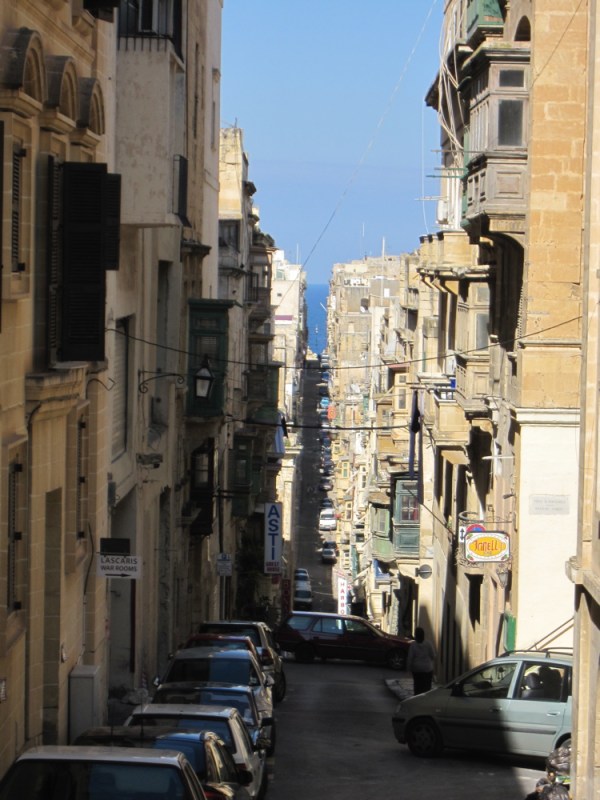 ….most leading to the sea. On the edge of the city is Fort St. Elmo, a giant rock fortress built by the Knights of Malta to protect their creation.
Stepping through the city gates of Valletta is stepping into a time warp, around every corner was a scene straight from an old movie. If you wake up early enough you can spot local bakers hanging boxes of freshly baked bread on hooks beside the locals' front doors.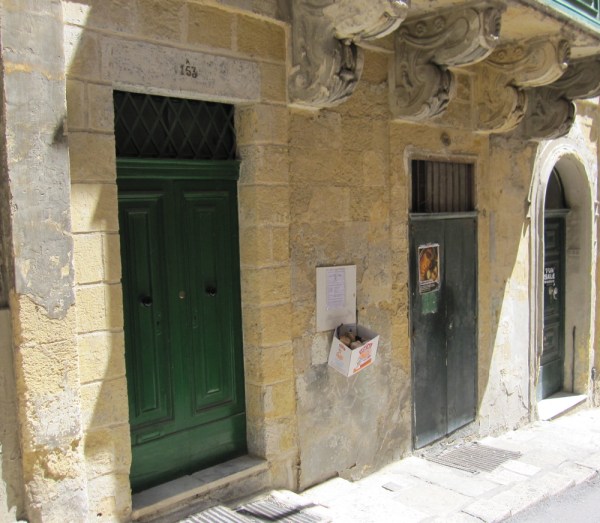 Above them, ladies wave and shout out greetings as they leaned out their villa windows to hang their laundry. Even the hotel lobby was a throwback to the classics, with elderly couples in tuxedos and costume jewelery slow dancing to a classical pianist on a baby grand while butlers ran from table to table, pouring olive martinis. It was so beautiful and surreal that, despite being in a state of full Autostraddle withdrawl, I abstained from using the lounge's free wifi out of fear that the glare from my shiny silver Macbook would kill the mood.
Part of the romance of Malta is likely due to the fact that, with the exception of souveineir stores and a few bank and retail franchises, many local businesses haven't updated their look or operations since opening their doors decades, or even centuries, ago.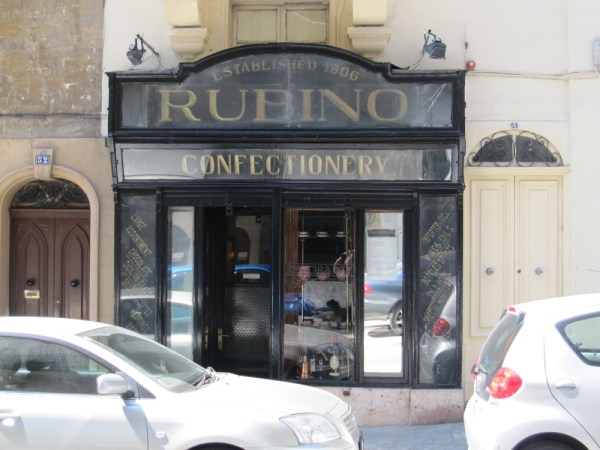 As we walked through Valletta's little lanes we stopped to purchase envelopes from ye ol' stationer, and to eat an assortment of date cakes and other baked goods from old wooden street carts. The most common taxis were horse and carriage.
Outside the gates was the most terrifying and yet surprisingly reliable form of transport I've yet to experience: the Malta bus network. The bright yellow buses in the 500-strong fleet are on average 35 years old. Each one has its own distinct age and character, having been custom painted by its driver with slogans, graphics, and quotes by everyone from Jesus to Bob Marley.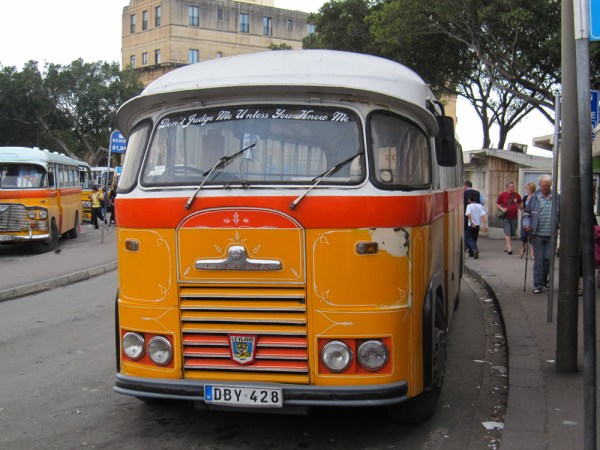 The first bus I rode dated back to the 1930s, its original interior featured cracked plywood and rusted steel benches that were purpose built for tiny Meditteranian bodies. I am not tiny. In order to stand I had to duck, or in order to sit I had to stretch my long legs across the aisle into the opposing seat space. Disembarking like the locals do – that is, while the bus is still in motion – is the closest I've ever come to feeling good about paying $136 for travel insurance.
In an effort to dine like the Maltese do, we ate at little Maltese restaurants located off the beaten tourist path. More often than not, menus were written in Malti and so every meal began with a guessing game. While most dishes were common and easy enough to decipher, there were plenty of local specialties delivered to our table too, such as pan-fried rabbit and sea urchin linguine. It was not only some of the most spectacular food I've eaten, it was also some of the most affordable.
We also spent a lot of time sampling Malta's other famous specialties: pastizzis. If you're unaware, pastizzis are pastry crack; piping hot diamonds filled with cheese or crushed peas that were sold by street vendors for a whooping $0.25 cents each. Before not too long we found ourselves unwilling to start our day without first stopping on the sidewalk to wolf down these cheesy pastry delights straight from their greasy paper bags. My clothes no longer fit, but they were totally worth it. World's best pastry indeed.
Malta just may have some of the world's best people, too. One of the most interesting and noticeable aspects about the locals is that they didn't seem to follow any recognizable fashions or trends, everyone had a unique style and attitude and they seemed to dance to their own beat. They were welcoming, too. On one occasion we were admiring some paintings by local artist Priscilla Ainhoa Griscti in the hotel lobby, and one phone call and 15 minutes later we were sitting in a Valletta cafe with the artist and her family, discussing art and drinking espresso. Afterward we received an invitation to visit her home studio. That kind of hospitality is hard to come by.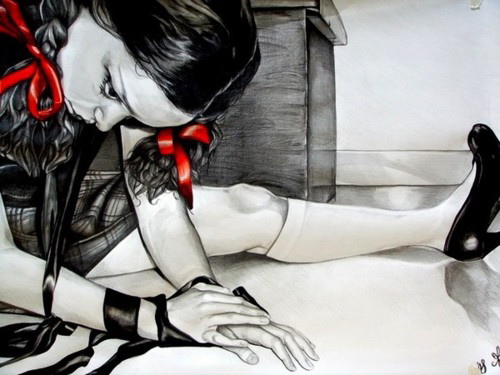 It only took one day to fall head over heels in love with Malta, and only a week to realise that one day I want to move there. I've traveled to many cities and, perhaps with the exception of visiting Venice, in Italy, I can't remember feeling so much at home, or at peace. It's hard to believe that we almost couldn't get here, that there's serious warfare raging only a few hundred miles away.
+
Second stop: Sicily
When I learned that we would be flying to the south of Italy for just one evening, I nearly choked on my pastizzi. But I didn't realise that we were only a stone's throw away. Despite being seperated by the Mediterranian Sea, it turns out that Sicily is only a half-hour plane ride or 2-hour ride from Malta, close enough for tourists and locals to make a return trip in just one day.
Upon landing we went on an extended car ride through the Sicilian countryside, passing 1.5 hours of the winding roads and the greenest of paddocks. Our destination was Modica, a tiny historical city founded in 1300 B.C and located in the province of Ragusa. Modica is primarily known for its churches and chocolate, as well as its unique position in the valley of a mountain range.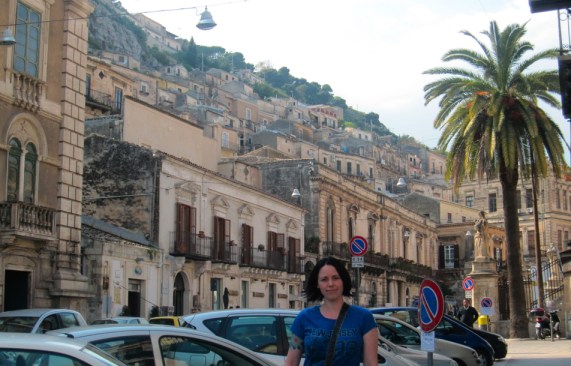 The night's accommodation was at the Palazzo Failla, a boutique 4-star hotel near the top of the Modica valley. The hotel suite had the characteristics of old Sicilian architecture and decor, including ceramic tiles, wrought iron fixtures, and an 8-metre tall cathedral-style ceiling decorated with naked cherubs. Those were slightly creepy.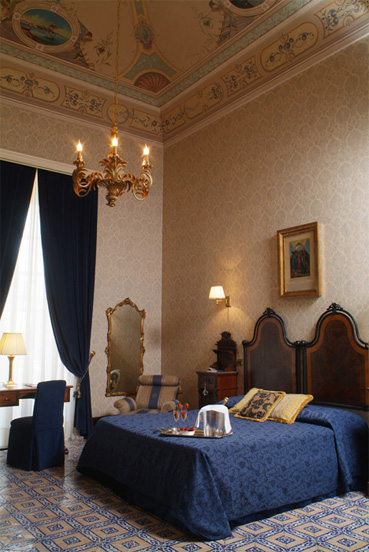 Lunch was four unforgettable courses at La Gazza Landra Ristorante, a Michelin-starred restaurant attached to the hotel that was, admittedly, the main reason that we had crossed the border. After the first bite of my scampi and pistachio-stuffed arancino, any reservations I'd had about needing a passport to go to a restaurant had vanished. It was the kind of place where even the bread basket was a piece of epic culinary art.
One of Modica's defining features is a series of steep stone staircases that run from the top of the valley down to the very bottom. After lunch we tackled them, taking the hundreds of stairs until we reached a main street filled with cafes and tourist shops. Despite their city attracting plenty of tourists, the Modica locals spoke limited English. I found myself silently thanking my 6th grade Italian teacher for teaching me how to order a double espresso because they were out of this world, capable of putting a stupid grin on my face and making my eyes glaze over.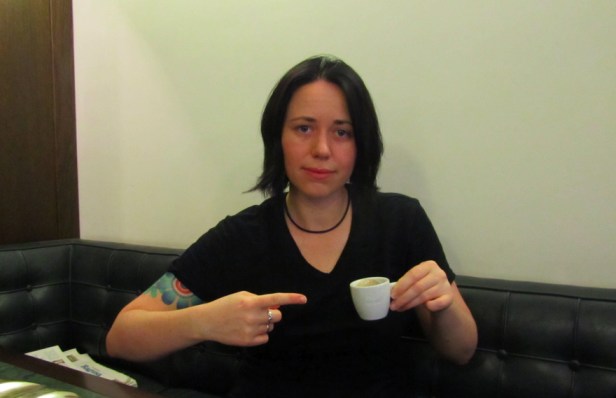 Traveling down the stairs was a breeze compared to walking back up, which was hell. Along the way we took a series of time-outs at some of Modica's more well-known landmarks, including the stunning Cathedral of San Giorgio.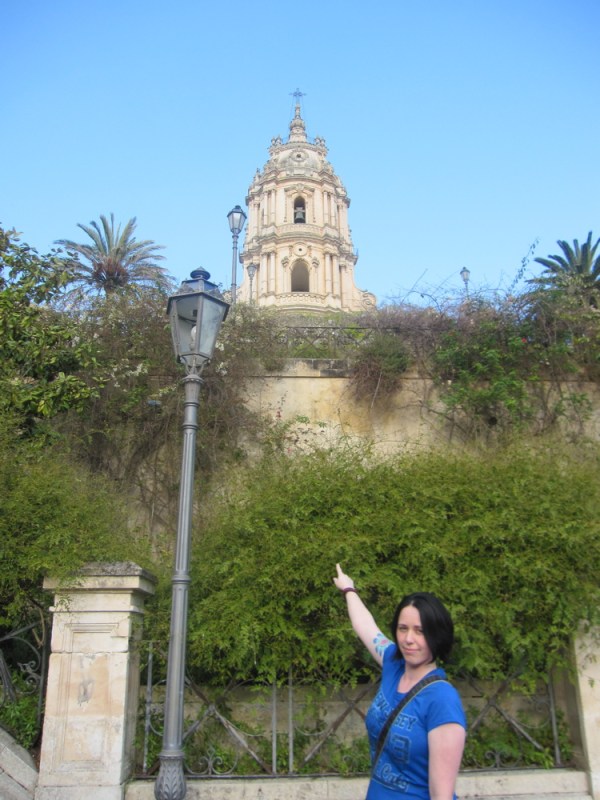 The stairs eventually broke my spirit and I spent the remainder of my time in Sicily taking a nap.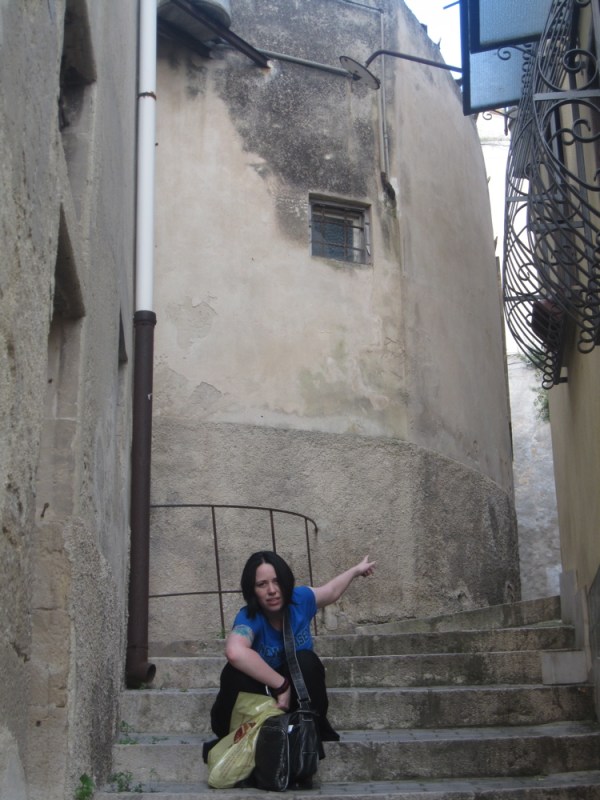 The End. Until I get to the Middle East next week!