It's a truth universally acknowledged that a group of queer women and nonbinary people can often, as a community and as individuals, trace some part of their gay coming into themselves and out into the world to a favorite ship (canon or not) that made them say, in the words of Willow Rosenberg, "Hello, gay now." Even years or decades later, regardless of how much objectively better television has been produced, we carry them in our hearts. Here are ours; tell us yours?
(Before you head to the comments section with shock and outrage, you should know that this roundtable was written before Killing Eve aired.)
---
Heather Hogan, Senior Editor: Helen and Nikki, Bad Girls
This was a hard choice for me! I made a spreadsheet! It came down to three couples! But if I'm being really real with myself it's Governing Governor Helen Stewart and Larkhall inmate Nikki Wade — and I know that sounds kinda gross and definitely illegal but it's not like the show ignored those complicated dynamics. Helen was tortured, okay, and she didn't even kiss Nikki on the mouth at all until she wasn't her jailer anymore! (And then I guess again at a different time when she kind of was still her jailer but then Nikki broke out of prison in a blonde wig and went to Helen's house and Helen was like "…the fuck!" and she almost called the cops but then instead she whispered "Nicola…" and they totally did it.) (But then Nikki did go back to jail.) So there was the power imbalance and the personality difference and also Helen kept trying to be straight and Nikki was for sure Chaotic Neutral and Helen was for sure Lawful Good, but at the end of the day Nikki got out of jail and Helen chased her down and said, "Thomas is gorgeous, and he's everything you would want in a man — but I want a woman." And oooooh they smooched in the middle of the day in the middle of the street for a very long time. Also I've read somewhere between one million and two million Helen/Nikki fan fics and they are all so good.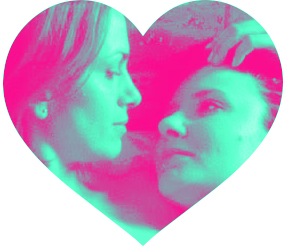 Riese, Editor-in-Chief: Shane and Jenny, The L Word
I don't know that I need to describe this at any greater length than I already did on April 1st, 2018, the best day of my life, when we trolled the entire internet by turning Autostraddle into a Shenny fansite and I wrote my first-ever fan-fic about my #1 ship, Shane and Jenny. But in sum: I truly believe that the most authentic versions of the characters of Shane and Jenny were MTB, and I believe that Season 6 was blasphemy and ruined so many things including that particular pairing. I think that they are uniquely capable of taking care of one another and helping the other deal with mental health issues and also accept each other for who they are and work with it instead of against it and I think also they would've had very hot sex. Okay the end.
Rachel, Managing Editor: Faith and Buffy, Buffy the Vampire Slayer
I didn't think I had "a ship," but I was casually rewatching the graduation arc of Buffy recently, as one does, and when I got to the Buffy/Faith showdown I thought I was gonna need a goddamn fainting couch. I suddenly viscerally understood why people make entire blogs and 34-tweet threads about their favorite ships in fandom, because I had the urge to call people I haven't talked to since high school and walk them through a powerpoint of why Faith and Buffy are meant to be together and anyone who disagrees is probably a war criminal. They understand each other in ways no one else ever will! Faith will never take any of Buffy's self-centered shit the way all her friends do; Buffy knows enough about what Faith has been through and why she is the way she is that she can give Faith the genuine love and validation she so desperately wants and needs. Also it's very hot when they're trying to stab each other! What more can you ask for in a relationship.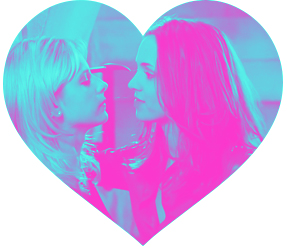 Kayla Kumari Upadhyaya, Staff Writer: Kalinda and Alicia, The Good Wife
If you whisper "Kalinda and Alicia were endgamewp_poststhree times in a row, you will conjure me out of thin air. Go ahead, try it. I believe in the (doomed) love story of Kalinda and Alicia so passionately that I accidentally made my girlfriend believe that they were in a canon sexual relationship before she watched The Good Wife. She was disappointed to learn the truth, and I don't blame her! I have seen The Good Wife from start to finish at least four times now and I am still shocked every time that they do not kiss ever. Look, I'm going to go ahead and out myself here and say that I enjoy a lot of trash ships in my life. I've been known to dabble in some Doctor Mechanic here, some SuperCat there (and by dabble, I mean stay up all night on fanfic benders on multiple occasions). If a show has a trash ship, I probably ship it. There is now a canon wlw ship at the heart of Riverdale, and yet I'm out here still asking strangers if they'd like to hear the good word of Betty/Cheryl. But Kalinda and Alicia, noncanon as they may be, are not trash! This ship is pure and it is good. And the only thing that really undercuts it (aside from their OBVIOUS ATTRACTION TO ONE ANOTHER remaining entirely subtextual) is the weird behind the scenes drama between Julianna Margulies and Archie Panjabi that made them literally not want to be in the same room as one another, which tbh, made me ship the characters even more? As hot as some of the women Kalinda made out with on the show were, none had the complex yet natural chemistry that Alicia has with her. NONE!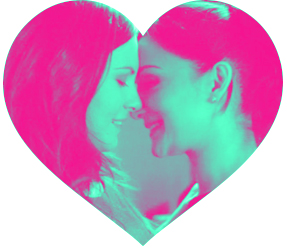 Carrie, Staff Writer: Spencer and Ashley, South of Nowhere
I was good and gay and out by the time South of Nowhere appeared on our screens, and therefore prepared to laugh my way through the first season's attempts at relating to me. But damn it, dear reader, if Spencer and Ashley didn't get me right in the heart anyway. Like many a cult teen favorite, SON kinda went off the from Season 2 and onward — but that first season still does it for me! It was ahead of its time, I think, in how it depicted Spencer's more "traditionalwp_postscoming out versus Ashley's queerer sexuality (though they never used that word). It was also my first proper introduction to fandom and TV recaps and fanfic and the whole bit, though more as an observer than a creator.
True story: a couple years after SON went off the air, my college's summer research program paid me (!) to do a study about the show's impact on its LGBTQ+ viewership as illustrated by its online communities. Yes, I got funding to watch South of Nowhere and read message boards all summer. Liberal arts school! (It was legitimately a great project, not gonna lie.)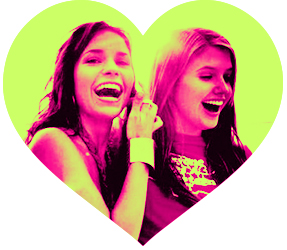 Abeni, Staff Writer: Harry and literally anyone else besides Ginny, Harry Potter series
OK, so I'll admit I was a Harry/Hermione shipper when the series was coming out (I used to go to the bookstore and get the books at the midnight release, sometimes with costumes, so I was pretty into it) but I realized that their sibling-type relationship made more sense, and Ron and Hermione made sense, and looking back it was hinted throughout, and I think I they're fun and cute together. But Harry and Ginny? I was completely floored when that plot point came out. It seemed shoe-horned in at the last minute and yeah, there were like, a couple hints, but what? It seemed really strange to me. Like, getting together with your best friend's much-younger sister? By the last book weren't they like, 18 and 14 or something? I haven't read in a while, and maybe it's not as problematic as I remember it, but still. Harry could have been with anyone else!
He could have been with that Quidditch captain girl, Angelina Johnson (who I just Googled and she married George? What?) I remember her getting very little "page-time,wp_postsbut she was a boss. When I was a teen, I wanted him to be with Cho, but that kinda fell apart for obvious reasons. Or, wouldn't it have been really interesting and poetic if Harry ended up with Neville?
My ship though is Luna Lovegood. She was smart, unconcerned with what people thought of her, brave, radical politically if I remember correctly, cute and sweet and quirky and charming. She was used to being an outsider, to having people have prejudgments about her, and didn't think of Harry as "the boy who livedwp_postsor whoever but just as a dude. She treated him like a regular guy (unlike Ginny, who was like, crushing for a while and idolized him). And her mother died when she was young, and she and Harry have a moment after Sirius dies where they connect over this. I really feel like they get each other and Luna's personality allows Harry to just be himself around her. Harry x Luna forever.
Natalie, Staff Writer: Annalise and Eve, How to Get Away With Murder
Well, that answer was pretty predictable wasn't it? In posts, in the comments and on social media… my love for Annalise and Eve is a thing that anyone who knows anything about my pop culture diet knows about me. I won't bore you by repeating it all again.
That said, I was wrong about one thing with regard to Annalise and Eve: through the first three seasons of How to Get Away With Murder, I never thought it possible for Annalise and Eve to end up together in the end… not because of Vanessa, the woman who whisks Eve away to the west coast, but because Annalise never saw herself as someone worthy of Eve's love. HTGAWM never struck me as kind of show that'd allow Annalise to experience the kind of personal growth needed to overcome her traumas so I never really imagined them becoming more. But, then season four happened and, despite having the worst counselor ever and still having those stupid students around causing unending consternation, Annalise Keating came out the other side better… perhaps the healthiest we've ever seen her.
So go get your girl, Annalise Keating. Celebrate the love you now know you deserve… for me.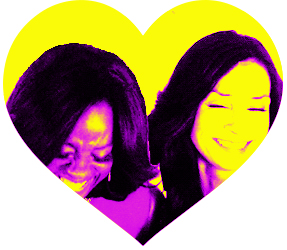 Alexis, Staff Writer: Kelly and Yorkie, Black Mirror: San Junipero
My friends, I still wanna get lost in San Junipero. I'm all about let me find you in ever possible universe so we can be together type love. The way Kelly looks at Yorkie like she hung the moon and stars, when Yorkie answers: "Oh. So many things.wp_poststo Kelly's "What would you like to do that you've never done?wp_postsThe idea that you can escape a hellish world to live in your heaven? It's not perfect but it's here and someone loves you and you love them and isn't that miracle enough to call it paradise? Like, "Can you just… make this easy for me?wp_postsCOME ON. Love being totally "fucking inconvenient"? Admitting you're scared but doing it anyways? I could write books on this one episode and I still don't think it'd be enough.
Valerie Anne, Staff Writer: NO, I WON'T PICK AND YOU CAN'T MAKE ME
HOW DARE. I have been obsessed with TV my ENTIRE LIFE and have been shipping since long before I knew the term. I have a long list of ships that shaped me, from non-canon ships like Buffy and Faith to canon ships like Spashley from South of Nowhere. Cosima and Delphine changed the path of my career entirely, in the best way possible. Waverly Earp and Nicole Haught have brought me new friends I consider family. My heart will never be fully healed from what Eleanor and Max put me through on Black Sails. I can't listen to Ellie Goulding's Atlantis without wailing to the stars about Myka and HG. In fact, I have a whole "Fandom" folder in my Spotify for ship-related playlists and they all make me Emotional. I've cried just listening to Chyler Leigh TALK ABOUT Sanvers. I've written cross-fandom femslash fanfiction (#Fabrastings) I've shipped problematic ships (Quinn and Santana, Arizona and Dr. Peyton) and the obvious ships (Brittana, Calzona – I have layers). I've shipped ships long after I should have stopped shipping them (Emaya, #MAYALIVES), and long before they even started (Avalance). I ship ships I know will never happen (Emily and JJ, Criminal Minds) and ships I foolishly believe still could (Skimmons, Agents of Shield). I ship new ships (Petra and JR) and old ships (Willow and Tara) with similar vigor, and I even still hold ships on short-lived shows dear to me (Lucy and Mina, Dracula, RIP). Hell, every once in a while, I even ship STRAIGHT PEOPLE. (I can't think of an example right now but I'm sure it's true.) I've found a way to mention over a dozen ships in this one paragraph alone and I haven't even BEGUN to scratch the surface of the fictional characters I have been emotionally invested in. I am basically a pirate at this point, I've been on so many ships, and I refuse — REFUSE — to pick one. Sorry.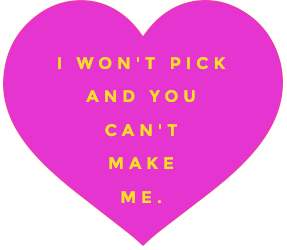 Reneice Charles, Staff Writer: Janelle Monáe and Tessa Thompson
I know this is a TV thing but I don't watch enough to participate that way so I'm extending the branch to music and going with the only ship there is imo, Janelle and Tessa. I feel like this is self explanatory. If not, Carmen made a whole damn entire timeline of their relationship where you can find all the receipts you need to realize that this is the best ship.