It is a truth universally acknowledged is well and truly played out as a lede, but Jane Austen will never go out of style. Nor will the Brontës. Nor Daphne Du Maurier. Austen's romances and social satire, and the gothic shenanigans in classic Western literature like Jane Eyre and Rebecca are so intricately woven into our storytelling mythos they're ubiquitous. (Every rom-com is Pride and Prejudice at heart.)
Well, if you've ever dreamed of wandering the halls of Pemberley or Manderly and witnessing a woman join the dashing, dapper, rakish ranks of love interests trotting to and fro around our heroines, have I got a book for you: Kitty Curran and Larissa Zageris' My Lady's Choosing is an interactive story that clowns on and embraces all the tropes you know and love (and sometimes even hate) from both historical and modern romance novels. You, the leading lady, are "the plucky but penniless heroine in the center of eighteenth-century society." You also are bisexual!
My Lady's Choosing releases you into London in the middle of courtship season in the middle of Queen Victoria's reign, with endless opportunities at your fingertips. You don't have any money, but you do have your wits, which you employ without censure on a parade of Darcys and Wentworths and Willoughbys and Rochesters — and one Miss Lady Evangeline. You can wander around balls or around town or even hop a train or a horse or a boat to distant far-flung lands in search of adventure and answers to the novel's myriad mysteries.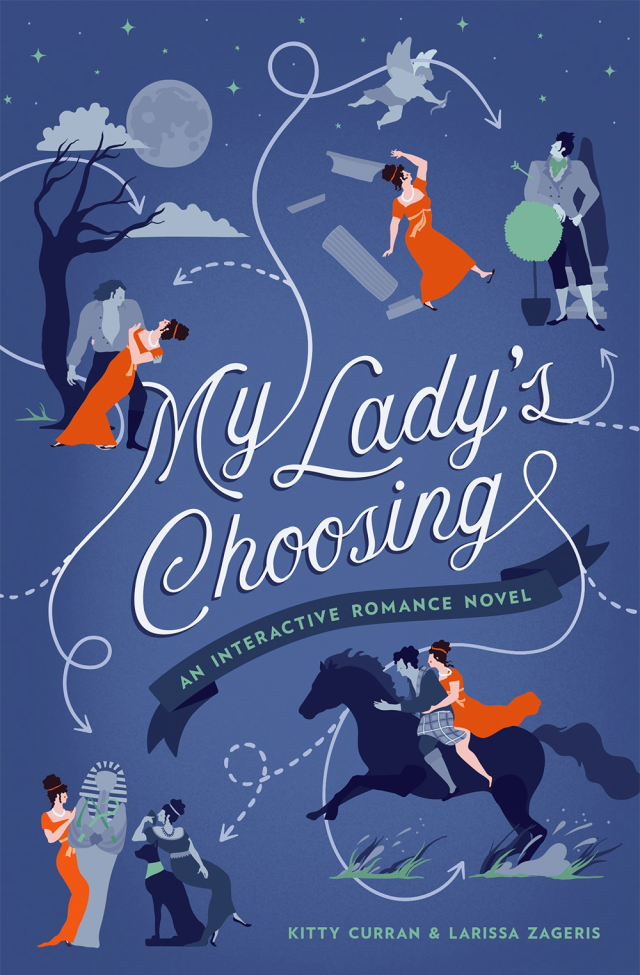 I picked up My Lady's Choosing because my local bookstore was featuring it as a book club pick, and during a Q&A they tweeted this little gem from one of the authors, in which she called the Lady Evangeline storyline "like Indiana Jones, but gayer."
I can confirm the veracity of that statement — but still, the book surprised me in almost every way. I have a deep, abiding affection Jane Austen and queer romance novels that can morph into a protective ferocity in a heartbeat when I feel like they're not getting the feminist respect they deserve, but Curran and Zageris' get what's great about the broad history all the genres they're dabbling in while poking fun at what's tired and what's absurd in each one. Their writing is agile and clever and sometimes on-purpose silly; more than once it made me cackle out loud.
Aside from the wit and cheek, the best thing about My Lady's Choosing is it treats the lady-on-lady options exactly the same way it treats the lady-on-lad ones. Queer romance and straight romance exist in such different worlds it was jarring, in the best possible way, to see them unfold similarly in such tight juxtaposition. Lady Evangeline is as capable as ripping your bodice as Sir Benedict Granville, for example. And, also, there are queer culture references to be mined out of almost every page Lady Evangeline appears on. Her ex-lover is named Delphine St. Croix, wink-wink. And when she tries to release you from her life of intrigue, she literally just quotes Carol Aird: "You are still young. Your life is stretched out before you, full of possibilities."
I've skirted too close to spoiling you already, but let me just say that I'd add Wonder Woman to the Indiana Jones reference Kitty Curran made about her gay characters.
Dearest, choose this adventure.