There have been a bunch of stories this week that I have decided to put into the same post.
BABIES GET BORN ON THE ROAD TO LESBIANS!
Lesbian moms give birth to a baby in a taxi cab driving through the theater district in Manhattan. Aoibheann Sweeny, who carried the child, says "I was just thinking, how do I keep this baby inside me? I thought I should try to keep him inside, but you can't actually do that." Inez Murray, her partner, called 911 but was advised to pull over and coach Sweeney through the process. It was a boy.
"I thought we have no choice here but to tell her to push. She pushed, one big push and his head came out like a cork and his air, whatever happens to your lungs, he gasped and I thought at least he's breathing – he looked blue and green. I was quite worried, and then one more push and he came out."
Onlookers gaped from the sides of the road and eventually an ambulance arrived and took them all to the hospital.
+
LESBIANS HAVE AFFAIRS WITH LESBIANS AND PLAY SOCCER!
Dutch soccer coach Hesterine de Reus and her Dutch assistant are stirring up gossip around their alleged lesbian relationship. According to media in Jordan, three players are refusing to attend practice for the national women's team until the allegations have been investigated. The Jordanian football association spokesman said it was a private matter and they weren't interested in dealing with rumors and that Ms de Reus is a good coach. The Jordan team won the women's 2010 Arabia Cup after she started coaching for them.
+
LESBIAN CHIC SPREADS THROUGHOUT THAILAND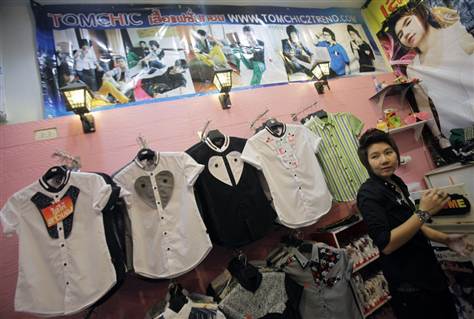 In Thailand, lesbian chic is all the rage! Thailand's first lesbian film just came out, the fashion/lifestyle lesbian magazine Tom Act has increased its circulation from 1,000 in 2007 to 50,000 in 2011 (I WANT ONE) and Thailand's first openly gay female singer, Zee, is 22, androgynous and described as "handsome" and very popular!
The film's recent success in outwardly tolerant but traditional-minded Thailand is part of a growing acceptance of lesbians under the influence of the Internet and fashion trends. These emboldened lesbians are not using Western-style activism. They are quietly pushing boundaries to find space for their lifestyle, harnessing pop culture and introducing a Thai variation of Lesbian Chic.
Sometimes I feel like "lesbian chic" is the word the media uses instead of just saying "many lesbians are not afraid to be out anymore in [x] place."
It's +
LESBIANS ARRESTED FOR DRUG POSSESSION IN THAILAND
However, in Pattaya, Thailand, a strange story of  two lesbians being arrested in Pattaya for drug possession. It's strange because the sexuality of the women arrested is completely irrelevant to the story and the picture which accompanies the article is bizarre.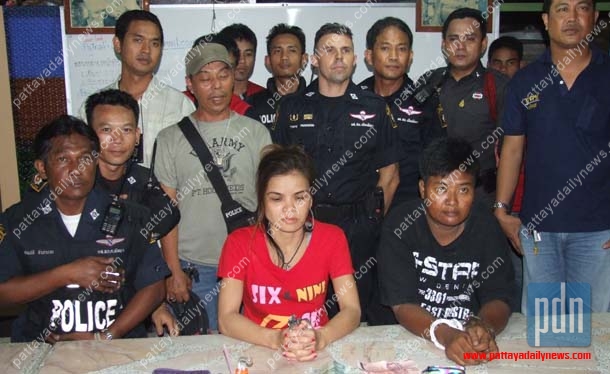 Apparently, the lesbians' house was "inspected" during a "police random house inspection." The police spotted the duo outside looking "suspicious" and then "requested to search their bodies." They found a bag of "Ya-Ice" and "Ya Ba" drugs. (crystal meth) Extraneous information presented in the article includes that one woman admitted that she "turned to drugs" after being left by her Canadian husband and then got mixed up with this lezbo. The lesbian allegedly supplied her with drugs.
+
LESBIAN FAKERY
In Toronto a police officer has testified that she faked being a lesbian in a lesbian relationship in order to fend off advances from her commander. Staff Insp. Steve Izzet, former head of the Intelligence Division, is charged with nine coutns of misconduct including sexual harassment of the woman in question.
The fact that she pretended to be a lesbian in order to fend off his advances is really a tiny detail in a much larger story, but the word "lesbian" has been used in every headline on this story.
+
THE LADY WHO LEFT HER HUSBAND FOR ANOTHER LADY
In South Africa, sales consultant Danie du Preez filed a R 175 000 damages claim against the woman he says she left him for, saying that she "stole his wife's affections and caused her to divorce him after close to 20 months of marriage." The Pretoria High Court has dismissed the case because "the court could not find that Lindy du Preez had left him because Carien Hartzenberg, of Wingate Park, had enticed her to do so."
The couple got married in September 2007. Lindy met Carien on a website called Thunderbolt, where Lindy's profile said she was not married. They met for the first time IRL in May 2008 and about a week later, Lindy told Carien that she was married but had already "lost affection for her husband" far before meeting Carien. Lindy left her husband in May 2009 and they officially divorced in September 2009.
Danie was "traumatized" when his wife told him she'd met and fallen in love with another woman on the internet. Prior to that time he didn't suspect or know that his wife liked girls.
He blamed it all on Hartzenberg, who he said had placed pressure on his wife to move out in spite of his having told her to leave his marriage alone.
Also attached to court papers were printouts of e-mails the women exchanged and in which they expressed their love for each other and desire to be together.