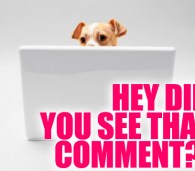 Good morning homos! By the time you read this, I (Emily Choo) will be on a plane to Beijing, China. Actually it'll be a plane to Toronto first, then China. So this is my last comment awards post for a while and damnit if I'm not going to talk about myself for the entire intro.
Just kidding I'm so tired I can't even feel my feelings. But here's what happened this week:
A thing called "Eurovision" happened andwe made a playlist for it/you! Riese used to like movies but doesn't anymore and explains it with brillance per ushe. Hopefully you've finished reading Bastard Out of Carolina because Rachel is ready to talk about it with you.
Annika and Sebastian are letting you ask them anything you want to, which is so brave and awesome! Also we've got another Get Baked, this time with kale! Which is not something I enjoy, but what do I know? Feel free to have a gender neutral beer or a masculine beer or a feminine beer or just a cold one with your kale.
May is $5 albums at amazon month, so the team picked their favourite ones to help you choose, and here are 25 female fronted comedies you should see.
Later skaters! It's been real, or whatever the kids say!
---
On Rachel's Team Pick: BUST Magazine Craftacular:
The Pirate/Scottish Award to sjz:
this sounds awesome. i'm always looking for an excuse to get me craft on.
On NSFW Lesbosexy Sunday Gets Off with Lambda Nominees:
The Guilty Conscience Award to hoggilton :
The awkward moment when you read "lesbian sex tips" as "lesbian sex tapes"
The Everyone Is Gay Award to kat, chipper dyke, Abernathy :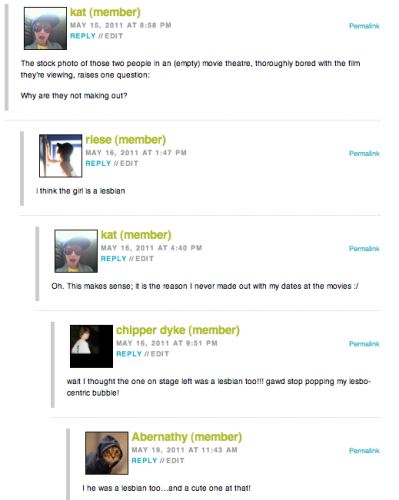 On You'll Never Guess Who's Funding NY's Pro-Gay Marriage Push:
The EVAN RACHEL WOOD BISEXUAL Award to BR:
Oh Ian McKellen Homosexual, I want you to be my uncle.
On Upfronts 2011: Playboy Bunnies, Broadway, Vodka and Girls Girls Girls:
The Award For Winning an Award to BR:
So this is one of those things where it's a bunch of real TV shows and then you have to find the fake one and the fake one is that Tim Allen thing cos, no way right, and now I get a prize?
Right?
On Phoenix Suns CEO Rick Welts is Gay and It's Totally Okay:
The Johnson Award to yodelmachine:
i am super proud of rick welts, and glad he survived what must have been some truly terrible nicknames back when he was younger. (dick welts comes to mind.) (poor guy.)
On Riese's Team Pick: The Burning House Tumblr:
The Cool Logic Award to Scarlett O:
Am I the only one who questions the cast iron skillet for the simple reason that it will more than likely survive the fire therefore doesn't need to be rescued? That shit's designed to be engulfed in flames.
On Rachel's Team Pick: Donald Trump Isn't Running For President:
The EVAN RACHEL WOOD DONALD TRUMP LESBIAN Award to diver:
next they will have an actual television commercial run for prez
On Build a Better iTunes Library with Amazon's $5 Album Sale:
The Family Love Michael Award to Denbo is my HomeGirl:
THERE'S A FIRE…..sale?
On OPEN THREAD: What's Your Beer's Gender Identity?:
The Beaver Fever Award to vending machine, Maryann, kat: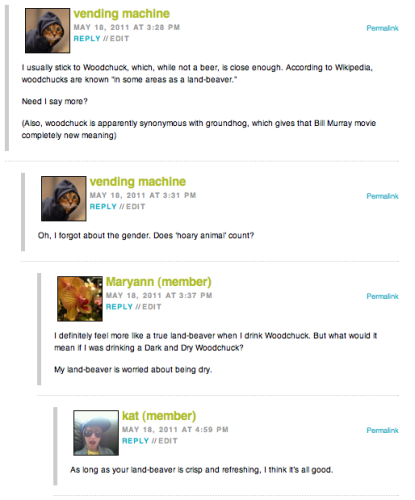 The But Why Is the Rum Gone? Award to kd15, DarcyOH: