NSFW SUNDAY EROTIC BOOK CLUB CORNER:
Laneia has already told you about lots of reasons to read lesbian erotica (your imagination is your most attractive body part and damn, is it fun to practice using it). The Lambda Literary Awards have at least eight more reasons, and they're all finalists/nominees in the Lesbian Erotica category.
Finalists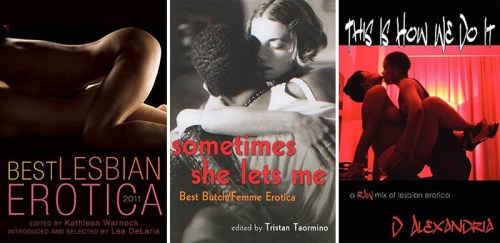 Best Lesbian Erotica 2011
Edited by Kathleen Warnock and selected by Lea DeLaria
While previous anthologies in the Best Lesbian Erotica series have been only about the sex, Best Lesbian Erotica 2011 is about radical gender-bending and subversive sexuality and sex. That makes it better. There are also contributions from authors such as Renée Strider, Anamika, Xan West, Kiki DeLovely, Betty Blue, Sinclair Sexsmith, Kirsty Logan, Kenzie Mathews, Giselle Renarde, Charlotte Dare, D.L. King, Theda Hudson, Nairne Holtz, Catherine Lundoff, Gala Fur, Sarah Ellen, Rachel Charman, Erica Gimpelevich, Heidi Champa, and A.D.F. Forte. Also expanding your horizons is hot.
"The Stripper and the Butch Wannabe," by Renée Strider
"Van was still limp and moaning softly when Julia got up, untied the towel and straddled her. She arched against Van and grabbed her hands, pulling one to a breast and one between her thighs. She rocked onto Van, onto her hand, forcing the fingers deeper."
Sometimes She Lets Me: Best Butch/Femme Erotica
Edited by Tristan Taormino
There aren't a lot of books that play specifically with butch/femme dynamics, but this one does (and even if you don't usually, it's well-written and sexy and maybe you should read it anyway.). In the introduction, Taormino writes,
"Butch/femme is erotic iconography. Butch/femme is sexual electricity. Butch/femme is power exchange. Butch/femme is bulging jeans, smeared lipstick, stiletto heels, and sharp haircuts. It's about being read and being seen. Sometimes it's about passing or not passing. It's about individual identity and a collective sense of community. It's personal, political. It's performance and it's not. It's the visceral space between the flesh and the imagination."
You can also read our earlier review and two excerpts.

"The Diner on the Corner," by Sinclair Sexsmith
"She inhales and can't look at me, tongues her lip gently. "Are you … will you …" she begins, but can't finish. She wants me to kiss her. I want to ravage her. Thrust her up against the vinyl. Want her hands gripping at the sides of the booth as she comes against my hand.
I grin, that sly cocky grin that says I know what she's asking, I know what she wants, and I'm taking my own damn time giving it to her. She knows she'll get it from me, so my only power here is how and when she'll get it. She offers me her neck and I take it, leaning in, kissing her shoulder, her collarbone, exposed in her low-cut dress. "You have to be quiet," I say. "We're not alone."
This Is How We Do It
By D. Alexandria
Sometimes you want candles and lace and sweetness, and sometimes you don't want to know her name. This anthology by D. Alexandria (from the Best Lesbian Erotica series, the Ultimate Lesbian Erotica Series, and Kuma2.net) is in category number two: "We grab hair, we bite skin, and we live on our knees, enjoying the sweetness of pain. We're not politically correct. We don't watch our mouths. Where others shy away, we shamelessly give in. We twist the meaning of gender and don't care about roles. We don't just have sex. We FUCK. We're femmes, studs, grrls, bois, queers, tops, bottoms and whores."
It even opens with a poem:
"Have you fucked your girl today?
Hit it, bang it, and give it full play
Did you bend her over and pull her ass high
Did you drive in so hard that she almost cried
Was it a quick dickin' while ya'll were on the fly
Or was it slow and deep full of heat intensified?"
Other Nominees
Chick Band: A novel about a garage band trying to become a rock band, with sexually charged characters, seduction, and bed-hopping. 
Freak Parade: This is slightly more literary erotica about a retired rock star who has as much character development as she does sex. 
She Loves Me: a Collection of Sapphic Erotic Romance: Is for when you want to read about lace and candles, and not the kind used in foreplay. It's a little sweeter than most of the other titles, but there's also a little more time on developing the background.
Vapor: A cute story of sex, cooking, and book signings. 
Lesbian Cops: Erotic Investigations: For anyone who's ever been turned on by the prospect of a strip search or who maybe just had a crush on Keema in The Wire.


Also: We're soliciting lesbian sex tips to include in future NSFW Sundays. There's no real rules, but each tip should be no more than 100 words. You can read more about this idea here. Email autostraddle [at] gmail [dot] com, subject line LESBIAN SEX TIP.